Table of Contents
Introduction
In February and March, this year (2022), we examined the patents-in-suit in the Ericsson v. Apple dispute with our two-part article. You can check out Part 1, where we went over the background of the dispute and examined the quality status of the patents. Or, you can look at how we clarified Apple's argument that they had a 500% growth in 5G cellular patents with our Part 2 article.
At the time, we found that Apple had filed 25 PTAB petitions challenging Ericsson's patents. By today, Apple had filed 33 PTAB petitions challenging Ericsson's various patents. In this follow-up, we will be examining the PTAB patents that Apple brought up.
A Quick Update
Before we look at the patents, let's quickly go through what happened after our last report (March 14, 2022) up until today. Here are some of the major events:
The PTAB Patents
During the time of the events we listed above, Apple continued to file PTAB cases to challenge Ericsson's patents. After Ericsson filed the first SEP litigation lawsuit on Jan 17, 2022 (WDTX-6-22-cv-00060), Apple filed a total of 33 PTAB cases by July 8th. We will refer to these patents as the "PTAB patents" in this article.
You can see the list of the 33 patents that are challenged in Table 1 below.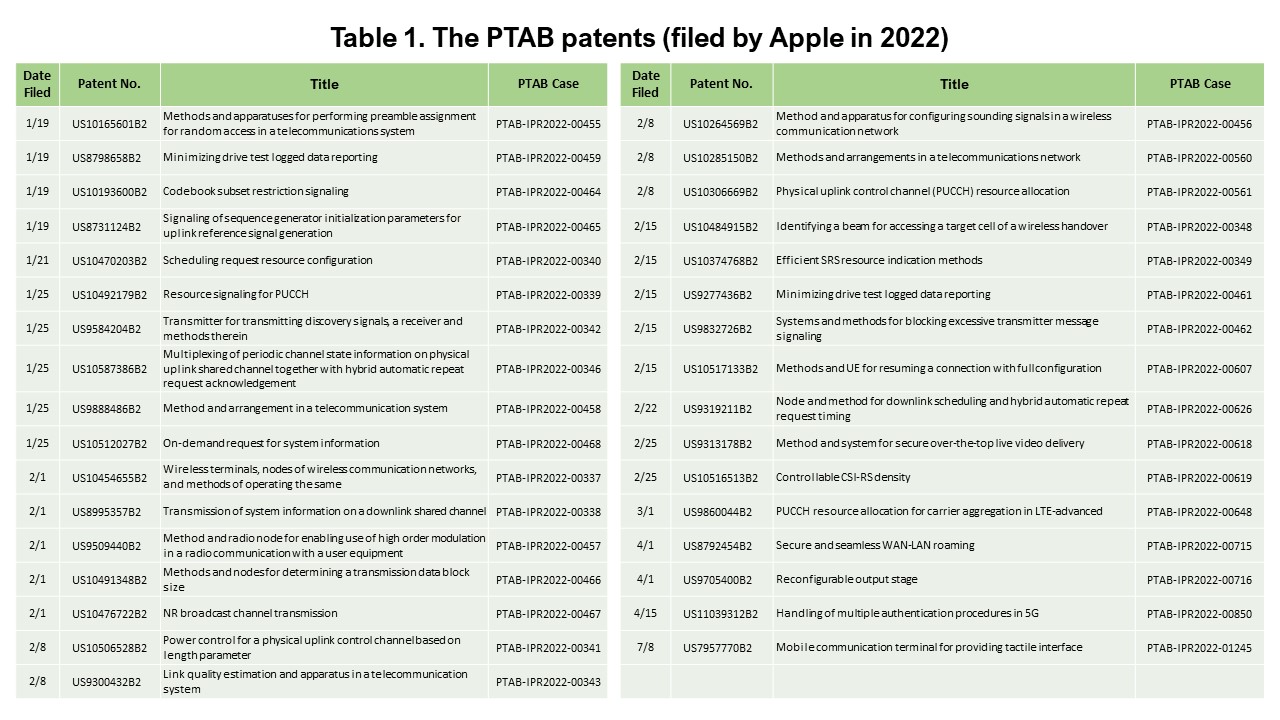 Litigated Patents
Only three of the 33 PTAB patents are Ericsson vs. Apple patents-in-suit. These three patents were asserted in the non-SEP litigation case (WDTX-6-22-cv-00061) filed on January 17, 2022, involving eight non-SEPs. The patents are also the patents in Ericsson's second and third ITC cases against Apple filed on January 18th (ITC-337-TA-1300 and ITC-337-TA-1301). The three patents-in-suit are listed here in Table 2.

*Update: US 8,792,454 is one of three patents-in-suit in Ericsson's 3rd ITC case. Interestingly, the claims of the other two patents, US 10,880,794 and US 8,472,999 were found with indefinite issues in a Markman hearing on June 30th. Just last month, on July 29th, Ericsson requested partial termination of all asserted claims of the '794 patent and several claims of the '999 patent.
The Standard Essential Patents
Among the 33 patents, 27 are 5G standard essential patents that mainly correspond to 3GPP 38-series "Radio technology beyond LTE," with 14 patents declared under TS 38 213 ("NR; Physical layer procedures for control"). Here is the list of PTAB patents again, with the non-SEPs highlighted in red.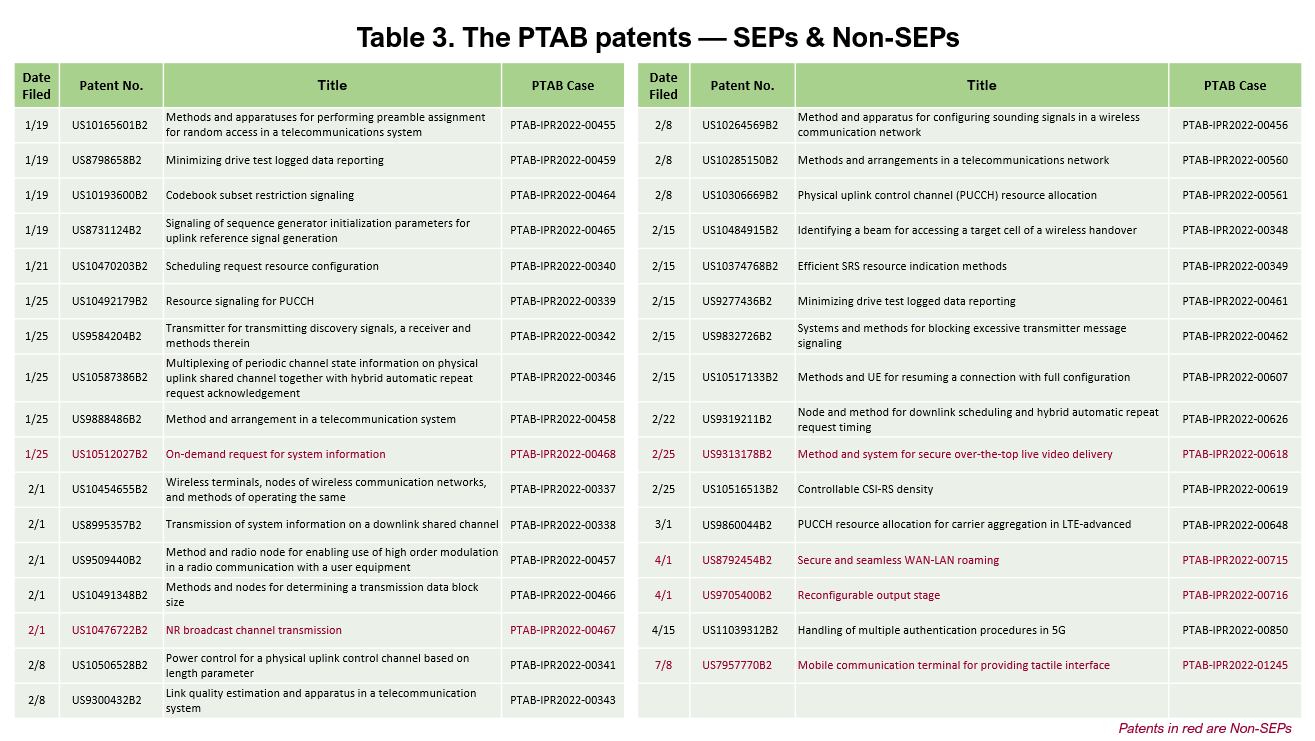 Here is a clearer overview of 33 PTAB patents: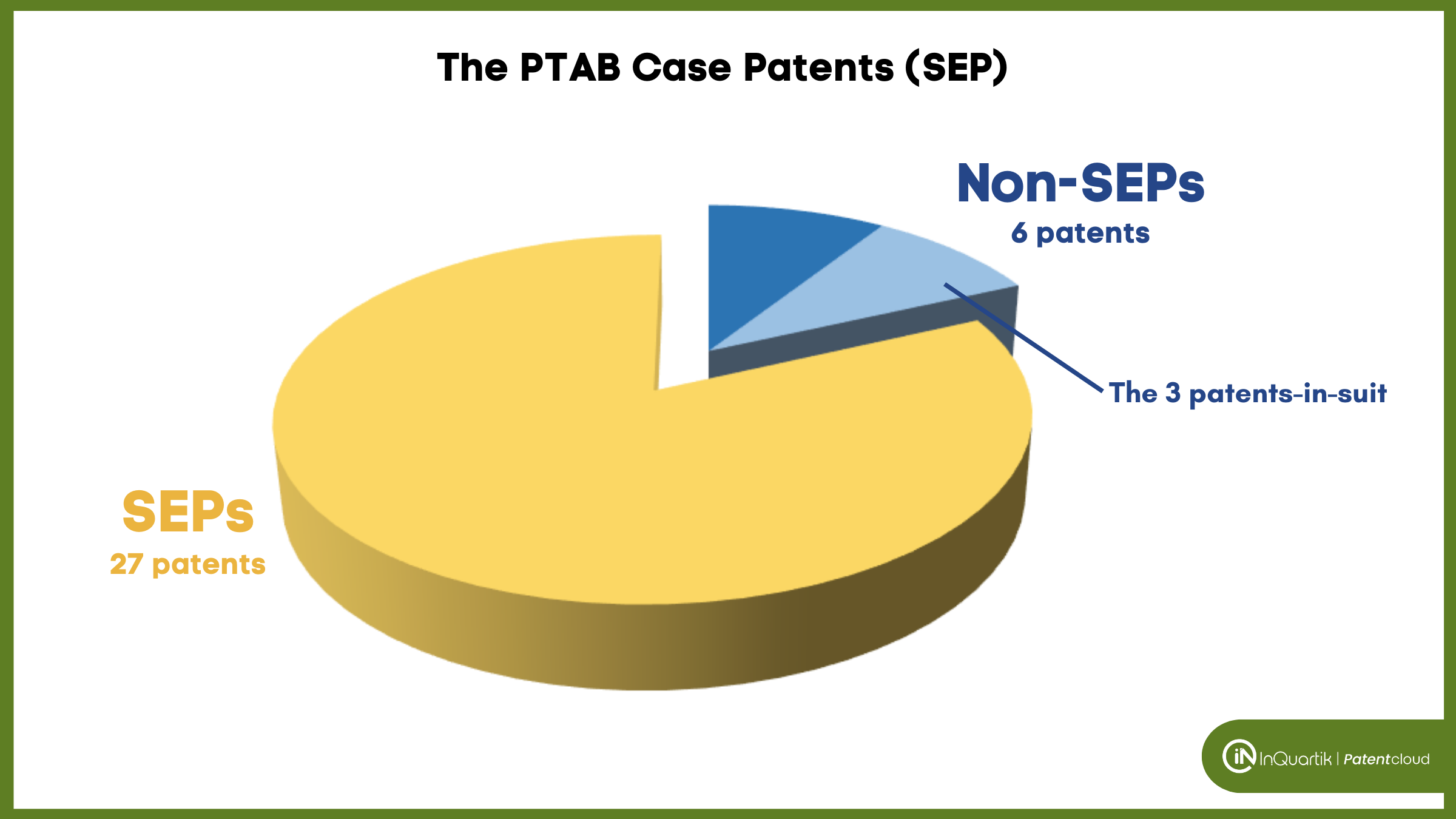 Ericsson's Global SEP Position
We also took a quick look at Ericsson's global SEP position regarding the main technical specifications, namely the TS 38-series, that the 27 SEPs correspond to.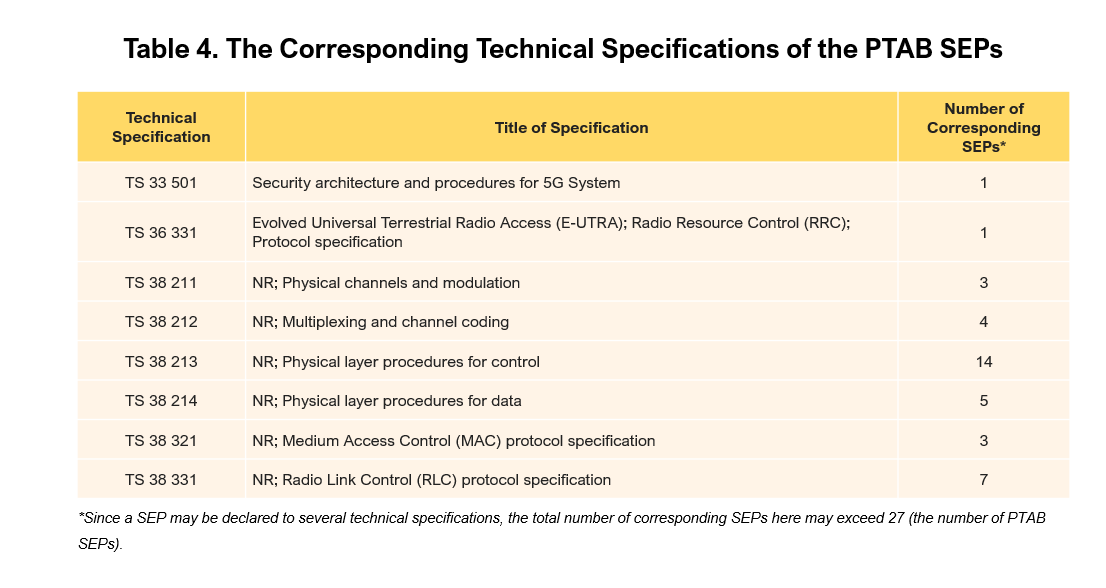 As the majority of the SEPs correspond to the 38-series, we looked at Ericsson's SEP portfolio covering the six TS 38 specifications (TS 38 211, 212, 213, 214, 321, and 331) listed above.
Ericsson is in 6th place with 6% of the global share (by family size). In comparison, Apple is in 16th place with only a 1.5% share.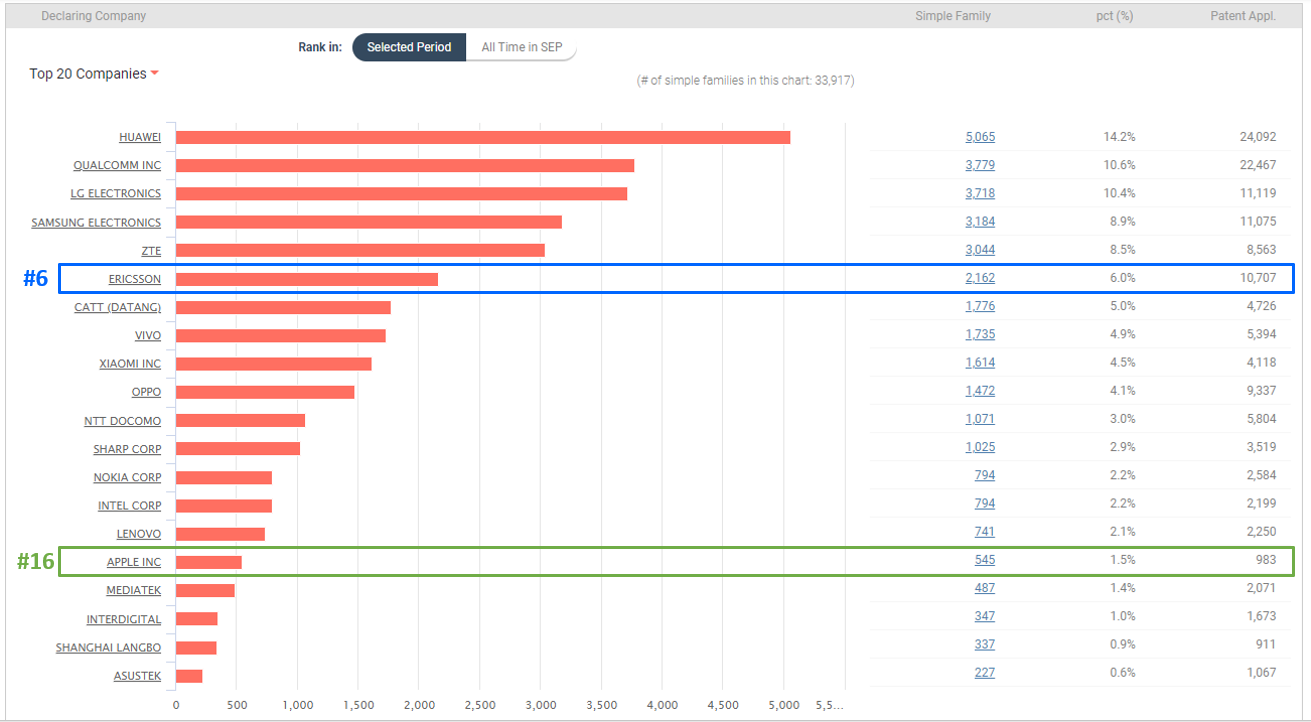 In licensing scenarios for SEPs covered by these technical specifications, Ericsson is surpassed by other stronger players such as Huawei (14.2%), Qualcomm (10.6%), LG (10.4%), Samsung (8.9%), and ZTE (8.5%).
Litigation History — Looking Back at the Samsung Dispute
The PTAB Patents Challenged by Samsung
When investigating the litigation history of the PTAB patents, we found that a large number of the patents Apple challenged this year were challenged just last year by Samsung. Twenty-seven of the 33 PTAB patents were used by Samsung just last year (2021) in PTAB petitions against Ericsson.
As we mentioned in Part 1, Ericsson sued Samsung in early 2021 after the two companies licensing agreement expired at the end of 2020. The companies settled in early May of 2021 (see Ericsson's announcement here) with a new licensing agreement.
Before settling, Samsung had initiated a whole slew of PTAB petitions challenging Ericsson's patents, which is what Apple is now doing.
Other than the PTAB histories with Samsung, most of the 33 patents Apple challenged had very clean litigation histories. The patents had either only been petitioned by Samsung last year at the PTAB, involved in a previous Ericsson vs. Samsung litigation, or is a current Ericsson vs. Apple patent-in-suit.
Here is an overview of the 33 patents' litigation history: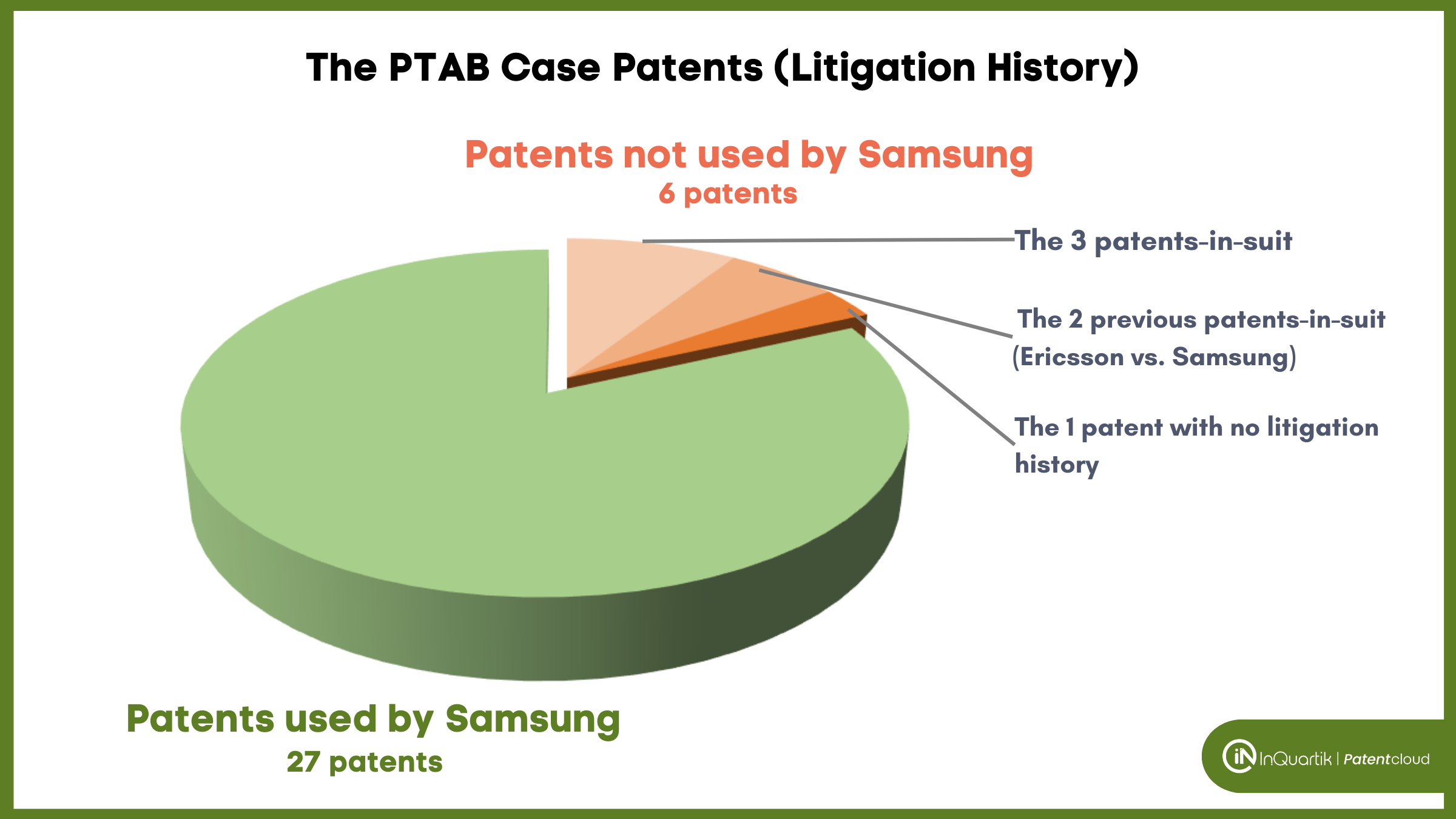 Apart from the patents-in-suit we listed previously, here are the other patents not previously challenged by Samsung:
These are the two previous patents-in-suit Ericsson used against Samsung in 2020 and 2021:

The one patent with no litigation history other than the current PTAB case is US 11,039,312, which was just granted on Dec 14, 2021.
Examining the Prior Art Used in the PTAB petitions
With the significant number of PTAB patents in Samsung's 2021 PTAB petitions, we were curious about the grounds or prior art used to challenge the PTAB patents.
Apple churned out at least 25 PTAB petitions by the middle of March. Did Apple use the prior art that Samsung previously used to speed the process up?
We examined the prior art used by the past and current PTAB petitions for each patent. Using patent US 10,506,528 as an example, here are the PTAB cases we compared: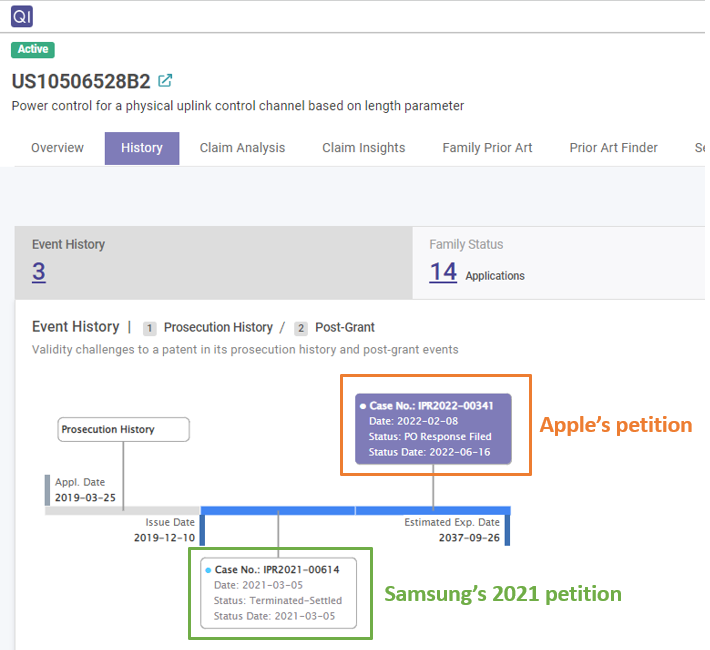 We then examined and compared the list of grounds and the patent prior art used: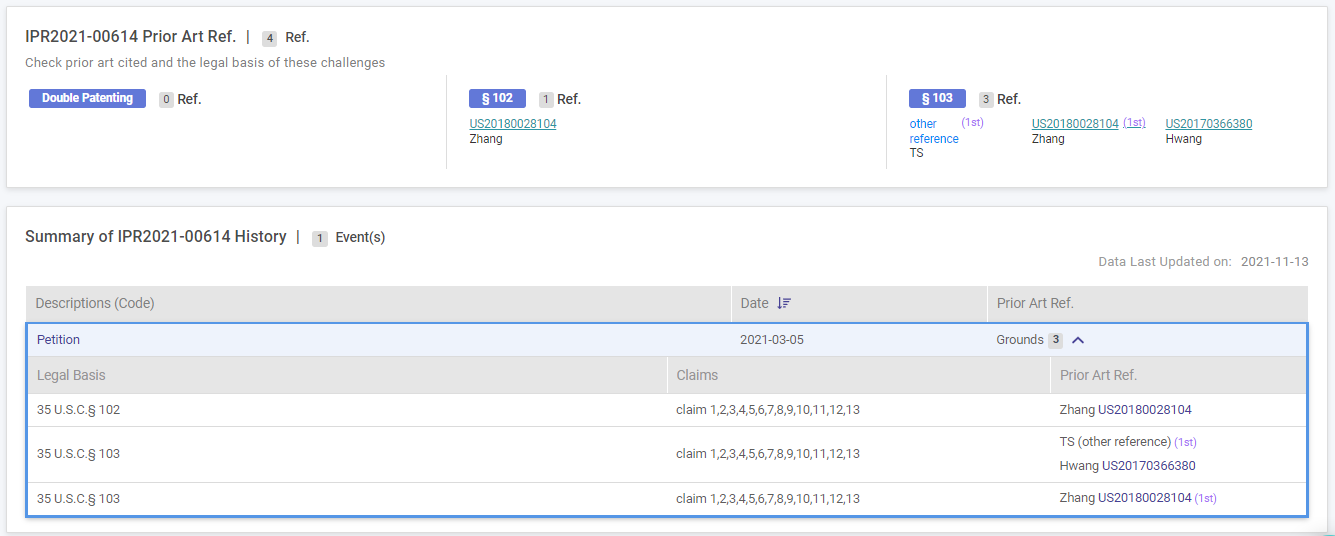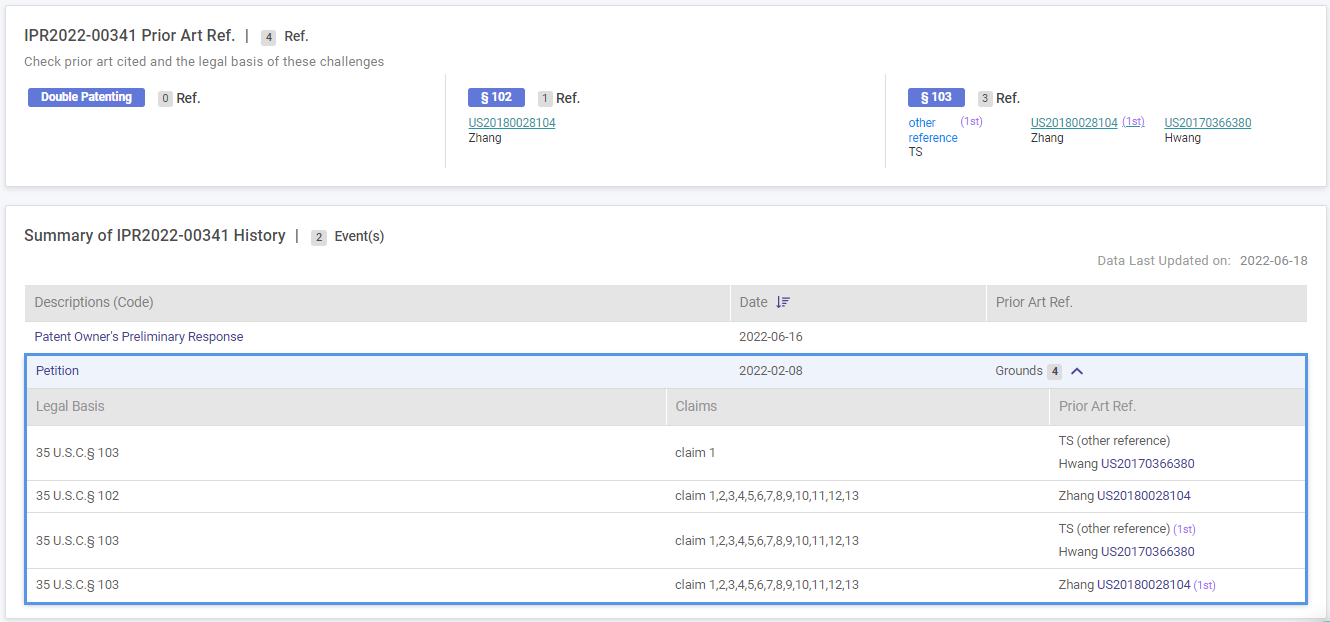 Note: we only examined the grounds and prior art cited on novelty or non-obviousness (§102 and §103) grounds.
Looking at just the patent prior art used, all of those used by Apple are exactly the same as those listed by Samsung, with only one exception — US 10,512,027. In this case, Apple added one new patent prior art.
As for the references, including patent and non-patent prior art, Apple also used those previously listed by Samsung but added a few more. Among the 27 patents, Samsung used 76 references, and Apple expanded on that to a total of 93 references used.
After examining all 27 patents and their current and past petitions, we found that 22 (81.5%) used the exact same patent prior art and references. Here are the 27 patents and the corresponding prior art used in each PTAB case (both Apple's and Samsung's).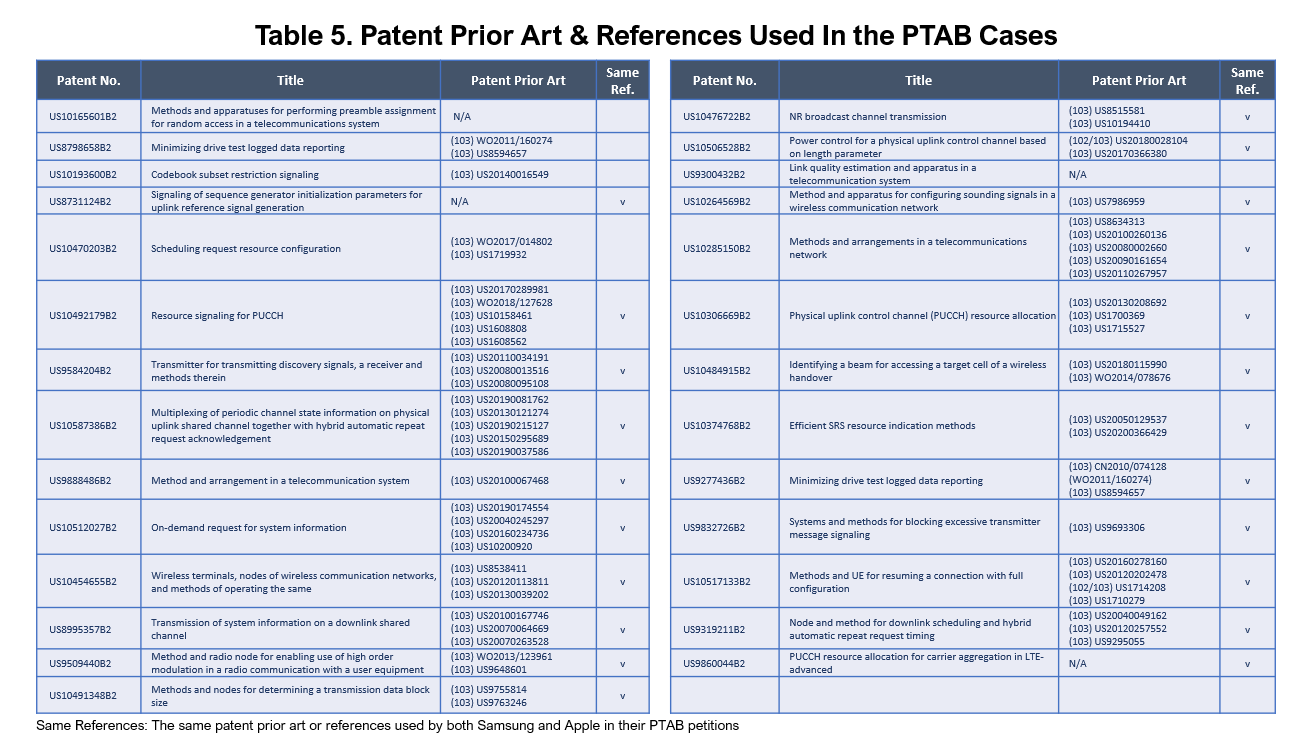 We have to note that Samsung and Ericsson settled fairly quickly, and the associated PTAB petitions were terminated without final decisions. Therefore, whether the patents can withstand the challenges or not is something that remains to be seen.
Validating Our Prior Art Search Solution
When examining the grounds in the petitions, we also wanted to see how well our prior art search solution — Quality Insights — performs in finding patent prior art. We compared the prior art listed for each of the 33 PTAB petitions filed by Apple and the prior art found by Quality Insights. Then, we examined the results to see how many of the patent prior art actually used in the PTAB petitions were "hit" by our various prior art search tools in Quality Insights.
(The search tools in Quality Insights includes "Family Prior Art," "Prior Art Finder," and "Semantic Prior Art.")
There are two ways we can calculate the "Prior Art Hit Rate."
By Any Hit — Using this method, a hit indicates that any of Quality Insights' prior art search tools found any one same prior art as listed in the petition.
By Grounds — Using this method, a hit indicates that the patent prior art cited for each §102 and §103 ground was found by Quality Insights' prior art search tools.
Here are our findings: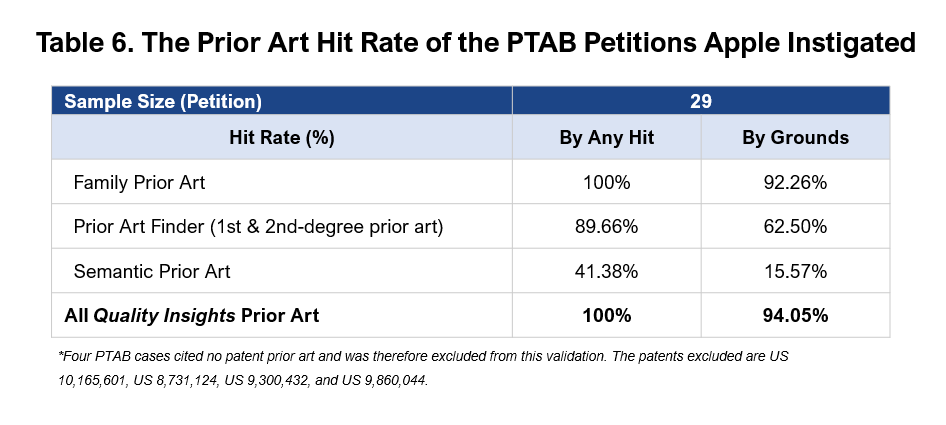 If you are interested in the overall Prior Art Hit Rate of Quality Insights, contact us or drop us a message in the chatbot!
Examining the Portfolio of the PTAB Patents
Now, let's look at the PTAB patents' entire patent portfolio, including their families. There are 32 simple patent families that correspond to the 33 PTAB patents. The portfolio includes a total of 491 patent assets with as many as 331 active patents (67%).

Global Coverage
The portfolio's 459 active and pending patents are deployed in 42 countries. A significant proportion of the portfolio's coverage is in the U.S., with 25.4% (84/331) of the active patents issued in the U.S.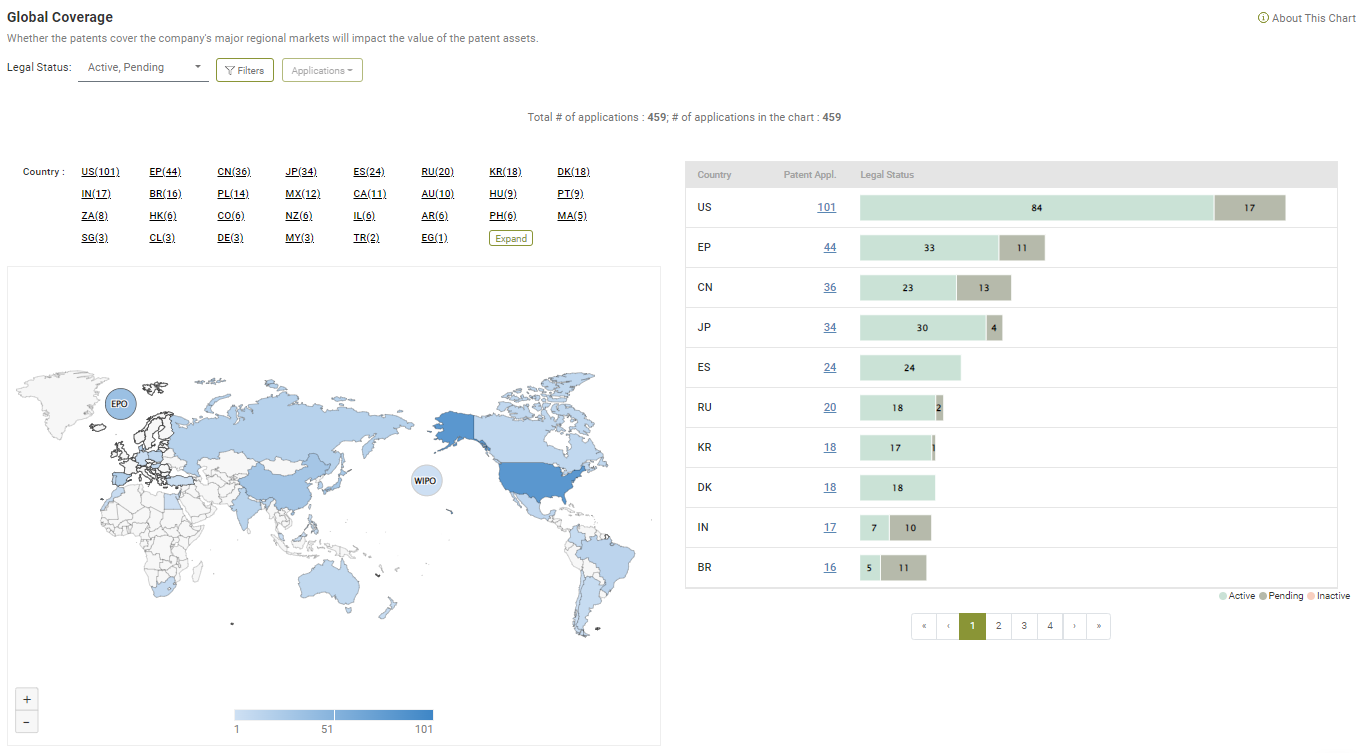 When only looking at active patents, the global coverage consists of 35 countries. Jurisdictions with more than ten active patents deployed include the following nine regions: U.S., Europe, Japan, Spain, China, Russia, Denmark, Korea, and Poland. Also, there are 16 countries with over five active patents deployed.
Remaining Life
Moving on, let's look at how much longer the patents in this portfolio can be enforced.
The Remaining Life chart shows that the portfolio will remain fairly sound in the next decade or so. The portfolio will remain fairly strong five years from now, with 91.2% (289 out of 317) of the patents still active. Ten years from now, by 2032, 61.2% of the patents will still be active (194 out of 317).  However, the portfolio will no longer have coverage in Taiwan, Germany, Portugal, Egypt, and Brazil by then.
By the year 2034, over half of the patents will have expired, and only 149 patents (47%) will remain active in that year.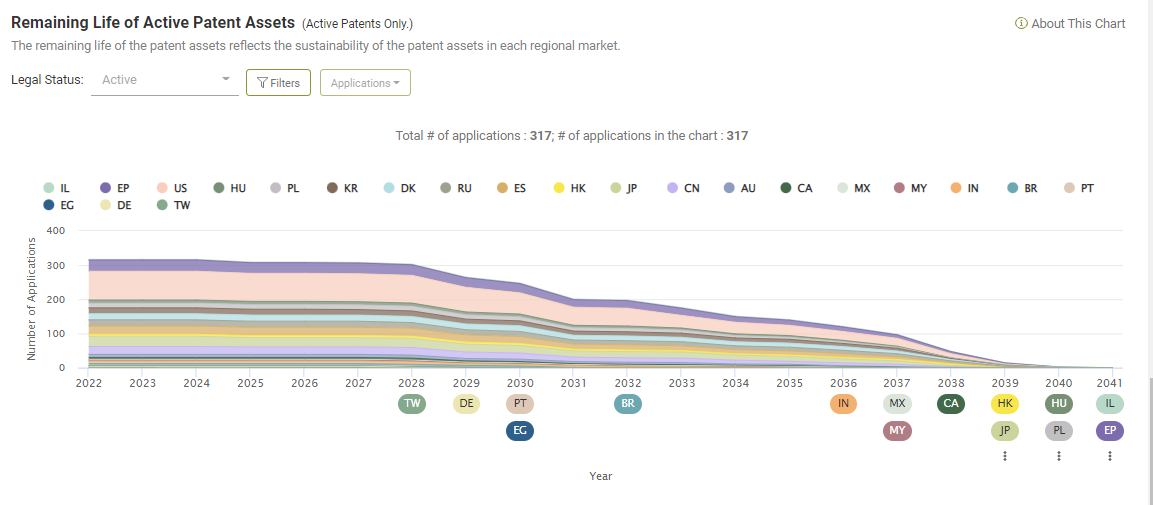 What's Next?
We won't be closing this article with a conclusion as the fight is still going on and going strong. However, we found that:
The PTAB patents Apple challenged are relatively 'clean' regarding their litigation history.
The entire patent portfolio (including the PTAB patents and their families) is fairly sound, with good global coverage, remaining life, and mostly active or pending patents.
Most of the patents challenged were previously used by Samsung last year.
We will keep up with the new comings and goings of the dispute, and if any new patents are brought into the fight, we'll follow up with more insights!
Interestingly, the standard essential patents-in-suit that Ericsson brought against Apple have yet to appear in the PTAB cases, and we are curious to see if and how those SEPs will be challenged at the PTAB if this dispute drags on.
We hope you have found our patent analysis and insights interesting! You can check out the full Due Diligence report we used in this article. Click around and see all the different charts! Or, you can generate another company's patent portfolio by clicking on the Due Diligence button below and contact your Client Success Specialist
If you are interested in examining the §102/§103 grounds or want to find more prior art for challenging a patent, check out Quality Insights!