Patent Vault
Patent management software that lets you share your findings—hassle-free.
We all know that two heads are better than one. Most patent management software, however, makes working together difficult so you end up with mammoth Excel spreadsheets and endless email threads. Patent Vault puts a stop to that.
Import, analyze, share.
The biggest issue with traditional tools is that they are closed systems: they lose their efficacy—if they ever had it in the first place—the moment you bring others into the picture. Patent Vault makes collaboration seamless. As someone once said,
"Power is gained by sharing knowledge, not hoarding it."
A safe place
Information security is one of the biggest concerns of patent professionals. As a member of the IP community, we have adopted various measures to keep the data and all of your findings in a safe place.
Confidentiality
We prevent data leakage from different aspects: physical, network, and people.
Integrity
Whether the data is in transit or at rest, we block unauthorized modification of data via TLS protocol and AES-256 encryption.
Availability
To keep our service uninterrupted, we leverage AWS to provide a reliable yet stable connection.
Clean it up.
Gather all your patents in one place, no matter where they are from. No more racing through different applications: it's time to give your patent database a spring clean.
---
Patent list import
Import your patents from Excel spreadsheets or any other product from the Patentcloud lineup and increase your productivity by focusing on one tool only.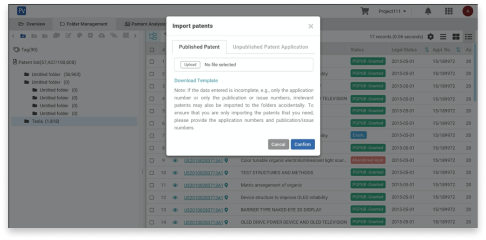 ---
Unpublished application management
Our patent management software even lets you import and manage unpublished patent applications: just fill in the handy import template and leave us with the hassle of organizing them.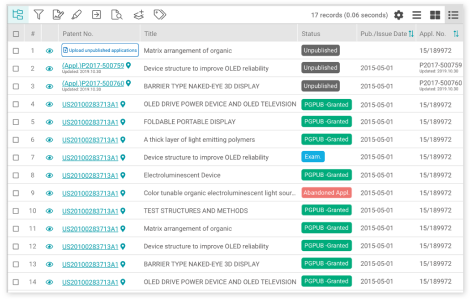 ---
Customizable folders
Categorize patents with the customizable, hierarchical folders that make sense to you. Our brains work differently: why force everyone to use the same system?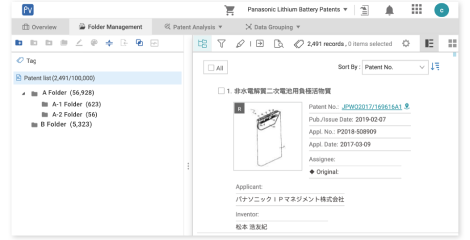 ---
Automatic monitoring
Scared of missing something? Don't worry, we've got you covered: if a patent's legal status changes or if new results for your search query become available, we'll let you know.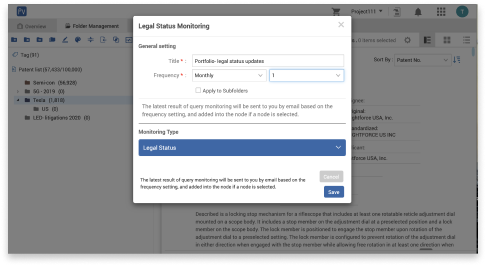 Dive into the details.
Be it for a quick evaluation or a thorough investigation; charts are an integral part of any patent analysis report. Patent Vault can do both.
---
Basic Analysis
Pick from a handful of pre-configured statistical charts to satisfy the most common visualization needs: line charts, bar charts, or pie charts.

---
Advanced Analysis
When the going gets tough, the tough get going: the two-level, pivot table-like Patent Matrix dashboard lets you create customized charts from any user-defined sets of folders.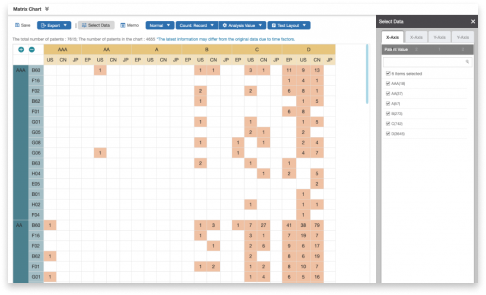 Let's work together.
Seamless collaboration and smooth communication are the norm in Patent Vault, no matter how big your team or organization is.
---
Invite collaborators
Are you working in a team? Invite your colleagues to work with you in Patent Vault, or share reports and analyses with anyone, anytime. Is your team expanding? Don't worry: add more seats and permissions as your business grows.
---
Share memos
Annotate your thoughts on the patent's specification, claims, and even drawings. Taking endless email threads out of the equation encourages open discussions and idea-sharing.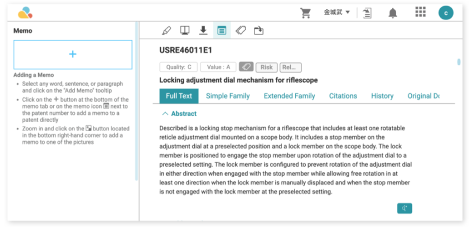 ---
Role-Based Access Control
Information leakage is a big deal. Manage the access of team members via various permission levels and allow the administrators to customize the access to confidential documents or folders to prevent it from happening within your organization.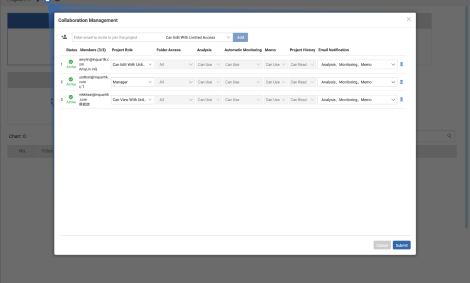 Find specific patents within a folder to refine your search or reorganize your folders by moving patents around.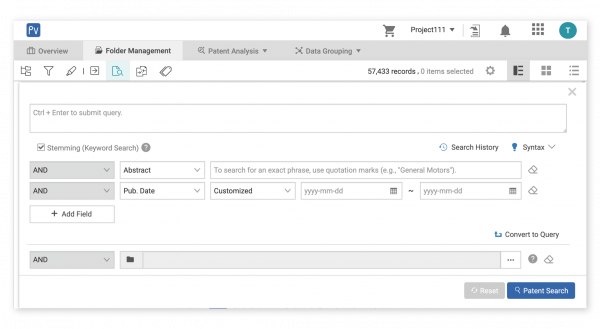 If you really can't let it go, generate an Excel spreadsheet with up to 100,000 patents and customizable data fields.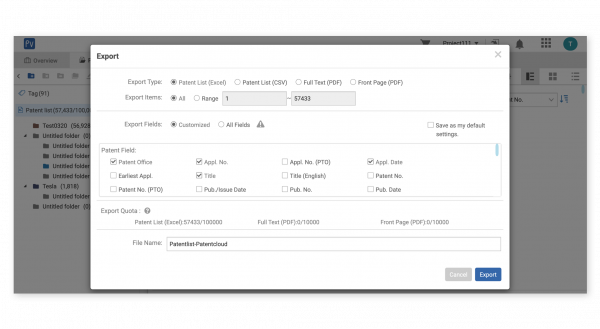 Broaden your search scope by selecting patents from your search results—their families are added automatically.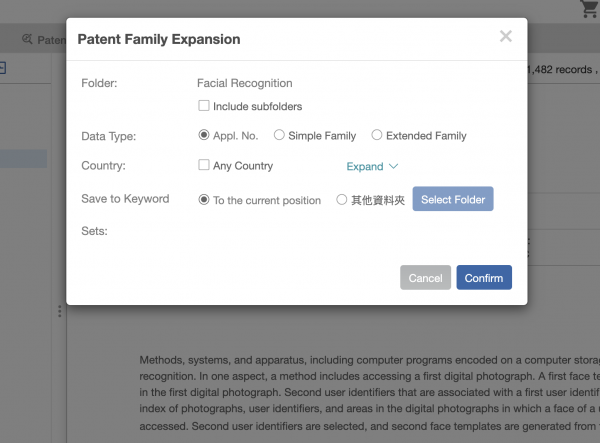 Did I check this patent already? Add tags that are meaningful to you, so you won't have to go through the same patent twice.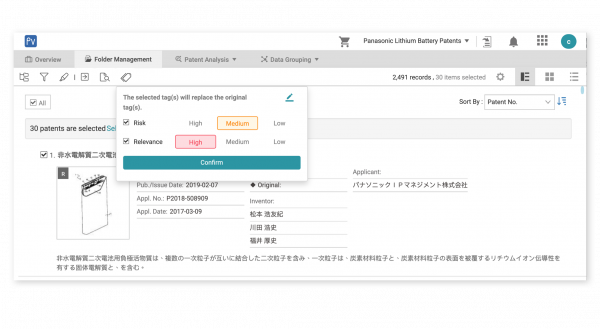 Powerful Alone, Stronger Together.
As far as patent management software goes, Patent Vault is perfectly functional by itself. Managing and analyzing patents will never be easier; why not experience the same in all areas of your patent work? Try it with other products from the Patentcloud family—you'll never look back.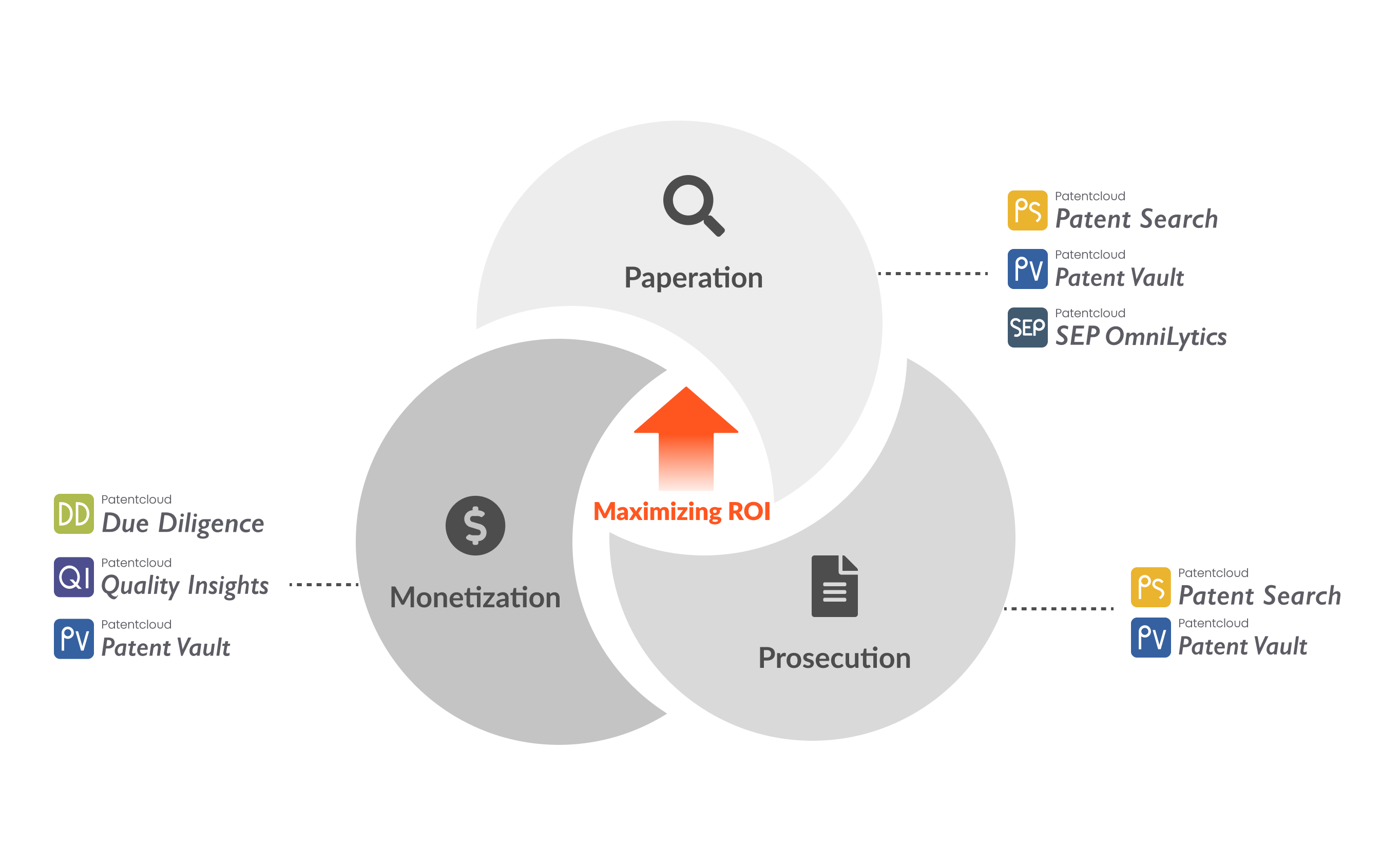 All your patent activities, in one place.
Patent Vault is much more than just patent management software: it acts as the backbone of every stage of the patent lifecycle, from patent searches and patent filings to patent monetization.
---
Preparation
Prior art searches
Freedom to operate searches
State-of-the-art searches
Deployment strategies
Pre-filing analysis
---
Prosecution
Global deployment
Maintenance
Competitive patent intelligence
---
Monetization
Litigation
Licensing
Buying and selling
Pledging
Get started with Patentcloud today
Discover how Patentcloud's solutions and tools can work for you.