Dear Patentcloud Users,
We are excited to announce the newest feature to Patentcloud — the AI-powered "Patent Summary" feature! With this cutting-edge update, we have taken patent intelligence and generative AI to new heights, providing you with an unparalleled understanding of the patents.
This new feature will debut in our Due Diligence product — Patentcloud's powerful tool designed to streamline patent portfolio analysis. The brand-new Patent Summary feature leverages our semantic algorithm to categorize patents based on the technology or invention they cover.
How does it work? Simply click on any chart within the Due Diligence interface and instantly gain access to the corresponding patent list. Once on the Patent List page, you'll notice a new "Patent Summary" tab. This tab is where the magic happens. Our advanced semantic algorithm 'reads' the distinct technologies and inventions encompassed by the patents and organizes them accordingly.
But that's not all—leveraging the power of ChatGPT, we generate concise, easy-to-understand summaries for each category's technology or invention. This means you can quickly grasp the essence of various patent categories without diving into individual patents, saving you valuable time and effort.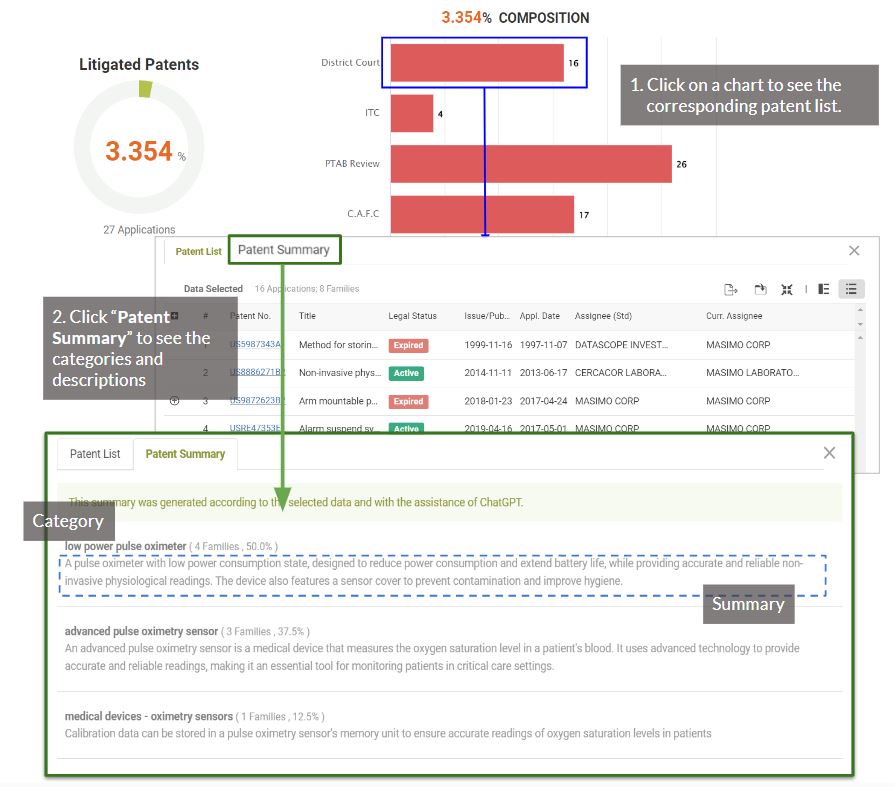 This new feature can further streamline decision-making. By quickly understanding the technology covered by patents in your list, you can make more informed decisions regarding licensing, acquisitions, and portfolio management.
We are excited to bring this powerful feature to our valued users, enabling you to unlock deeper insights from your patent lists and accelerate your due diligence process. Stay tuned for this exclusive feature to be incorporated into our other solutions.
Ready to experience the Patent Summary feature in Due Diligence? Log in today and explore the limitless possibilities!
Haven't tried Due Diligence or need more information? Reach out to your dedicated Client Success Specialist now!