Quality Insights
The best automated prior art search solution for patent validity analysis.
Time is essential for every patent professional. Why waste it by flipping through file wrappers or conducting manual prior art searches when smart AI can do it for you? Try our automated prior art search solution now!
Enter a patent number and check its overview page for free!
Regret-free patent decisions.
By performing a patent validity analysis and an automated prior art search with Quality Insights, you'll find out just how hard a patent would be to challenge — even before stepping into litigation.
AI-curated patent validity checks
helps you to estimate the patent's quality by looking at past legal events, claim scope changes, and validity issues—all behind the scenes.
Take action now
With all the resources you need available from the start, you can plan your next step with a fresh mind, free from slowdowns caused by missing information.
Data-driven insights for patent litigation
View the key legal events, patent family statuses, and prior art summaries.
---
History – Legal Events History
All the patent's key legal events, collected chronologically: find the 102/103 prior art references by simply clicking on any item from the list.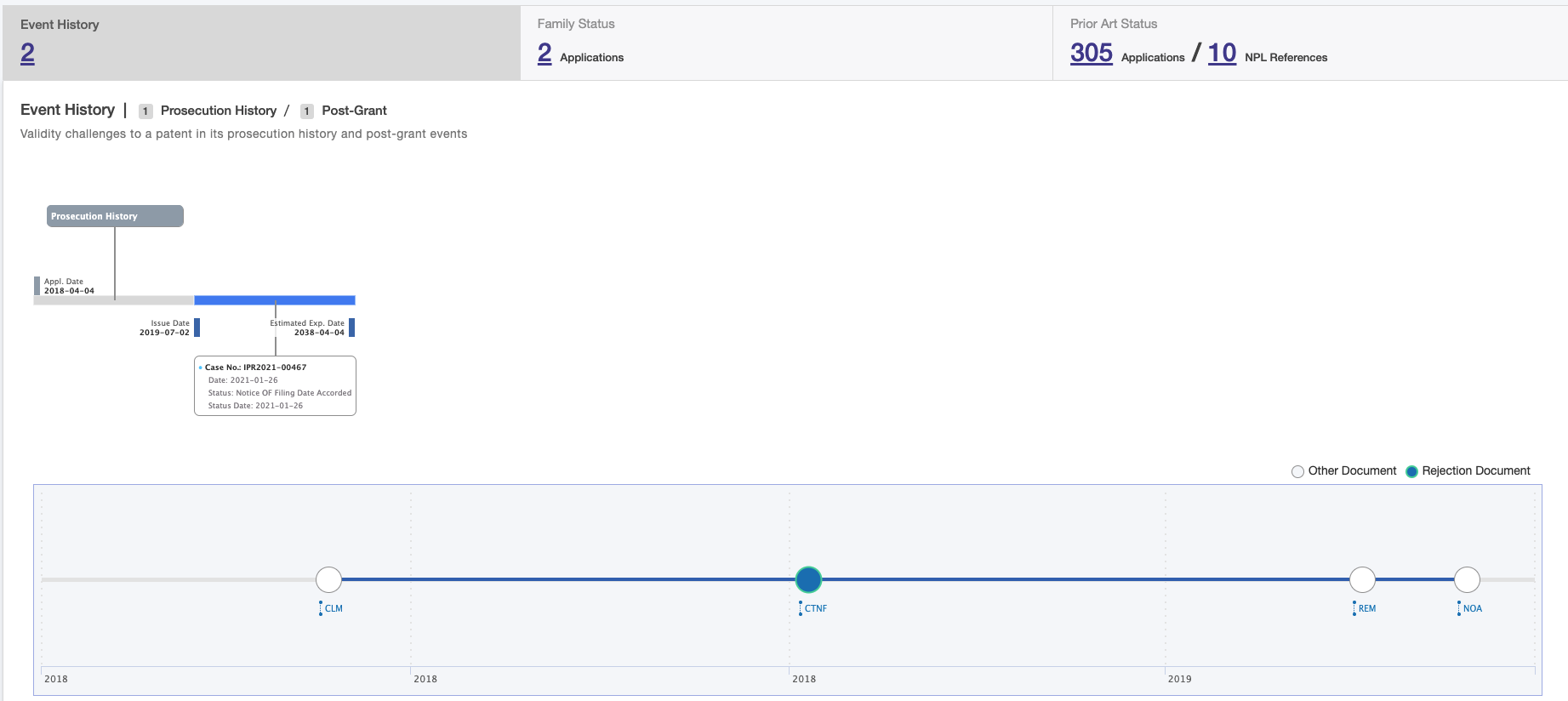 ---
History – Patent Family Status
Check the legal status of each member in the patent family: those that are abandoned may be used to invalidate the patent at issue.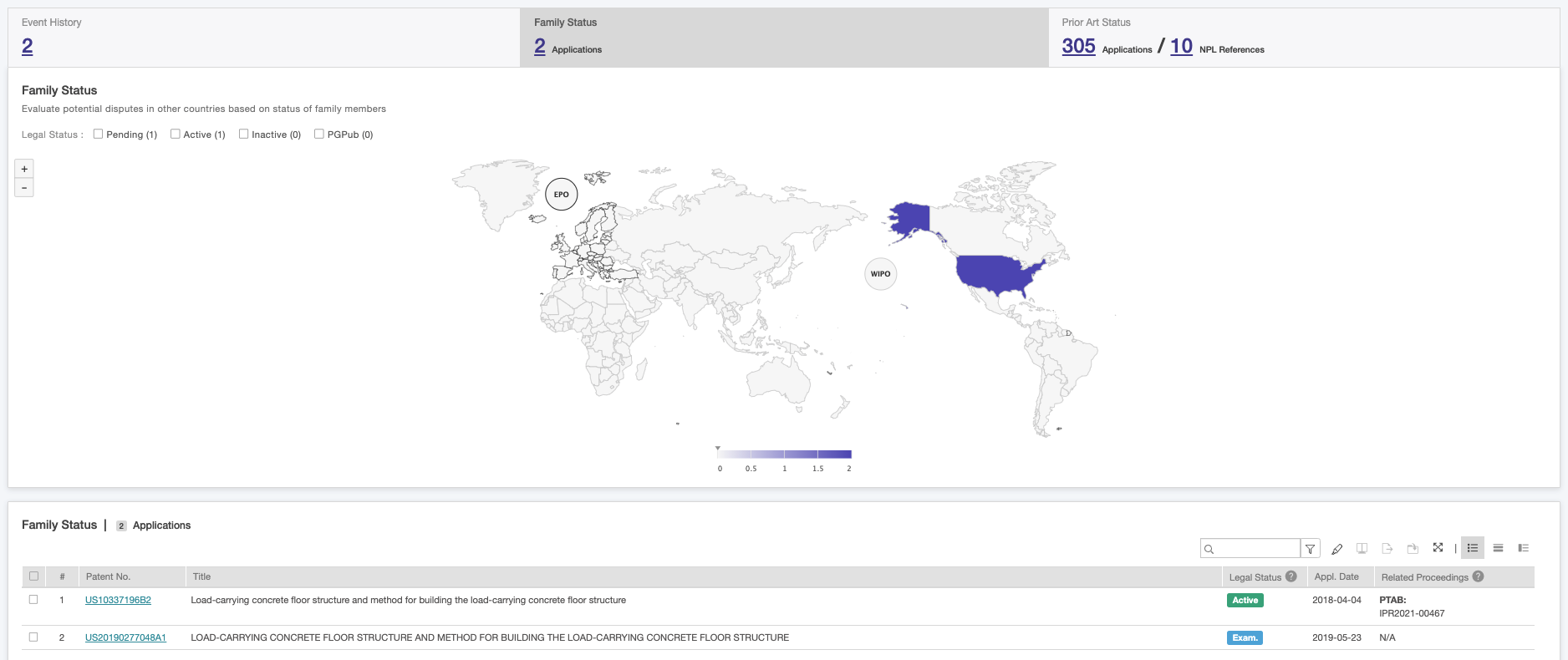 ---
History – Prior Art Summary
Refer to this table for a general patent validity analysis. With several prior art sources available, you can identify and pick the one that best suits your strategy.

Hassle-free claim construction.
Clarify claim scope changes without needing to browse through endless file wrappers.
---
Claim Analysis
Claim Analysis traces claim terms in the patent's specification and drawings: spot the claim terms' primary and intrinsic evidence to clarify the patent's scope.

---
Claim Insights
Each claim element is mapped into the prior art, to help you discover how much the patent's scope was narrowed down or modified during prosecution or PTAB proceedings.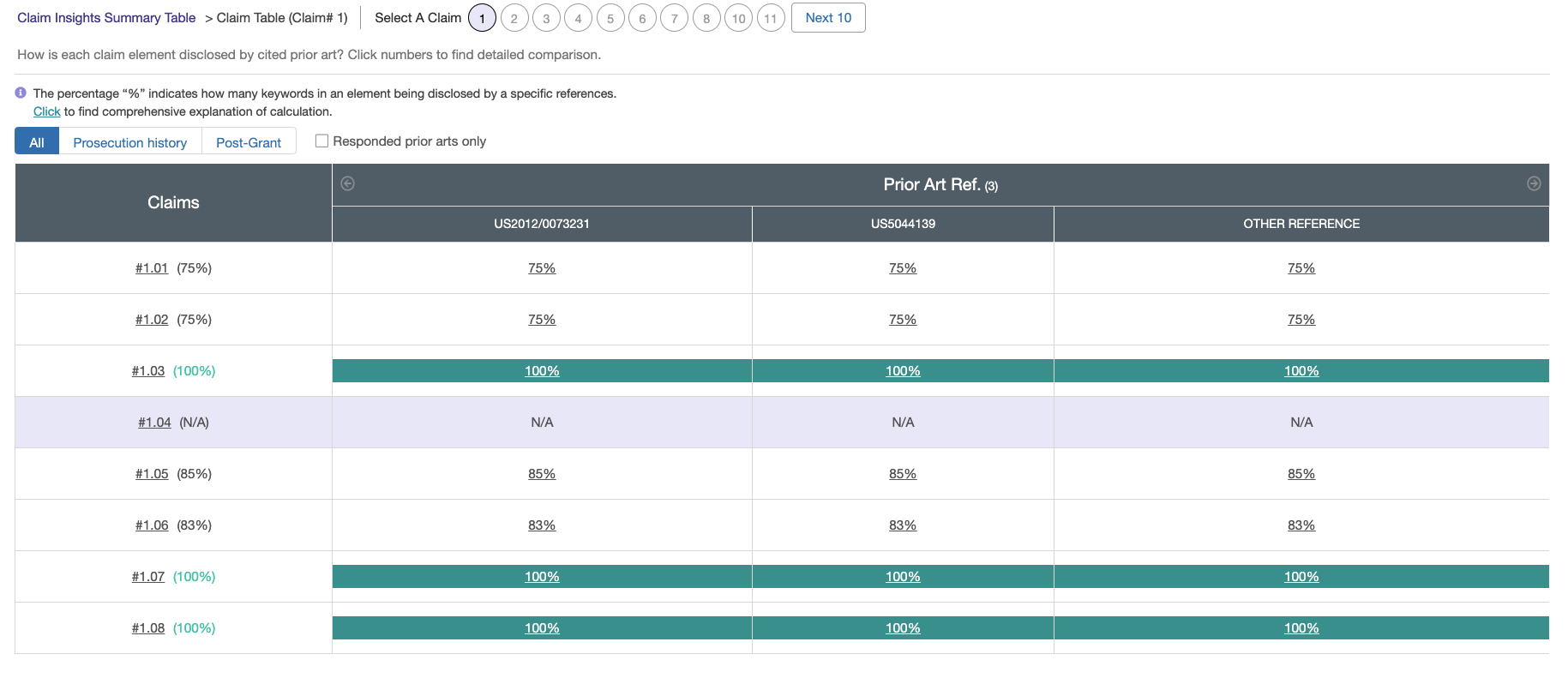 ---
File Wrapper Search
No more flipping through endless file wrappers: with our OCR technology, you can search in or across them to spot any prosecution history estoppel or documentary-claim-scope disavowal issues.

An invincible prior art search report.
Expose the patent's weaknesses from multiple angles and secure a sweeping victory with your winning prior art search strategy.
---
Family Prior Art
Discover potential prior art references from the patent's family. If any member has validity issues, its prior art may be used against the patent at issue.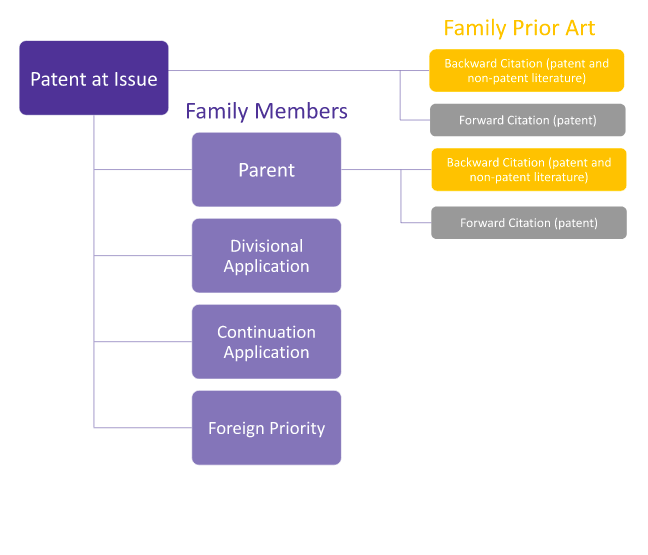 ---
Prior Art Finder
Explore even more prior art references with citing and cited patents. The Prior Art Finder traces back to their citations up to six levels.

---
Semantic Prior Art
The top 300 prior art references from IP5 and WIPO are listed according to the semantic similarity with title, abstract, and first claim. All powered by Patentcloud's machine learning technology.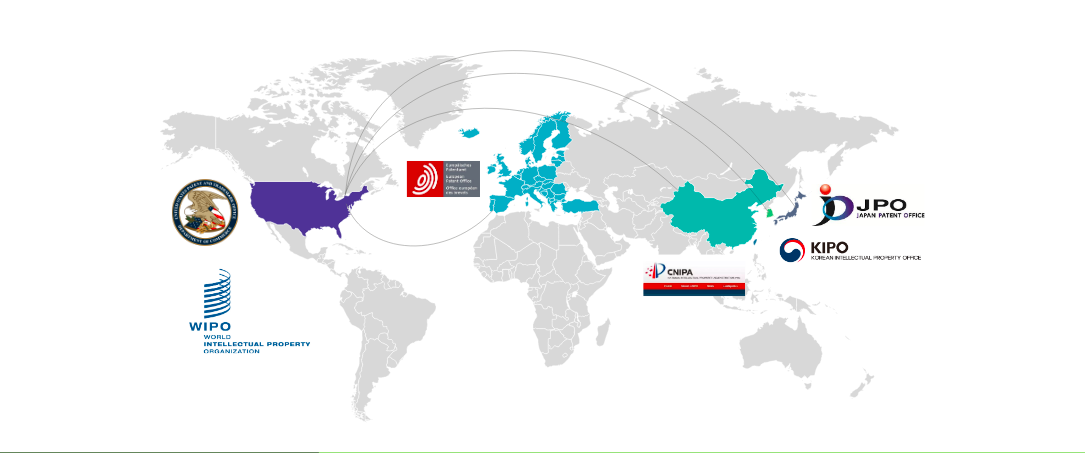 ---
Prior Art Analytics
Prior Art Analytics enables you to compare the U.S. prior art references from Family Prior Art, Prior Art Finder, and Semantic Prior Art search results with the patent's claims. Discover the references that are more likely to be the new prior art.


"Our alliance with InQuartik offers Docket Navigator's customers access to Quality Insights reports — addressing a wide range of possible invalidity defenses – while working in the Docket Navigator platform. Now researchers can explore a patent's litigation history and identify potential invalidity defenses using a single tool."
Darryl E. Towell, CEO of Docket Navigator
You can trust us.
Patent data from the USPTO PAIR, PTAB, Official Gazette, PACER—we have it all!
100%
File wrapper completeness
98%+
Prior art extraction
79%
Chance of finding prior art for IPR filing