Last updated: September 13th, 2021
Making the Headlines
The last couple of months haven't been too kind to vaccine maker Inovio. Firstly, the company did not make it on to U.S. President Donald Trump and his administration's top five companies as one of the most suitable candidates to create a coronavirus vaccine.
Secondly, the pharmaceutical company is also in the midst of a legal dispute with its longstanding production partner VGXI as Inovio accuses it of refusing to share technological knowledge and subsequently halting a scaled-up vaccine rollout.
The third blow to Inovio comes in the form of an accusation about its coronavirus vaccine claims. Inovio stated that it had designed a COVID-19 vaccine "in a matter of about 3 hours." Inovio went on to admit that it had not developed a COVID-19 vaccine but rather a "vaccine construct." After the news of this retraction broke, Inovio's stock price sank to just $5.70 per share—a 71% decline from its class period high.
Although 2019 proved to be an unsuccessful year for Inovia, its stock prices continued to grown, even after the controversial recent history. Even in the face of adversity, it appears that investors still have faith in Inovio's technology and development. Why is that? Let's take a look at its patent portfolio to find out.
Why Is Inovio So Important?
Inovio Pharmaceuticals is certainly one of the major contenders in the race to produce a vaccine to eradicate COVID-19. The American biotechnology firm's technology is built on placing engineered DNA into human cells, where it becomes fused into the proteins associated with the immune response to viruses and cancers. It creates T cells and antibodies that support infection recovery. The technology is also able to target particular types of cancers and infectious diseases, e.g., Coronavirus.
The company announced encouraging data from a preclinical investigation of INO-4800—the Inovio vaccine designed to impede the novel coronavirus SARS-CoV-2—which can cause COVID-19. Inovio's vaccine study was published in Nature—the peer-reviewed journal—and was entitled, "Immunogenicity of a DNA vaccine candidate for COVID-19".
The preclinical data revealed that a vaccination of INO-4800 given to laboratory animals such as guinea pigs and mice produced T cell responses along with a strong binding and neutralizing antibody. The authors of the Inovio study noted that the antibodies identified in the vaccinated animals' lungs could be crucial for SARS-CoV-2 protection. At the same time, the Spike-specific T cell responses—which were recorded with high levels—may prove to be essential for offering protection from the virus infection.
To assess the safety profile and immunogenicity of INO-4800A, a phase I clinical trial has already begun in the U.S. Preliminary data from the phase I clinical trial—including the safety and immune response—are expected this month. All being well, Inovio plans to start the phase II/III efficacy trials by July or August.
Inovio partnered up with German contract manufacturer Richter-Helm BioLogics GmbH & Co. K.G., to facilitate the manufacture of INO-4800 on a large scale. This partnership agreement was partially financed by an initial grant of $1.3 million from the Coalition for Epidemic Preparedness Innovations (CEPI). CEPI has, to date, granted $17.2 million to the development of INO-4800.
The relationship with Richter-Helm should significantly increase the manufacturing capability of Inovio in order to meet critical requirements in the middle of the COVID-19 pandemic.

Inovio surges on early coronavirus vaccine testing data in animals
Source: CNBC
Inovio's Patents
By analyzing the Inovio patents, we were able to gain a deeper insight into what this company has been doing, and although Inovio had been accused of overclaiming, from the patent data we were able to look into their strengths in this field of technology. We leveraged the power of Patentcloud to assist us with our analysis.
In particular, we used: Patent Search to acquire the patent list. Due Diligence to remove any redundant applications (to avoid duplication issues) and to convert patent data into meaningful dashboards to visualize information. Patent Vault to analyze the patents and create a patent matrix. After the removal of all redundant patents, the total number of Inovio patents in our analysis is 708.
To create the patent matrix we used Patent Vault. Patent Vault's unique two-level, pivot table-like PatentMatrix® dashboard assisted us with our analysis of the Inovio patents.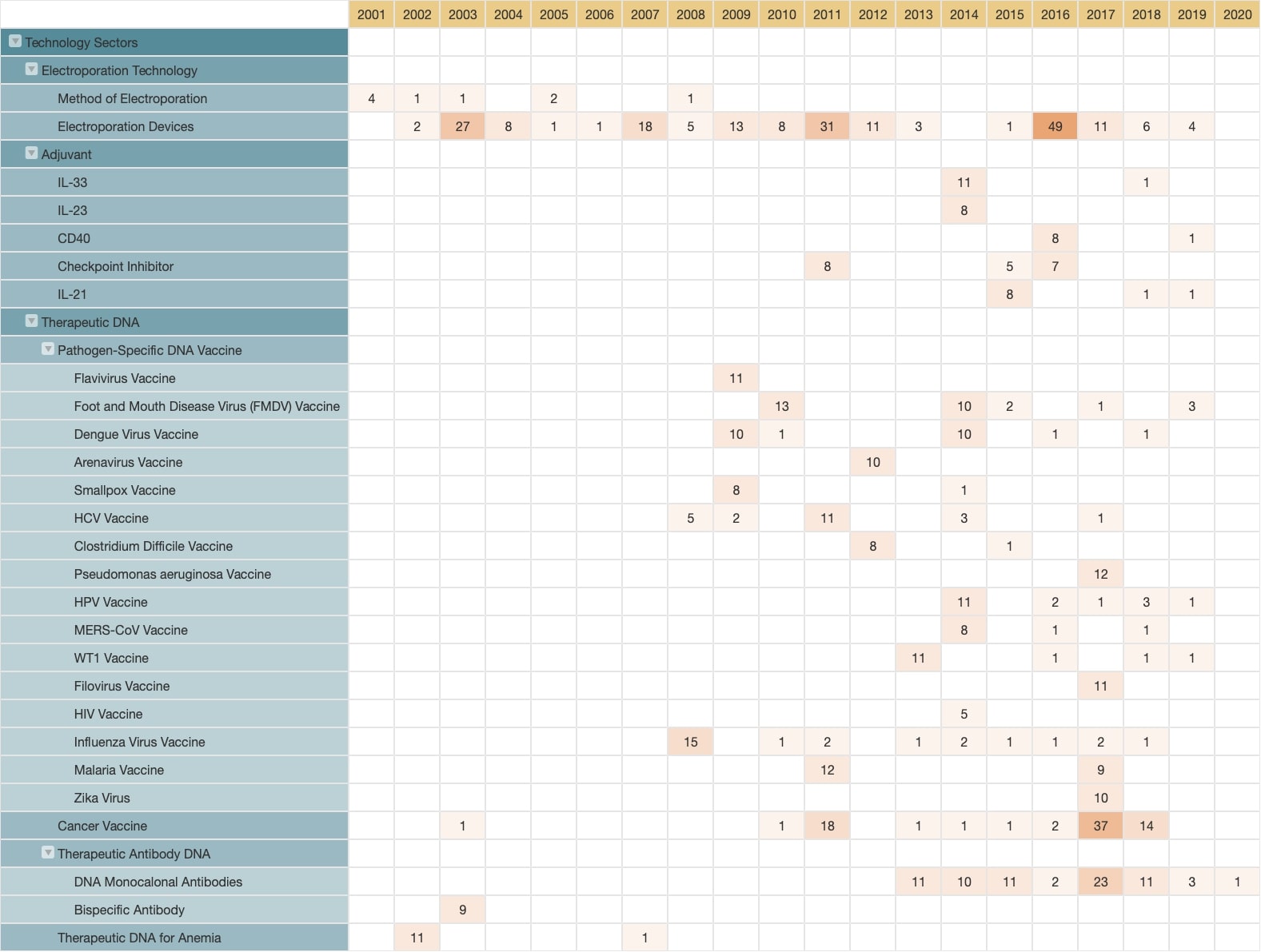 We can tell from the technology development landscape of Inovio that they have the technology to deliver DNA into cells, this method is called electroporation. We can also see that Inovio has been developing patents related to electroporation since 1998. This makes Inovio vaccines very unique. They have 240 patents covering this method of DNA delivery. After 2008, Inovio vaccines were developed for various pathogens and adjuvant technologies.
We noticed that there are three main technologies that Inovio concentrates on:
Electroporation
Therapeutic DNA
Adjuvant
We can see Inovio's priorities related to the development of technologies, we noticed that they are most focussed on Therapeutic DNA from the patent count – the more patents there are—the more interest there is.
We can further dissect the Therapeutic DNAs into four main categories. These categories are a good indication of which treatment fields Inovio is developing or has already developed. The four main categories are:
Pathogen-specific DNA vaccines
Cancer vaccines
DNA antibody
Therapeutic DNA for Anemia
The four charts below display the category distribution: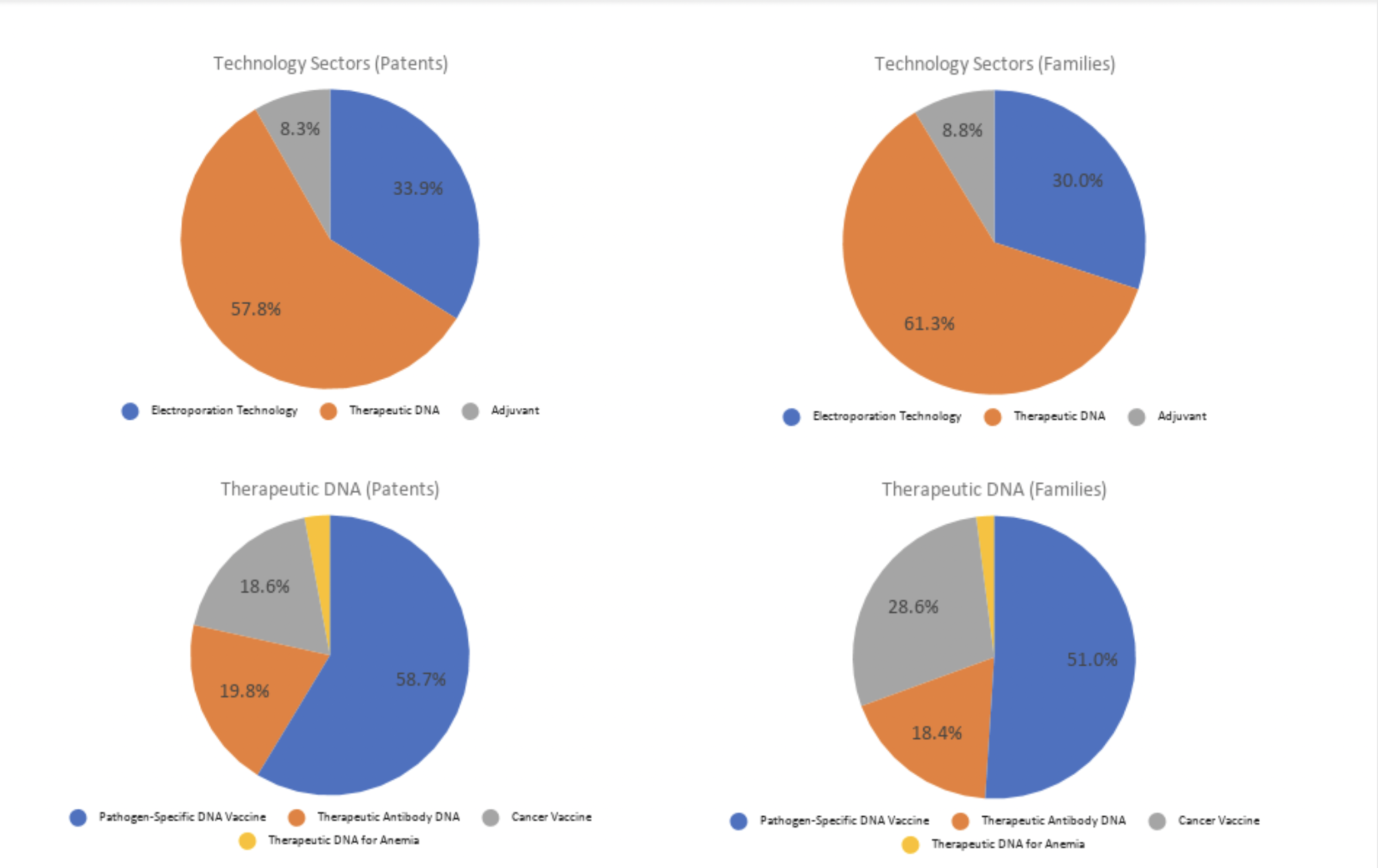 By looking at the filing dates we can see that Inovio started developing electroporation first—we have already gathered that this company has a special platform for DNA delivery—they filed these patents very early.

From the filing distribution territories, we can tell which markets Inovio believes to be the most important.
The top five territories for Inovio are:
US, EP, AU, KR, and JP.
It's worth noting that WO should be disregarded from the data as we are looking at the market focus of Inovio, and WO is not related to any particular market.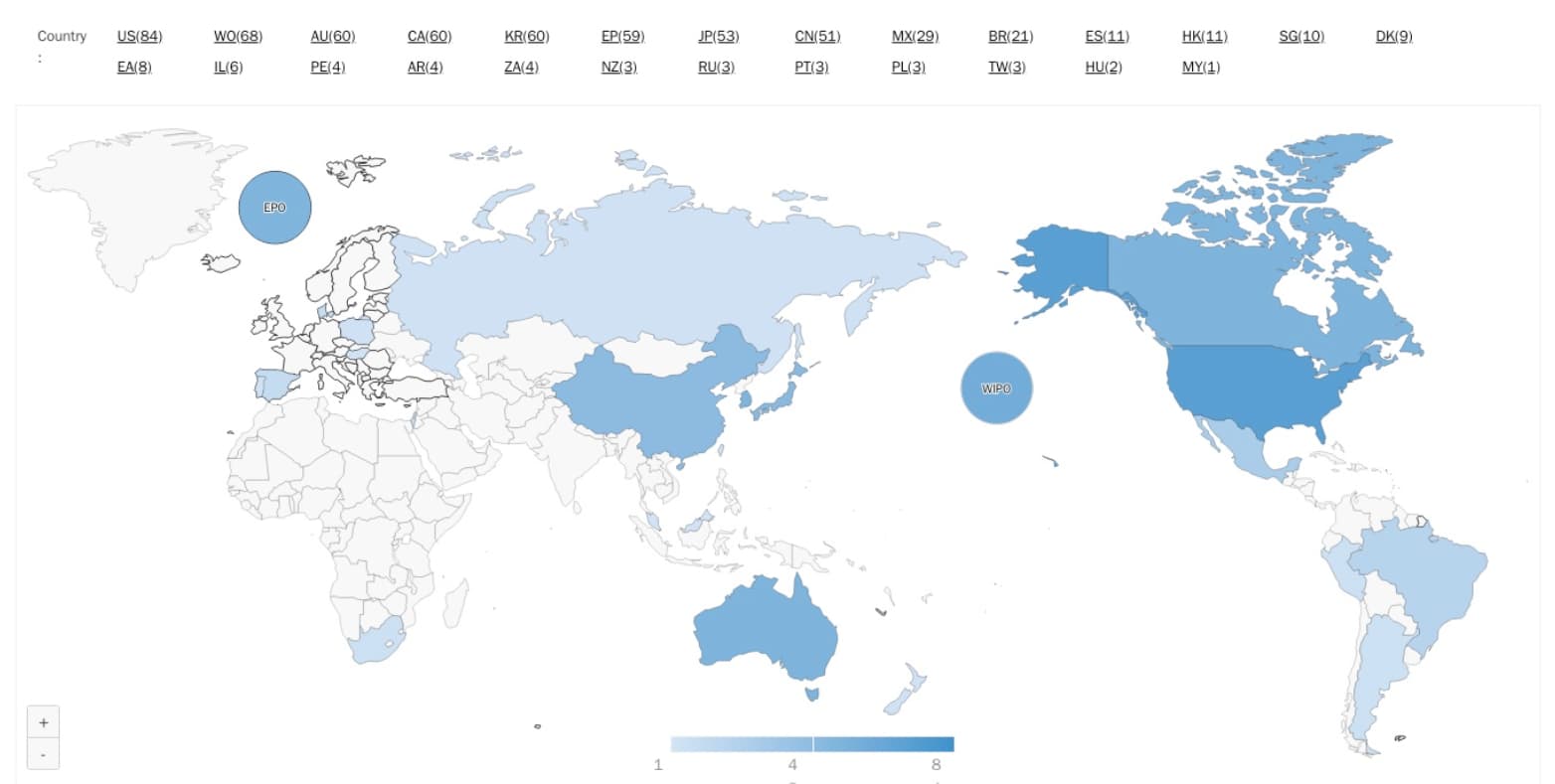 This map shows the global country coverage of the entire portfolio.

This chart shows the quality and value of the Inovio patent portfolio.
The Quality Ranking indicates the relative eventuality of prior art references being found for a patent, which can threaten its validity.
The factors considered (based on pre-publication or pre-grant information) include:
The qualifications and profile of the attorney and examiner
The number of potential prior art references
The structure of the independent and dependent claims
The Value Ranking concentrates on reflecting the relative tendency of a patent to be practiced or monetized after its issuance.
Considered factors (based on pre-publication or pre-grant information) include:
The qualifications and profile of the inventor and applicant
The stage of the technology lifecycle
Citations
Pre-grant assignment and licensing
Due Diligence uses a proprietary algorithm to evaluate and assess the patent's quality and value. More information about Quality and Value Rankings is available in our whitepaper below.
The rankings are divided as follows:
AAA ranking: the top 3%
AA ranking: from 3% to 10%
A ranking: from 10% to 25%
B ranking: from 25% to 50%
C ranking: from 50% to 75%
D ranking: the bottom 25%

This chart provides a comparison of the Patent Quality and Value Rankings for Inovio's portfolio in the same IPC subclasses. The Patent Quality and Value rankings of the portfolio and the overall proportional distribution in the same IPC subclasses are also compared.
As you can see from the chart, Inovio's portfolio is one to keep a close eye on! Check out the demo report of Inovio's patent portfolio here.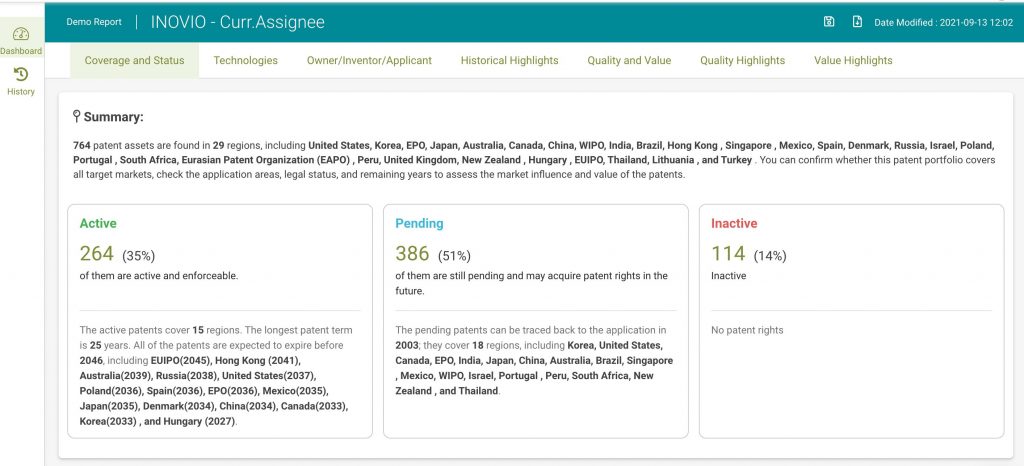 What's Next?
We will certainly be monitoring the Inovio-related developments over the coming weeks and months. Could this company eclipse the "chosen five" and win the COVID-19 race? Only time will tell.
The author would like to express gratitude to Leo Tsou, manager of Wispro Technology Consulting Corporation, and expert of Biopharmaceutical IP for his assistance and advice.