Apple's Apple Watch is currently facing a possible ban on two accounts of patent infringement cases.
On January 10, 2023, Masimo Corp., a medical device company based in California, won an initial ruling against Apple, in which an administrative judge of the U.S. International Trade Commission (ITC) found that the Apple Watch Series 6 infringed on one of Masimo's pulse oximeter patents.
In the meantime, on January 20th, Apple was also found infringing on two of AliveCor's patents covering portable electrocardiogram (ECG) technology by the ITC. AliveCor is a medical device and AI company that provides ECG hardware and software.
In this article, we will examine the Masimo case and the patents-in-suit.
*You can read our analysis of the AliveCor dispute with Apple in our accompanying article.
Table of contents
---
Masimo's Dispute with Apple
Background of the Dispute
Before the dispute, back in 2014, Apple allegedly "poached" Masimo's chief medical officer and several of its employees before the launch of the Apple Watch in 2015.
On January 9, 2020, Masimo filed the first complaint against Apple at the California Central District Court (Masimo Corporation et al. v. Apple Inc. CDCA-8-20-cv-00048), accusing Apple of stealing its trade secrets and infringing on 12 of its patents. Apple followed suit with PTAB petitions of all 12 patents-in-suit.
Over a year later, on June 29, 2021, Masimo filed a complaint with the U.S. International Trade Commission (Certain Light-Based Physiological Measurement Devices and Components Thereof ITC-337-TA-1276) accusing Apple of infringing on five of its patents and seeking an import ban, seeking to prohibit Apple from bringing its Apple Watch products from China or other manufacturing countries.
Last year, on October 20, 2022, Apple filed two lawsuits at the Delaware District Court (DDE-1-22-cv-01377 and DDE-1-22-cv-01378), shy of two months after Masimo launched its own advanced health tracking watch — Masimo W1 on Aug 31, 2022. Apple accused Masimo of cloning the Apple Watch in both functionality and design. These two cases involve five and twelve patents and are both currently stayed, pending the outcome of the ITC case.
Here is a summary of the events (excluding PTAB petitions):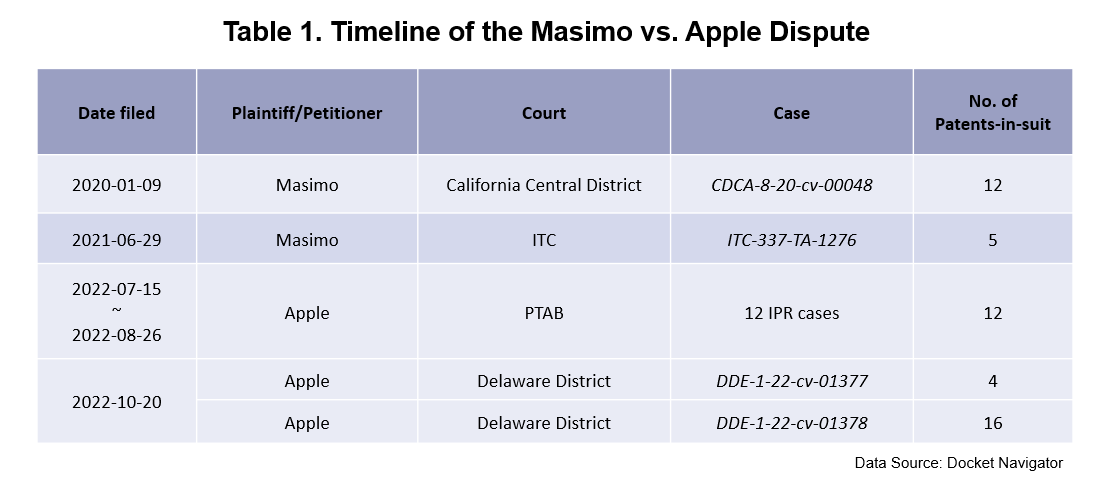 The ITC Case
On January 10, 2023, the U.S. Judge of the case (ITC-337-TA-1276) ruled in favor of Masimo, finding the Apple Watch Series 6 to be infringing on one of Masimo's five patents covering the technology of detecting blood oxygen levels with light sensors.
A few days later, on January 24, Masimo requested an exclusion order and a cease and desist order to block imports of the infringing Apple Watch products. The Commission will then consider whether to implement the ban.
In this article, we'll look at the patents involved in the ITC case to see if we can find any patent insights.
Masimo's Patents-in-suit
There are a total of five patents involved in the ITC case between Masimo and Apple.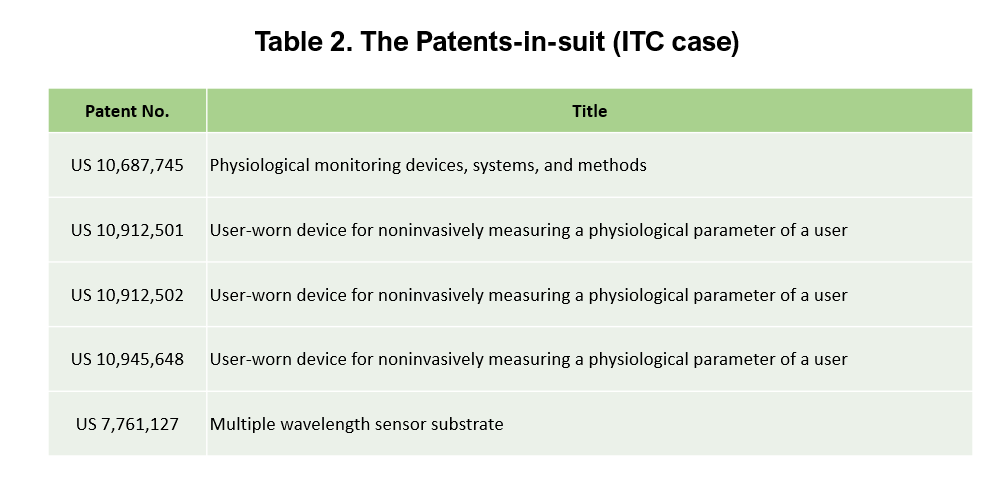 All five patents were developed by Masimo and describe how light sensors can gauge the level of blood oxygen uninvasively.
Interestingly, Masimo filed the ITC case just a few months (on June 29, 2021) after the newest patent (US 10,945,648) was granted on March 16, 2021.
According to the Final Determination, patent no. US 10,945,648 ("User-worn device for noninvasively measuring a physiological parameter of a user") was the only patent Apple infringed upon.
The Quality of the Patents-in-suit
The majority of the patents-in-suit seem fairly sound, with little to no quality issues found by our Quality Insights analysis. Most of the patents have very few novelty (§102) prior art and have a low claim disclosure rate.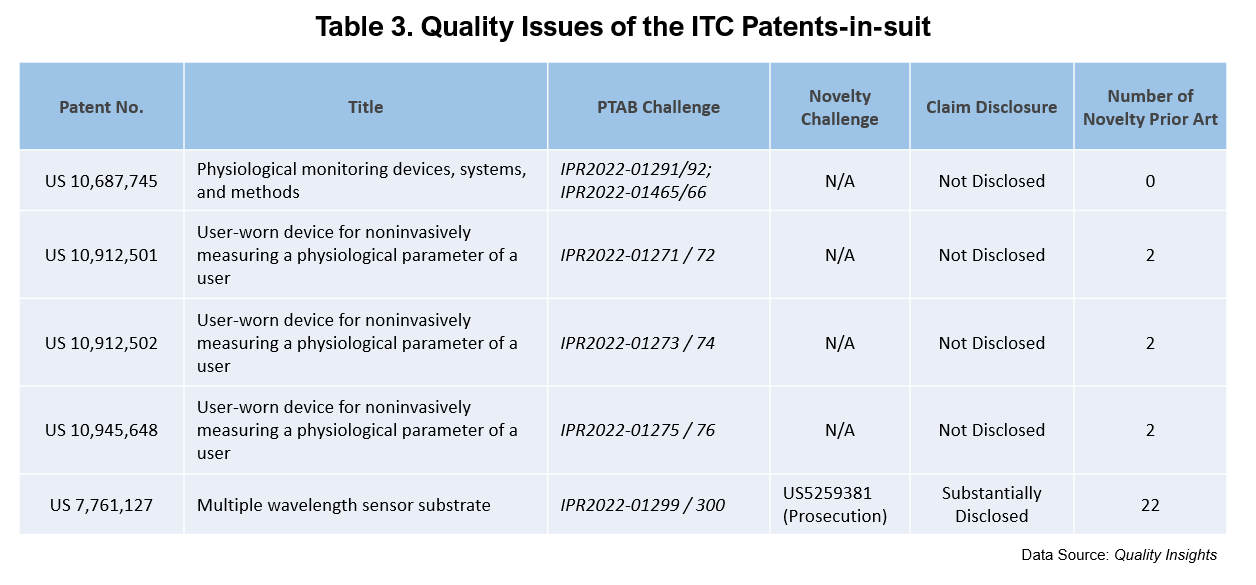 Only the '127 patent has encountered a novelty challenge in the past, namely, during prosecution where the examiner cited the patent US 5,259,381 as prior art in the Non-Final Rejection. Quality Insights' report also shows that it has more potential novelty prior art.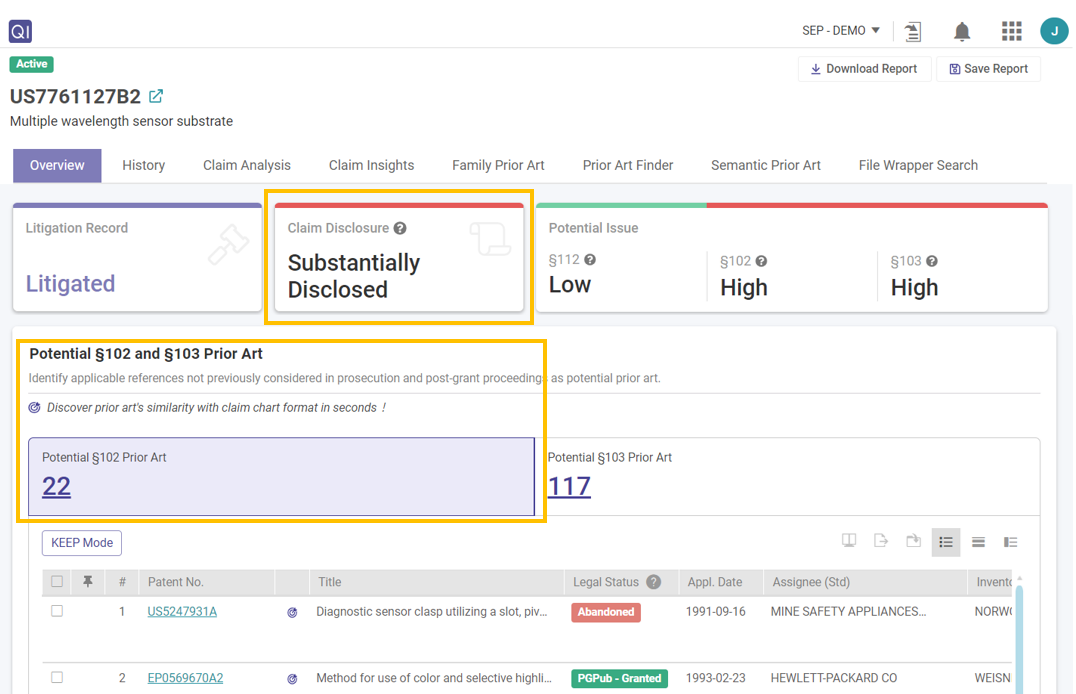 US Patent No. 10,945,648 was found to be infringed upon by an Administrative Law Judge in the ITC case. More specifically, Apple infringed on claim 24 and claim 30 of the patent, which covered the aspects "wherein the protrusion comprises opaque material configured to substantially prevent light piping" and "wherein the protrusion further comprises one or more chamfered edges," respectively.
On a side note, claim 12 ("The user-worn device of claim 8, wherein the physiological parameter comprises oxygen or oxygen saturation") of the '648 patent was invalidated by the Judge.
Interestingly, Apple challenged all five patents at the PTAB in July and August of 2022. However, all PTAB petitions were denied institution in the few weeks after the ITC ruling (from February 23 to March 7). Some decisions stated that Apple did not give adequate cause to challenge the patents, and others stated that there was no need to file two separate petitions challenging the same patent, thus wasting resources.
More About the Portfolio of the Patents-in-suit
The portfolio of the patents-in-suit and their family members constitutes 130 patent applications in three families.
Potential Developments in the Masimo vs. Apple Dispute
The portfolio covers six regions with 99 (76.15%) active patents. Apart from the U.S., the active patents can be enforced in Europe, Japan, and Germany, indicating that Masimo can enforce this portfolio in these countries. If Masimo wants to, it can escalate the dispute to other countries with these patents.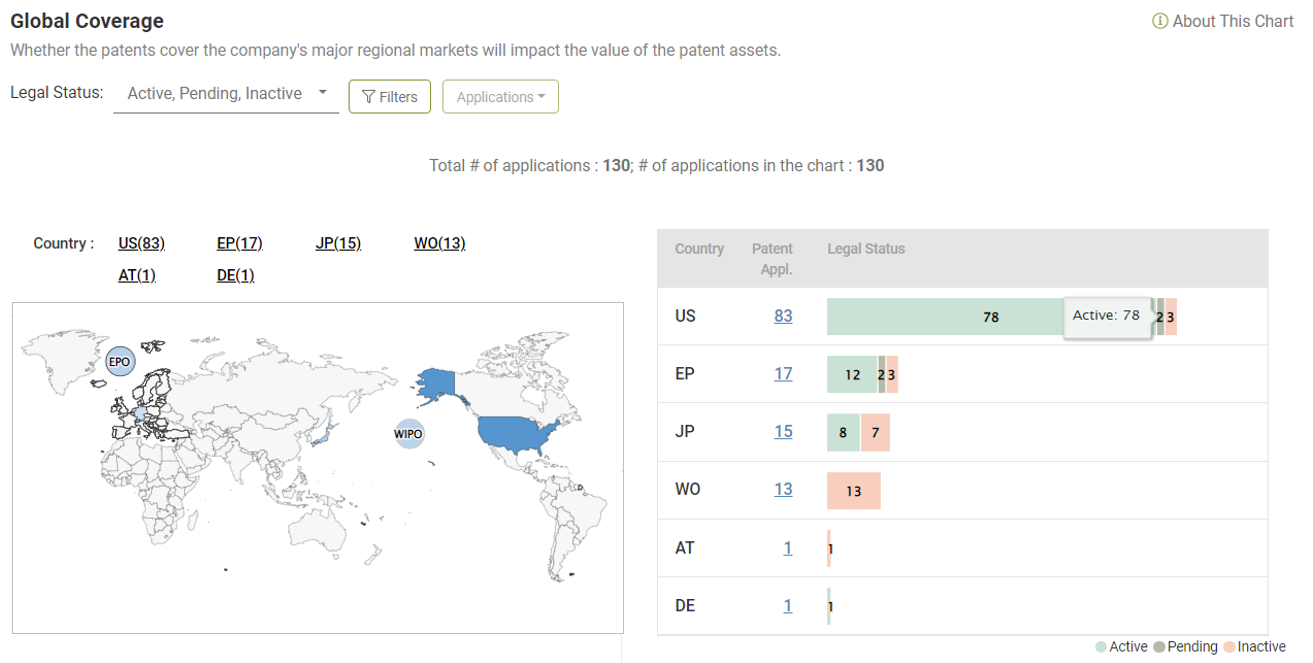 Quality Issues of the Portfolio
Although we didn't find many quality issues in the five patents-in-suit, if we look at their family members, we can see that 68.75% of the U.S. patents have eligibility and novelty issues in their prosecution history and PTAB history, indicating potential patent quality concerns.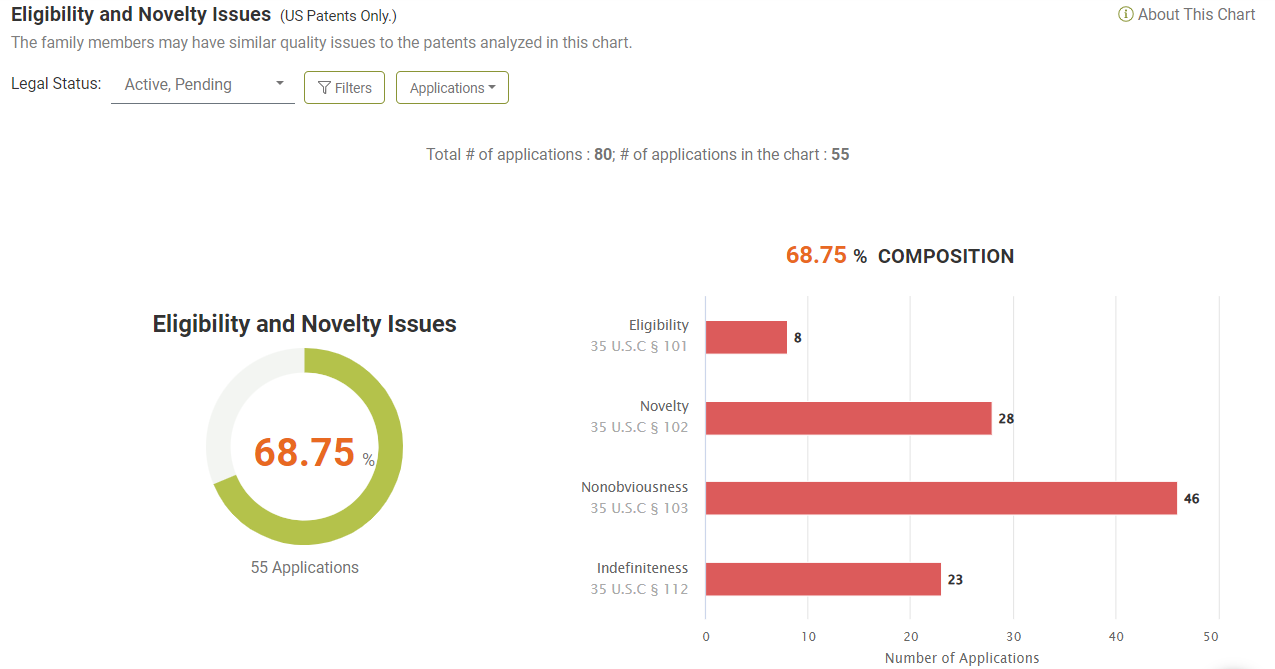 Our Findings
Summing up, we found that the patents-in-suit for Masimo's case against Apple are fairly sound in quality. This may be because the patents have very few, or even none, cited prior art in their histories. Coupled with the fact that the PTAB petitions were revoked before any review was conducted, we have yet to find any major quality concerns regarding the patents-in-suit.
We may be able to see whether Maismo will successfully get the ban on the infringing Apple Watch products by May this year.
Read more about Apple's other Apple Watch dispute with AliveCor here!
If you want to run a quality report of your own, try out Quality Insights by clicking the button below!
OR
Contact Us for more information on analyzing patent data!