Table of contents
---
Introduction
On October 10th, IAM published an article (subscribed content) that examined how Amgen Inc.'s in-house litigators produced favorable outcomes in ANDA patent litigation cases. The article pointed out that the biotech company had excellent in-house litigators. You can read the article for more details and numbers.
Naturally, our team was immediately curious about how much positive impact the quality and value of the asserted patents have on Amgen's litigation and monetization activities. So, that's what we are going to do in this article today — examine Amgen's litigated patents to find the answer.
The Litigated Patents
Using Docket Navigator, we found that 77 Amgen's patents were asserted in litigation.
Looking a bit closer, two of the 77 patents were asserted by other parties at the PTAB and therefore excluded from our analysis, leaving 75 patents asserted by Amgen.
Since we only want to look at the patents that Amgen asserted in this article, we examined the list of asserted patents more carefully to find the "Amgen patents" that were asserted by "Amgen."
Amgen's Patents
Among the 75 patents asserted, 65 belong to Amgen.  Amgen has 3,162 U.S. patent applications in its portfolio, showing that only a small portion (2%) of its patents have been asserted.
The 65 asserted patents include 14 owned by Kai Pharmaceuticals and Immunex (acquired by Amgen) as current assignees and one co-owned with the University of Delaware.
The assignees of the remaining ten patents are F Hoffmann-LA Roche AG (2 patents), Les Laboratoires Servier (4 patents), and NPS Pharmaceuticals (4 patents).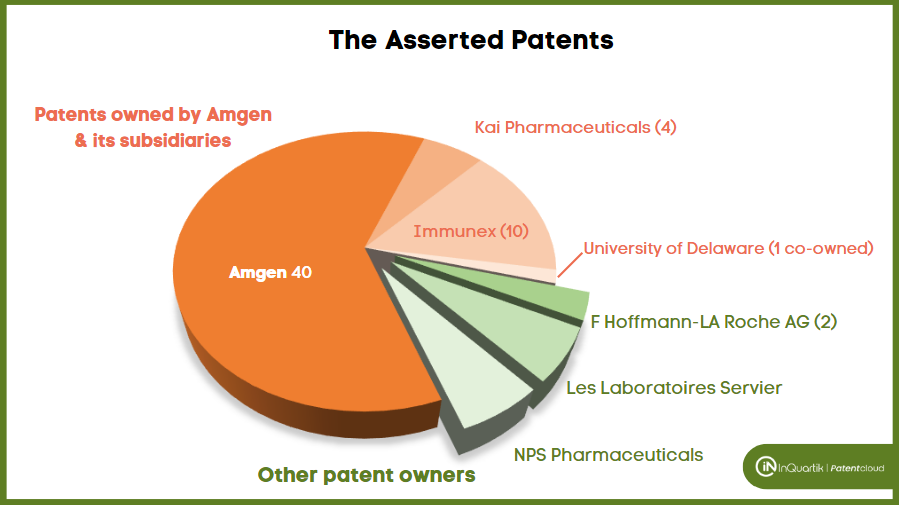 Amgen's Acquisitions
Amgen acquired several companies, including:
Immunex in 2002
Kai Pharmaceuticals in 2012
Celgene's Otezla in 2019
The Patents Used in Litigations Initiated by Amgen
Probing a bit deeper, we wanted to find the patents that were asserted by Amgen only. We examined the dates of the patents' lawsuits to eliminate the patents that were asserted before Amgen acquired them. For example, patent No. US 9,724,330 ("Methods of using (+)-2-[1-(3-Ethoxy-4-methoxyphenyl)-2-methylsulfonylethyl]-4-acetylaminoisoindoline-1,3-dione") was last litigated by Celgene in 2018 before Amgen acquired the patent in 2019. Therefore, this patent is excluded from this list of "Amgen-litigated patents."
We excluded seven patents that were litigated before Amgen's acquisition. All seven patents were owned and litigated by Celgene before being transferred to Amgen. All 14 of Kai Pharmaceuticals' and Immunex's patents were asserted in district court cases by Amgen.
This leaves a total of 58 patents litigated by Amgen.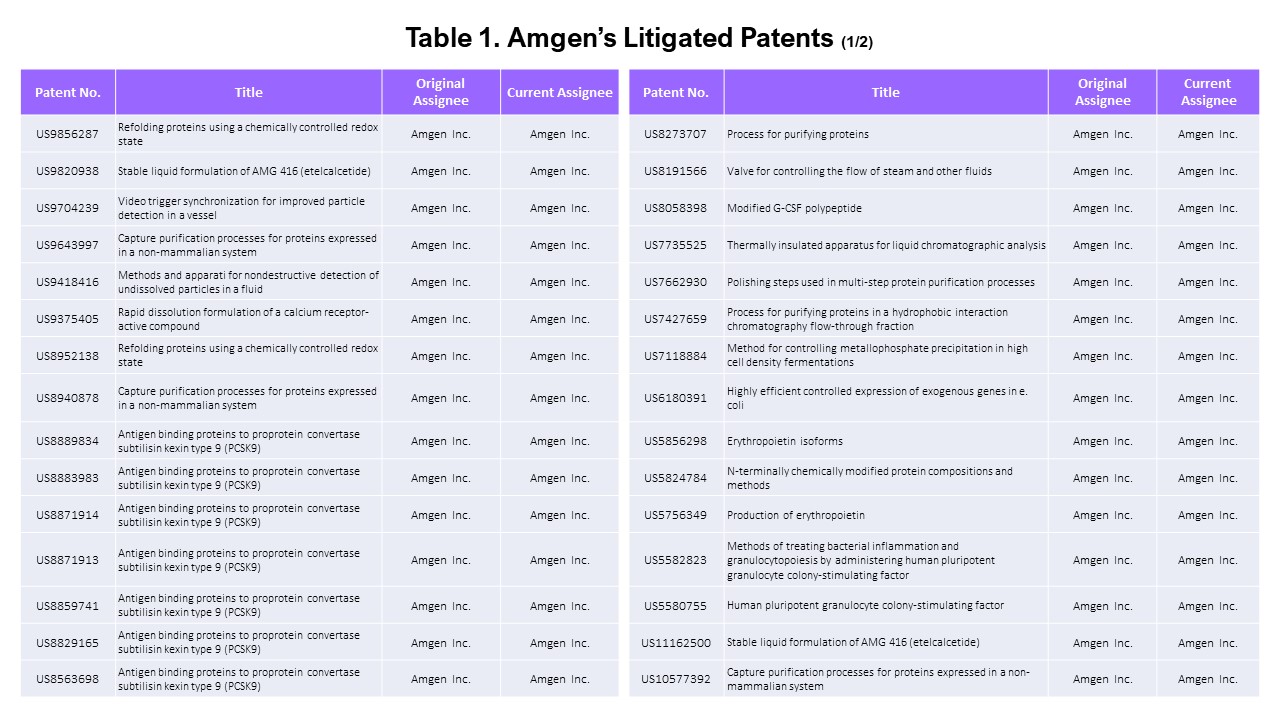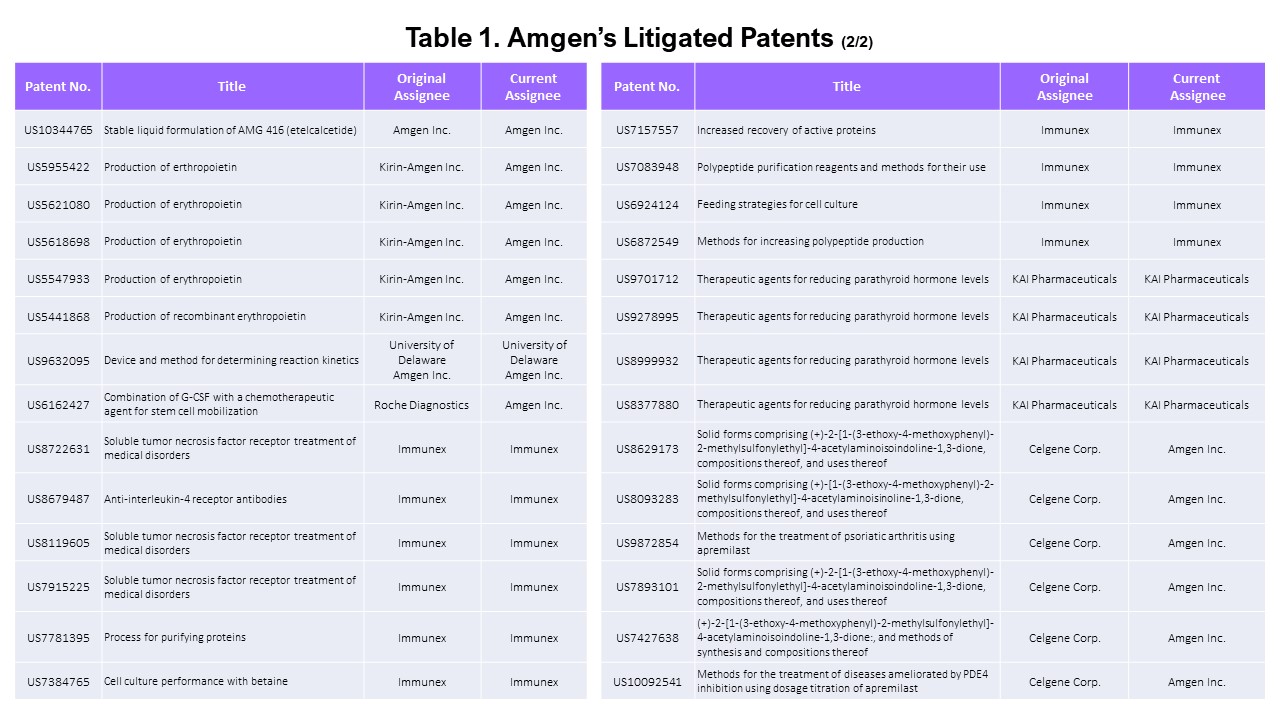 Summarizing this section, among the list of asserted patents, 65 are owned by Amgen (and its subsidiaries), and 58 were asserted in litigation by Amgen (excluding those asserted before Amgen's acquisition). We will refer to these two portfolios as "asserted Amgen patents" and "Amgen's litigated patents" in this article.
The Asserted Amgen Patents
Does Amgen Only Initiate Litigation In Response to ANDA Filings?
Looking at the portfolio of asserted Amgen patents, there are currently 43 active patents (among the 65).
By 2027, five years from now, there will still be 27 patents (62.79%) that are active and enforceable. Ten years from now, there will still be seven patents active.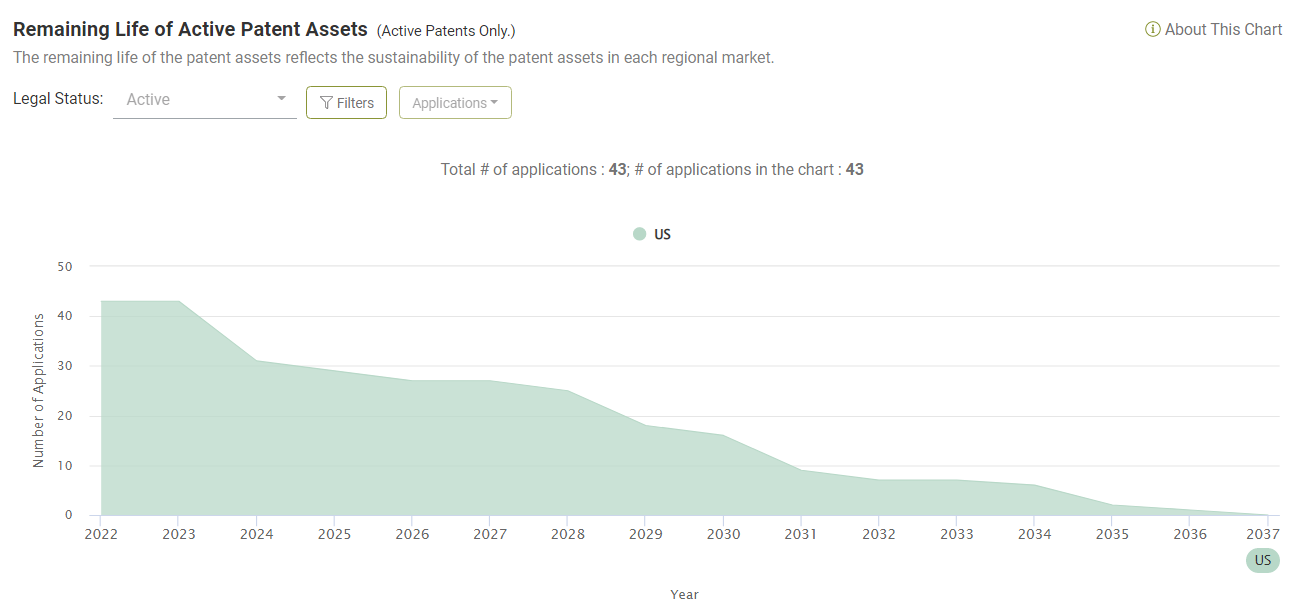 This finding tells us that Amgen has been enforcing its patents years before they expire. We can infer that Amgen is taking a proactive approach to utilizing its patent assets and not just responding to ANDA filings.
You can view a portfolio's remaining life by running your own Due Diligence report. Click the button below to get a 7-day free trial!
Amgen's Self-developed Patents
Among the 65 asserted Amgen patents, 37 were self-developed. Amgen is listed as the original assignee for 36 patents, and one was co-developed with the University of Delaware.
Of the remaining 28 patents that belong to Amgen but were not self-developed, most were acquired along with the acquisition of other companies. Amgen acquired 13 of the asserted patents with the acquisition of Celgene's Otezla in 2019, 10 were acquired with the acquisition of Immunex in 2002, four from the acquisition of Kai Pharmaceuticals in 2012, and one was directly transferred from Roche Diagnostics GmbH.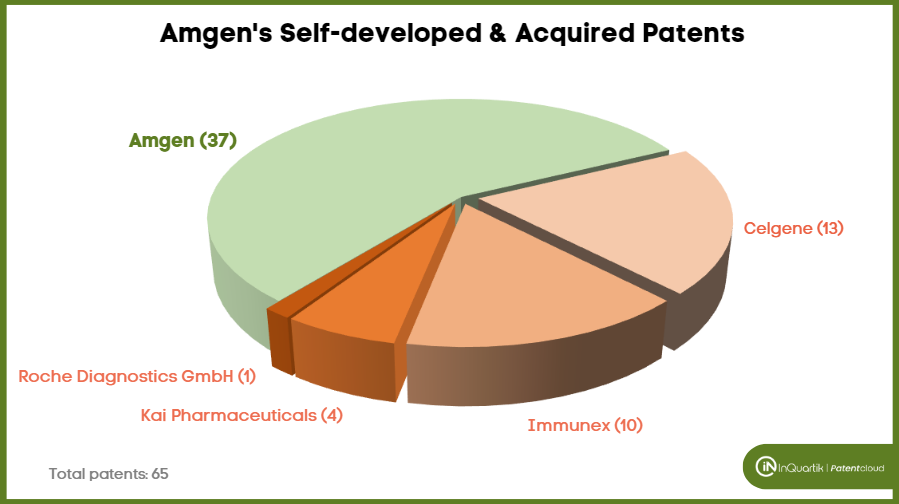 Examining the Quality of Amgen's Litigated Patents
In this section, we will examine Amgen's litigated patents (those only asserted by Amgen), excluding those patents that were litigated before Amgen acquired a certain company.
Abandoned or Revoked Family Members
Looking at the Due Diligence report, we found that 36 (62.01%) of the 58 patents are active. Of the 19 active families, 14 (73.68%) have family members abandoned during prosecution or revoked after being granted, indicating potential quality issues.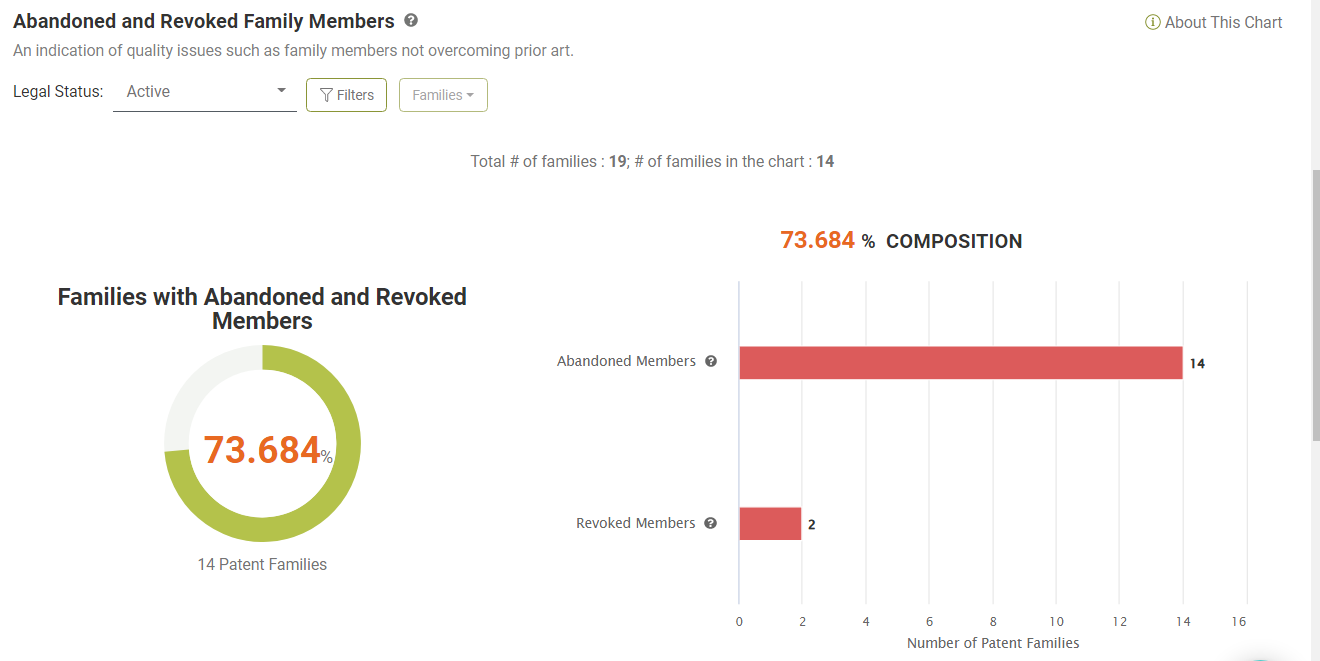 Historical Quality Issues
80.57% of the active patents in this portfolio have quality issues. This includes 41.67% (15 out of 36) with novelty, or §102, issues in their prosecution history and PTAB history.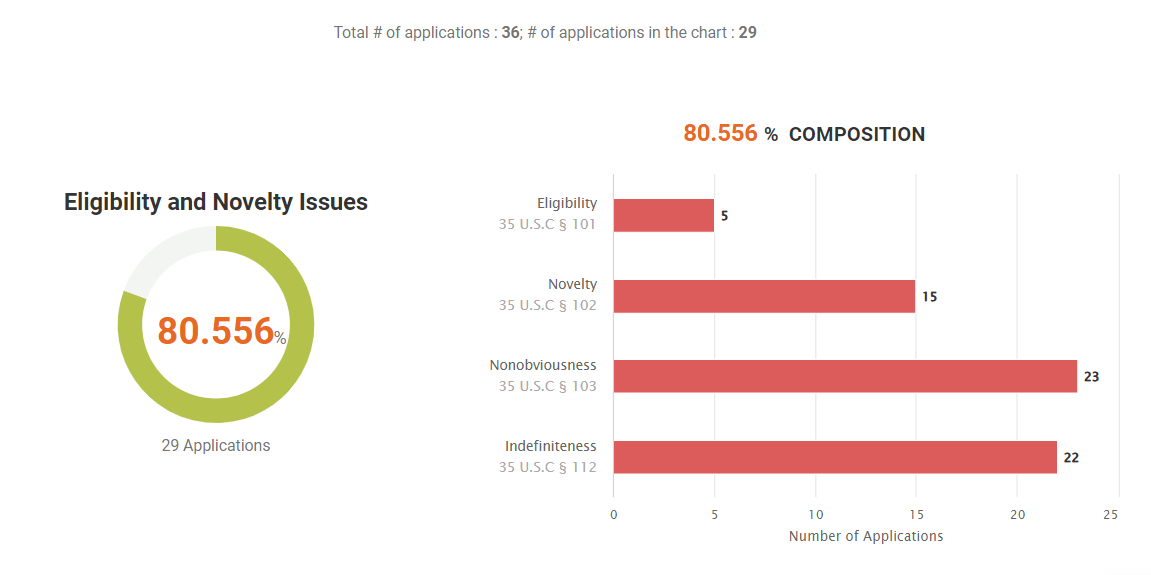 Comparison with Peers
Quality Ranking
Compared to its peers under the C07K (Peptides) category, Amgen's active litigated patents do not show any exceptional stance with better quality patents. Quite the opposite, only a few patents have an A-rank in Quality.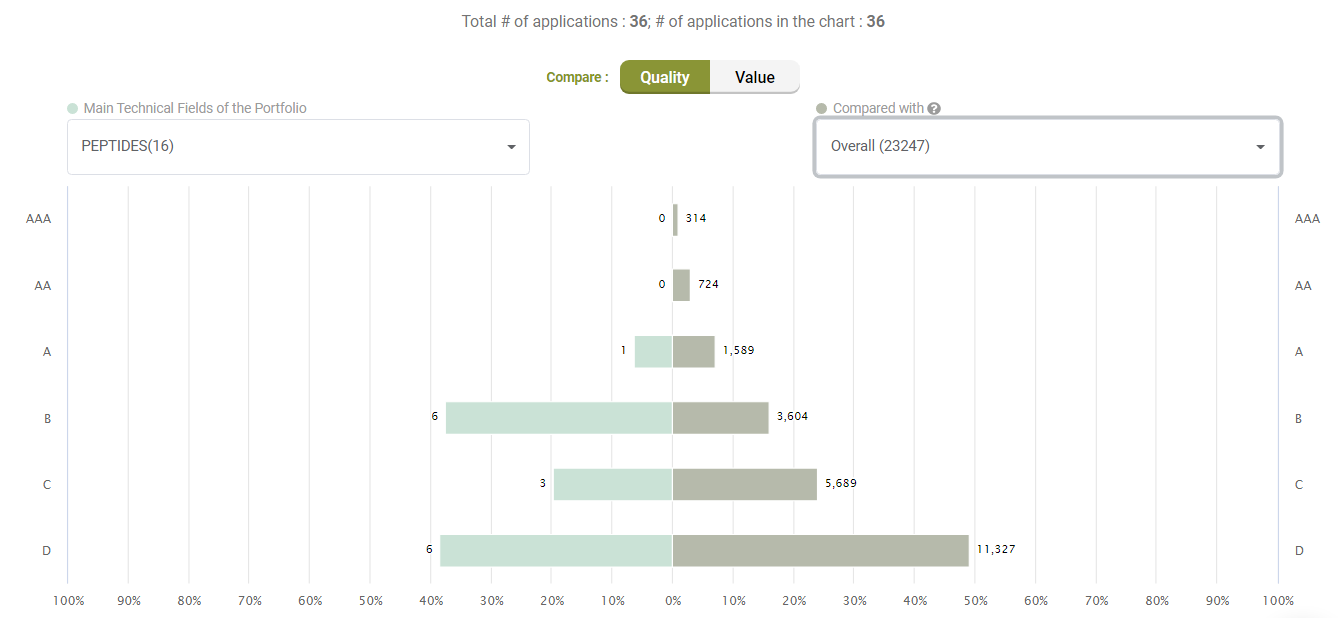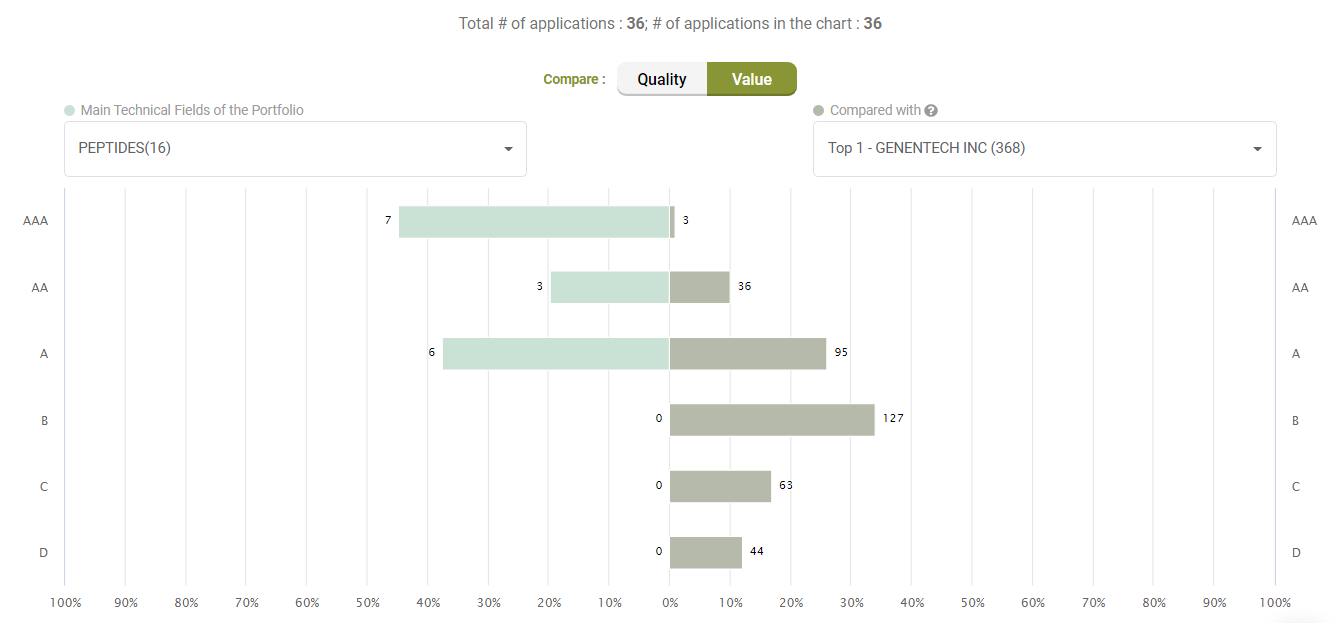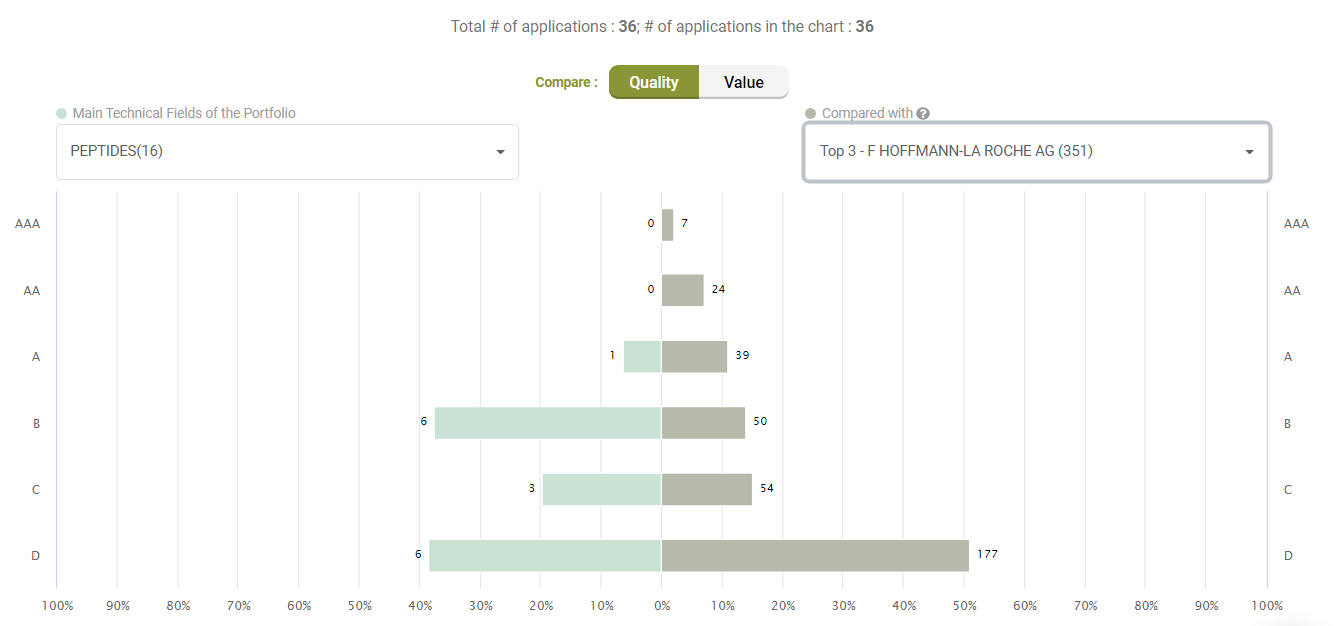 Value Ranking
Looking at Value, however, Amgen's litigated patents show better Value rankings than its peers.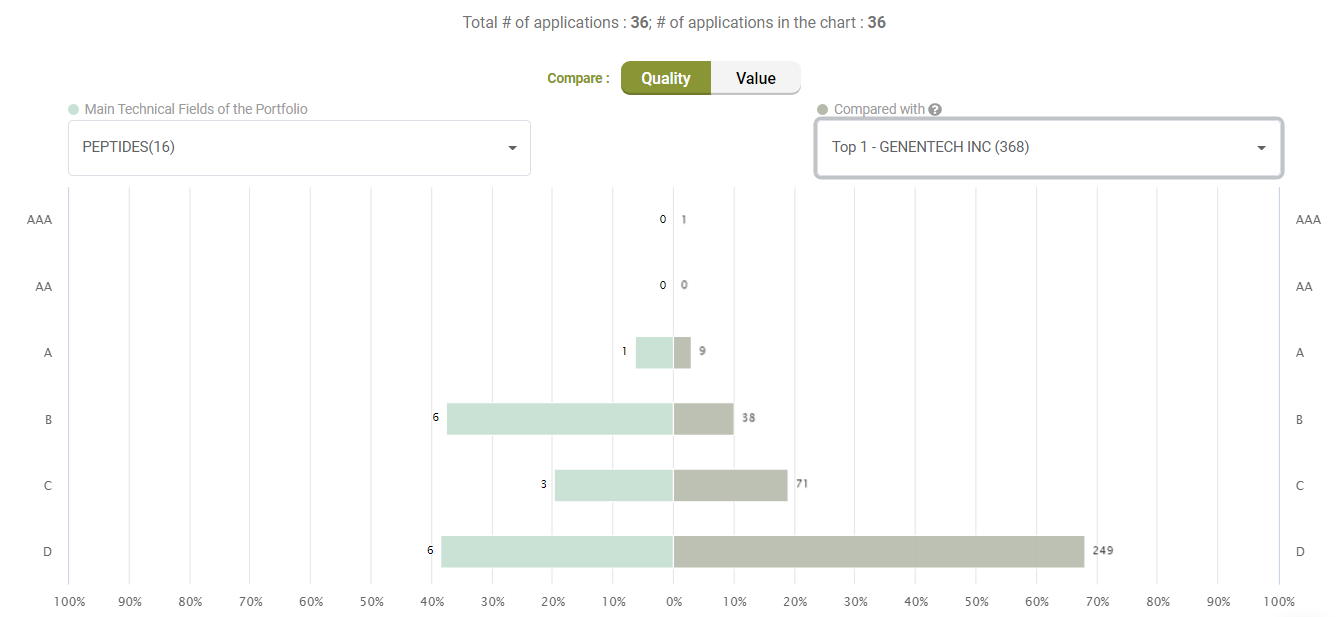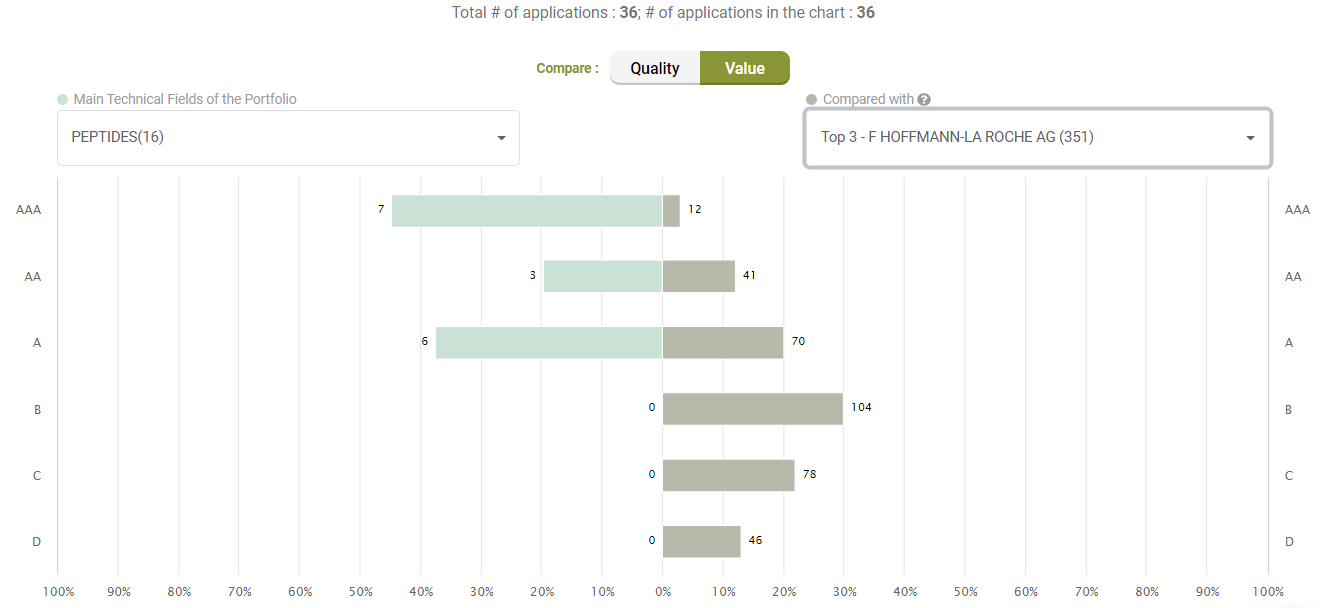 Check out our whitepaper for more on our exclusive Patent Quality and Value Rankings.
Quality Summary and Insights
We found quite a share of quality issues in Amgen's litigated patent portfolio, such as novelty challenges the patents encountered in the past. Also, over 70% of the patents have family members that were abandoned during prosecution or revoked after being granted, which also hints at potential quality issues in the patents.
Compared with its peers, Amgen's patents are not significantly better in terms of quality, either.
Despite these findings, we know that Amgen had litigated (and most successfully) these patents. This goes to show that Amgen is an assertive company when it comes to patent litigation. Their U.S. patents are rigorously litigated to protect their research and products.
What About the Defendants?
Among the patent litigation cases that Amgen initiated between 2008 and 2021, six company names popped up more than once as defendants. The companies are Mylan, Zydus Pharmaceuticals, Torrent Pharmaceuticals, Accord Healthcare, Hospira, and MSN Laboratories. Zydus Pharmaceuticals and Hospira are generic drug divisions of larger pharmaceutical companies.
We took a quick look at these defendants' patent portfolios to see if they could compare to Amgen's.
All of these companies have patents, but not as many as Amgen. Here is a comparison of the six companies and Amgen's complete patent portfolio.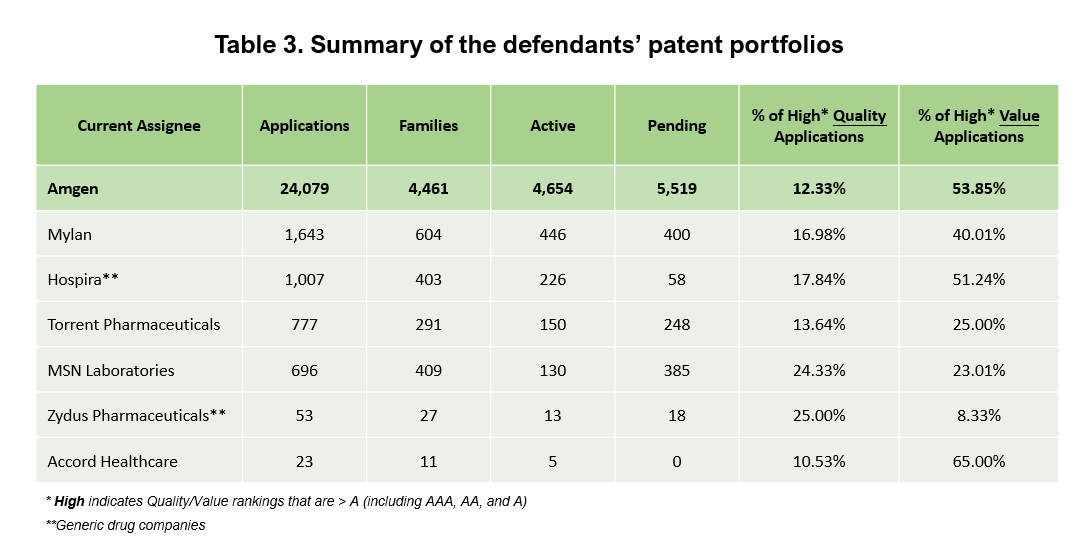 Looking at the Quality and Value Rankings of the companies' patents, Amgen has a higher percentage of High-Value patents than most of the defendants. Only Accord Healthcare has a higher portion, but 100% of its patents were acquired and not self-developed.
Amgen's entire portfolio has a lower percentage of High-Quality patents, as we also saw when comparing the asserted patents with their peers in the previous section. However, in terms of numbers, Amgen still has quite a few High-Quality patents (2,969 patents).
Not considering the generic drug companies, the other companies seem slower than Amgen in developing and enforcing their patents.
On a side note, the research focus in some companies is different from Amgen. For example, Hospira is a pharmaceutical and medical device company, and like Zydus, its patents are mostly under A61 ("Medical or Veterinary Science: Hygiene") compared to Amgen's, which are mainly under C07 ("Organic Chemistry").
Conclusion
After examining the patents that Amgen asserted, we can come back to the question we proposed at the beginning of this article — how do Amgen's patents impact its litigation and monetization activities?
First, summing up our findings:
Amgen's litigated patent portfolio has over 70% abandoned or revoked family members.
80.57% of the active patents (from the litigated portfolio) have quality issues in their history.
Compared to its peers in the same technical field, the Quality rankings of Amgen's patents are lower.
Although we found quite a significant proportion of Amgen's asserted patents have quality or potential quality concerns, this did not impact the success rate of Amgen's patent litigations. We also found that Amgen starts to enforce their patent rights early on, not just in response to ANDA filings for generic versions of their products.
Amgen's legal success in rigorously enforcing its patents may lie mainly in its in-house litigators (see the IAM article) and its IP strategy.
We hope you have found our analysis interesting and insightful! You can check out the Due Diligence report for the portfolio of Amgen's asserted patents. Just click on the link and navigate around the various charts for free!
Or, you can run your own Due Diligence report! Click the button below to start the free trial and enter any patent-owning company name into the search box!