"The best things in life are free," The Beatles once said, and on the face of it, free certainly does sound great. Unfortunately, however, when it comes to free patent search products, free can often end up costing you more in time, effort and resources.
As you're probably already aware, many free patent search products and databases are available today, from Google Patents to the United States Patent and Trademark Office (USPTO) online portal and the European Patent Office's Espacenet, to name but a few.
Of course, free patent search products and services are frequently used by patent professionals in the IP industry today. However, when push comes to shove, these services can't offer much in the way of stability, reliability, or accuracy.
Read on to discover the top three reasons why free patent search products aren't all they're cracked up to be.
1: Lack of Advanced Patent Search Functionality and Data
As you might expect, most free patent search products provide the most basic of search functionality. This might seem acceptable for searchers on a budget. Still, to work more effectively and efficiently, the advanced search functionality that patent search platforms such as Patentcloud provide can make all the difference.
Whether it's a prior art search, state-of-the-art search, or patent clearance scenario, Patentcloud's advanced search features, particularly Semantic Search, take patent searching to the next level.
Additionally, when it comes to sharing and even saving information, free patent search product providers do not always make this easy or even possible. Most lack the functionality to facilitate collaboration. With Patentcloud and the Project feature in Patent Search, users can quickly and conveniently collaborate with others, easily sharing valuable information with a range of project stakeholders. Built-in features like the Highlighter, Memos, and Tags, also aid in information-sharing.
Most free patent search sites and products lack any advanced data, and this means that searchers have to work harder to find information and obtain results. For example, this data could include patent assignment data, corporate affiliate, legal status, and current assignee, all of which are inferior or lacking in the free search sites.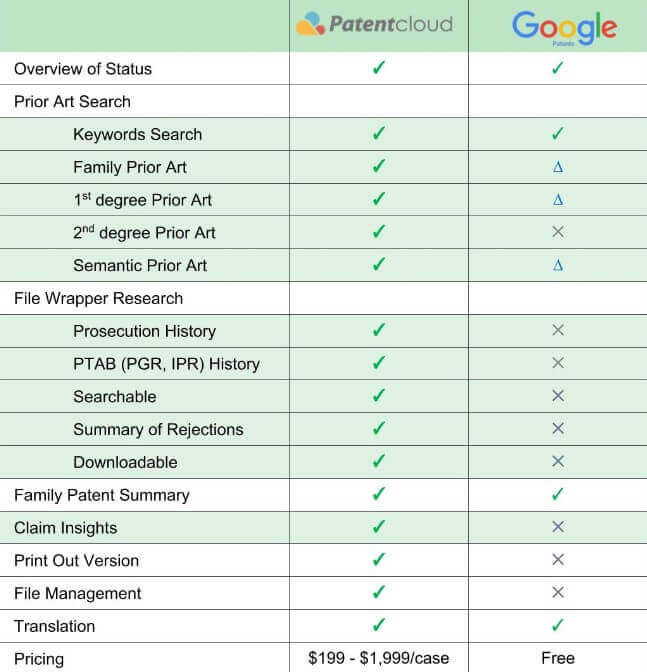 2: Missing or Inaccurate Patent Data
Free patent search products can often miss data, which, in turn, can have a detrimental effect on accuracy, leading to potentially disastrous consequences. Imagine missing out on a vital patent; this could undo months and months of work and may end up costing you dearly.
Furthermore, free patent search databases often take a considerable amount of time to update; can you afford to wait? Again, you may miss out on more recent patents due to the speed of the database update.
Inaccuracy is often an issue when it comes to free patent search products. However, there is too much at stake to leave anything to chance when performing an in-depth patent analysis.
Try for yourself, take a handful of patent numbers that you know for a fact exist, then try to find them within various free patent databases. It can be quite an eyeopener when you realize that some of the patents are impossible to find within the free databases.
3: Time Consuming and Lacking Comprehensiveness
Although patent search services such as Google Patents, Espacenet, and the USPTO portal are "free," they often end up causing users to invest a lot of their time. Most free patent search services still require users to search for and download the data, read through it page by page, retrieve any additional data needed and compile all of the information together.
Patentcloud, however, provides patent practitioners with the information they need in just one click. With this comprehensive overview of crucial patent information, users can identify the most critical issues and quickly make important judgments about the case right from the start. At the same time, they can precisely and rapidly form an effective strategy.
Furthermore, free patent search services often focus on specific countries, the USPTO provides US patent data, and Google Patents is also highly concentrated on the US. However, both sites are not as reliable or authoritative regarding China patent data, for example. In the same way, Espacenet excels at EP patents, but not the US or China. Unfortunately, this can force patent practitioners to jump around from site to site to find the data that they need.
They may also have to cobble together information from different patent search sites to gather the necessary data for a project. Patentcloud, on the other hand, provides data from a wide range of patent offices, including the IP5 and WIPO. Moreover, Patentcloud even consolidates all of this data into one convenient location, with just one click, delivering a complete overview at a glance.
For patent practitioners, this means they can use one platform — Patentcloud — to find all of the relevant information they need from the US, China, and Europe, instead of spending time and effort going from site to site to find it themselves.
Patentcloud: For Patent Practitioners
All in all, for the free patent search products that are available today, it may be best to remember the old saying, "You get what you pay for." When it comes down to it, the free patent search products may end up costing users, especially regarding the time and effort required to use them. In comparison, Patentcloud enables users to work in a comprehensive, complete, and precise manner.
With comprehensiveness, advanced search functionality, and advanced data, Patentcloud outshines the free sites in these key areas. At the same time, with the insights that Patentcloud provides, users can quickly solve problems and effectively set strategies for their companies or clients. Of course, Patentcloud also offers a free version of its platform, but we find that most clients prefer the advanced features and functionality of the premium package.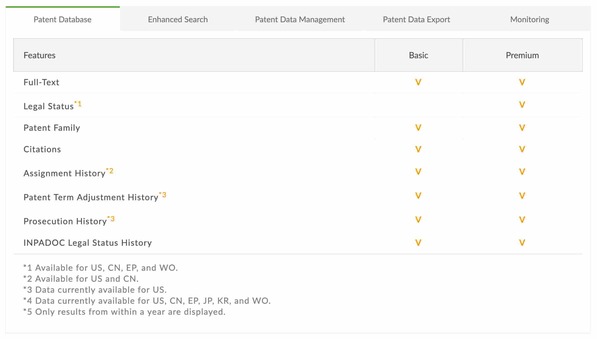 When it comes to a patent search, can you afford to make crucial decisions based on data that may be missing or incomplete? With Patentcloud, you can be sure of high-quality data that is accurate, up-to-date, and comprehensive.
Contact us and discover the power of Patentcloud today!