The PatentMatrix Dashboard
Simplify Patent Analysis With This Innovative Tool
A field guide to conducting patent analysis with the most flexible tool available to patent professionals — from FTO to due diligence.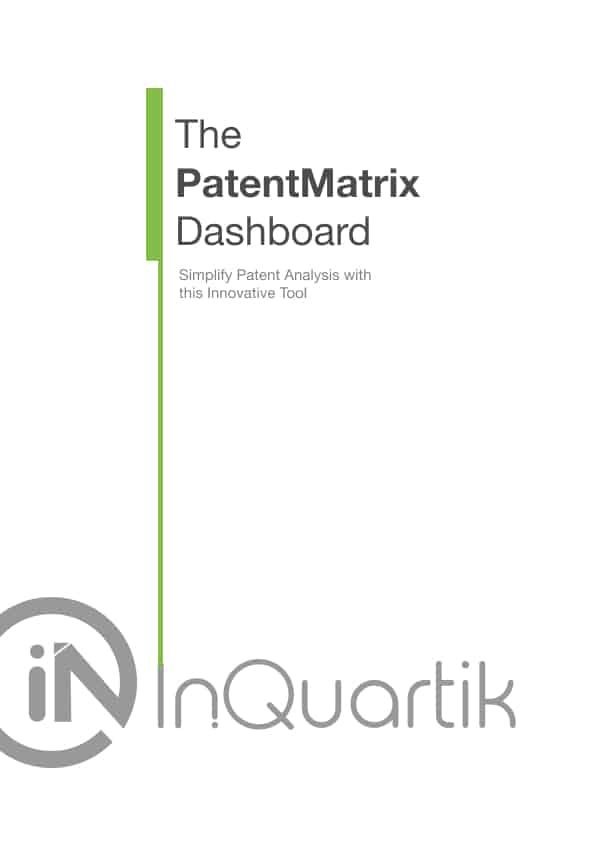 Is patent analysis working for you?
If you feel like patent analysis isn't supporting you as it should or — even worse — that your business could do without it altogether, you may be taking the wrong approach.
Discover how the most successful patent professionals are carrying out their patent analyses with this FREE 28-page white paper.
What you'll learn:
Why Excel spreadsheets and manual analysis are causing you to lose opportunities.
The 3 characteristics that make the PatentMatrix Dashboard a better solution for patent analysis.
How it can benefit your patent work in any scenario requiring patent analysis.
What you'll find in this white paper:
A 3-step guide on how to implement the PatentMatrix dashboard in your strategy.
4 case studies from today's most cutting-edge industries.
12+ examples of PatentMatrix Dashboards that you can use to create your own.
Be it to have the right product development strategy, to deploy the patent portfolio worldwide, or to monetize patent assets, patent analysis is always the first step you need to take — fill in the form below to download the white paper and make sure to start off on the right foot!