Dear Patentcloud Users,
We are delighted to introduce a new milestone: the official launch and rebranding of Patentcloud's SEP — as SEP OmniLytics.
Since the first launch of Patentcloud's SEP beta version in July 2020, InQuartik has been dedicated to improving the data quality, performance, and usability of the app. Users can now easily obtain the latest updates of standard-essential patent (SEP) declarations and view the SEP landscape in telecommunication. We would like to share with you the benefits that SEP OmniLytics' new features bring to all Patentcloud users.
Introducing SEP OmniLytics
SEP OmniLytics is Patentcloud's app dedicated to providing transparent SEP declaration data curated from the ETSI SEP database. The quality data empowers telecommunication SEP owners and implementers alike by allowing users to perceive the big picture and view the various positions of SEP owners in competitive benchmarking and SEP licensing negotiations.
With Patentcloud's top-quality data, SEP OmniLytics allows our users to break through the veil of the 5G SEP landscape, depicting the actual distribution status of declared SEPs and their current owners. With just a few clicks, users can filter for targeted information, such as a specific SEP owner's SEP global deployment and the remaining life of the SEP assets, just to name a few.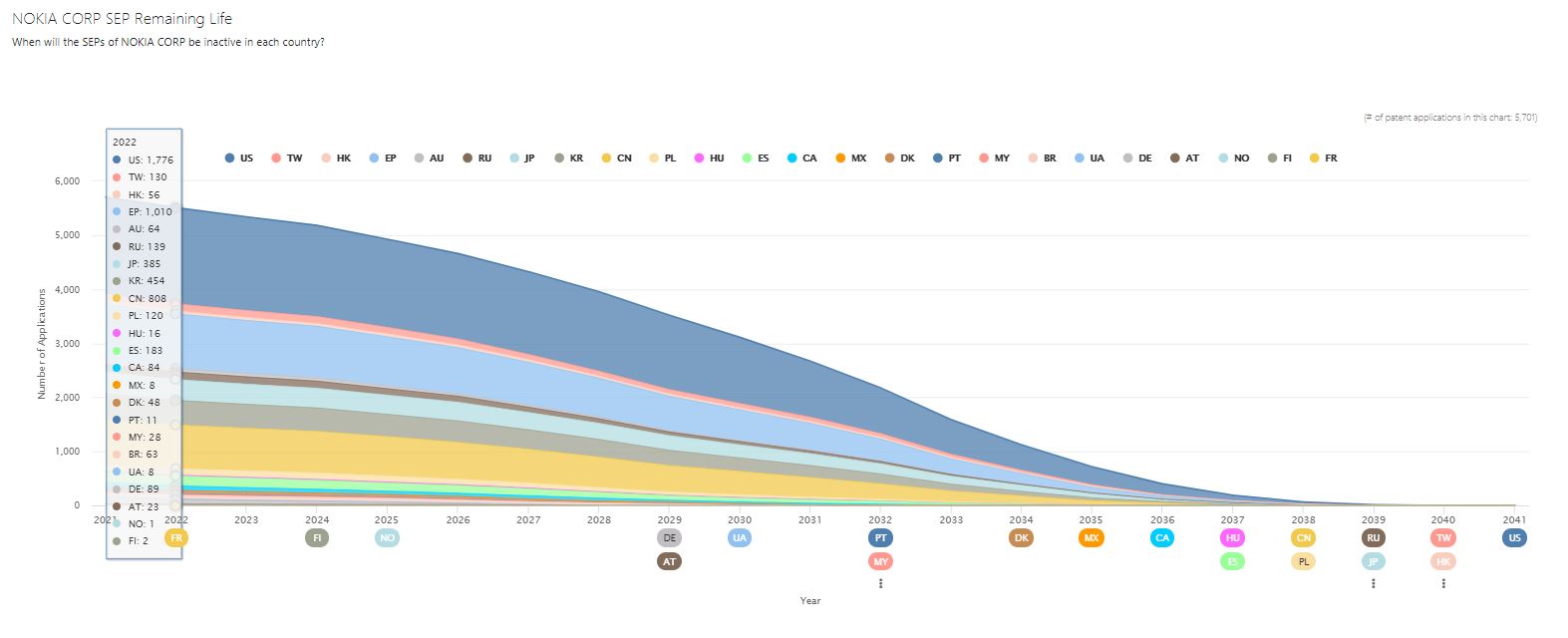 Exclusive Quality Data
SEP OmniLytics collects the latest ETSI SEP declaration data daily and reverts the incomplete and inaccurate data into reliable intelligence via a strict cleansing and verification process. SEP OmniLytics is also dedicated to maintaining 99%+ of all SEP declaration records, which is integrated with Patentcloud's curated patent data for the latest asset status.  As a result, all analytics and dashboards are supported by comprehensive, timely, well-verified, and standardized data.
New & Easy-to-use Filters
Another great news: SEP OmniLytics' filters now have a new look! Thanks to our trial users and their feedback, the new and easy-to-use filters provide a tidier and clearer interface that enables users to sort out the insights they need effortlessly with just a few clicks.
The new 5G and LTE landscape filters allow users to obtain an overview of the 5G/LTE SEP landscapes in just seconds. The Widely Deployed filter can find the SEP owners with the widest deployment of their SEP portfolio. And, with the Well Maintained filter, users can pick out the SEP families that have the best legal statuses.
Get started now for more new features!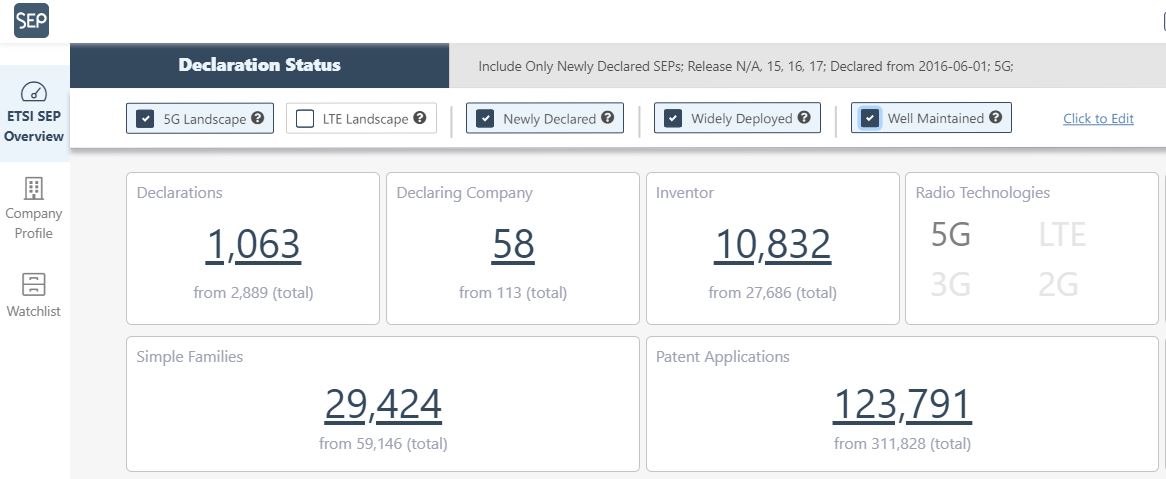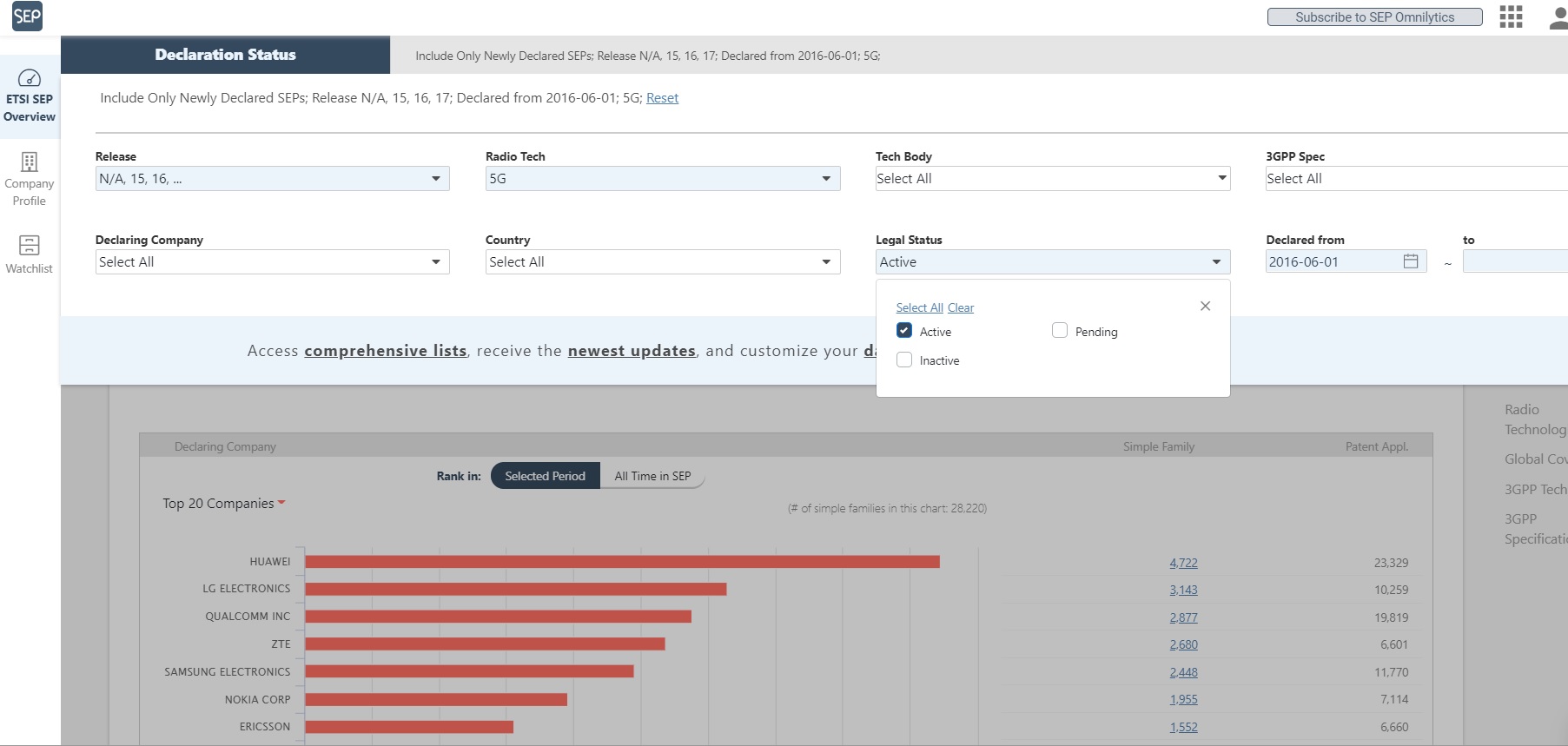 Pricing Plans
SEP OmniLytics pricing plans are officially announced this March, with early bird discounts available until the end of May 2021. Users can subscribe to SEP OmniLytics with US$ 149 per month or US$ 1,788 per annum for the comprehensive database and insightful intelligence. The subscription plan includes:
Unlimited ETSI database, Company Profile, and Dashboard access.
1,000 export limit of patent metadata and pdf file.
Please see our pricing plans in detail.
Need more information? Request a demo from our Client Success Specialist now.