Table of contents
After exploring the new frontier that AI and Big Data opened for patent investment, we are going to introduce a new concept of Patent Lifecycle Management. Before diving into the details and finding out what it is, however, we should first answer the question "Why we do need it?"
Why Manage the Patent Lifecycle?
As we saw in our previous Patent 101 article on the importance of determining patent expiration dates, the standard term of a patent today is 20 years from the earliest non-provisional application.
Clearly, a lot can happen between that date and the day the technology disclosed goes into the public domain. This is particularly true in today's world, one that experiences technological advancements on a faster-than-ever pace.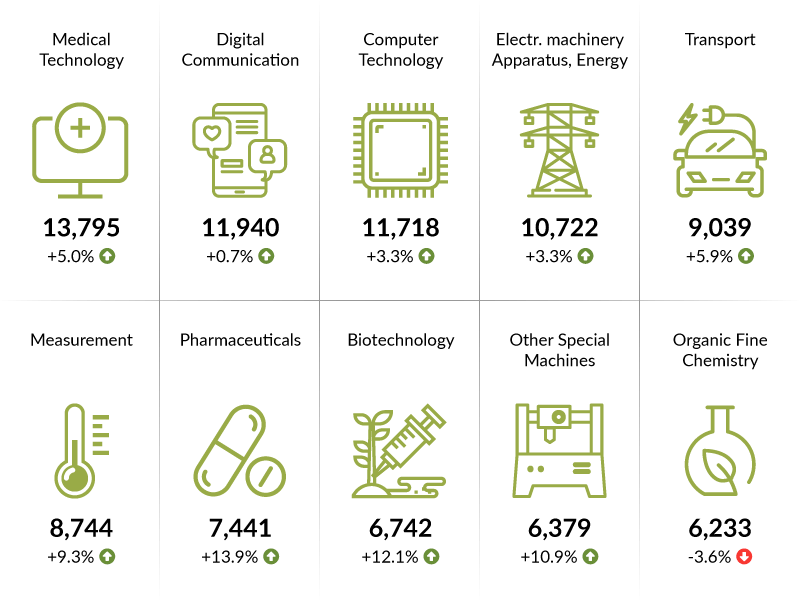 Said technological advancements inevitably have an impact on businesses, that need to adapt in order to survive new challenges and competitors.
It goes without saying that patent management — as a key component of many businesses — should also be proactive and accommodate market changes.
In recent years, in fact, IP experienced a shift from a mere legal matter to a strategic tool, becoming:
An essential element of corporate policies;
One of the main sources of corporate advantage.
It was just a matter of time, therefore, before patents became part of a bigger picture — just as it happened with products before — that encompasses more than just prosecution.
What Is Patent Lifecycle Management?
This is precisely when Patent Lifecycle Management steps into the game, enabling patent owners to ensure quality, value, and alignment with the overall corporate direction:
Patent Lifecycle Management is the totality of strategies and tools that patent stakeholders can implement and utilize to improve (and possibly automate) the creation, management, and monetization of patent portfolios.
The main stages involved in the process are summarized below: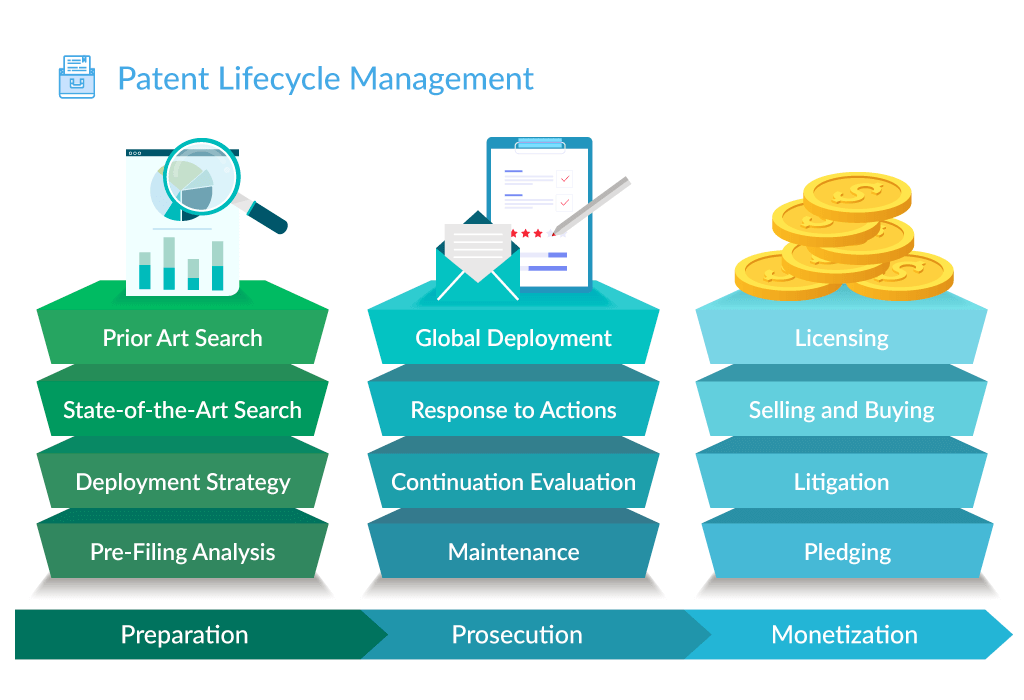 In particular, a consolidated Patent Lifecycle Management system enables portfolio owners to:
Optimize each stage of the process — mainly preparation and prosecution — to proactively facilitate patent protection and monetization;
Utilize correctly the tools and rely on the most appropriate metrics to manage and track the process;
Leverage the most comprehensive track records to support decision-making in monetization.
A clear and defined process allows them not only to adapt more rapidly to market changes but also to create a feedback system to continuously tweak the efficiency of each step involved.
Another reason to develop a Patent Lifecycle Management strategy is to support long-term product development goals, not just ad hoc inventions, which in most cases exhaust their revenue potential very rapidly.
The investment needed to ideate, develop, and protect a new product or technology is significantly high, especially in a competitive market like today's one.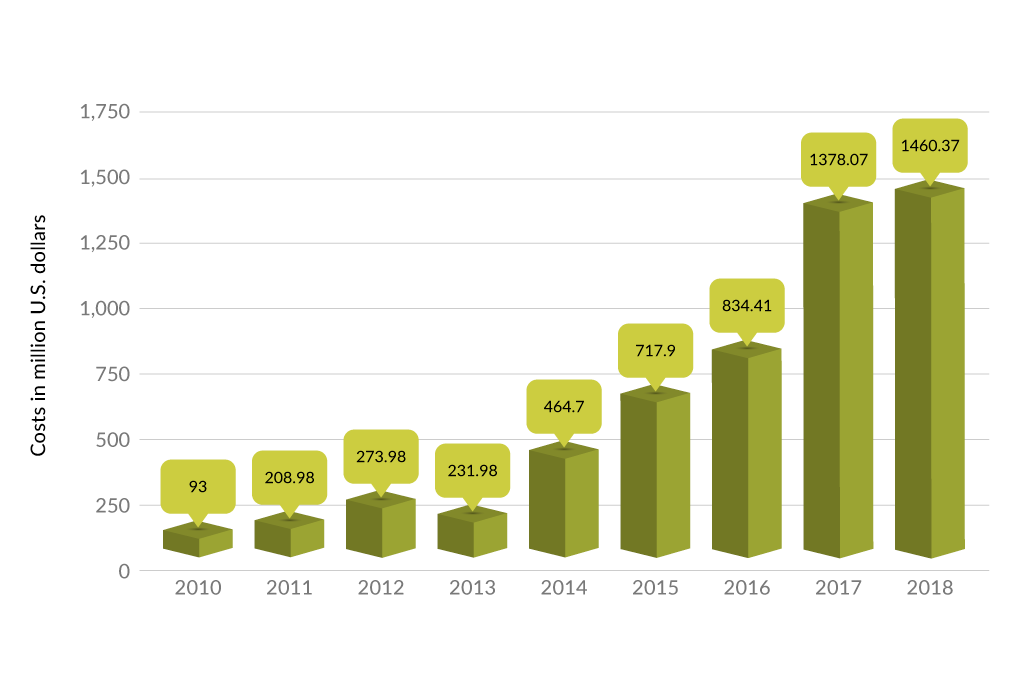 Maximizing Return On Investment
Portfolio owners, therefore, need to make sure that the resulting earnings would eventually outperform the initial investment.
One way to do so is to devote R&D efforts to the right technology field at the right time, providing solutions to problems that haven't been addressed yet: Patent Lifecycle Management, by interconnecting the two ends of the process, allows to do so.
Identifying correctly market needs translates into more valuable patent assets, which in turn enable owners to get more out of them in the monetization phase.
Reducing Maintenance Expenses
Patent-related expenditure is not exclusively tied to prosecution: patents, in fact, need to be maintained after their issuance.
Business-wise, therefore, it doesn't make sense to invest resources in maintaining patents that have little potential to generate value.
An integrated system that comprises a feedback mechanism — as Patent Lifecycle Management does — allows to continuously stay on track with market changes and decide accordingly which patents are worth maintaining and which are instead worth abandoning.
Patent Lifecycle Management: A Timeline
Before diving into the operations involved in each stage of the process, let's spend a few words on the timing:
Preparation — this phase spans from the inception of ideas to the patentability checks performed before filing. Understandably, it is the most important one as it sets the foundation for the following phases by defining the overall strategy;
Prosecution — although the name might suggest that this stage only relates to the Patent Office's scrutiny for patentability, it actually goes well beyond it, in particular to the patent expiration into the public domain;
Monetization — more than a final phase, monetization overlaps with prosecution. A patent, in fact, can be monetized (through licensing, buying/selling or pledging) or enforced as soon as it is granted. The expertise required in most of the operations involved, however, differs substantially from the previous stages and thus needs to be addressed separately.
Next: discover the ins and outs of the preparation stage to start off your patent strategy on the right foot.
Download the Free White Paper: Patent Lifecycle Management
In this FREE 33-page white paper, you'll learn:
Why rethinking the traditional patent investment approach is the key to success
Why the manual patent valuation process of the past is not effective
Why managing the patent lifecycle is so important
The three stages of the patent lifecycle and why they're critical