Following on from our last article Operations in Different Stages of the Patent Lifecycle: Prosecution we are going to take a look at the various operations that take place during the patent monetization stage of patent lifecycle management.  We will also look at why patent monetization matters and what the scope of patent monetization is. In the realms of Patent Lifecycle Management, enforcement and transactions are placed under the umbrella of monetization.
Table of contents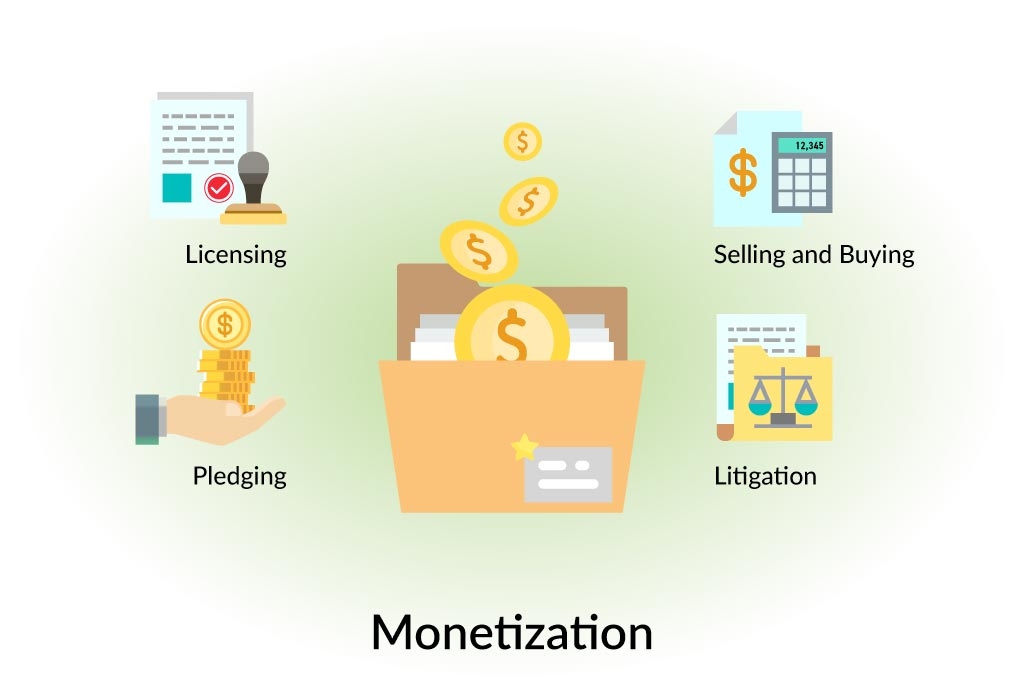 What is Patent Monetization?
Patent monetization refers to revenue accumulated by a person or company by licensing or selling its patents. Patents can only generate value from market preemption and transactions. To accomplish market preemption, enforcement of patents is an essential backup. For transactions, there are three major types of daily transactional activities: Selling and Buying, Licensing and Pledging. Although there may be other new and innovative IP businesses models generated every day, the foundation remains with the abovementioned activities.
As we are well aware, a patent is widely considered to be an intangible asset. It is an indication of a patent holder's right to make a profit from his or her invention. However, simply owning the rights to a patent does not necessarily equate to a reliable cash stream. Patent monetization transforms the intangible asset (the patent) into revenue.
Our previous two articles covered the Preparation stage and the Prosecution stage of Patent Lifecycle Management, all of the investments made during the preparation and prosecution stage can only generate value to the stakeholders during the monetization stage. Therefore, it is easy to observe that while some patent holders involved in monetization can take lessons from the monetization stage in order to improve preparation and prosecution practices, which will in turn help to positively affect the return on investment (ROI.) Such a positive effect is what Patent Lifecycle Management strives to pursue.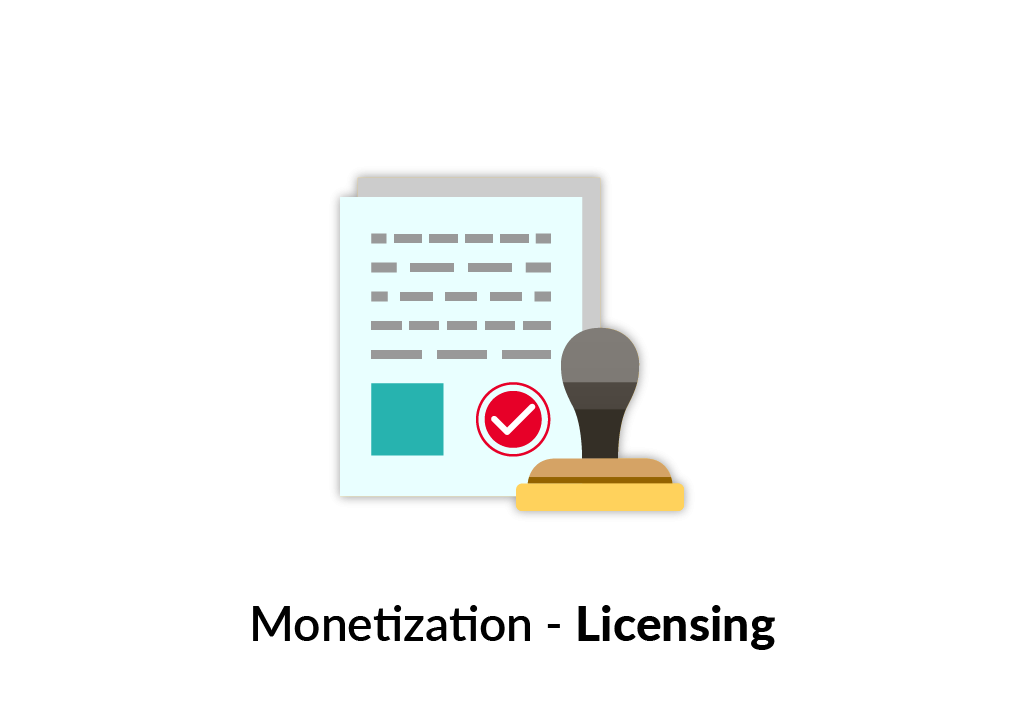 Patent Licensing
Patent Licensing involves enabling a third party to make, use and sell an invention exclusively or non-exclusively, for a pre-agreed amount of royalties. In a nutshell, patent licensing is an agreement between an individual or companies and a company in order to make, use and sell the invention. The patent holder's ownership remains in the invention and the patent holder will receive royalty payments for the invention.
Patent licensing typically consists of four steps:
Identifying patents for potential licensing
Establishing licensing program and pricing
Approaching a potential target based on previous market data research
Revealing the offer for licensing and negotiating if applicable
After Negotiation, if a deal is not made, enforcement will usually come in to play. If a deal is made, there would then be a process of auditing if the licensing fee is based on running royalty.
Licensing is strongly linked to the prosecution stage of Patent Lifecycle Management because a strong patent portfolio is very important in order to sustain the licensing business. Additionally, the business results of licensing can also be deemed as a market trend (or business needs) that provides guidance for the global deployment of patents during the prosecution phase. We cannot stress enough that the maintenance of patents is extremely important to maintain a healthy and potentially profitable portfolio.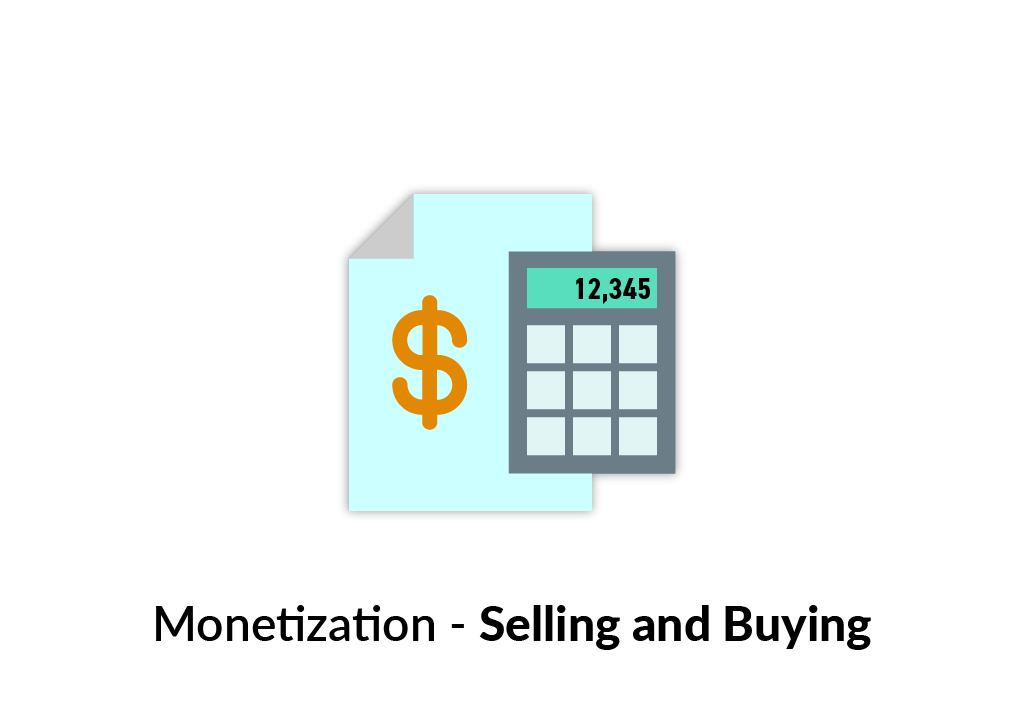 Selling and Buying
The buying and selling of patents, is yet another operation that is carried out during the monetization stage of the patent lifecycle.
The sale of a patent enables the inventor to acquire income, selling a patent also removes the massive financial burden of starting up a business around a new product.
Furthermore, the buying and selling of patents is usually not solely deemed as an IP matter because it involves a company's assets. It would actually be considered as a corporate level decision, especially when the patents are valuable, sometimes it is also part of acquiring companies with patents.
When selling a patent, the following steps can help with ascertaining a realistic figure.
Determine which patents to sell (the portfolio manager usually requires the patent owner's confirmation for this step)
Identify targets from market data and approach them (some patent owner's leverage patent broker's networking)
Complete the sales kit with the value proposition
Negotiate with buyers
From the seller's perspective, analyzing a company's existing portfolio is a great way of ascertaining their own patent's value.
When trying to determine the value of the company's patents, here are some aspects that can help the seller with strengthening their value proposition.
Patent value
Number of patents owned
Quality of invention
Competitor analysis
Profitability
Potential infringement issues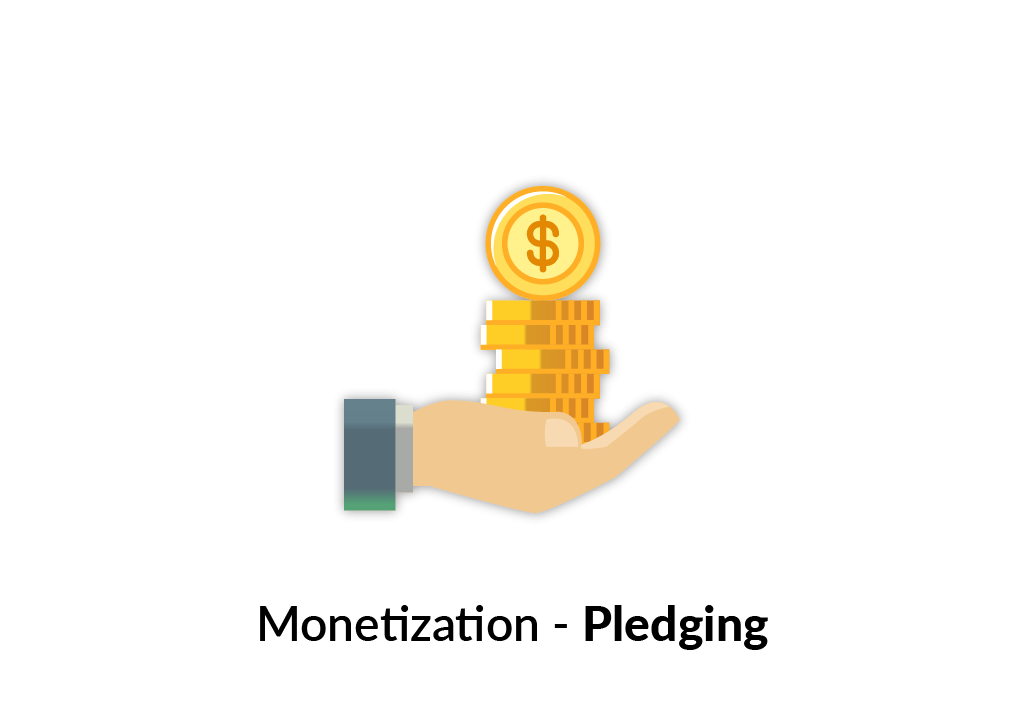 Pledge
If a patent owner needs to generate funds, he or she can use their patent(s) as collateral for a loan. This is what is referred to as pledging.
If a financial institution such as a bank agrees to lend the patent owner money based on the patent, this is usually a good indication that the patent has value, of course, financial institutions will need to carry out various due diligence checks before agreeing to loan funds out on the basis of using the patent as security. If a company is looking to acquire patents, the fact that a bank has loaned money based on the results of the due diligence checks and the apparent significant value of the patent is a very positive signal for the company looking to complete the acquisition.
When it comes to pledging, the most challenging aspect is the value proposition. The reason is that you are facing the banks, banks are notoriously conservative and cautious and usually know nothing about patents and do not have the capability to monetize them. Thus, it is a high-risk investment for them.
Fortunately, there are new companies with new business models that encourage financing with patents instead of going to traditional banks such as Fortress Investment Group LLC, which was acquired by SoftBank.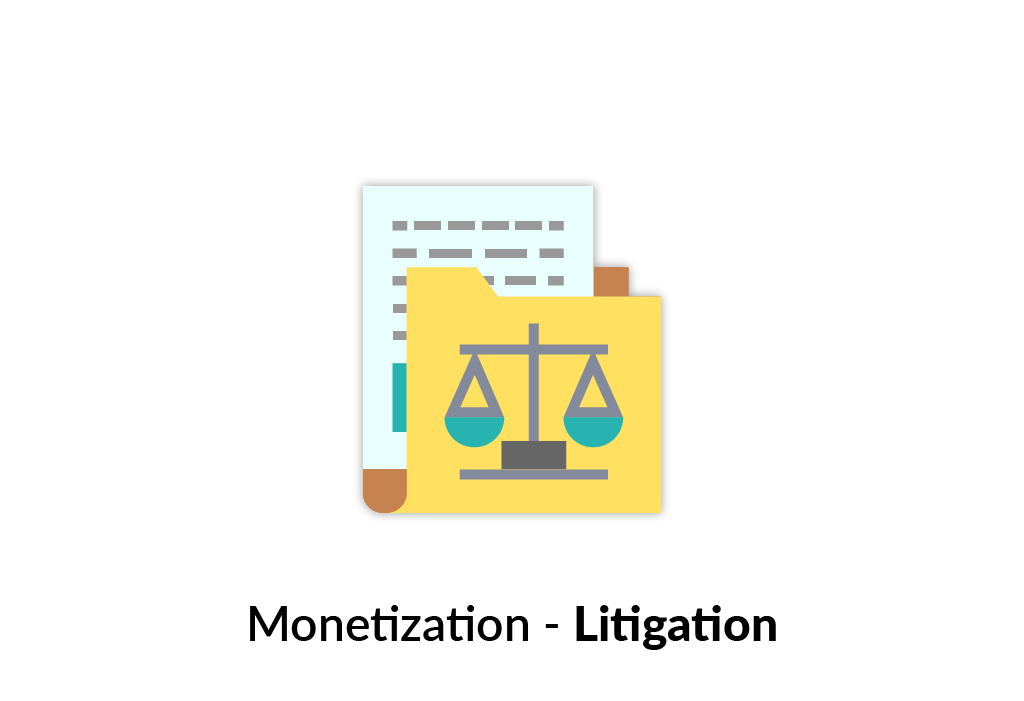 Patent Litigation
Patent litigation, in its most simple terms, is the legal process which is carried out when a patent owner enforces their right by suing someone else for selling or manufacturing their product without their permission.
When a patent owner is unable to agree on a royalty deal or wants to enforce their right to exclude a competitor from any potential patent infringement, patent owners can call for a patent infringement lawsuit and ask the court for damages.
Litigation itself is not deemed as part of typical transactional activity, it is for market preemption, the enforceability of a patent would be the basis for other transaction activities and the true battlefield of enforcement is in litigation. A patent will be severely challenged with its quality and value during the litigation process.
A patent can be transacted just because the buyers think it is possible to enforce this patent by somebody. So, enforcement is the basis of all of the other monetization activities.
Due to the costly nature of enforcement (especially litigation), it would generally be deemed as a backup plan for patent licensing (if the patent owner's purpose is not for market preemption.)
There are also remedies (in particular damages) in litigation when both parties go through the mill and come to the decision of litigation. For practicing entities, when it comes to litigation, there are also patent risk issues because the defendant can also fight back.
The data below highlights the top ten largest damages awarded between 1998 and 2017: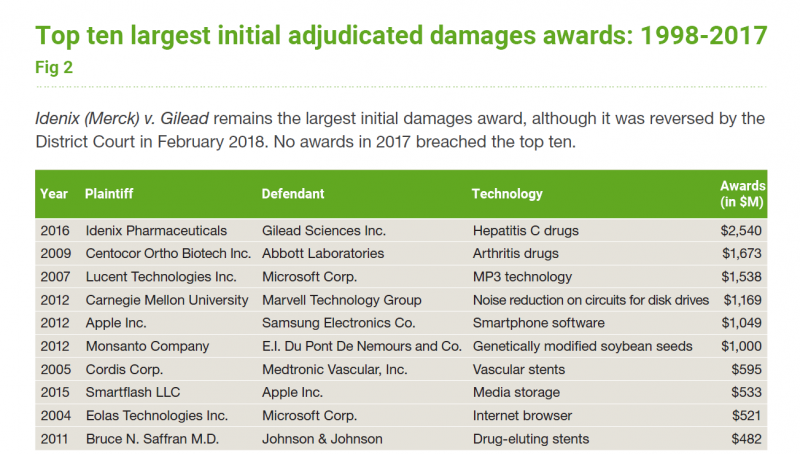 Patent monetization is certainly proving to be incredibly important, and a well-managed, well-maintained, and optimized patent portfolio can provide a successful way to generate income. For more information about Patent Lifecycle Management and other insightful articles, please visit our blog!
Download the Free White paper: Patent Life Cycle Management
In this FREE 33-page white paper, you'll learn:
Why rethinking the traditional patent investment approach is the key to success
Why the manual patent valuation process of the past is not effective
Why managing the patent lifecycle is so important
The three stages of the patent lifecycle and why they're critical