Key Points
Founded by a trio of sequencing veterans from Illumina, Element Bio aims to change the current model of DNA sequencing service with its new benchtop NGS sequencer.
Around 76% of Element Bio's patent applications are pending. It's still too early to draw conclusions about the overall quality of Element Bio's patents.
Illumina holds four of the seven prior art patents that have been used to reject Element Bio's applications on the grounds of novelty (35 U.S. Code §102.) The startup needs to be alert to patent risks, given the NGS giant's active involvement in patent litigation.
Table of contents
Introduction
On March 14, 2022, Element Biosciences, a provider of a DNA sequencing platform, launched its new NGS instrument—the Element AVITI™ System. The release of this new benchtop sequencer features Element Bio's partnership with an array of providers in the NGS Library Preparation and Bioinformatics segments, including Agilent, QIAGEN, Roche, and 10x Genomics.
Founded in 2017 by a trio of former employees from Illumina, the market leader in NGS, Element Biosciences is well regarded in the industry. The San Diego, CA-based startup was founded by Matt Kellinger, Ph.D., Mike Previte, Ph.D., Molly He, Ph.D., and Element Bio's CEO. It closed a US$ 276 million Series C financing in June 2021 and has raised around US$ 400 million since its establishment.
What's special about Element Bio? The startup expects to disrupt the industry with its decentralization approach to genome sequencing services. Currently, researchers send their samples to sequencing facilities and wait for the results, which could take up to weeks to get the data.
Element Bio's goal is to increase researchers' access to sequencing and allow every laboratory to have its own sequencer by providing more flexible solutions. According to John Stuelpnagel, chairman of Element Biosciences, its new benchtop sequencer delivers "quality and cost at a throughput level that more closely matches the needs of most applications."
While Illumina has a substantial patent portfolio, whether Element Bio has enough decent patents is something we want to find out. Using data from the patent solution platform, Patentcloud, on April 11, 2022, we examined the patent portfolio of Element Biosciences.
Geographic Coverage of Element Bio's Patent Portfolio
According to Due Diligence, Element Bio has filed 101 patent applications covering 28 patent families across 14 patent offices. These patent offices include the U.S. Patent and Trademark Office (USPTO,) World Intellectual Property Office (WIPO,) the U.K. Intellectual Property Office (UKIPO,) and European Patent Office (EPO.)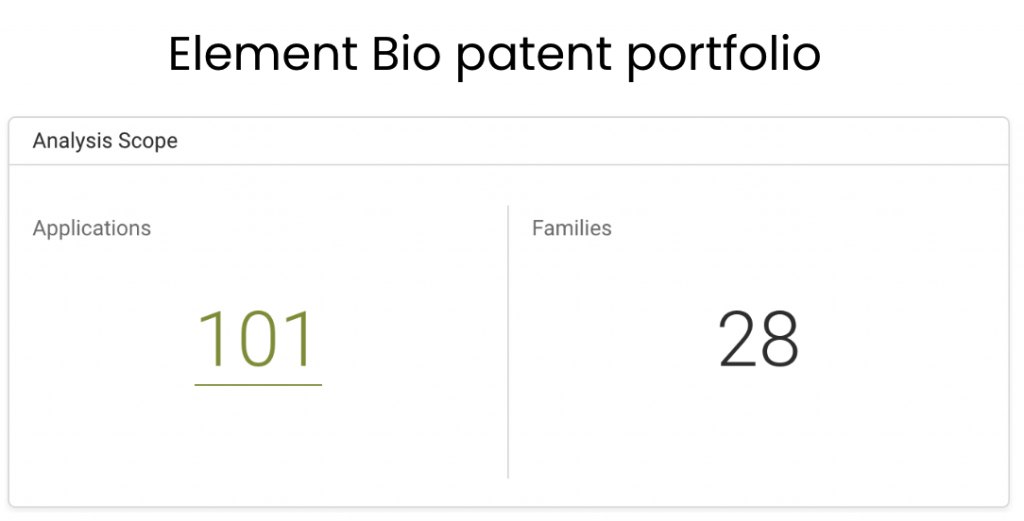 Source: Due Diligence
Note that around 76% of Element Bio's patent applications are still pending, suggesting the overall quality of its patents remains to be seen. Among the 101 patent applications, only 18 are active, and most of them are U.S. patents.

Source: Due Diligence
The U.S. is the biggest market for Element Bio. In addition to the 12 active patents, Element Bio has 19 applications pending in the U.S., which is far more than the number of pending applications in other patent offices.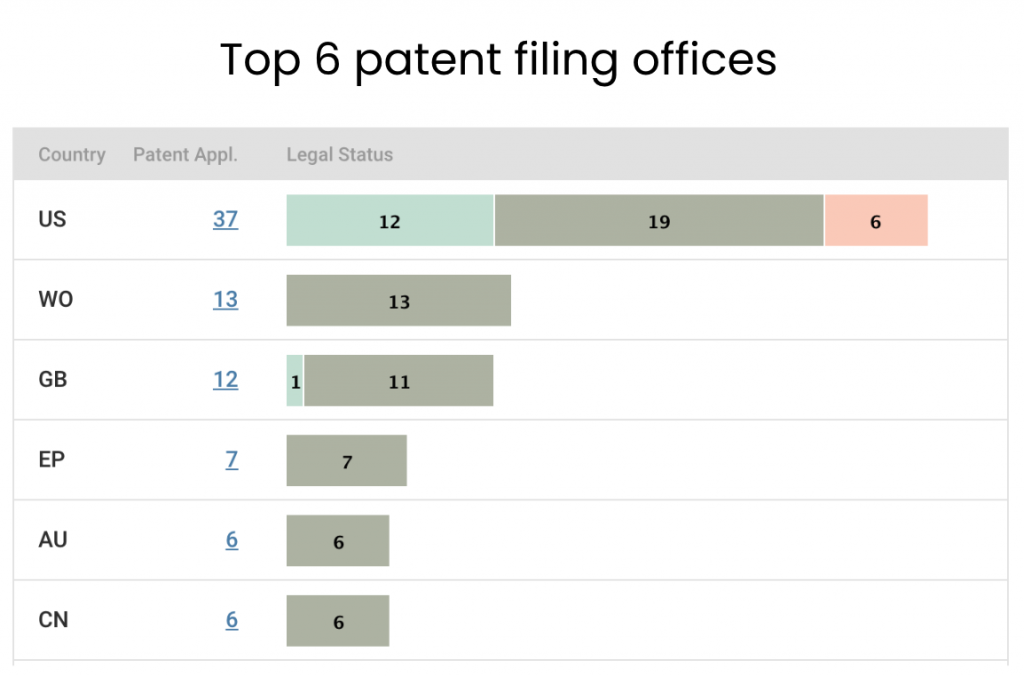 Source: Due Diligence
Our patent analysis suggests that the startup has already set its sights on overseas markets. It has filed 13 applications to the WIPO, signaling its ongoing patent deployment beyond the U.S. This finding is supported by its patent filings to the UKIPO and EPO.
Many Element Bio Patent Families Are High in Value
Most of Element Bio's patent families in major patent jurisdictions stand a decent chance of monetization. Among its 25 patent families in the U.S., China, Europe, Korea, and WIPO, 21 of them are considered high-value patent families. These inventions rank between A and AAA on the Patent Value Ranking developed by InQuartik, and they are more likely to be enforced or monetized.
Source: Due Diligence
See the whitepaper to know more about the Patent Value Ranking.
We move on to examine the quality of Element Bio's patent applications in its home market, as their family members in other countries may have similar quality issues.
Quality Highlights of Element Bio's U.S. Patents
Our patent analysis shows that around 45% of its active or pending applications have been found with patentability issues by U.S. patent examiners. Among the 14 applications that have been rejected, six have overcome rejections and were granted by the PTO.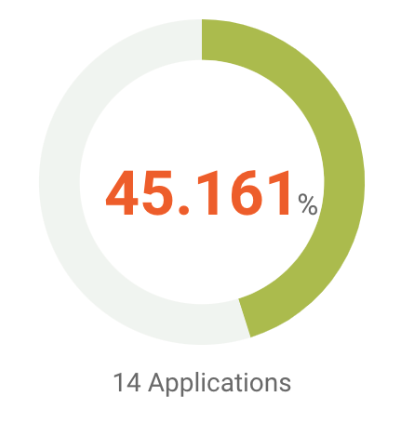 Source: Due Diligence
We then examined the patent applications with issues by rejection type. Among the 14 applications, six have received novelty rejections, 11 have received obviousness rejections, and eight have been rejected for indefiniteness.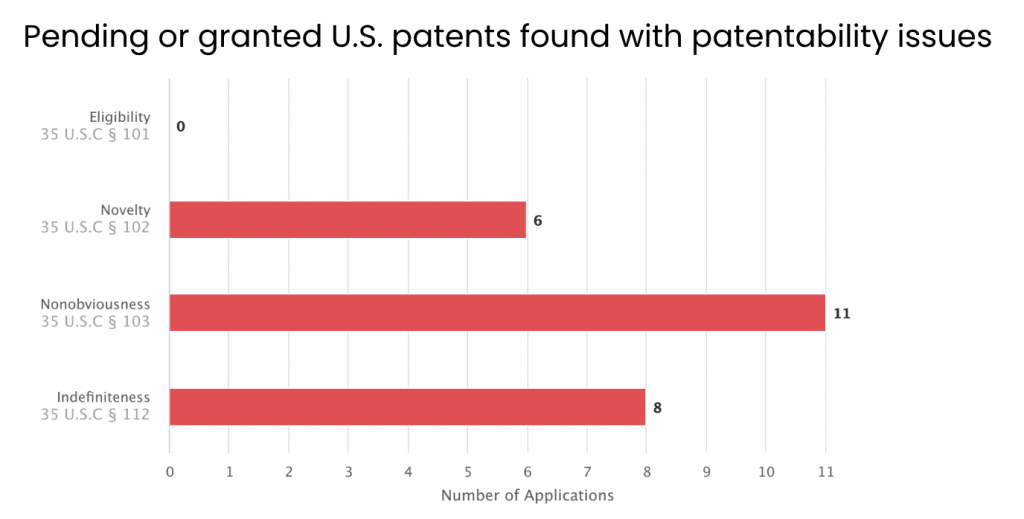 Source: Due Diligence
A closer look at each type of rejection shows that Element Bio has a smaller proportion of rejections than the overall Office Actions in biotechnology and organic fields.
Notice that among the 31 U.S. patents granted or pending, only 24 have been reviewed by patent examiners and received Office Actions from the PTO. This is the denominator for calculating the proportion of each rejection type.
Our analysis shows that Element Bio has 25%, 46%, and 33% of patent applications rejected on novelty, non-obviousness, and indefiniteness grounds, respectively.
The numbers are considerably lower than the corresponding proportion of rejections in the Office Actions from the Technology Center 1600, the patent examination body covering biotech and organic chemistry fields. The percentage of §102, §103, and §112 rejections types among Office Actions is 40%, 72%, and 69%.

Source: USPTO open data portal
Note: The time range of the rejection data is between March 2019 and April 2022. The starting month is the month when Element Bio filed its first U.S. patent.
We also found that several Illumina patents have been used to reject Element Bio's patent applications. From a patent prosecution perspective, it won't be an issue if Element Bio could overcome these rejections. However, given Illumina's active litigation history, the startup may need to actively manage potential risks of assertions.
Four out of Seven Prior Art Patents Used for Novelty Rejections Are Illumina's Patents
In the following section, we show how to identify the prior art patents used as novelty grounds for the rejection of Element Bio applications. Using the aforementioned patentability issues chart, we can see all applications found with novelty issues during prosecution or at the Patent Trial and Appeal Board (PTAB).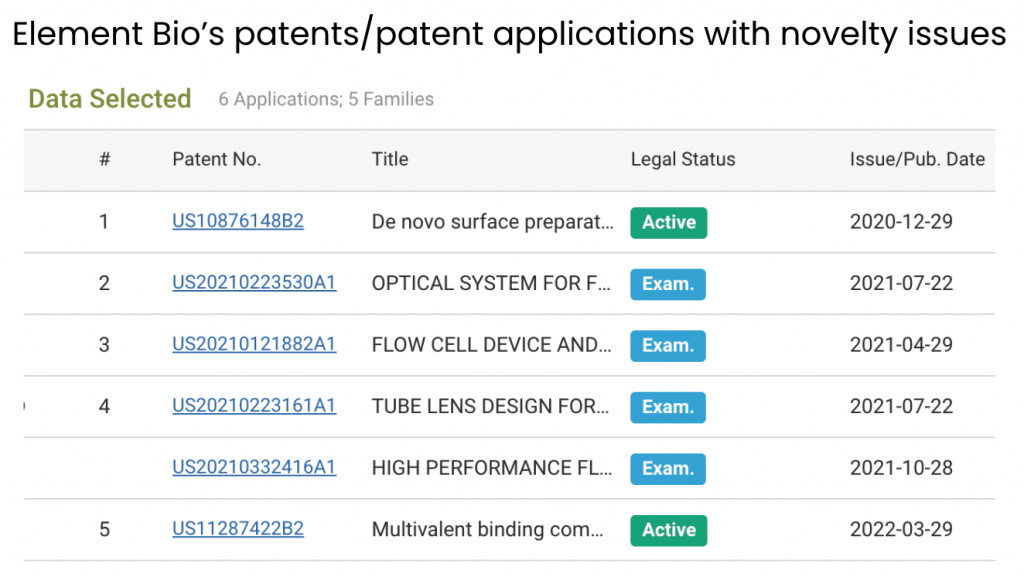 Source: Due Diligence
Notice that four out of the six applications that received novelty rejections are still pending. They may be granted if Element Bio can overcome the rejections from patent examiners.
Using Quality Insights, we can find the prior art patents used against these Element Bio's applications within minutes. For instance, the Element Bio patent application, US 20210223530A1, received a §102 rejection and a §103 rejection based on the '914 prior art patent, which is currently owned by Illumina.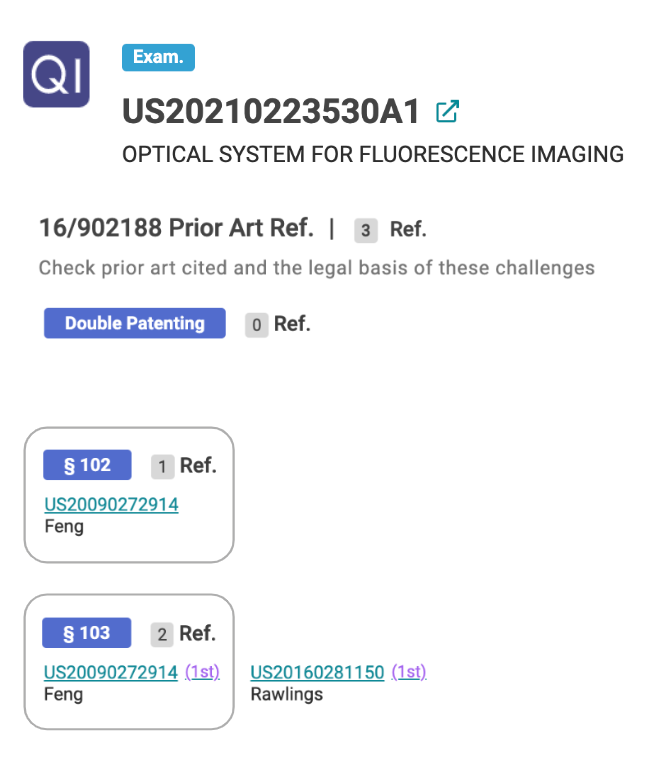 Source: Quality Insights
We found seven prior art patents used to reject Element Bio's applications based on §102, and four of them are Illumina's patents. The other three are held by AGCT GmbH, New Objective Inc., and the University of Maryland, College Park. Clearly, Illumina's patents made up the majority of the prior art used in rejecting Element Bio's applications on novelty grounds.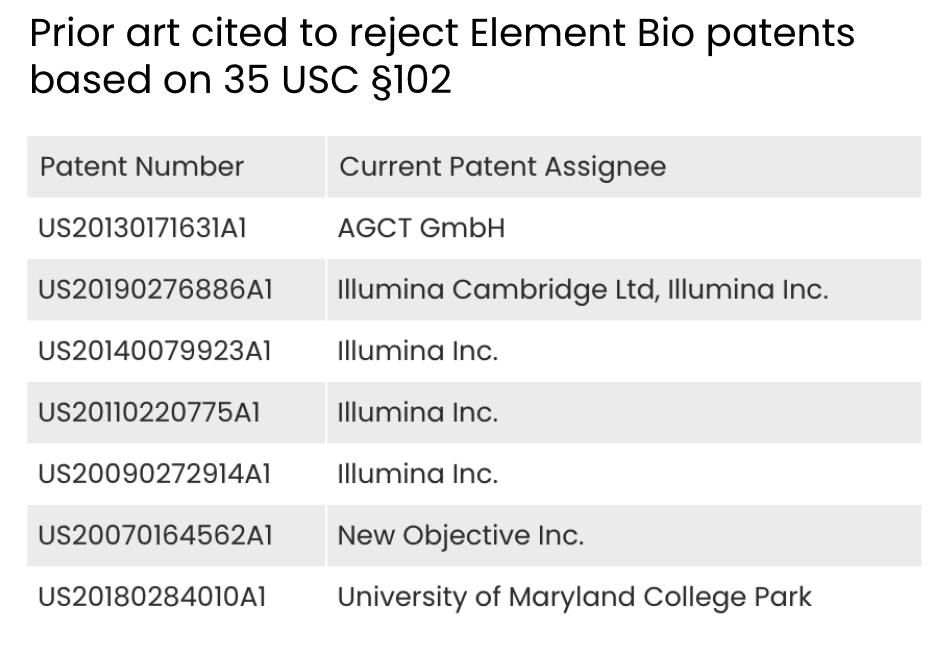 Source: Due Diligence, Quality Insights
With this finding and the fact that Illumina has filed a number of patent lawsuits in the past few years, Element Bio needs to be extra cautious with the risks of assertions.
Conclusion
In summary, our patent analysis shows over 80% of Element Bio's patent applications are high in value, suggesting the technologies covered by these patents have a higher likelihood of being transacted, licensed, or asserted. Also, our analysis shows that Element Bio received a lower proportion of rejections for either novelty, non-obviousness, or indefiniteness compared to the Office Actions in the biotech and organic fields.
Using our proprietary solutions, we uncovered that four out of seven prior art patents used in making novelty rejections against Element Bio's applications are held by Illumina. Considering Illumina's past involvement in patent litigations, Element Bio may need to actively manage potential patent risks.
Find out more about Element Biosciences' [patent portfolio].