The language used in law to describe certain guidelines and processes can appear somewhat convoluted at times, as we have seen in our other "An Inventor's Guide to Understanding" patent wiki guides. With patent prosecution having nothing to do with prosecuting anyone and antitrust referring to competition rather than trust, fortunately, patent maintenance fees follow the 'does what it says on the tin' rule.
So, what are patent maintenance fees?
As you have probably already guessed by now, patent maintenance fees are mandatory fees that must be paid to the patent and trademark office (PTO) at prescribed intervals in order for your patent – and the protection it offers – to remain valid and effective for the duration of its lifecycle or until challenged and overruled in a court.
Each granted patent is treated separately when it comes to the patent maintenance fees and  each country requires the payments to be made to retain the validity of the patent – even if a patent for an invention covers multiple jurisdictions. There is no "one-payment coverage" system in place allowing your patent to cover all territories in one transaction, therefore each and every single patent must be closely monitored to avoid becoming "abandoned".
If you hold several patents across numerous territories, then it is well worth contemplating a subscription to Patentcloud's Patent Vault platform to keep track of your entire patent portfolio, in one single console.
When are patent maintenance fees due?
Patent maintenance fees are periodic payments which are collected either annually or at set dates according to the country that your granted patent covers. Each country is different in pricing, frequency, and date of required payment, so it is worth conducting your own research on the local PTO and its regulations. For a small selection of some cost comparisons click here.
For example, China PTO states that patent maintenance fees are to be paid annually with the first payment commencing at patent grant stage along with the required fees. The subsequent yearly payment deadlines are the anniversary of the filing date each year.
Whereas in Chile, the patent maintenance fees for the first ten years are to be submitted together with the patent grant fee, within 60 days of the grant decision. The subsequent fees for the latter decade are to be paid on or before the expiration of the first ten years, with the deadline being the patent application filing date.
USPTO Patent maintenance fees schedule
For patents filed specifically at the USPTO, once your patent is granted you will be required to pay the patent maintenance fees without surcharge at 3 to 3.5 years, 7 to 7.5 years, and 11 to 11.5 years. It is not possible to pay earlier than this six-month window.
If, for some reason you forget to pay on time and miss the deadline, then you will be able to take advantage of the six-month grace period available for each payment due date, with an added surcharge. These are marked at 3.5 to 4 years, 7.5 to 8 years, and 11.5 to 12 years after the date of issue.
The actual due date is set at 3.5, 7.5 and 11.5 years but the USPTO allows for a six-month window/grace period either side of the payment date to complete the transaction.
If you fail to pay during the six-month grace period following the due date, then your patent can be reinstated if you are able to prove it was an unintentional mishap. This could be difficult and genuine reasons are the only excuse for missing the deadline, as unfortunately "simply forgetting" could result in a rejection for reinstatement. The re-application process requires a petition from a recognised party and also comes with further consequences which could present much larger problems in the future.
Late payment consequences and charges
As expected with most things nowadays, late payments carry consequences and extra charges. While the charges at the USPTO – considered as one of the more costly patents to obtain – are not that damaging, ranging from US$125 to $2,100 depending on the size of your entity and the length of the delay, the consequences can certainly make it an exercise in "how to give your patent away to another party".
Failure to keep up with the renewal fees could result in another party filing for a similar or potentially infringing patent on the assumption that your invention had been abandoned. This could nullify any future litigation attempts involving patent infringement or damages claims.
USPTO patent maintenance fees and charges can be found here.

Patent maintenance fees and tiers
Patent maintenance fees attributed to the USPTO are set out in three stages (3.5, 7.5, 11.5 years) with the payments increasing over the period of cover, ending with the final payment being nearly four times greater than the initial fee.
The amount due depends on the size of your entity and which of the three categories you fall under. Currently the USPTO has three categories, which are:
Large entities: Pay full price; 500 or more employees.
Small entities: 50% discount off full price; Less than 500 employees, or individual inventor applicants, or non-profit organizations.
Micro entities: 75% discount off full price; Meet small entity requirements; Less than four previously filed applications; Gross income three times median household or less; Can not assign, grant or convey patent license to other non-qualifying entity.
False declarations of entity status can result in an invalid patent.
Utility patent fees vs design patent fees
Patent maintenance fees are only applicable to utility patents and do not apply to either design or plant patents, which carry no further fees once granted.
Conclusion
Each country has their own set of rules when it comes to maintenance fees and the frequency of the payments required to keep the patent active. It is wise to do your own research at the local PTO in the territory you wish to have your patent registered, as prices can change. The big five PTO's which are the major ones are USA (USPTO), Europe (EPO), Japan (JPO), China (CNIPA) and Korea (KIPO). Another worth considering is the World Intellectual Property Organization (WIPO).
If you are managing a patent portfolio or in the process of building one, then Patentcloud's Patent Vault is a must to avoid any missed deadline disasters.
Did you find this patent maintenance fees article helpful? Please leave us your comments and feedback over on our LinkedIn and Facebook pages. If there are any articles you would like us to cover and explain, please contact us at hello@inquartik.com.
Interested in trying our product? Contact your Success Client Specialist now!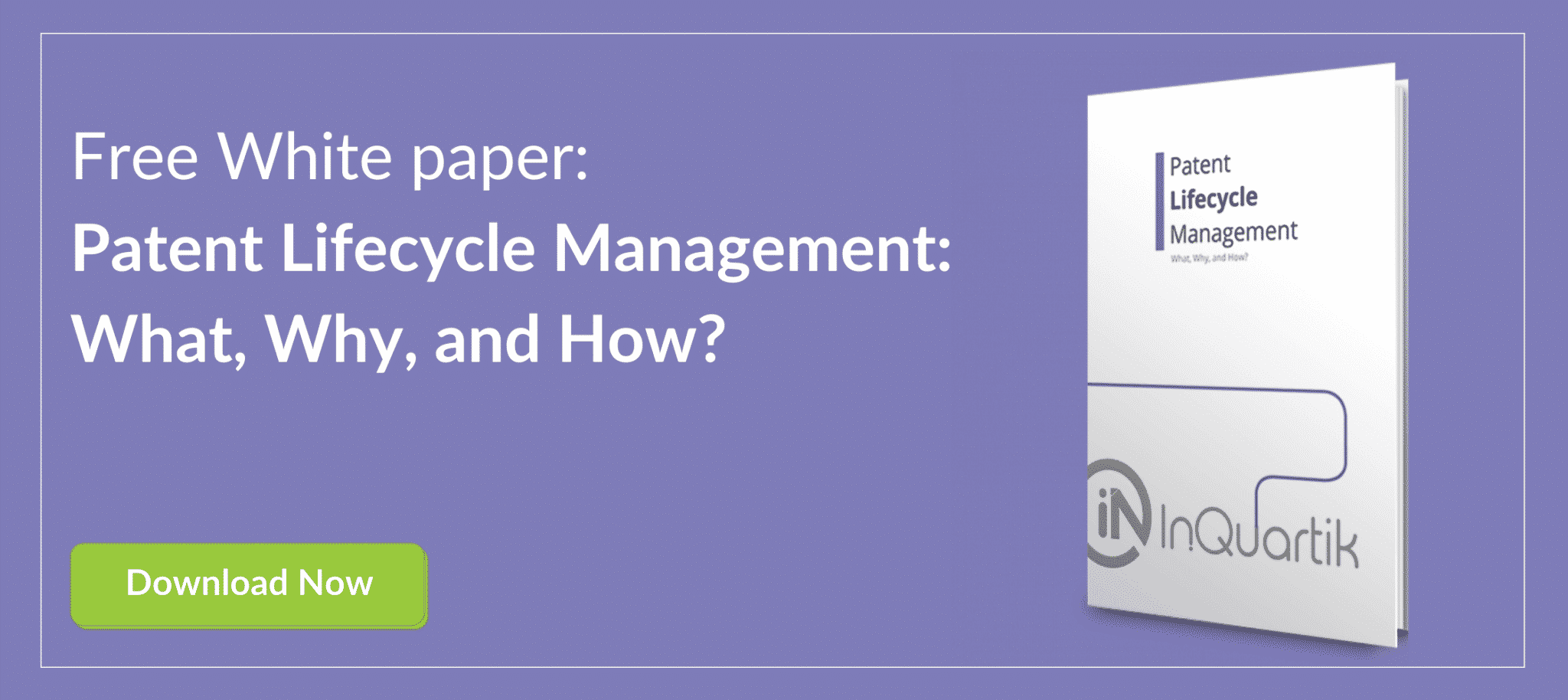 ---