While conducting a patent search, there is a wide range of parameters that you can use to group the results you obtain: how you filter them mostly depends on the purpose of your search or the strategy you adopted.
Among the dozens of fields available, one of the most important is Patent Status. What is it and how can it help you make better business decisions?
Table of contents
Patent Status: A Definition
Patent Status, Patent Application Status, or Patent Legal Status is an essential piece of the patent information puzzle since it helps industry professionals answer a question that is fundamental for their day-to-day activities:
Which stage of its life cycle has this patent reached?
During the journey from the core idea inception to its expiration into the public domain, a patent can be involved in a number of events that all have the potential to modify its patent status from a legal — but also commercial, as we are going to see below — point of view.
By looking at this piece of information, we can instantly know:
Whether a patent application is still under scrutiny at the patent office.
Whether a patent application was withdrawn or rejected.
Whether a patent has been granted and is still valid.
Whether a granted patent has expired, lapsed, or has been revoked.
FOCUS: THE PATENT LIFE CYCLE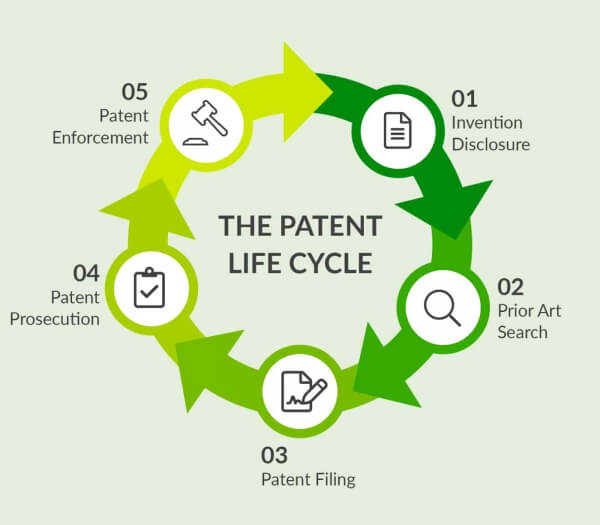 The life cycle of a patent is divided into four stages:
 Invention Disclosure — Invention disclosures follow the Eureka moment and, as such, they can be seen as the direct result of R&D efforts. Being technical documents related to the invention, they establish its description and define the scope of the future patent. Drafting an invention disclosure represents the first step into the patenting process.
Prior Art Search — Filing a patent can require up to thousands of dollars and several years of hard work, so it only makes sense to begin the journey by researching the prior art to get an idea of what technology already exists and avoid investing in an invention that won't satisfy the patentability requirements.
 Patent Filing — This stage sees the applicant submitting the patent application, which contains the claims in their first form: by defining the boundaries of the invention, they aim at giving it the widest scope possible without infringing others' IP rights.
Patent Prosecution — The patent examiner evaluates the invention disclosed to assess whether it satisfies the patentability requirements: novelty, usefulness, non-obviousness, and subject matter eligibility. This phase is potentially very lengthy and often sees the original scope narrowed.
Patent Enforcement — As long as the required maintenance fees are paid, a granted patent gives its holder the right to enforce it for 20 years from the earliest priority date (the date on which the application was first filed). At this stage, patent assets can also be monetized through licensing, selling and buying, litigation, and pledging.
Discover the most up-to-date status of a patent with Patent Search. Start a free trial today!
The Different Types of Patent Status
The Patent Statuses can first be grouped into four macro-categories:
Pending — The patent application was submitted to the patent office but no final decision has been made yet.
PGPub – Granted — The patent application has been made available to the public (generally 18 months after filing).
Active — The patent has been granted and its owner can now enforce or monetize it according to its strategy.
Inactive — The patent can't be enforced or monetized anymore.
The pending status can be further detailed. A patent, in fact, can be listed as pending either because the examination phase hasn't started yet or because the prosecution process hasn't finished yet.
On the other hand, the reasons for a patent to go inactive are various and they can occur at different stages of its life cycle:
The applicant abandoned the application.
The assignee withdrew the patent.
The assignee hasn't paid the maintenance fees.
The patent term is due.
The patent was revoked following invalidation proceedings.
The patent was reissued otherwise.
The table below summarizes the patent application statuses that a US utility patent can have: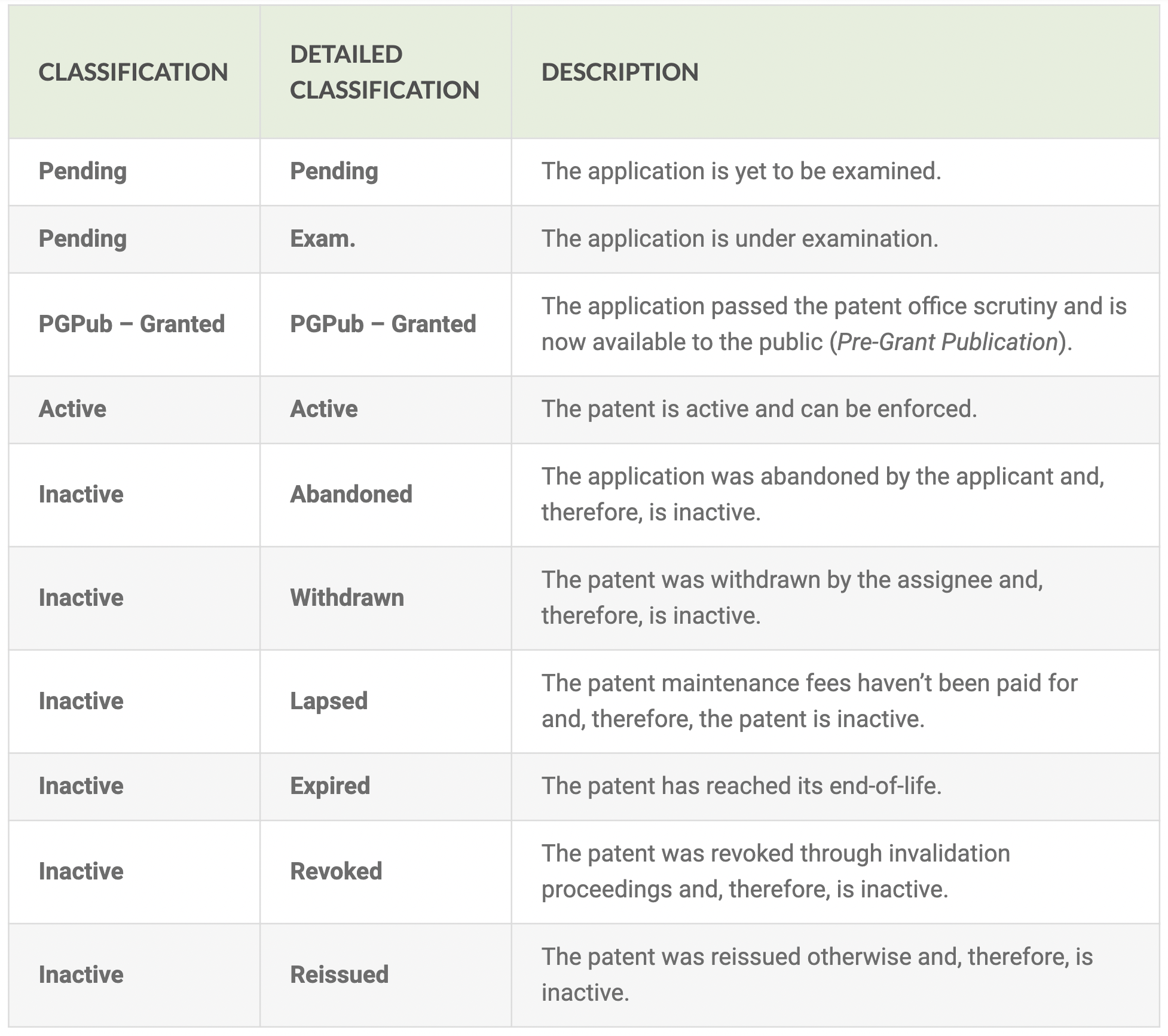 Discover the most up-to-date status of a patent with Patent Search. Start your 7-day free trial today!
Why Is It Helpful?
Patents are a major tool to generate a return on investment for those businesses that contribute to social innovation. This can be done in two ways:
Passively, by using patents to prevent others from copying, manufacturing, selling, or importing the disclosed invention or technology.
Actively, through their strategical use as bargaining chips in licensing or M&A negotiations.
Analyzing the patent application status included in a competitor's portfolio can provide insights into its strategy: several patents abandoned in a specific technology field, for example, might mean that their owner is stepping out of that particular market segment.
Similarly, a competitor filing a large number of applications in a new technology domain might highlight a shift in its strategy and a potential threat for those already operating in the field.
Such information can be of great value when considering targets for licensing or sale opportunities, as well as in technology transfers. By identifying active patents and consequently check their expiration date, in fact, we can answer the questions:
Which technology is still protected and where, and when will it become freely available to the public?
The remaining life of active patents is also necessary to put a price tag on the portfolios of those companies being considered for an M&A: since patents with no enforceable rights are worthless as a business asset, establishing their Legal Status helps in understanding the true value of portfolios.
Another area in which Legal Status is taken into consideration is a freedom to operate search: determining the expiration date of the patents that might interfere with the distribution of a new product or technology is essential in evaluating the risk of stepping into the market.
Patent Status in Patent Databases
For US patents, there are two main sources of patent status data:
PAIR (Public Patent Application Information Retrieval), USPTO's online platform where applicants can check the progress of pending patent applications.
INPADOC (International Patent Documentation), the international patent register introduced and maintained by the European Patent Office.
INPADOC is widely recognized as the leading secondary source from which many providers of patent information obtain or purchase patent status data.
As evidenced by a study conducted in 2011 by the WIPO titled "Feasibility Study on the Establishment of National Patent Register Databases and Linkage to PATENTSCOPE", however, such sources are
secondary sources of patent status information which collect such data from primary sources, process the data and make it searchable. […] Disadvantages of such use of secondary sources are mainly the delay in publication and the lack of some data from primary sources.
Gathering clear and actionable information from such databases, thus, is often a daunting and time-consuming task.
Furthermore, even though patent offices worldwide constantly work to normalize data and foster integration, the challenges posed by the procedural differences existing between each country are yet to be overcome.
For obvious reasons, patent status data must be up-to-date to offer valuable insights. However, given that such information is often the result of legal actions, the patent application status might change over time resulting in availability and reliability issues.
How to Check a Patent Status and Know If a Patent Is Granted
Patentcloud addresses these issues in three major ways:
By collecting patent application status data from primary sources such as PAIR (for US patents) or CNIPA (for Chinese patents).
By comparing the information collected to identify the most complete and recent one.
By presenting all the data in an organized and transparent manner.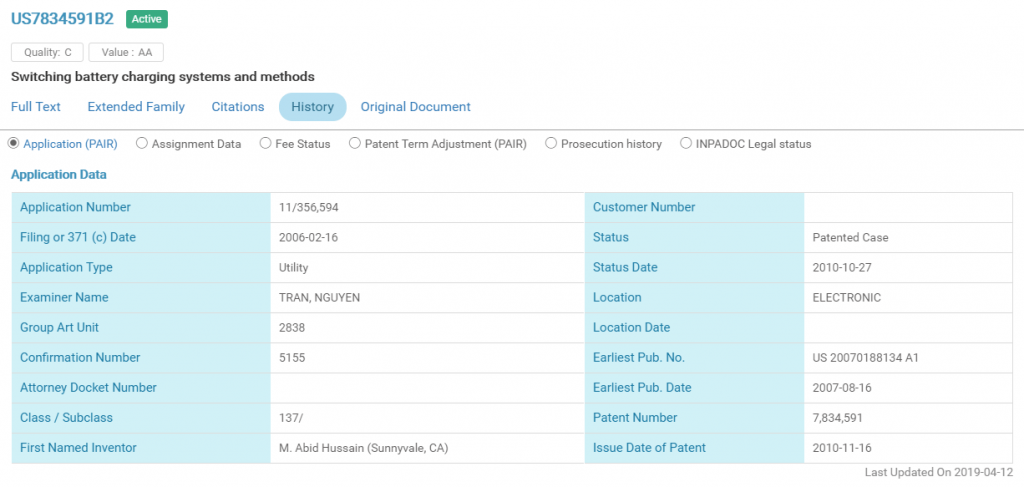 The History tab in Patentcloud's Patent Search, which displays data from both PAIR and INPADOC in an organized and transparent manner.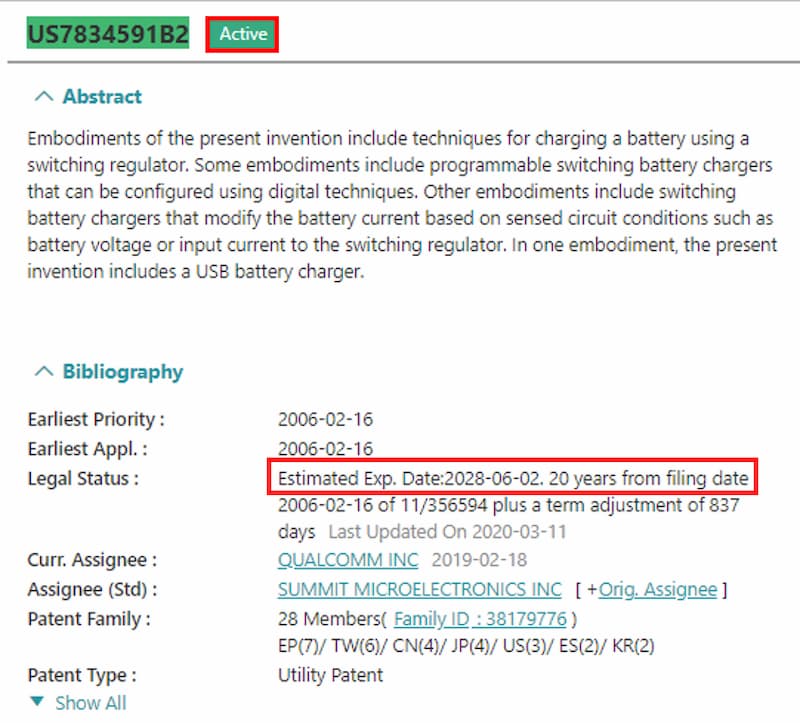 The Bibliography in Patentcloud's Patent Search also includes information on the patent application status as well as its estimated expiration date.
Having all the data that could impact patent application status—from maintenance fees paid to assignment details—on one screen enables patent professionals to have a comprehensive and clear overview of the current stage in the patent's life cycle.
It should be clear by now that patent application status is an essential element in both managing and monetizing patent assets.
Do you know where your patent data is from? Try out Patentcloud's Patent Search for a free trial and find out!