Table of Contents
Facts About the Earphone and Headphone Market
In 2019, the size of the global earphones & headphones market was valued at USD 10.52 billion.
The in-ear segment is expected to account for the greatest market share by 2025 due to the growing demand for wireless earphones worldwide.
In 2018, North America accounted for more than 25% of the global revenue share.
Between 2019 and 2025, Asia Pacific is anticipated to be the fastest-growing market with a CAGR of 7.6%.
Source: Grand View Research
Big Players in the Earphone and Headphone Industry
The First In-Ear Headphones Patent
French engineer Ernest Mercadier was granted the patent for the first-ever in-ear headphones way back in 1891. His invention was initially designed to be used by telephonists; they even had earbuds to prevent interference from external noises.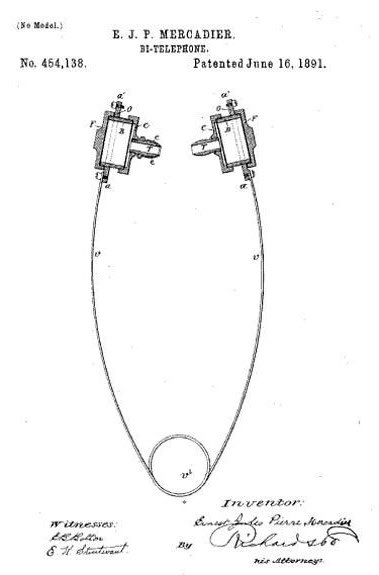 Famous Headphone and Earphone Design Patent Infringement Case: Beats v. Yamaha
Back in February 2013, Beats Electronics, LLC (Beats) filed a lawsuit against the Yamaha Corporation of America (Yamaha), in the Central District of California, USA, claiming infringement of Beats' design patents, along with infringing upon Beats' trade dress protection rights.
As you may already know, here at InQuartik, we deal with patents, so it's worth mentioning that Trade dress is legal terminology that refers to the overall appearance of a product or its packaging that exhibits its source to consumers.
As with patents, businesses can register their trade dress with the USPTO.
Registering their trade dress protection enables companies to guard their rights in federal court against trade dress infringement. In order to get this trade dress protection, the trade dress needs to be "inherently distinctive," and the use by others must be likely to mislead or confuse buyers.
Additionally, the complaint also included a demand that the court should hand down a judgment that orders Yamaha to surrender and destroy every last one of the claimed infringing headphones. Not only that, but Beats also demanded the destruction of any materials representing the alleged infringing headphones. Furthermore, the complaint also asked for a jury trial on all matters.
The complaint stated that the attorney for Beats gave notice to Yamaha in November 2012, declaring that it believed the Yamaha Pro 300, Yamaha Pro 400, and Yamaha Pro 500 headphones infringe upon Beats' design patents, along with infringing upon Beat's trade dress protection rights.
The complaint also asserted that the Pro 300, Pro 400, and Pro 500 headphones were:
"Knock-offs of Beats' world-renowned 'Studio,' 'Solo,' and 'Wireless' headphones."
The complaint claimed that Yamaha had:
"Infringed Beats' famous and distinctive trade dress and committed unfair competition."
The design patents that Beats' claimed were infringed upon are D632,668 and D552,077, claiming an audio listening system and a headphone, respectively.
Beats went on to claim that:
"Consumers appreciated the design, as well as the sound quality, of the Beats Headphones and began wearing the Beats Headphones around their necks as a fashion accessory even when not listening to music."
The following images are internet ads that were promoted by Yamaha and its affiliates. What do you think?

The Beats' Design Patents for Headphones

Design Search
We dropped the Yamaha Pro 300 headphones into Design Search by Patentcloud to see what kind of results came back.
Design Search is an image-based design patent search tool. It's perfect for uncovering similar designs, enabling the user to make informed decisions on whether or not their design or invention is likely to run the risk of infringing upon anyone else's patented design.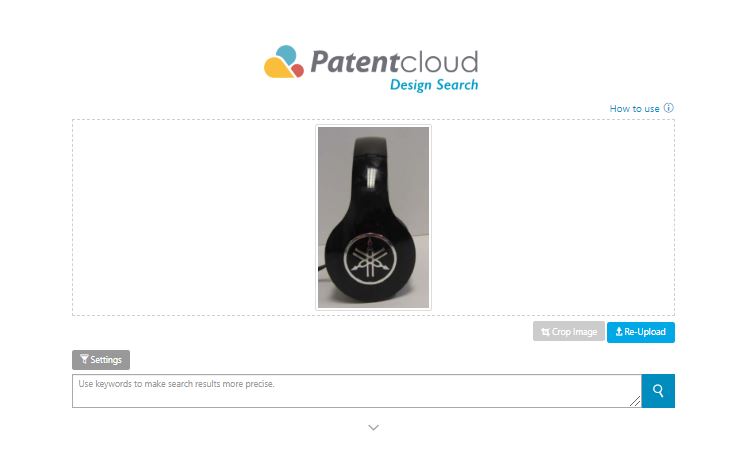 Sure enough, the D552,077 patent showed up in our results. We utilized the side-by-side comparison feature to place the two images next to each other, allowing us to compare the designs more effectively.
What do you think? Do you think the designs are similar enough to confuse an ordinary observer?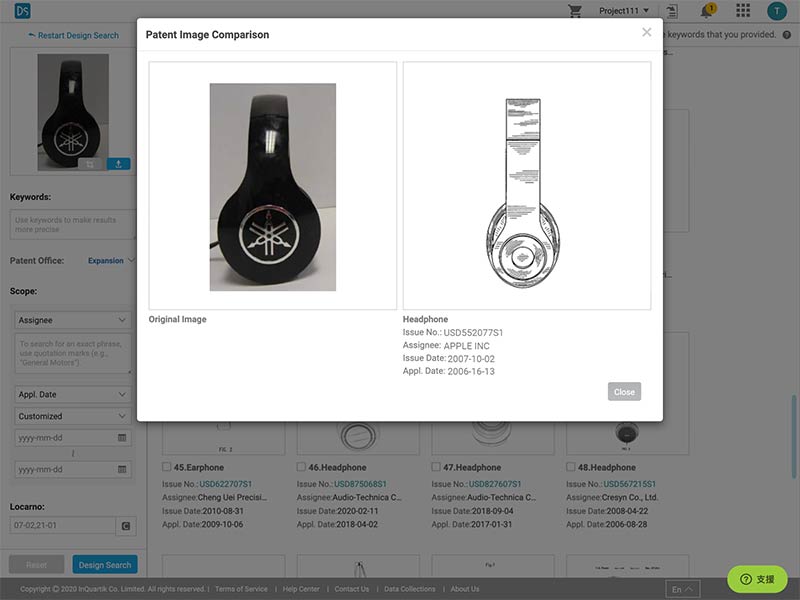 Free Trial
Design Search enabled us to check and compare the two designs instantly and it includes the design patent databases of the USPTO, JPO, EUIPO, and CNIPA.
To make sure that you're not at risk of infringing upon anyone else's design patent, why not take advantage of our 7-day free trial! Simply click the button below to get started!
Minimize the risk of design patent infringement with a 7-day free trial of Design Search