In this article:
---
The History of Nike
Nike is probably one of the most recognizable and well-known sneaker brands on the planet. According to Statista, Nike's 2019 global revenue amounted to about 39.1 billion U.S. dollars.
The Nike story began back in 1964 when the brand name was actually called Blue Ribbon Sports. Phil Knight had just completed his university education at the University of Oregon and then on to Stanford for his MBA, these two experiences proved to have quite an impact on his future career.
At the University of Oregon, he was on the school's track and field team where he met the coach, Bill Bowerman. Bowerman was obsessed with enhancing the running shoes of his team and worked continuously on different shoe design models.
According to Nike, Knight was the very first to try one of Bowerman's shoes. The shoes were so impressive that Knight's teammate Otis Davis wore them when he won the gold medal in the 1960 Olympics (400-meter dash).
Knight then joined Stanford's MBA program, where he wrote a paper on why the production of running shoes should move from Germany to Japan to save on labor costs. Knight went to Japan after his graduation in 1962 where he approached a group of Japanese businessmen and offered his services to export the Japanese brand Tiger shoes to the United States. Bowerman went into business with Knight as a joint venture, and that's how Blue Ribbon Sports was born.
Bowerman suggested a new shoe design to Tiger in 1965 to assist runners by providing them with cushioned support. Bowerman's new design was eventually named the Tiger Cortez and it was released to the public in 1967 and became an overnight success.
Blue Ribbon and Tiger's relationship turned cold. Knight claimed that Tiger wanted out of their exclusive contract with Blue Ribbon and Tiger claimed that Blue Ribbon Sports had started to sell their own alternative to the Tiger Cortez as a new brand called "Nike."
The Earliest Nike Shoe Patent
Bowerman's main aim was to trim as much weight off of his runners' shoes as possible. He maintained that his shoes should be as light as possible to make sure his runners suffered fewer blisters.
He also wanted to reduce his runner's overall energy strain, so as per his calculations, reducing 28g from a shoe, based on a runner's six-foot stride, would decrease 25 kg of lift over a 1.6 km distance.
The Nike Moon Shoe, with its waffle sole, is a perfect example of this theory.
The Nike "Waffle" sole
Bowerman applied for a patent for the waffle sole trainer almost immediately.
The description was:
"An athletic shoe suitable for use on artificial turf, including an improved upper of a porous multiple layer construction and an improved sole having integral polygon shaped studs … of square, rectangular or triangle cross section, having a plurality of flat sides which provide gripping edges that give greatly improved traction."

– Bowerman
The Nike shoe design patent for the waffle sole (US patent No. 3,793,750) was granted on February 26, 1974. Nike's shoe design patent rights for the original Waffle shoe have now expired, this is due to the limited time of monopoly that comes with patent protection.
However, Nike still continues to maintain other rights such as the trade dress rights for the shoe's sole. Nike claims exclusive rights for the word "Waffle" for use on footwear and athletic clothing.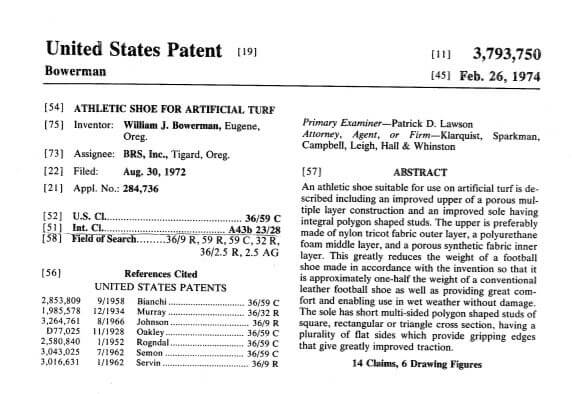 Notable Nike Design Patent Infringement Cases
Nike filed a Patent Infringement Lawsuit against Skechers in October 2019, alleging that they copied Nike's patented shoe features.
Nike claimed that Skechers' Mega shoes and Skech-Air Jumpin' Dots infringe on patents for its Air and other cushioning technologies. Besides, Nike also pointed out a few features of Skechers' footwear which were apparently "similar to the technology features on its footwear."
At the time, this was the fourth lawsuit that Nike had filed against Skechers. The first one was in 2014 by Nike's subsidiary Converse Inc., – the lawsuit lasted for five years and was focussed on the Chuck Taylor midsole trademark.
Nike also alleged that Skechers infringed on the Air Max 270 and VaporMax design patents in September 2019. Skechers reacted by various posting various ads calling Nike a 'bully.'
Why Nike Relies on Shoe Design Patents
Design patents are different from the more common utility patents as they protect how an invention looks and how it feels as opposed to the structure and functionality of an invention. 
Nike often relies on design patents to protect its footwear designs. Previously, design patents had always been looked down on as being weaker. However, a decision by the Federal Circuit has turned this opinion around. The case in question was Egyptian Goddess, Inc. v. Swisa, Inc.
Simply put, the Egyptian Goddess decision supports design patent holders and reinforces their capacity to prove that infringement has occurred.
With design patents finally coming into their own, the days of design patents playing second fiddle to utility patents may finally be over. A great example of the power of design patents would have to be the Samsung vs. Apple design patent infringement cases.
Apple was awarded $533.3 million for Samsung's design patent infringement and a much lower $5.3 million for the utility patent infringement aspects of the cases.
Nike Design Patents
As we know, a training shoe consists of multiple parts and components, so let's take a look at some of the related design patents for the following components:
We will use Design Search from the perspective of a company wishing to develop a sole, upper, or heel. We will use the Nike Air Max trainer for consistency.
Back in the day, an inventor or company would need to rely on keyword searching alone to find possible prior art.
However, with Design Search, an inventor or company can simply drop their sketch/drawing/picture into the database to find related, similar patents to establish whether or not they can proceed to the next stage of their process or if they need to perform a design around or to abandon the project completely. The process is (generally) as follows:
Illustration
Wireframe
Prototype
Final product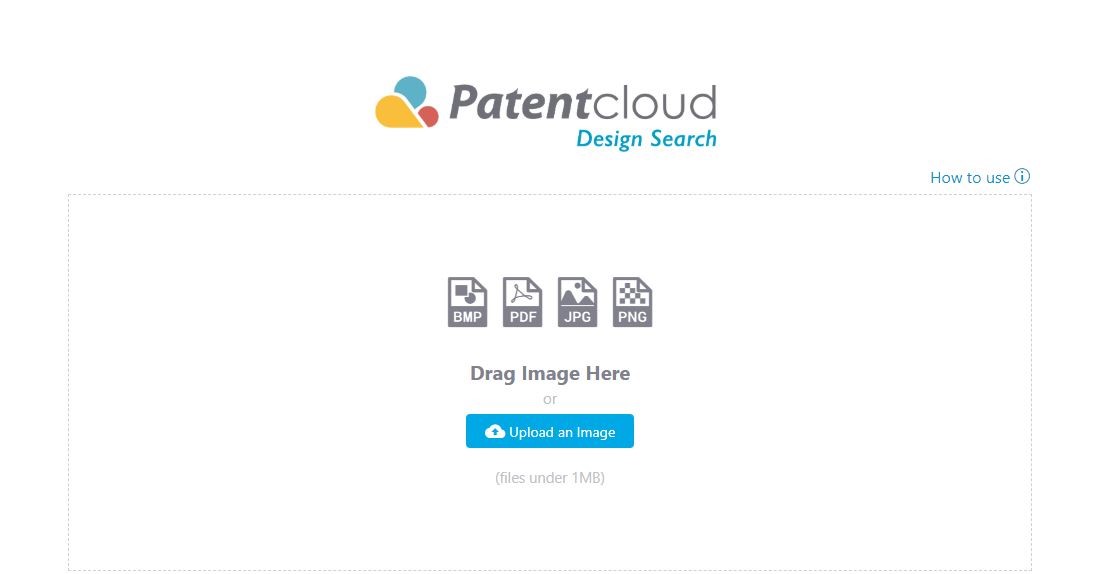 For the purpose of this article, we will use pictures of the Nike shoe components mentioned above for the first stage (the initial search for prior art.)
Design Search is an image-based design patent search tool. It can be used to look for prior art and/or similar designs to make sure that the inventor's design does not infringe upon anyone else's patented design.
Design Search can also be used to help with the design process, to look for creative design ideas, and the latest design patent trends through the major design patent jurisdictions.
Nike Design Patent for Soles
As you can see, when we uploaded the Nike Air Max sole to Design Search, the results show other soles that could be perceived as looking similar in design.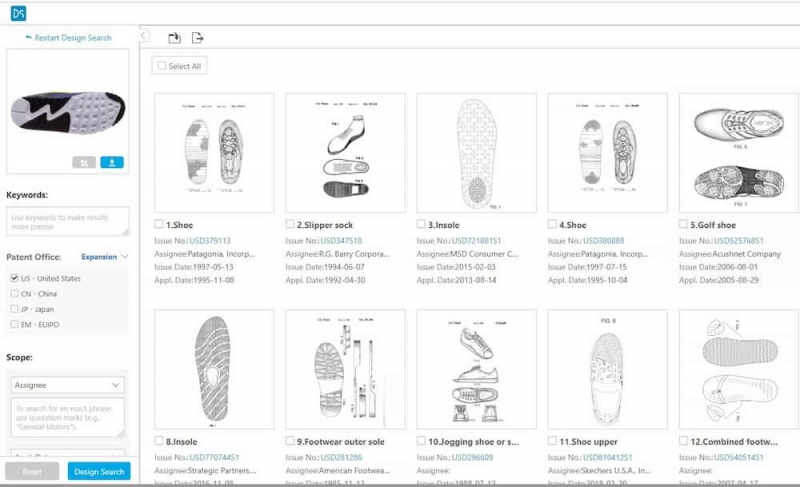 Nike Design Patent for Uppers
Design Search picked up on the shape of the upper instantly and displayed many Nike Air Max design patents. Design Search also picked up on some of Nike's competitors.
What do you think? To do a comparison between two design patents, simply click on the VS icon (see below for our example.)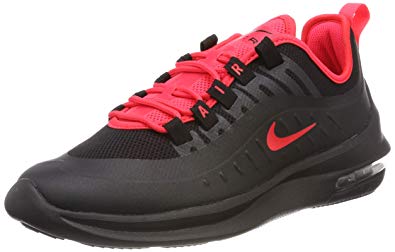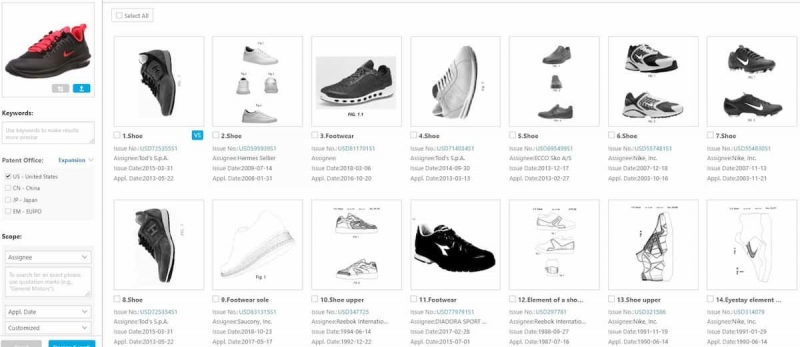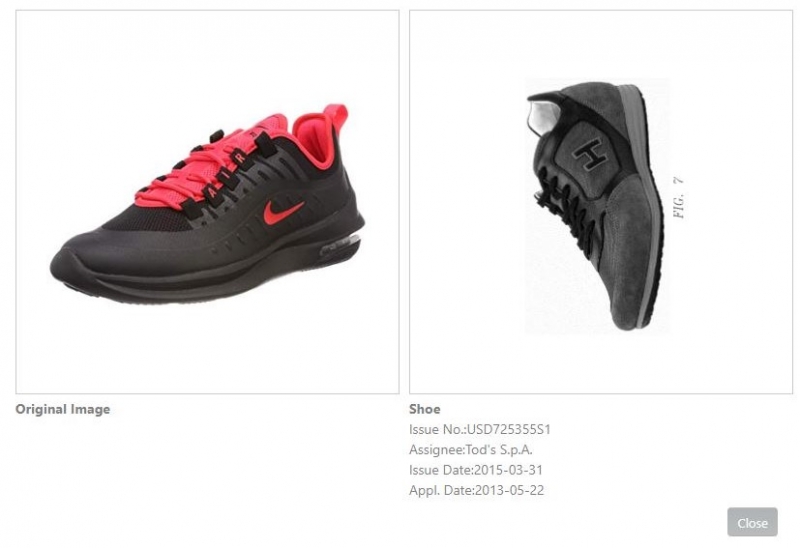 Nike Design Patent for Heels
As before, Design Search's image recognition technology picked up on both the Nike heels and the heels of Nike's competitors.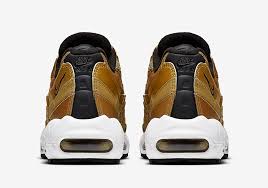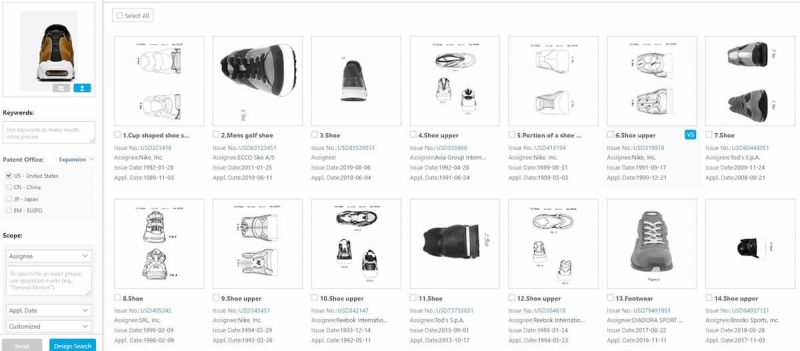 The Nike Design Patent Data
We utilized Patent Search by Patentcloud to find out how many design patents Nike owns for the abovementioned shoe components by inputting the following queries:
1. Current Assignee: all the NIKE Corp.
2. Full Text: include "shoe" & "foot" & "wear"
3. Specification: include "sole" / "upper" / "heel"
We then applied filters to only show active design patents.
The numbers of all Nike Inc. owned active design patents related to shoes or footwear are:
Upper related: 2800
Sole related: 100
Heel related: 37
Others: 316
Total:3253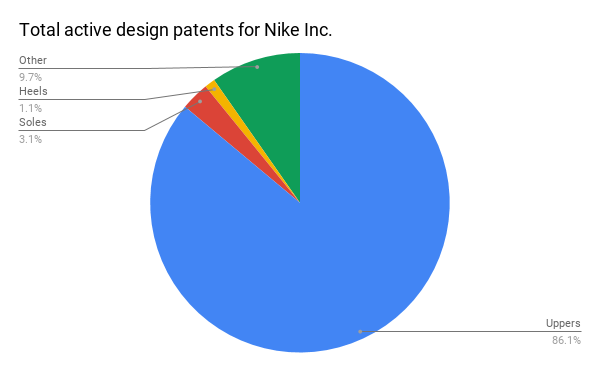 As you can see, Nike owns more design patents for uppers than any of the other components analyzed.
In December 2019 Nike was granted a patent for blockchain-compatible sneakers.
According to this patent, which was applied for last April, "When a consumer buys a genuine pair of shoes, a digital representation of a shoe may be generated, linked with the consumer and assigned a cryptographic token, where the digital shoe and cryptographic token collectively represent a CryptoKick".
The system will also enable tracking of the sneakers' ownership and verification of their authenticity.
Take a look at the newly published patent with Patentcloud
Whether you're a designer, inventor, or patent professional Design Search is a valuable tool to have in various design patent-related scenarios.
Level up your design patent search today with a 7-day free trial of Design Search