Table of contents
Key Facts About the Vacuum Cleaner Industry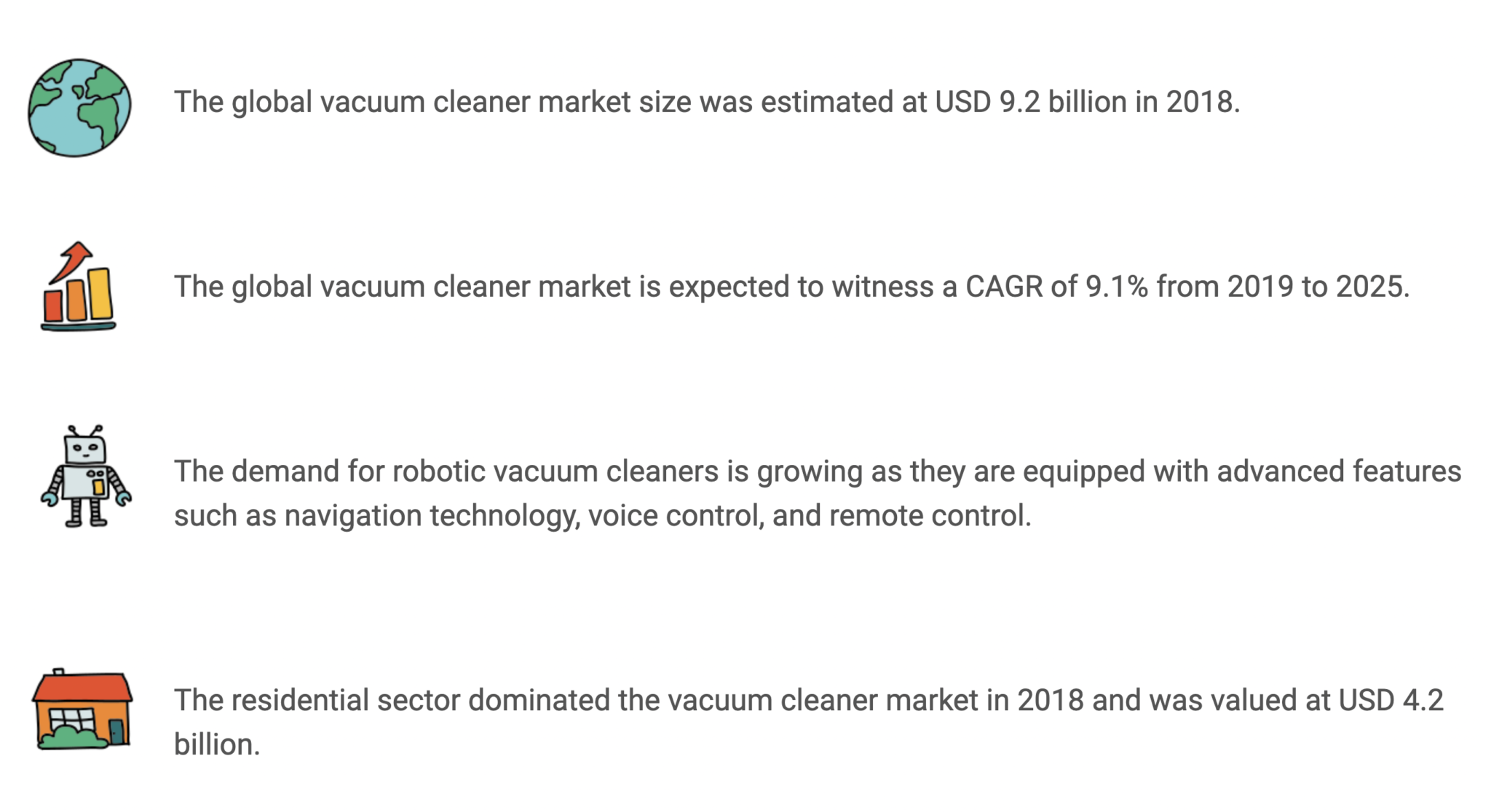 The First-Ever Vacuum Cleaner Patents
The quest to find a floor cleaning solution originated in England in 1599. Long before the invention of the vacuum cleaner, rugs and carpets were cleaned by draping them over a wall or a washing line and beating them to get the dust and dirt out.
Ives McGaffey
On June 8, 1869, Chicago-based inventor Ives McGaffey patented US91145A "sweeping machine." McGaffey's invention was the first patent for a rug cleaning device; it's worth noting that it was not a motorized vacuum cleaner. McGaffey named his machine "the Whirlwind." In the US, the Whirlwind is now commonly recognized as the first-ever hand-pumped vacuum cleaner.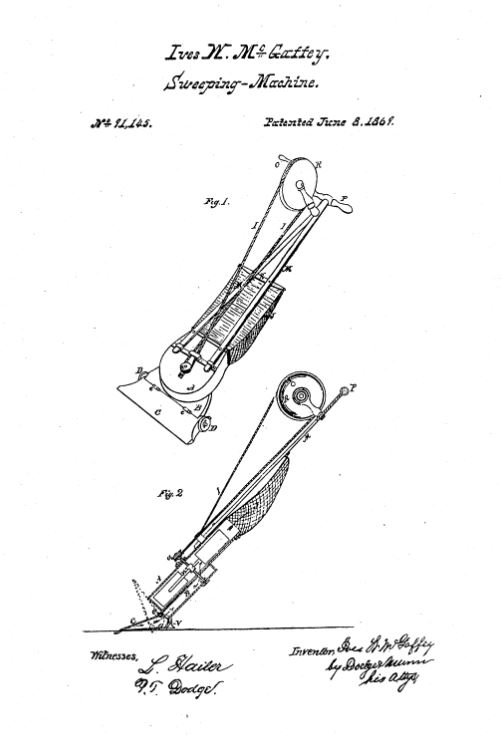 John Thurman
John Thurman's gasoline-powered vacuum cleaner was patented on October 3, 1899 (US634042.) This invention is widely considered to be the first motorized vacuum cleaner.
Thurman went on to start a door to door, horse-drawn vacuum service in 1903, his cleaning services cost $4 per visit.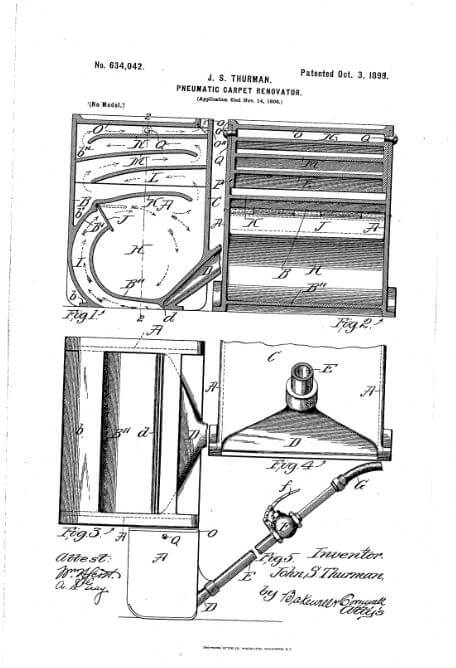 Hubert Cecil Booth
Booth, who was a British engineer, filed his patent for a motorized vacuum cleaner on August 30, 1901, the patent (GB190117433A) was vacuum cleaner patent granted on July 17, 1902. Booth's contraption was a large, horse-drawn, petrol-powered unit, which would park outside the building where the cleaning was required; long hoses would go through the windows of the building.
James Spangler
James Spangler concluded that the cause of his chronic coughing was all down to his carpet sweeper. Spangler decided to get an old fan motor and attach it to a soapbox that had been stapled to the handle of a broom. He utilized a pillowcase and used it as a dust collector. With this, Spangler had invented a portable electric vacuum cleaner. His basic model was then improved; Spangler's invention was the first to incorporate both a material filter bag and attachments. His vacuum cleaner patent (US889823A) was granted in 1908.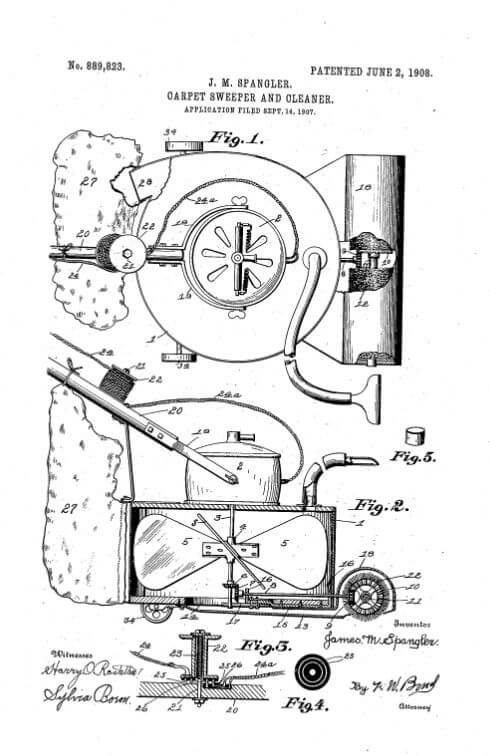 Hoover
Spangler formed the Electric Suction Sweeper Company, and one of his first customers was his cousin, whose husband happened to be William Hoover. William Hoover was the founder and president of the Hoover Company, a vacuum cleaner company.
James Spangler sold his vacuum cleaner patents to William Hoover and became a designer for the company. Hoover invested in further improvements to Spangler's vacuum. The final Hoover design looked like a bagpipe connected to a cake box, but it functioned well.
The Hoover company manufactured the first commercial "bag-on-a-stick" upright vacuum. In the beginning, sales were slow, so Hoover offered a 10-day free home trial (which was unheard of at the time). The free trial worked wonders, and eventually, there was a Hoover vacuum in almost every home.

Filter Bags
Ohio-based Air-way Sanitizor Company, founded in 1920, launched a brand new product called the "filter fiber" disposable bag, the first throwaway paper dust bag for vacuums. The company also produced the first-ever 2-motor upright vacuum along with the first "power nozzle."
According to their corporate website, The Air-Way Sanitizor Company was the first to use a sealable bag and the first to use a HEPA filter on a vacuum cleaner.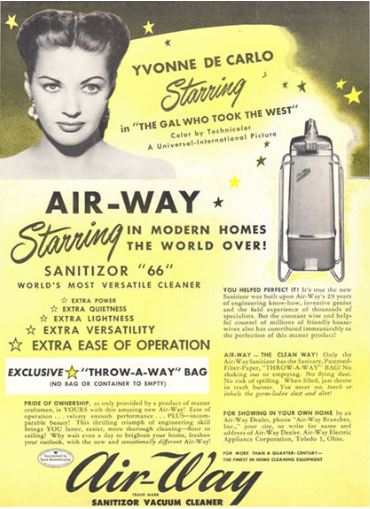 Dyson
In 1983, British inventor James Dyson created the G-force Vacuum cleaner. It was the first dual cyclone machine that was bagless. Dyson failed to sell his invention to manufacturers, so he went on to set up his own company and began to market the Dyson Dual Cyclone, which instantly became the fastest-selling UK-made vacuum cleaner of all time.

James Dyson Talking About His Dual Cyclone Vacuum Cleaner
Real Vacuum Cleaner Design Patent Infringement Case: Sharkninja vs. Dyson
On February 4, 2014, Dyson sued its rival, SharkNinja, for design patent infringement. Dyson accused SharkNinja of infringing upon three of its design patents (D577,163, D668,010, and D668,823.) The Shark Rocket line of stick vacuums was named as the alleged infringing devices.

It took over four years for the involved parties to battle over patent invalidity, claim construction, non-infringement, and inventorship issues. The lawsuit involved over 500 docket entries and three cycles of expert discovery. Summary judgment of non-infringement was refused twice, (in 2015 and 2016.)
Dyson sought $200 million in damages plus a broad injunction, with stakes this high, this lawsuit was considered to be one of the biggest design patent cases in US history.
On March 29, 2018, Judge Robert M. Dow awarded Shark's third motion for summary judgment of non-infringement of all three of the patents in question. Judge Dow's uncompromising ruling was significant in demonstrating how the non-functional scope of a design patent should be defined, and when a challenged design is "plainly dissimilar" from a patented design.
One month after the judgment, Dyson filed a notice of appeal against the decision to the Federal Circuit, but then Dyson decided to submit its motion to voluntarily dismiss this appeal. On August 1, 2018, the Federal Circuit granted the motion to dismiss, requesting each party to carry their own costs.
Design Search Analysis

We dropped an image of the Shark Rocket HV320 (the alleged infringing design) into Design Search. We then utilized the powerful filters to narrow down the search results (we filtered by patent office and assignee – Dyson)
We had a look at the Dyson patent and the alleged infringing item using Design Search by Patentcloud. Design Search is an image-based, design patent search tool and can be used to discover design patent prior art, additionally, it allows the user to visually compare design patent drawings and pictures to look for similarities.
In the case of design patent infringement, the question is always:
"Would an ordinary observer be able to tell the difference between two designs when they are placed side-by-side?"
The results included the asserted patent D668,010, thus allowing us to compare the two side-by-side.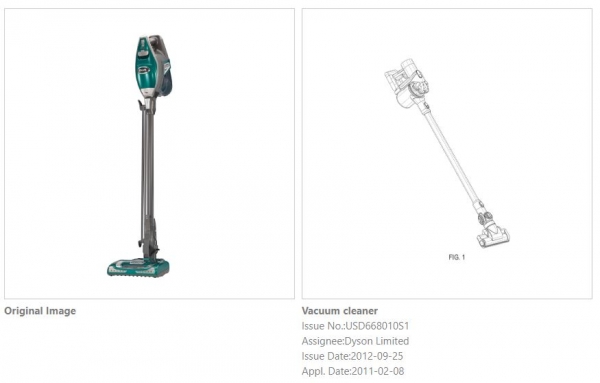 What do you think? Do you think the two designs are similar? Please leave your opinions in the comments below, we would love to hear from you!
After his analysis, the judge involved in the SharkNinja vs. Dyson case concluded that the accused products were "plainly dissimilar" to Dyson's claimed design.
"Viewing the undisputed facts in the light most favorable to Dyson; the Shark Rockets have a substantially different overall ornamental appearance than the Asserted Patents. Overall, the Shark Rockets have streamlined shapes with flowing contours that create an aerodynamic look … By contrast, the Dyson design uses regular geometric shapes—like rectangles, circles, and tubes—and perpendicular lines that create a more industrial, machine-like look with distinct component parts."

– The Hon. Robert M. Dow, Jr., U.S. District Court,
Northern District of Illinois
As part of his investigation, he also refused Dyson's theory of liability for "overall shape similarity." He mindfully concentrated on the critical role of design details in assessing design patent infringement claims. Furthermore, he actually revealed how the expert testimony from Dyson's side (which was meant to imply the designs' alleged similarities,) actually highlighted their differences.
Free Trial
Design Search enabled us to check and compare the two designs in just a few clicks, without having to look through lots of paperwork, documents, and pictures. Design Search is a real time-saver.
Design Search can be used to potentially dodge the future risk of design patent infringement altogether by comparing your design with existing design patents to check for similarities.
For a 7-day free trial of this image-based design patent search tool, simply click the button below.
Design Search includes the patent databases of the USPTO, JPO, EUIPO, and CNIPA.