Media outlets worldwide say the deal will bring NVIDIA to the center of the chip stage — but what do patents say?
After weeks of rumors, NVIDIA announced the acquisition of Arm in a stellar $40 billion deal — the largest so far in the semiconductor industry.

The acquisition comes just a few months after the Santa Clara company finalized the purchase of Israeli-American Mellanox for $7 billion, a move that, as we saw in detail here, allowed it to consolidate its presence in the data center segment.
With Arm — whose CPU designs and instruction sets are used in over 90% of the world's smartphones, with an astonishing 180 billion devices built around the ARM architecture so far — NVIDIA will acquire direct access to Arm's licensees (including big-names like AMD, Broadcom, Samsung, Huawei, and IBM), opening up a wealth of possibilities for marketing its solutions.
"Arm's IP licensing expertise will help NVIDIA bring its GPU and other technologies to Arm's vast ecosystem."

— Melody Tu, NVIDIA's head of PR for Taiwan, Australia, and South Asia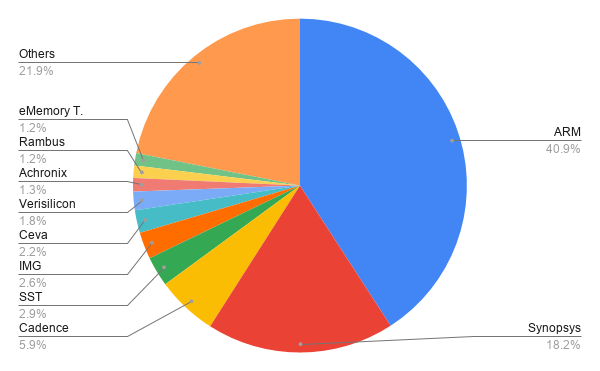 Let's think about NVIDIA's GPU solutions for cloud computing, which could be paired up with Arm's CPUs to create a new leader in the data center sector to compete against Intel, which currently dominates this segment.
"NVIDIA will help Arm accelerate its CPU roadmap in the data center to provide an alternative to Legacy CPUs."

— Melody Tu, NVIDIA's head of PR for Taiwan, Australia, and South Asia
Another example is NVIDIA's AI solutions. The company will be able to distribute to a much wider array of devices — those powered by Arm chips — backing them up with the vast computational power provided by its cloud-connected data centers. In recent years, NVIDIA has been attracted by sectors such as self-driving cars, 5G, and edge computing — all sectors in which Arm's efficient CPUs are in demand.

This point is explained clearly by NVIDIA's CEO Jensen Huang:
"AI is the most powerful technology force of our time and has launched a new wave of computing. In the years ahead, trillions of computers running AI will create a new internet-of-things that is thousands of times larger than today's internet-of-people. Our combination will create a company fabulously positioned for the age of AI."

— from the press release
At least on paper, the deal seems to be a win-win for both companies. But what do the patents say? We conducted a due diligence analysis on both portfolios to see what patent data has to say.
The due diligence analysis
Using Due Diligence, we first identified the two companies' patent portfolios. After doing so, we combined them to see how the post-acquisition portfolio compares to the individual ones.
Global coverage
The first chart, which details the global coverage of a given portfolio, seems to confirm the benefits in terms of market opportunities for NVIDIA.



With the acquisition, NVIDIA is acquiring access to 7 more markets — from 26 to 33. There is no doubt that this expanded coverage will open up a wealth of possibilities for NVIDIA, especially from a licensing perspective.
It is also worth noting that the US and China appear in the top 3 countries covered by both portfolios. In NVIDIA's case, Germany holds the second spot, while Great Britain has the second position in Arm's portfolio. The combined portfolio's top 3 countries are:
US (6,583 patent applications)
China (1,032 patent applications)
GB (1,207 patent applications)
Remaining life
The portfolios perform slightly differently in terms of the patents' remaining life, with NVIDIA showing a slight acceleration in expiry rate between 2033 and 2034 (we will explain this difference in just a moment when comparing the technology focuses of the two companies).


Both portfolios will lose their rights in the US in 2039 when the last patents filed at the USPTO will expire. As for patents filed in China, Arm's rights in this country will expire a couple of years later compared to NVIDIA — 2038 against 2036. The combined portfolio shows a gentler descent to expiration, a result of the leveling effect of Arm.

Technology focus
NVIDIA's distribution of technology within the portfolio is in line with what one would expect from a company that started as a manufacturer of gaming video cards before transitioning into cloud computing and advanced AI applications.

The same can be said for Arm, which also has IPC classes G06 — COMPUTING; CALCULATING; COUNTING and H04 — ELECTRIC COMMUNICATION TECHNIQUE in its top 3. As companies that both focus on microprocessors (one CPUs, the other GPUs), it makes sense that they share a significant amount of technology.
There is, however, a key difference: Arm's focus on class G11 — INFORMATION STORAGE, which relates to memory addressing and access. This difference has probably to do with the fact that Arm's CPUs became popular over the years because of their efficiency — and thus their low power consumption: something that can't be achieved without state-of-the-art memories.
As can be seen below, this particular technology acquires more importance in the post-acquisition portfolio.

Filing trends
Taking a look at when these various technologies were filed over the years also reveals a few interesting insights into the companies' strategies.


NVIDIA developed its core technologies in two major windows: the first — and longest — spanned over the 2010s, while the second was concentrated between 2011-2014.
Arm's filing trends have been more consistent, with an acceleration (that involved its major focus, class G06F — ELECTRIC DIGITAL DATA PROCESSING particularly) starting from around 2012.
Quality
As we always do in all of our case studies, we took a closer look at the quality of the patents involved. Each one of the charts below compares the performance of the portfolio being analyzed with those of the other key players in the industry. For this particular case, we will concentrate on class G06F — ELECTRIC DIGITAL DATA PROCESSING as it is the major one in both portfolios.

Right away, we can tell that Arm's portfolio is more competitive than NVIDIA's, having a higher percentage of high-quality patents (A, AA, and AAA-ranked patents) compared to the other peers in the industry. It is worth mentioning that this comparison is based on the Patent Quality and Value Rankings. Specifically, the Patent Quality Rank indicates the relative eventuality of prior art references being found for a patent, threatening its validity.
The analysis of the combined portfolio below clearly shows the improvement compared to NVIDIA's starting situation.

This interactive dashboard also allows us to compare two specific companies' performance: why not compare the performance of NVIDIA's portfolio against Intel's before the acquisition, with that of the combined portfolio after the acquisition?

After the acquisition, the combined portfolio is in a better position for competing with Intel.
Closing thoughts
Patents tell us that the acquisition has the potential to help both NVIDIA and Arm reach their current business goals. On the one hand, we find NVIDIA with an increased pool of opportunities in terms of technology licensing and supply. On the other hand, we have a much more competitive patent portfolio that can boost the two companies' expansion in the data center field, which is a prominent item in both agendas.
Would you like to conduct your own analysis of this portfolio or another portfolio of your choice? Click here and take advantage of the free trial to enjoy all of the advanced features for 7 days. No credit card required.
---