Key Points
Skyworks acquiring Silicon Labs' Infrastructure & Automotive (I&A) business is in line with the company's technical and business development, as indicated by patent portfolio analysis.
Only a few patents of I&A unit stand a decent chance of being monetized. For the management of Skyworks, it's important to make sure high-quality and high-value patents and leading inventors are included in the deal.
Table of contents
Intro
Silicon Laboratories reached a definitive agreement with Skyworks Solutions on April 22, 2021. Silicon Labs is selling its Infrastructure and Automotive (I&A) business to Skyworks Solutions in an all-cash transaction worth 2.75 billion.
As part of the transaction, the vice president of Silicon Labs and the general manager of I&A business, Mark Thompson, will join Skyworks and report to Liam K. Griffin, the president and CEO of Skyworks. Around 350 employees, including the senior management of the I&A business, are expected to join Skyworks after the acquisition is completed.
The board of directors of both sides has approved the transaction; the transaction is expected to close in the third calendar quarter of 2021 and is subject to customary and regulatory conditions.
The sale includes Silicon Lab's power and isolation, timing, and broadcast product lines, which are complementary to the connectivity technology of Skyworks. The acquisition is expected to expand Skyworks' market access into multiple growing segments—including electric and hybrid vehicles, 5G wireless infrastructure, and data centers— and is anticipated to bring about a combined market opportunity worth nearly $20 billion for Skyworks.
Silicon Labs' aim is to gain market leadership for its Internet of Things (IoT) business—which accounted for 57.93% of its total revenue in the fiscal year 2020. According to its 2019 annual filing, the business segments excluding IoT—including Infrastructure, Broadcast, and Access—experienced a revenue loss of more than 8%, which may be a reason for the asset sale this April. Earlier in February, Silicon Labs disclosed its intention of selling the non-IoT business, according to Bloomberg.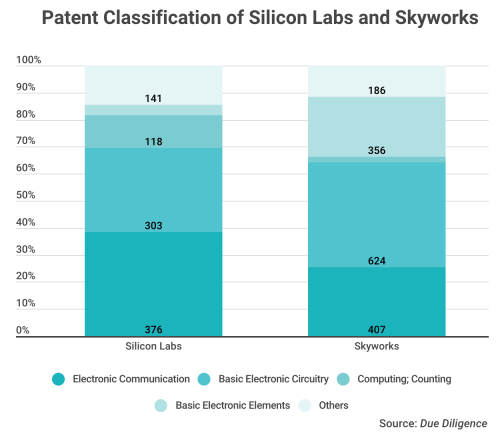 The Acquisition Supports Skyworks' Business Strategy
The patent analytics shows that Silicon Labs' I&A unit complements the technology profile of Skyworks. It also fits with the geographic and technological deployment of Skyworks' patents—making it an ideal asset for the analog semiconductor firm.
The I&A patent portfolio adds to the technical strength of Skyworks' products and services, but these inventions may not bring much in terms of monetary value themselves. The patent rankings show that some of the patents have a decent potential for monetization—yet many are not quality patents and have a higher chance of being invalidated.
When analyzing patent data, the first step is to define the scope of analysis. In this article, we identified the patents related to Silicon Labs' I&A business with Patent Search (PS). To be included in the analysis, the patent must have the following keywords in the title, abstract, or claim: Automobile, Isolation, Isolator, Timing, Clock, Infrastructure, Communications infrastructure. For Skyworks, all of its patents have been included in the analysis.
The Patent Profiles are Complementary in Technologies and Markets
At first glance, both Silicon Labs' I&A unit and Skyworks have a significant presence in electronic communication and electronic circuitry. Almost 70% of Silicon Labs' I&A patents fall into "electronic communication technique" and "basic electronic circuitry."  The same proportion for Skyworks is 65%.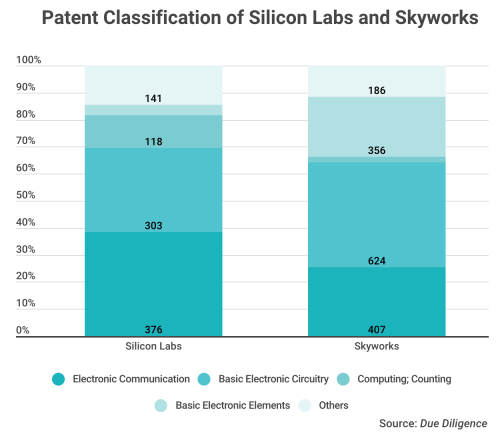 However, Silicon Labs' I&A segment focuses more on electronic communication, whereas Skyworks concentrates more on developing electronic circuitry. It is clear that the I&A patent portfolio supplements that of Skyworks.
The I&A business also adds to Skyworks' market in terms of geographic coverage and technical development. As Skyworks is a global company focusing on East Asian markets (first graph below,) the I&A segment complements its coverage since China and Europe are its largest markets besides the U.S. (second graph below.)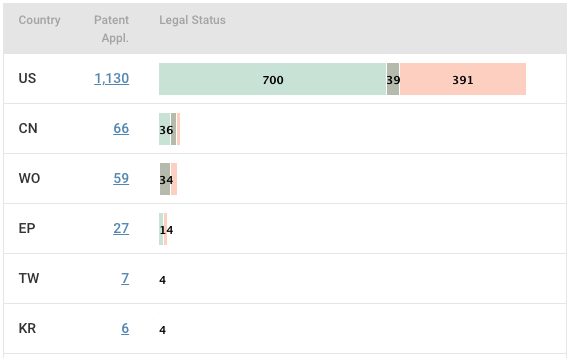 As Silicon Labs cuts off the increasingly diversified I&A business to pursue a greater focus on the IoT market, it is even more apparent that the multi-technology profile of Silicon Labs I&A unit is consistent with that of Skyworks.
The patent dashboard shows that Silicon Labs' I&A patent portfolio has become very versatile since 2018 and that the company later experienced a revenue loss later in the fiscal year 2019—which might be one of the driving forces behind the divestiture.

Nevertheless, the increased number of technical fields are in line with Skyworks' patent deployment. As Skyworks is pursuing growth in a more significant number of end markets, the diversified portfolio of I&A business is attractive.

Discovering Diamonds in the Rough From Silicon Labs' I&A Business
When it comes to the financial benefits of patents, the patent value and quality metrics suggest that only a few of the I&A-related patents have a good chance of being monetized—compared to patents in the same fields.

The above quality-value graph shows most of the I&A patents have a value ranking below A—and for those rated A or above, only a small proportion of them have a quality ranking equal to or above A.
For Skyworks to utilize the patents, it is better to focus on high-value patents with decent quality rankings to pursue potential monetization targets. The quality-value graph above shows that 44 out of 814 applications in the major markets—or 5.4%—are high-quality and high-value patents.
One can look into the patents with high quality and value rankings by clicking on the circle (the circle of "4" in the rectangular area, for example.) A list of patents will be shown as below:

If Skyworks intends to acquire critical inventors from Silicon Labs' I&A business, the inventor profile should be reviewed.

The most prolific inventors in recent years, such as Partha Murali (ranked 1), Aaron J. Caffee (ranked 7), and Hendricus de Ruijter (ranked 8), should be among the first to be considered.
Conclusion
To conclude, the acquisition of Silicon Labs' I&A business fits with Skyworks' technical and business development, yet only a few patents stand a decent chance of being monetized—as suggested by the patent analytics of Due Diligence.
The patent managers at Skyworks could look into the high-quality and high-value patents to maximize their monetary potential. When integrating the business into the company, the management may be mindful of the critical inventors within the business to keep the innovation going.
Get a complete patent analysis of Silicon Labs' Infra and Automotive Business.