Dear Patentcloud users,
We are delighted to introduce a new tab in Quality Insights called Claim Analysis, with the main purpose of facilitating claim construction.
What's more, we invite all our existing users to avail of free trials for Quality Insights, Due Diligence, and Design Search.
Claim Analysis on Quality Insights
The Claim Analysis tab helps claim construction work by facilitating users to find paragraphs in the specification which are relevant to specific claim terms.
Powered by Patentcloud's keyword identification algorithm, determining whether claim terms are sufficiently covered in the specification has been made easier and more efficient.
Whether it's for a defense or invalidation strategy, users can simply highlight claim terms and Claim Analysis will pull up all the possible references found in the specification.
To learn more about how Claim Analysis works, please click here.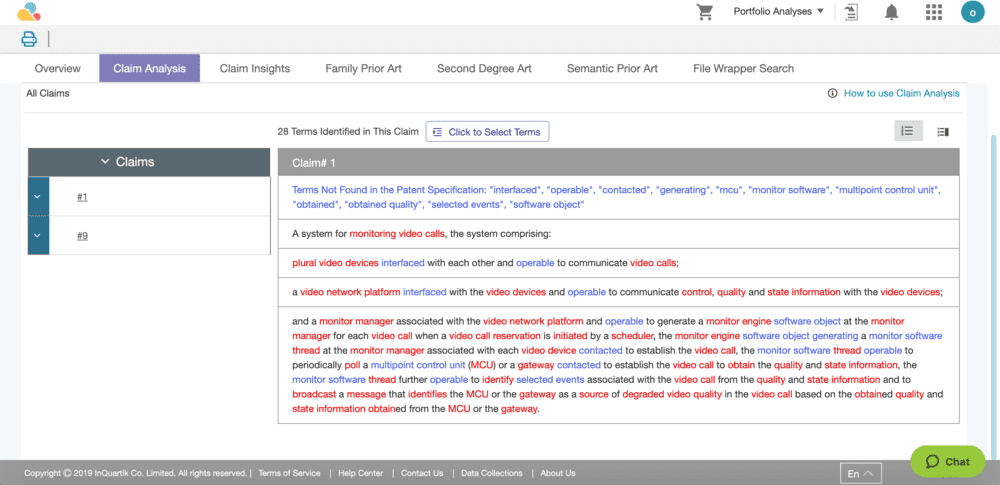 To proceed further with claim construction, Quality Insights also features Claim Insights that allows users to easily identify claim elements that were previously challenged in view of prior art.
To know how Claim Insights works, please click here.
We invite our Patentcloud users to try Quality Insights and gain valuable insights into patent invalidation and litigation with just one click.
Quality Insights integrates claim construction tools, rejection prior art, potential prior art references, and a searchable file wrapper in one interface.
Request a demo today and get your free trial here.
Free Trials for Due Diligence
Another revolutionary one-click solution, Due Diligence, has recently been launched on Patentcloud.
With six dashboards and 16 infographics, Due Diligence delivers an instant yet thorough assessment of a portfolio, enabling better decision-making in portfolio management, buy and sell transactions, licensing, and M&A.
Due Diligence's six main dashboards include Coverage and Status, Owner/Inventor/Applicant, Historical Highlights, Quality and Value, Quality Highlights, and Value Highlights.
Request a demo today and get your free trial here.
Free Trials for Design Search
With an increase in design patent infringement cases, having a tool like Design Search now becomes more critical than ever.
Design Search is an image-based design patent search tool that is powered by deep learning technology with a database covering major patent offices worldwide: US, CN, JP, and EM.
Simply drag and drop or upload an image, sketch, or product picture onto Design Search and it will look for similar or similar-looking design patents.
Filter by assignee, application or issue date, keywords, and/or Locarno code with ease.
Log into your Patentcloud account and click here to activate your free 7-day trial.
Should you need any assistance, please visit our Help Center or send us a message at support@inquartik.com. We are more than happy to help.