On 9th March 2020, IP Bridge filed a US litigation campaign against Micron Semiconductor Products, Inc. The four patents involved are all related to Dynamic Random-Access Memory (DRAM) technology.  IP Bridge went on a patent assertion campaign from 2016 to 2018, challenging several major chipmakers. IP Bridge was awarded its first patent litigation victory against the Chinese smartphone manufacturer, TCL in 2018. However, almost all of IP Bridge's US cases against these chipmakers were settled after the licensing deal with RPX was announced at the beginning of 2019. In this article, we will take a look at the following:
What do we know about IP Bridge?
IP Bridge helps its investors to recognize the monetization possibilities of a patent portfolio of around 3,500 patents, with intellectual property including motors, semiconductors, mobile technology, and display technology. IP Bridge encourages open innovation by sharing this 3,500-strong portfolio of Japanese IP with domestic and global enterprises.
Along with fostering innovation by giving licensing fees back to the patent owners, IP Bridge is Japan's original dedicated IP fund, with a capital of roughly US$300 million.
"To enhance innovation, we need to understand business needs as well as the technical seeds that form the basis of intellectual property. "

– Shigeharu Yoshii, IP Bridge's President and CEO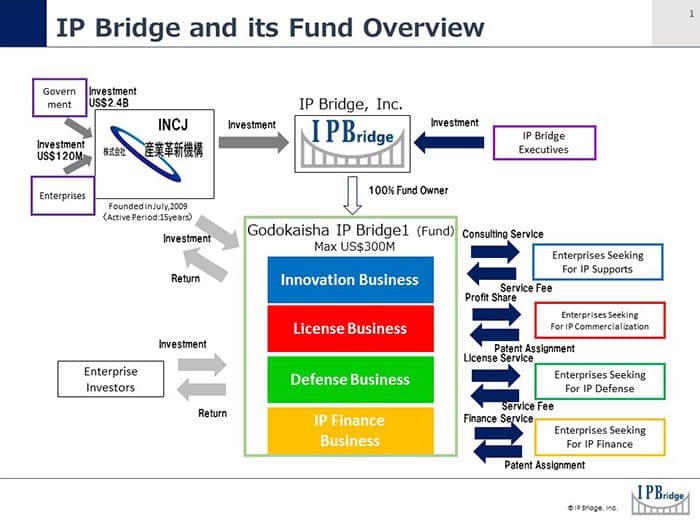 Right now, IP Bridge's innovation developments are concentrated on the Association of Southeast Asian Nations (ASEAN) market, where Japan's geographical closeness enables IP Bridge to swiftly and accurately satisfy the needs of the local markets.
How about Micron?
Micron Technology, Inc. is an Idaho headquartered American producer of computer memory and computer data storage, including DRAM, flash memory, and USB flash drives. Its user products are sold under the brands Crucial Ballistix.
Micron has been established for over 40 years and has contributed to some of the world's most notable technological advancements. Micron delivers memory and storage methods and systems for a wide range of purposes.
Micron has been involved in its fair share of patent infringement lawsuits. In 2018, Fujian Jinhua Integrated Circuit Co. and its Taiwan-based partner, United Microelectronics Corp., accused Micron of manufacturing products that infringed upon their patents. A Chinese court in the province of Fujian temporarily halted the sale of several Crucial and Ballistix-branded memory modules and solid-state drives, which add up to just over 1% of Micron's total annual revenue.
Using Litigation Daily to quickly find out about litigation cases and the patents involved
Attorneys need to prioritize which cases they want to pitch and the resources they will need to utilize to pitch and win clients. It's highly unlikely—impossible even— for attorneys to pitch all defendants involved in litigation cases, so they must decide which cases to pitch.
Litigation Daily immediately identifies potential validity issues in all of the latest US patent lawsuits while revealing the true quality of the patents involved.
Litigation Daily shows the prior art references and overview, making it easier to spot business opportunities. It goes without saying that other law firms will be pitching for the same clients, the client will always tend to pick the firm with the best research, materials, and the firm that can produce the information quickly, thus indicating that the firm is ready, willing, and capable of defending the client's case.
Litigation Daily makes it easier for law firms and attorneys to spot opportunities and to act quickly. Traditionally, too much time is invested in searching for opportunities, and most attorneys only have a couple of days to decide whether or not they want to spend a lot of their time and resources on the materials and data needed to pitch the case.
To use Litigation Daily, simply click here. Specify your search results by selecting your desired court and case filing dates.
Click on each image for a closer look.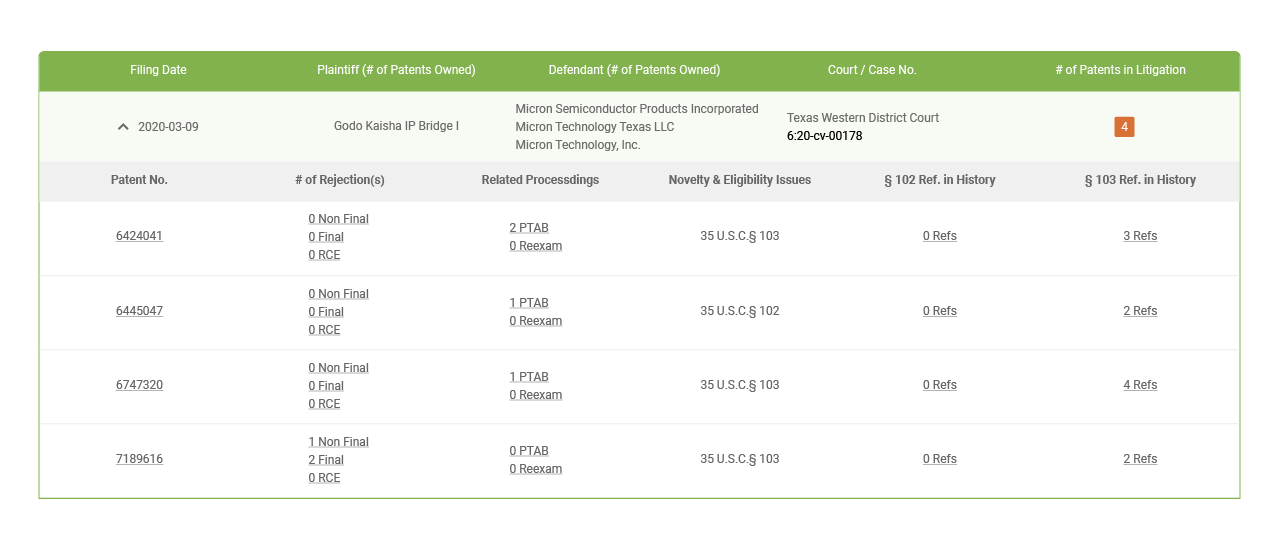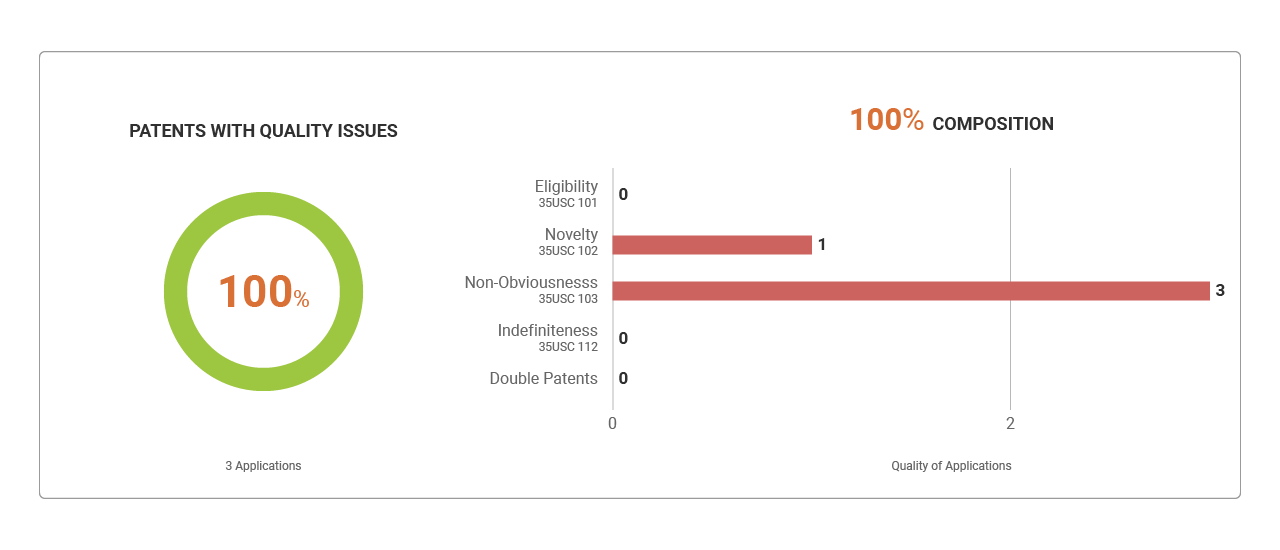 The patents-in-suit
IP Bridge is an NPE
The recent suit against Micron implies that semiconductor portfolios continue to be a priority for IP Bridge when it comes to the firm's monetization efforts and strategies.
We asked Wispro's former practicing attorney Warren Chan for his expert opinion on the most likely reasons behind this litigation case.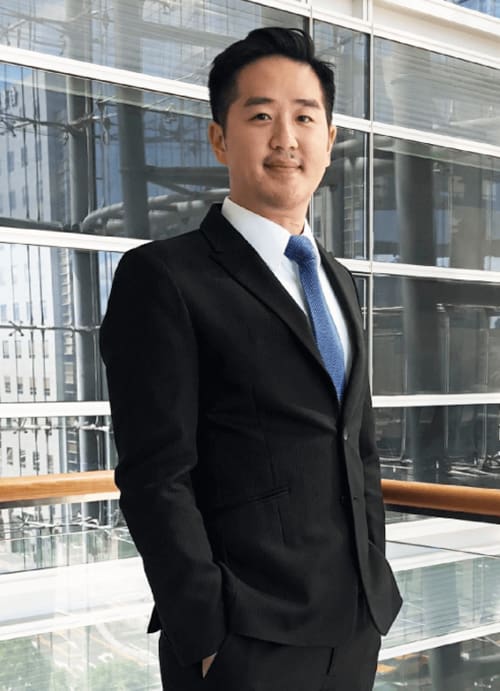 Warren devotes a significant portion of his practice to matters involving international intellectual property, IP transactions, mergers and acquisitions, and international business transactions. He has extensive experience in counseling privately and publicly held corporations on patent portfolio monetization, including patent litigation consulting for cases before the U.S. District Courts, U.S. Patent Trial Appeals Board, U.S. International Trade Commission, the German District Court of Dusseldorf, and the German Federal Patent Court. Additionally, Warren regularly advises clients on patent evaluation, freedom to operate (FTO), and IP due diligence as part of M&A.
"IP Bridge is continuing with its semiconductor campaign and will likely continue this campaign until it runs out of targets.
IP Bridge has sued Broadcom, Xilinx, TCL, Qualcomm, and Intel, with successes in court and settlements.
Although many companies filed IPRs against IP Bridge's patents to defend themselves and their customers, IP Bridge's semiconductor portfolio seems to have more ammo against Micron.
There are over 65 IPRs filed against IP Bridge from petitioners such as GlobalFoundries (26 petitions), TSMC (21 petitions), Xilinx (4 petitions), and Intel (19 petitions).
Having filed multiple IPRs against Eld 3DS Innovations in the past with partial success, Micron has filed 3 IPRs against IP Bridge's patents."

– Warren Chan Esq. Juris Doctor (J.D.)
A patent validity analysis and expert opinion on the predicted outcome of this case using Quality Insights by Patentcloud
We took the patents-in-suit and ran them through Quality Insights by Patentcloud to find out more about the patents and any potential validity issues. Quality Insights is the world's first one-click solution for patent validity analysis. When you use Quality Insights to perform patent validity analysis, you'll discover how hard a patent would be to challenge, even before getting into litigation.
Quality Insights helps you assess the patent's quality by looking at past legal events, claim scope changes, and validity issues.
So, without further ado, let's utilize Quality Insights to look at the patents. We will go through each tab of Quality Insights to show you which information is available. Our expert attorney, Warren Chan, will give his opinion on any interesting information that we uncovered.
All of the following user interface screenshots have been provided by Quality Insights by Patentcloud. To access Quality Insights for yourself, sign up for a free trial here.
Click on each image for a closer look!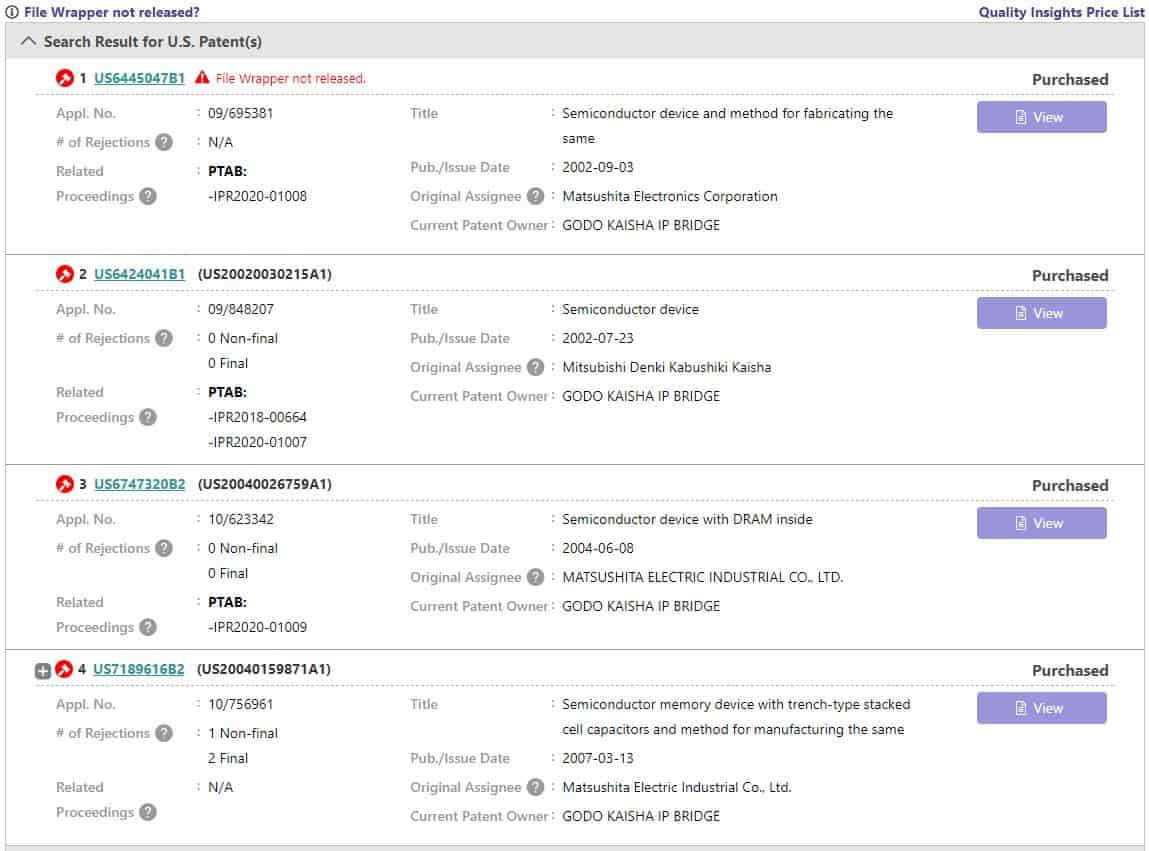 NB When we looked at patent #1 US 6,445,047 – "Semiconductor Device and Method for Fabricating the Same"
Quality Insights informed us that the file wrapper for this patent had not been released and therefore the information was not available. Quality Insights' file wrapper documents are in sync with the USPTO's Global Dossier and PTAB. When a US patent comes with no image file wrapper from these data sources, we are not able to find the corresponding file wrapper documents on Quality Insights.
Overview
Overview – Legal Events History
In this tab, you can view all the patent's key legal events, collected chronologically. You can find the 102/103 prior art references by clicking on any item from the list.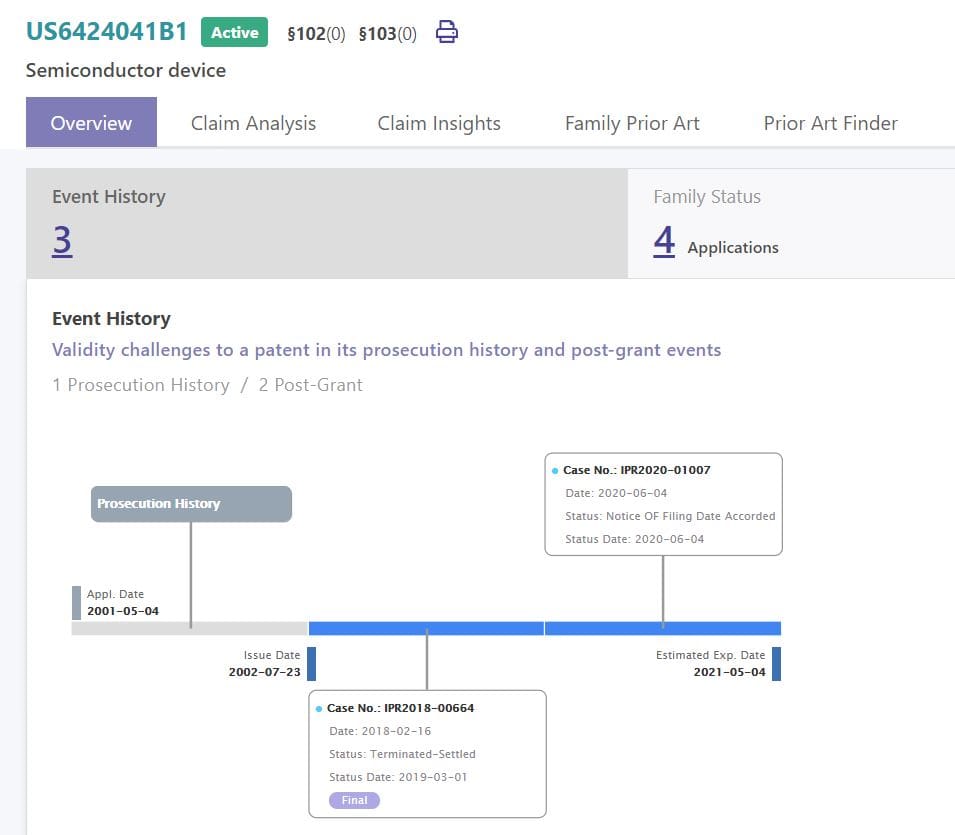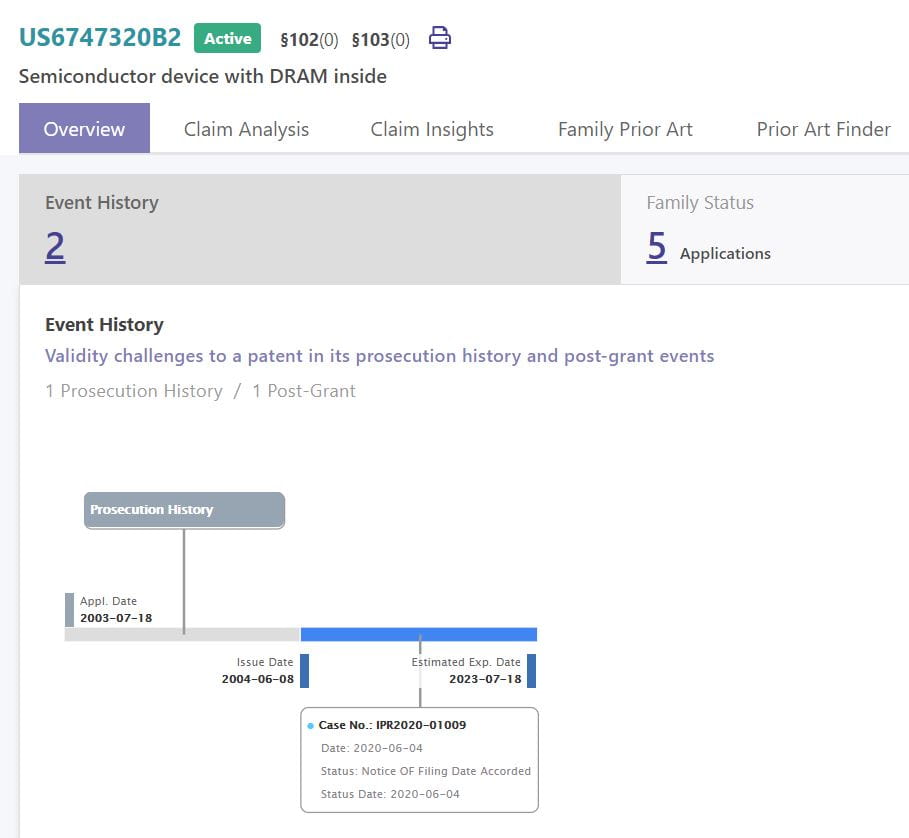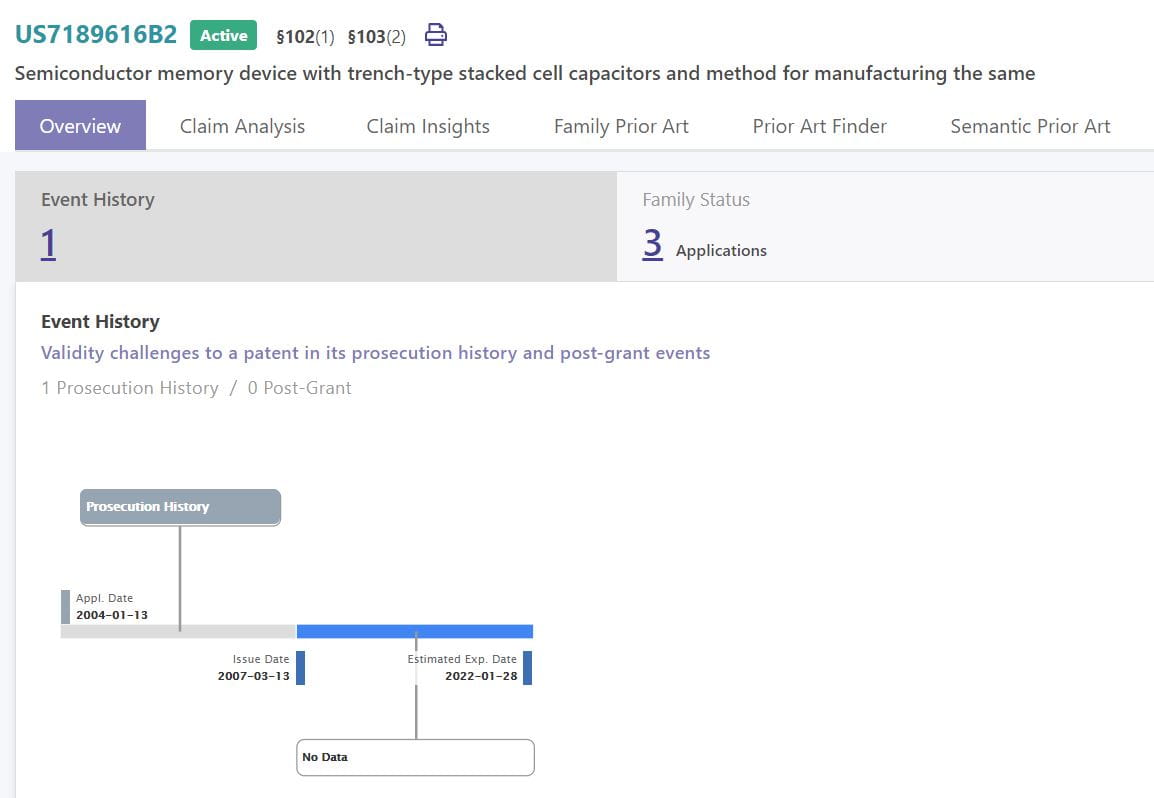 Overview – Family Status
The Family Status map shows all family members of the patent by their legal status, highlighting potential disputes from these counterparts in different countries.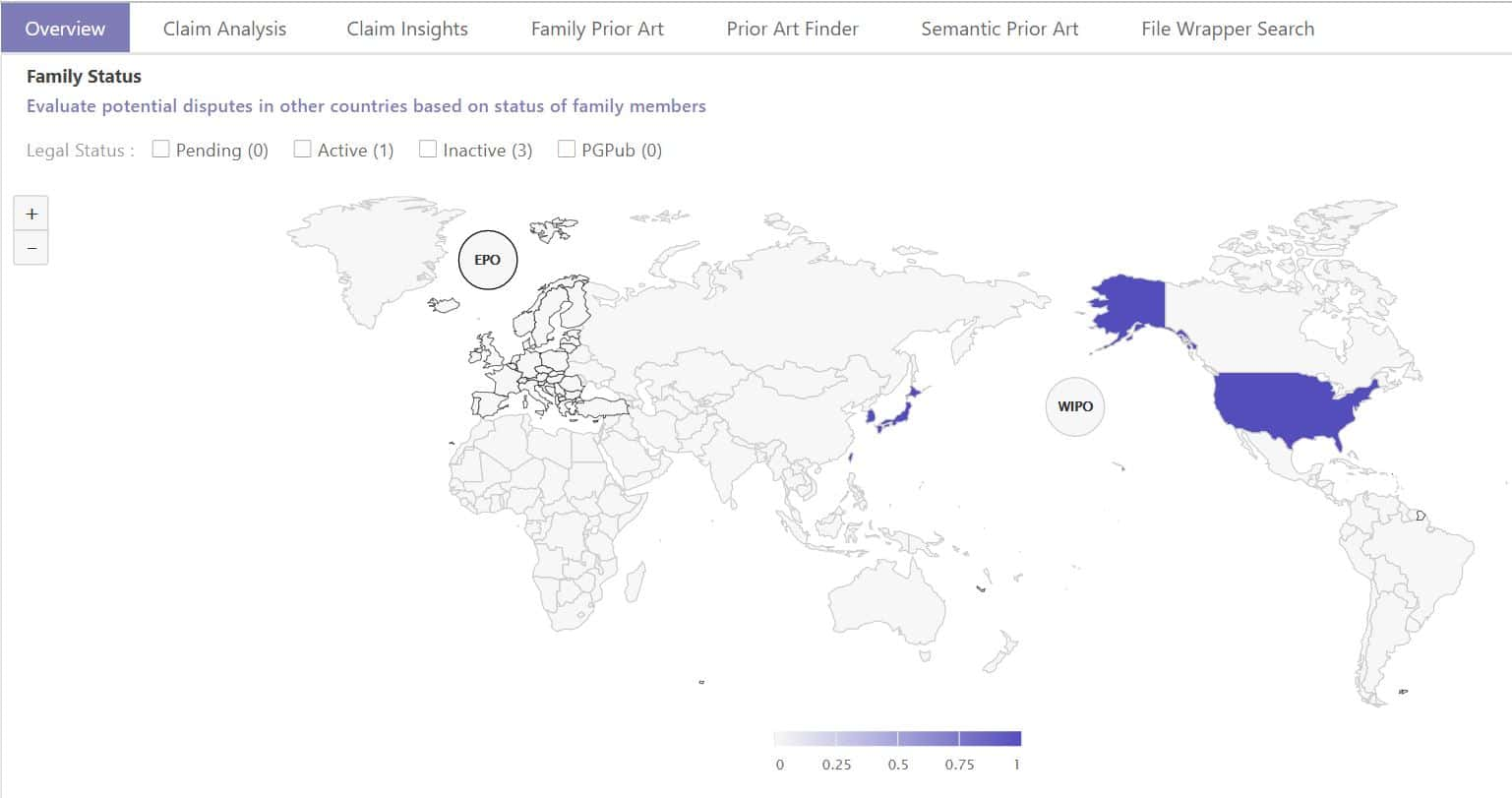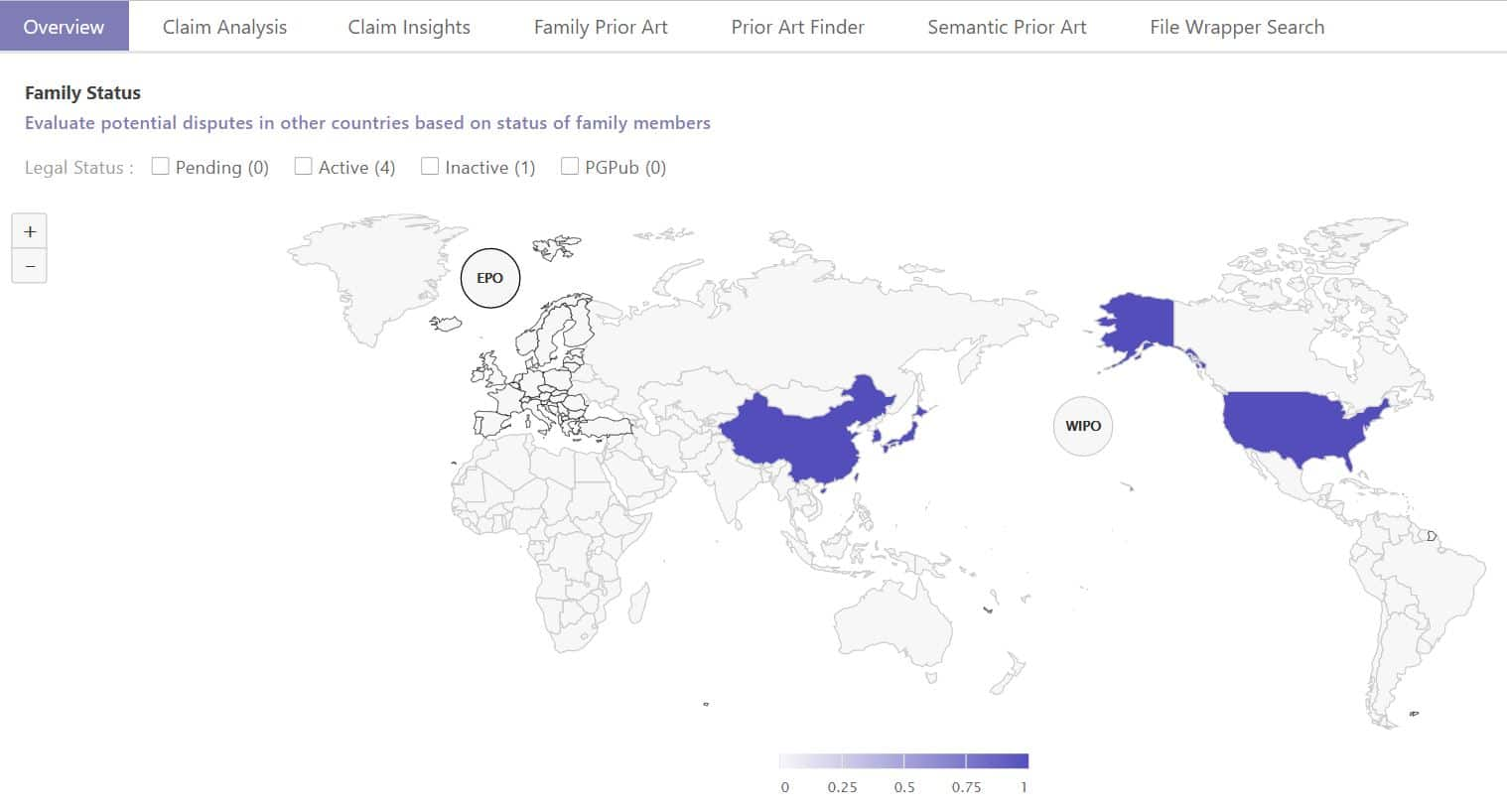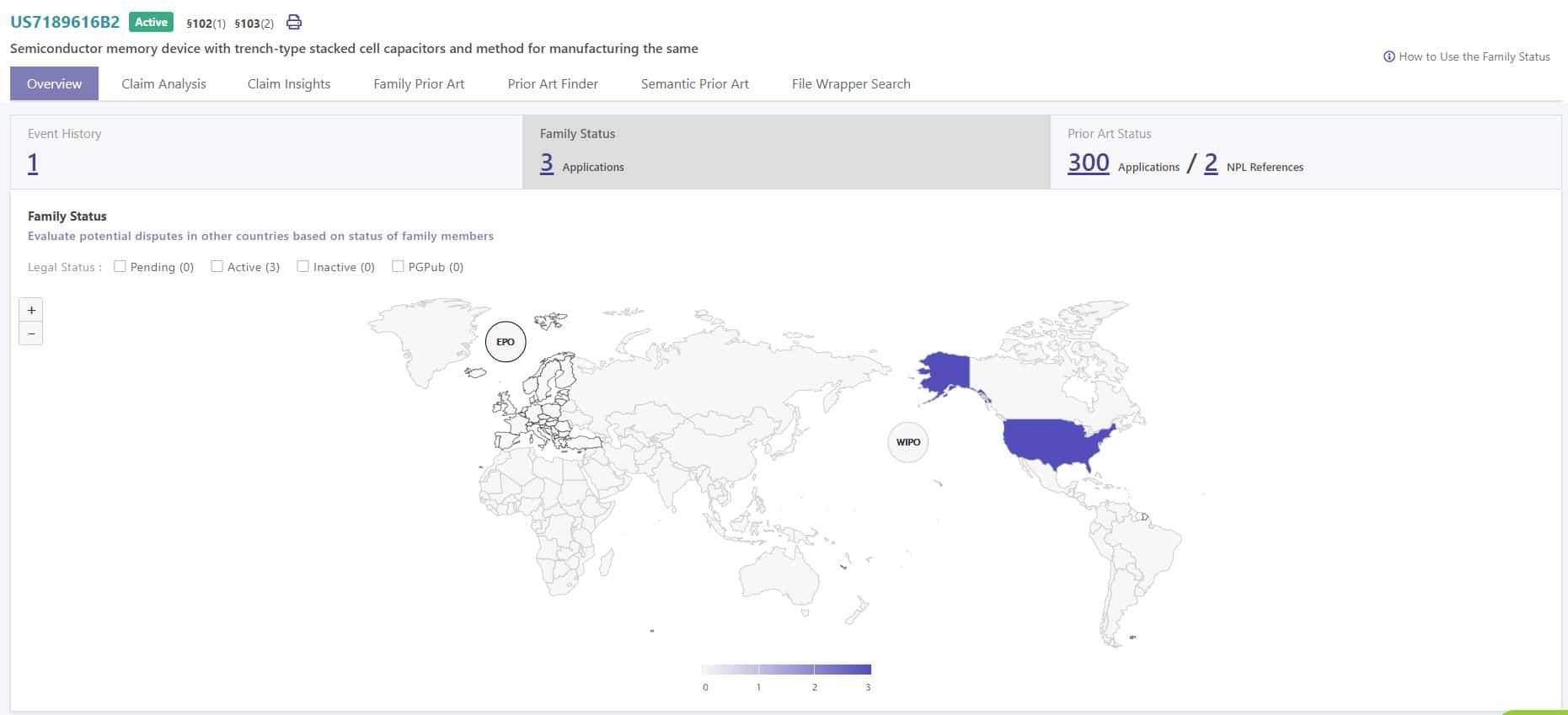 Overview – Prior Art Status
The Prior Art Status describes each type of prior art reference in Quality Insights. It provides you with a preliminary assessment of the patent's quality.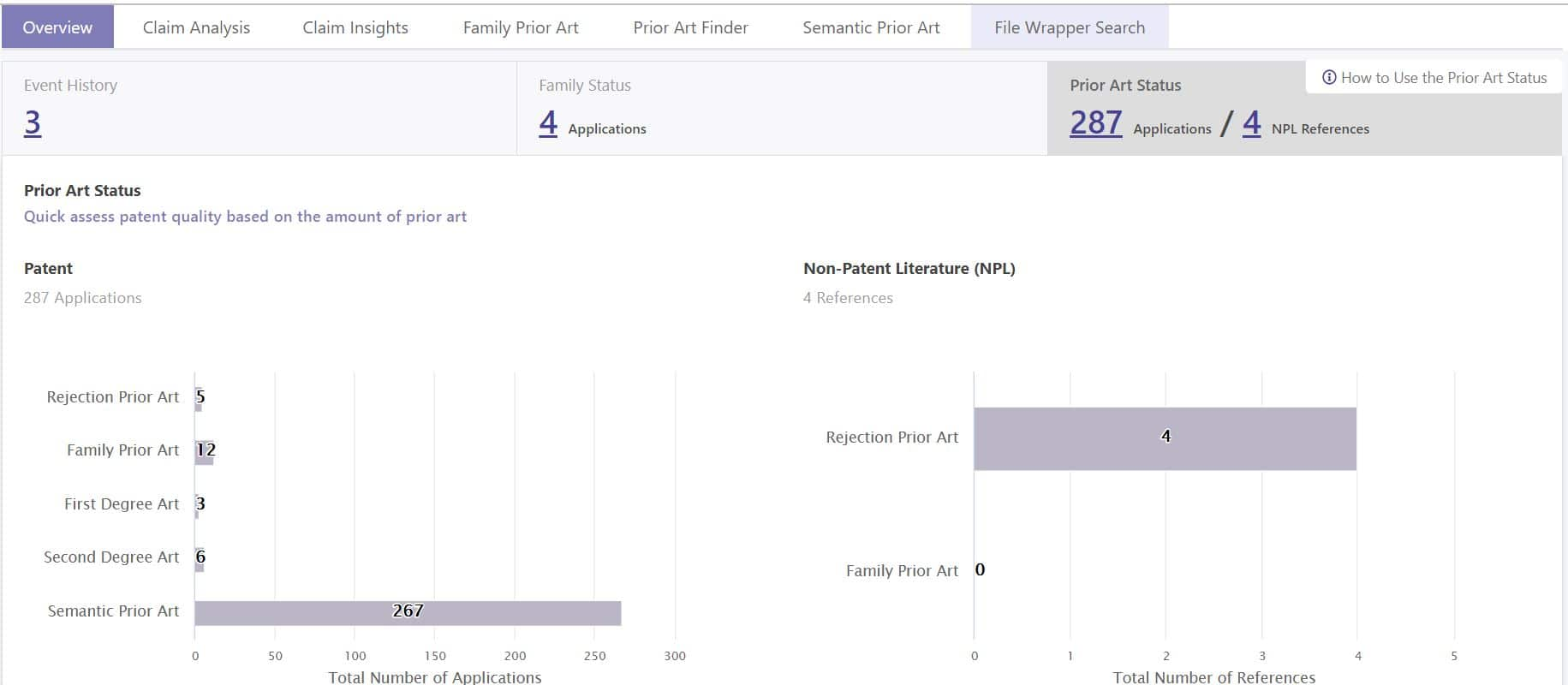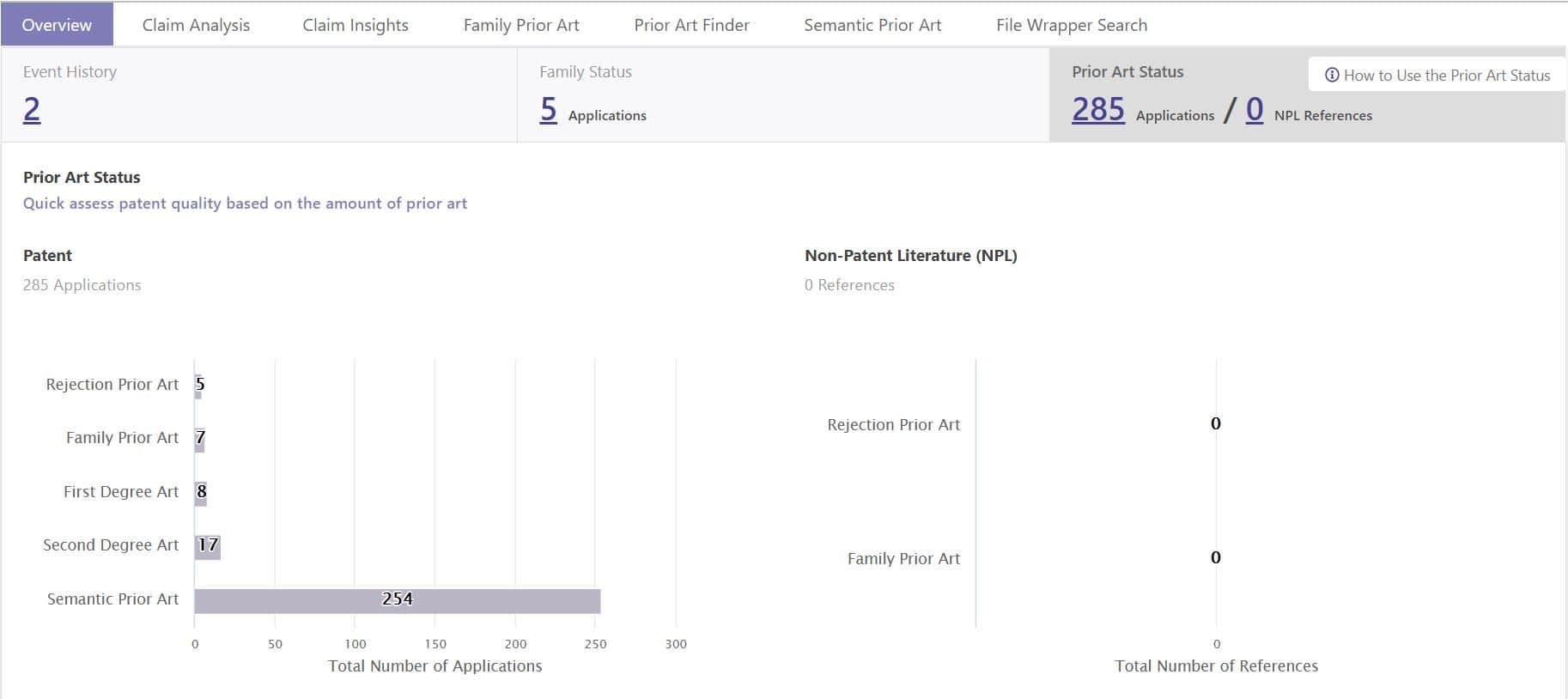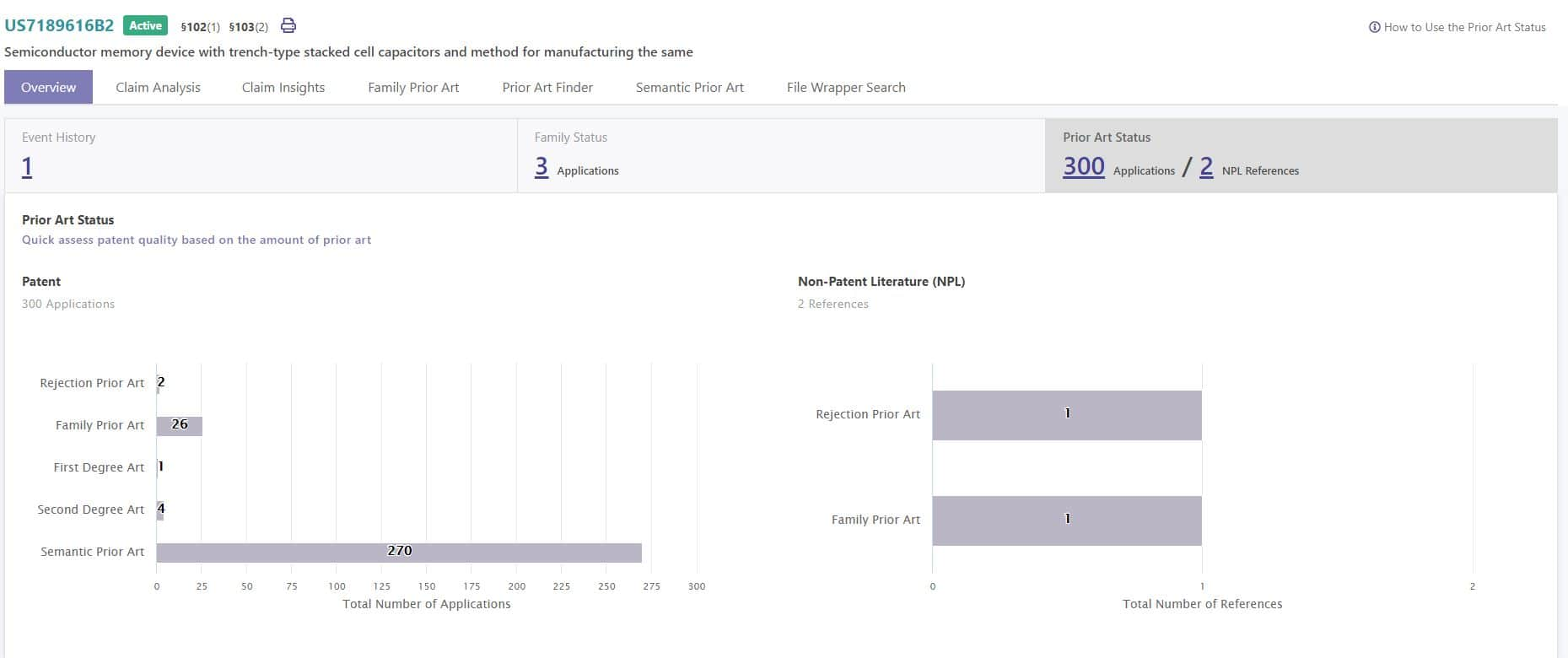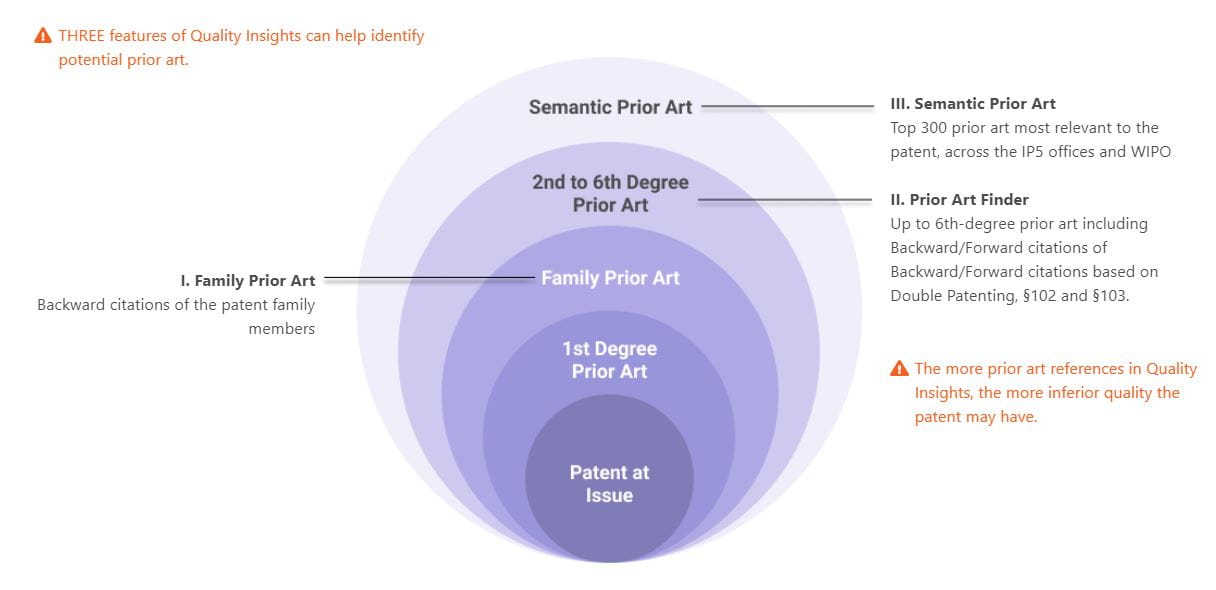 Claim Analysis
Claim Analysis helps with intrinsic evidence for claim term interpretation by finding paragraphs in the specification which are relevant to specific claim terms. Check the claim terms that are not literally supported by the specification (blue words), which leaves room for different interpretations. The more blue words there are, the more ambiguous the claim scope may be.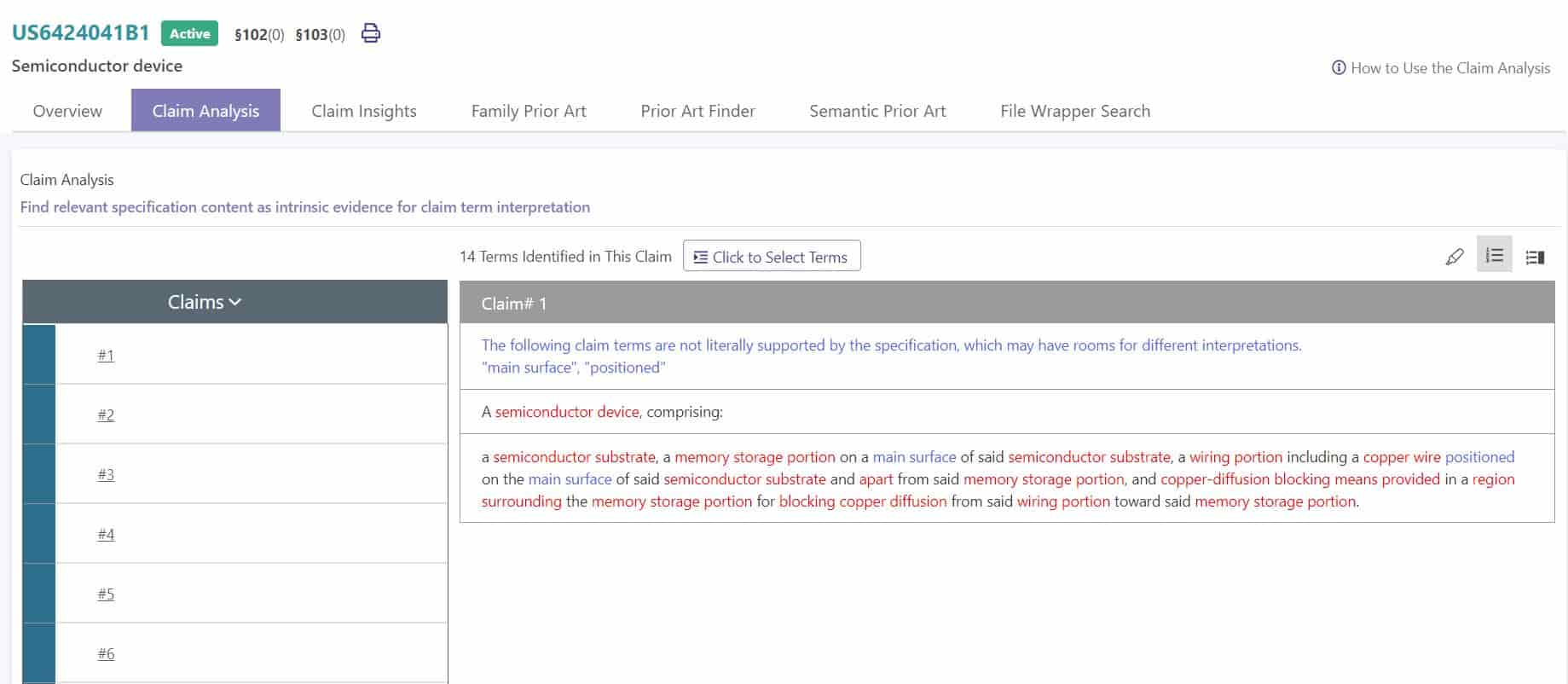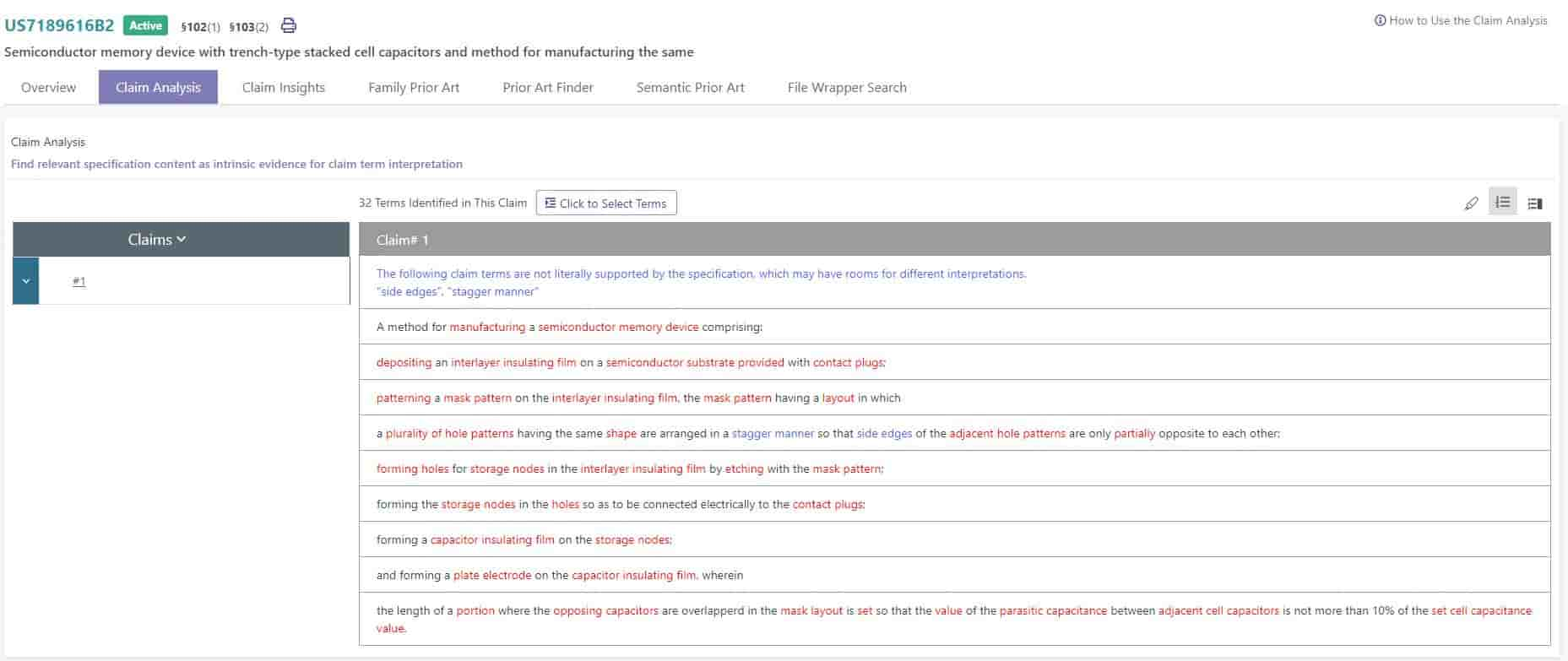 Claim Insights
The Summary Table indicates how each claim of the patent is disclosed by cited prior art in the prosecution history and the post-grant events. You can select claims and submit them for a more detailed comparison with the references. The percentage "%" indicates how many elements in a claim have been fully or partially disclosed by the prior art references cited.
If a claim has been 100% disclosed, it means that all the keywords in each claim element can map to one or more references based on the comparison by the examiner or third party challengers.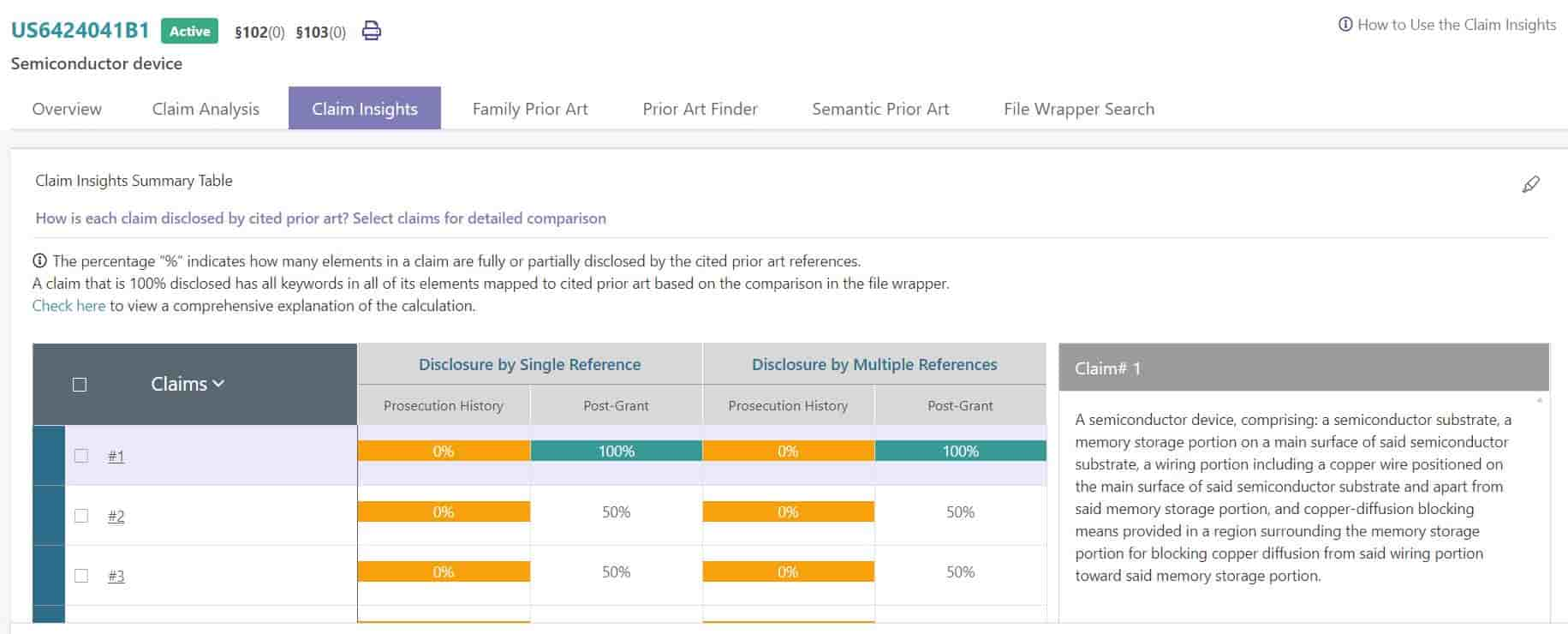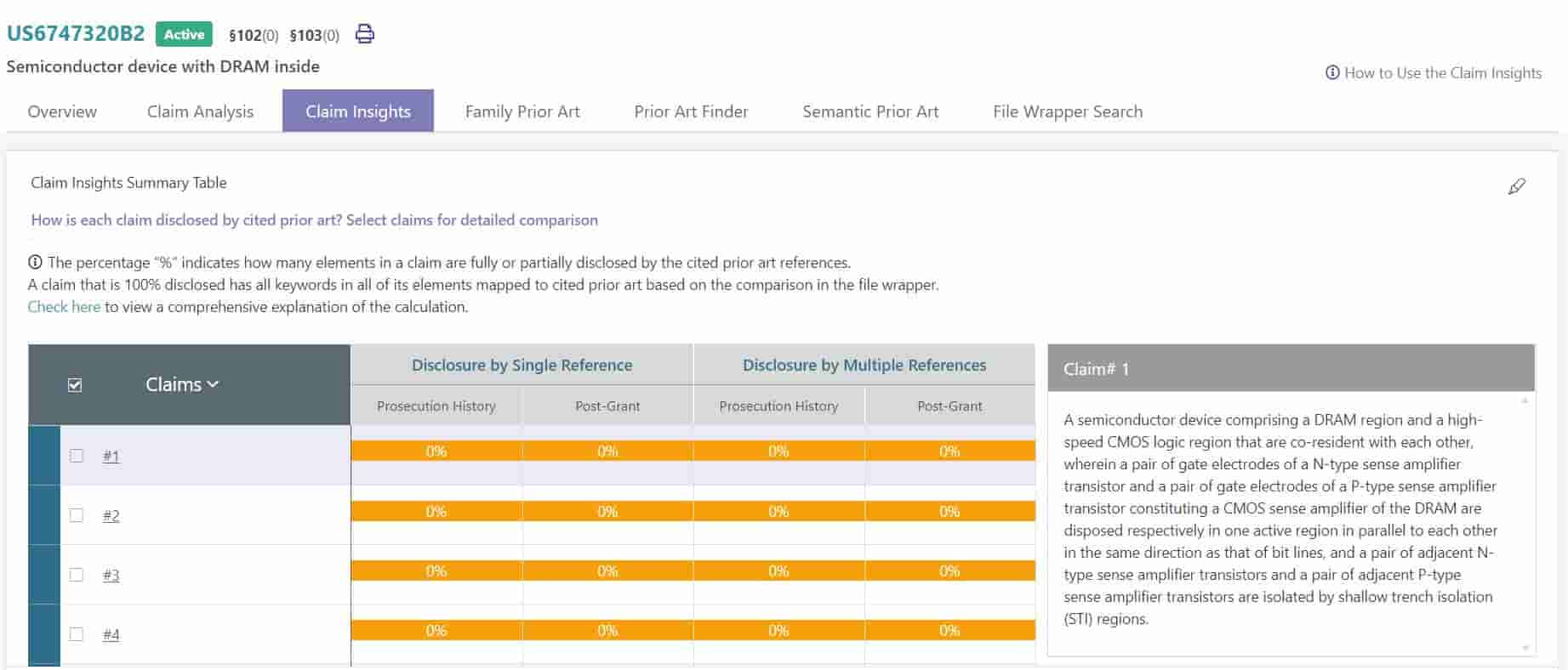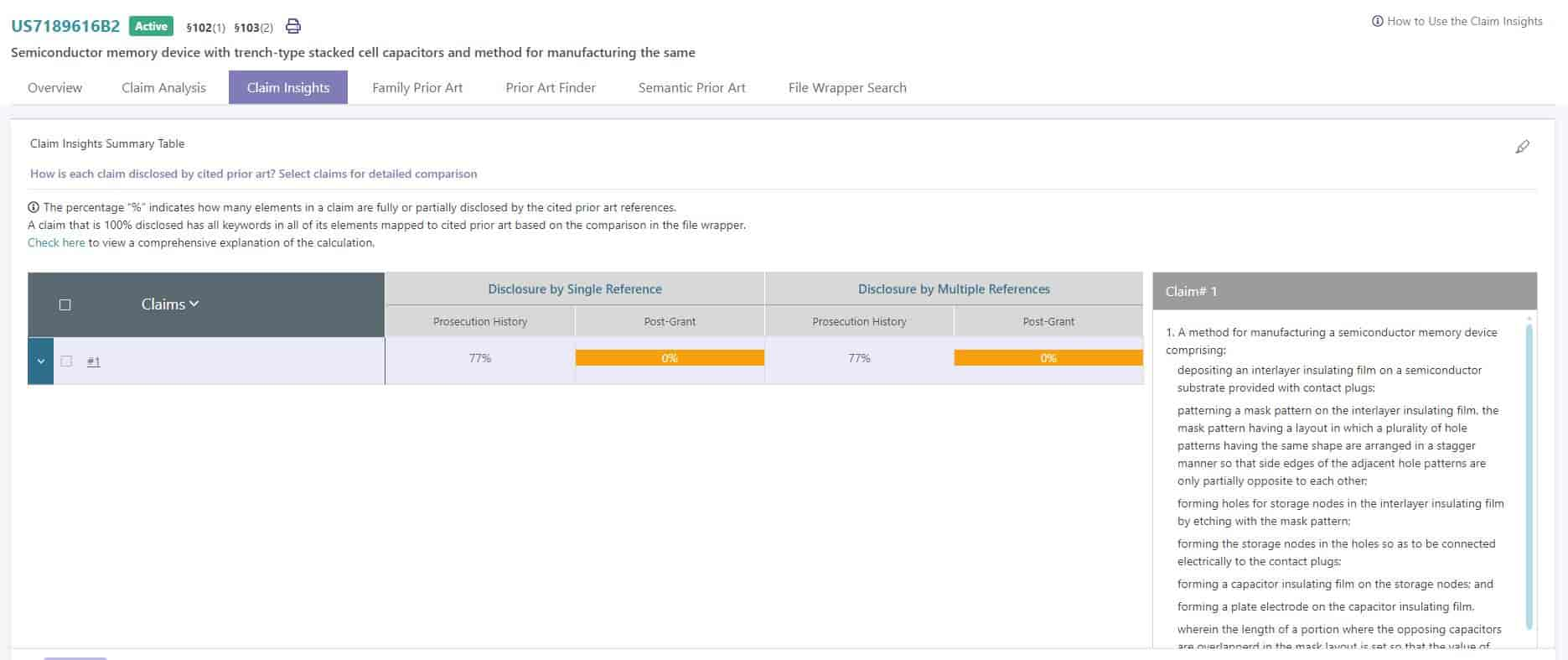 Family Prior Art
Family Prior Art allows you to quickly check to see if there are any abandoned or revoked members not overcoming validity challenges. The prior art reference cited by these members may also impact the validity of the patent.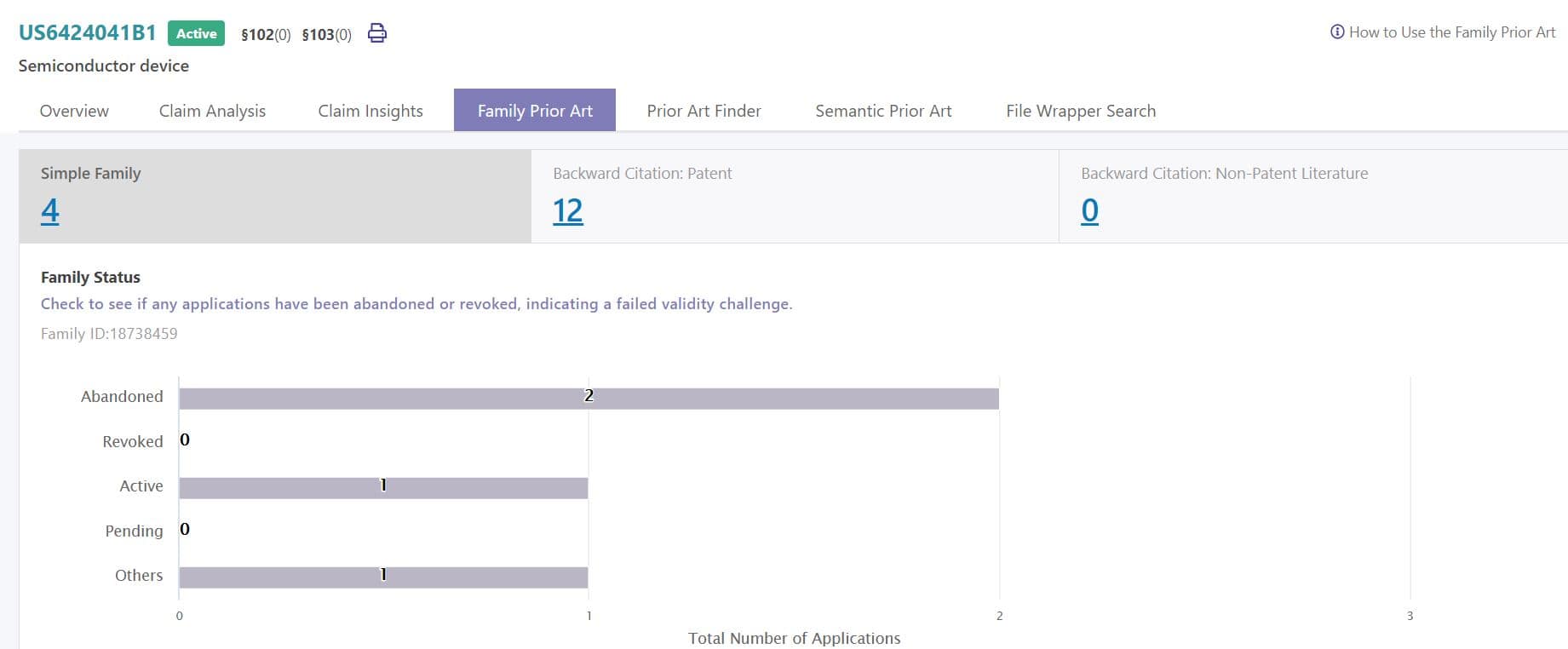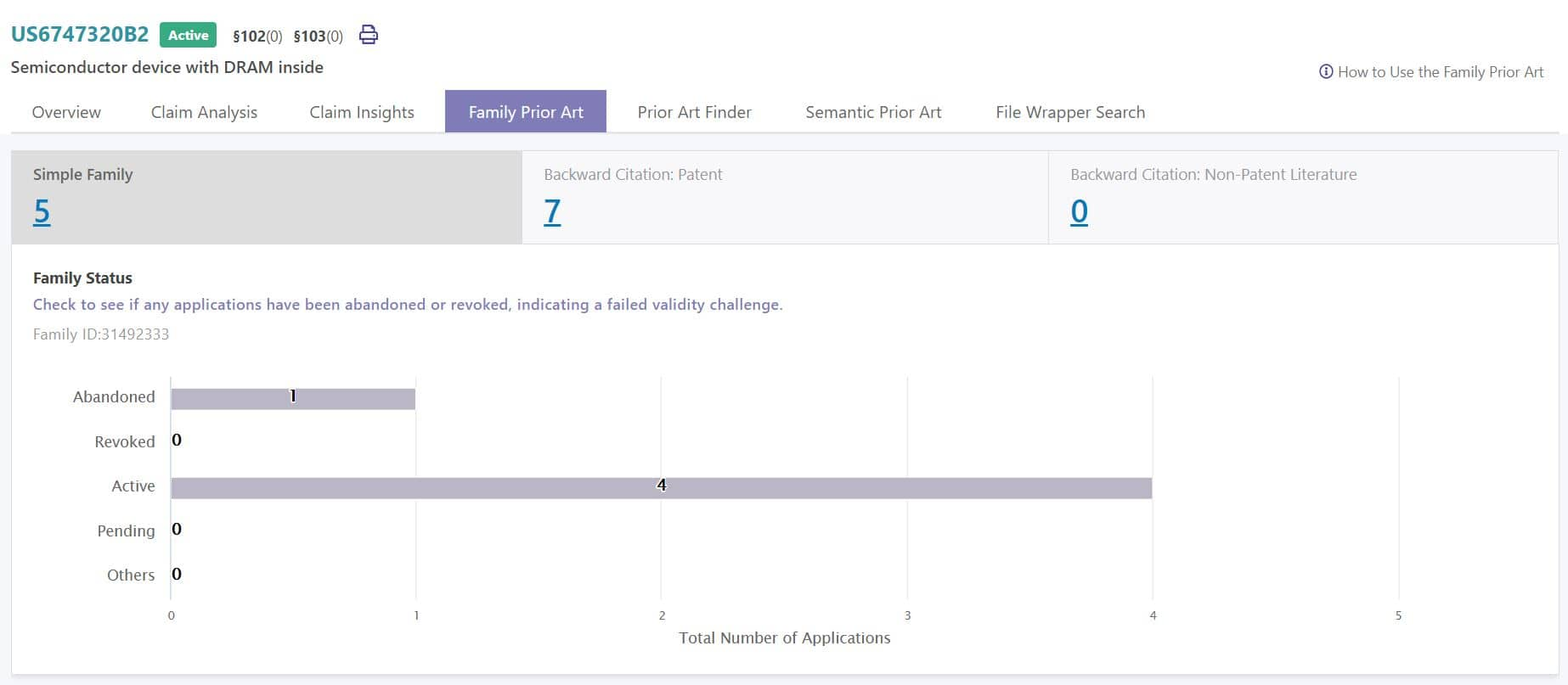 Prior Art Finder
The Prior Art Finder provides Double Patenting, §102, §103 patent prior art references considered in the prosecution history and post-grant proceedings. First Degree Art includes those cited by or citing the patent. By filtering with keywords, you can quickly find the most relevant references.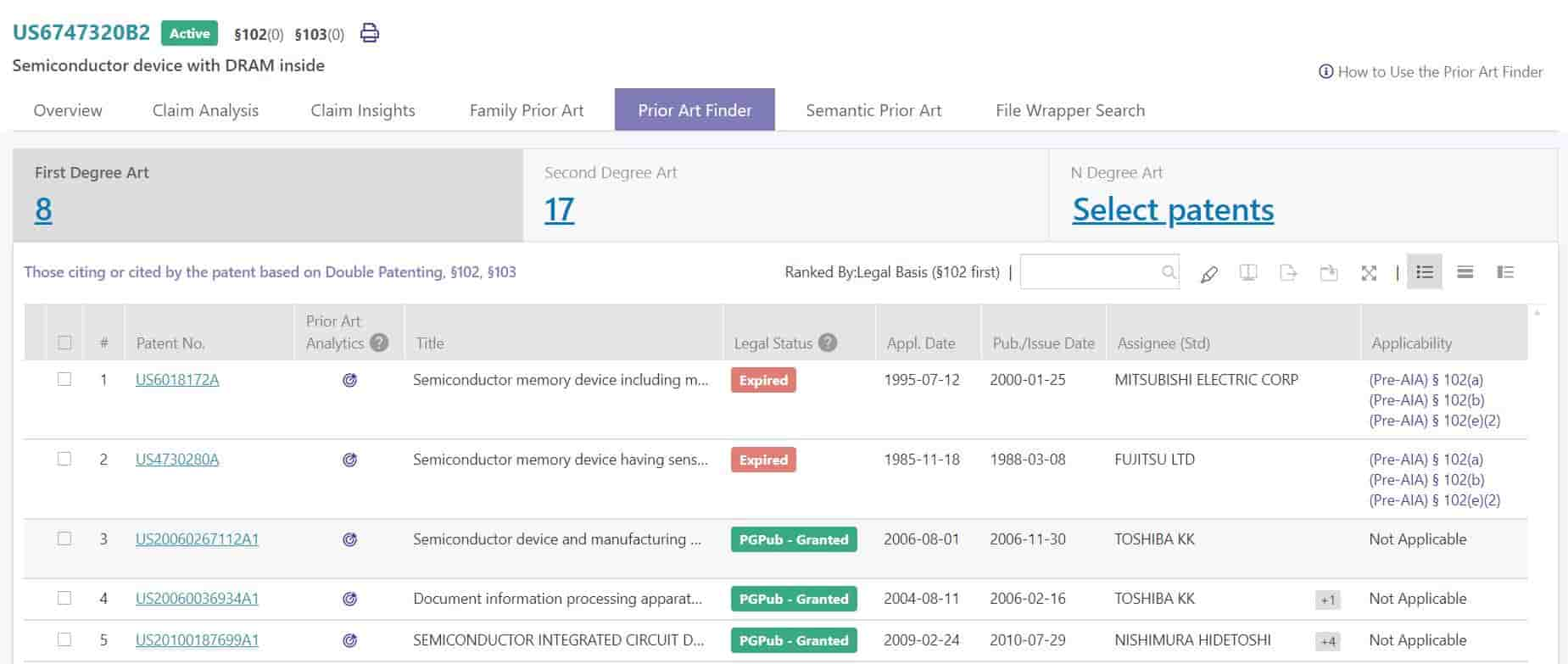 Semantic Prior Art
Semantic Prior Art provides the top 300 most relevant US, EP, JP, CN, KR, and WO patents based on semantic similarity of the abstracts and claims to the 1st claim of the patent.
By analyzing the relationships across the words, sentences, and paragraphs in the patent abstract and claims, we can transform the meaning of the word into vectors, which are sets of directional and quantitative numbers that depict the features of the word.
Vectors closer in proximity represent a higher similarity of the words. As a result, we can uncover the most relevant semantic prior art and search results for you.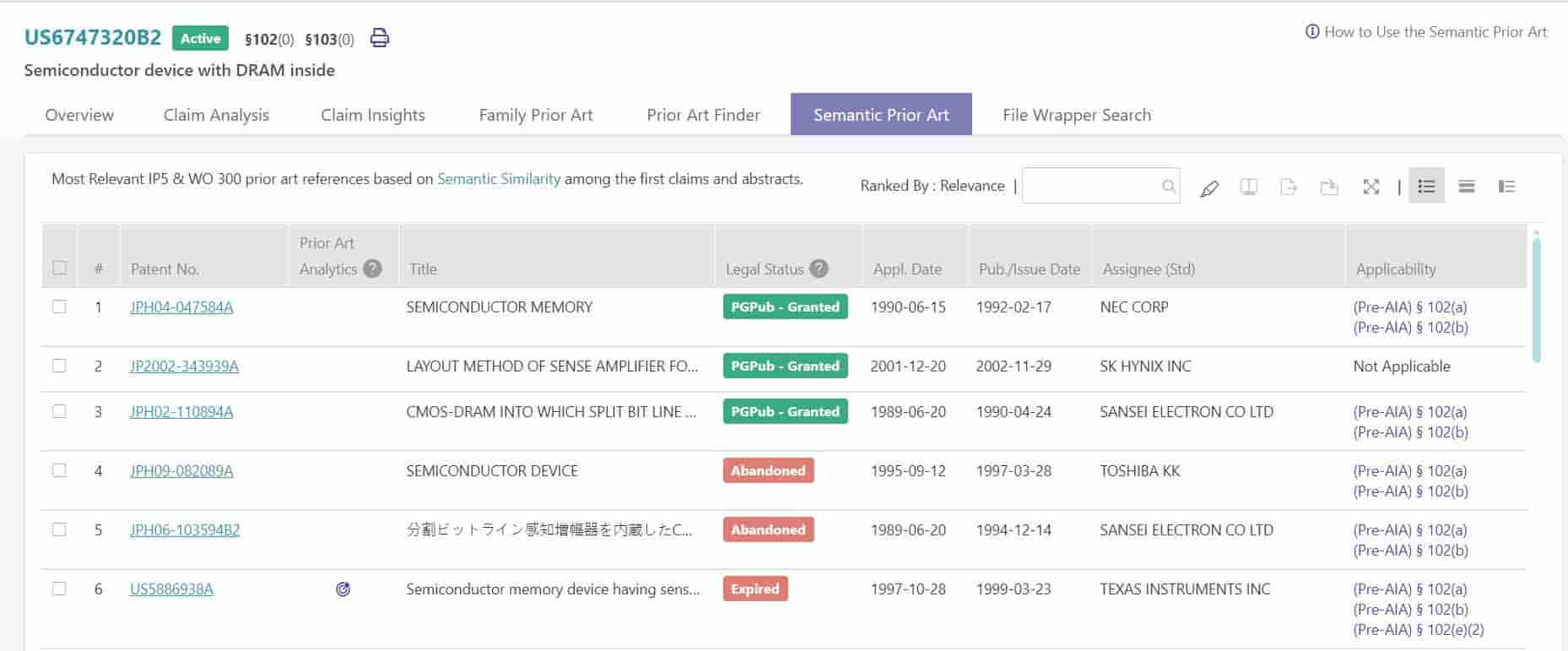 File Wrapper Search
File Wrapper Search provides text-searchable image file wrappers for the prosecution history and post-grant proceedings. You can immediately check the amendments and evolutions of claims in the Specification and Claims sections and download them as a PDF file.



Expert opinion on the predicted outcome of this case
Expert and practicing attorney, Warren Chan, made the following observations about the case after utilizing Quality Insights:
Looking at the patents with QI, you can immediately identify that the patents originated from Panasonic. These patents were assigned to IP Bridge, prior to the sale of Panasonic Semiconductor Solutions., Ltd. to Nuvoton Technology Corporation in 2019. These early assigned Panasonic semiconductor portfolios may contain patents with considerable quality, which will likely make the IPRs difficult.
Using Family Prior Art on the patents-in-suit, we noticed that several Japanese and Korean patents in the same patent families have been abandoned. Further research can be done to identify the reason for abandonment and whether the JPO and KIPO have found prior arts in their country – which is generally not referenced during patent prosecution at the USPTO.
Using Family Prior Art Backward Citation and Prior Art Finder Second Degree Art, we can identify certain potential US, JP, and KR prior art references, which could be used to invalidate the patents. In fact, Family Prior Art has identified within seconds, the prior art references used in Micron's IPR against IP Bridge.
Free trial and expert demonstration of Quality Insights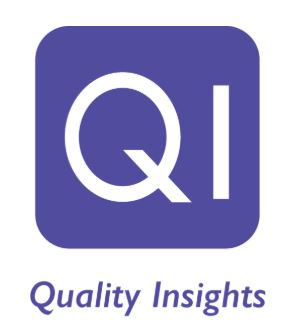 Exclusive AI-Powered US Patent File Wrapper Integrator and Prior Art Analysis Solution
Check patent quality efficiently
Extract organized prosecution and PTAB history in an instant
Identify key claim construction issues with ease
Uncover related prior art with our exclusive suite of tools
To conduct your own patent validity analysis just like we did, take advantage of a free trial of Quality Insights.