When it comes to patent searches, advanced search capabilities can make the workflow more convenient and more efficient for search experts.
Commonalities of Patent Search Experts
It goes without saying that the approaches, techniques, and methodologies of those involved in patent searches can vary widely. However, there are some things that search experts do tend to have in common:
They strive to make their queries as precise and optimized as possible. This could mean revising or even simplifying a complicated search query;
They know that search involves plenty of trial and error, and they embrace the need to iterate throughout the process;
They understand that the search results they uncover will have to be communicated to others, including (but not limited to) team members, clients, or other partners.
Common Obstacles
With this in mind, there are some common obstacles that search experts must overcome.
Convenience
The first is that the current system is not convenient, to put it bluntly. In fact, searches today can be quite complicated, with a steep learning curve required to master the search queries required for success.
Some search queries, for example, may involve long strings of characters, which can be daunting for those with less experience. At the same time, some users may not be as skilled or knowledgeable in Boolean searches, or they may simply lack knowledge or experience in certain fields or technologies.
Optimization
Another obstacle involves the optimization of patent searches. Simply put, some searchers lack the skill or the knowledge to know how to optimize their searches, which can be detrimental to both the searcher and the client.
Reporting
Finally, when it comes to communicating search results to others, some systems do not make this easy to do. Even worse, these systems often do not make it possible for experts to examine and communicate important relationships gleaned from the results.
Beyond Basic Search
It should come as no surprise then that most vendors have developed advanced search capabilities for their products. The results, for the most part, have been decidedly mixed, with some creating interfaces that overemphasized certain areas while others have tried to simplify the process to the point where precision is lost.
From this fragmented landscape, it became clear that an advanced search feature was needed that consolidated the best of the field's current capabilities.
For example, it was immediately clear that a preview feature was needed for advanced search. With this feature, searchers no longer had to laboriously switch back and forth between pages, making searches more convenient, efficient, and effective.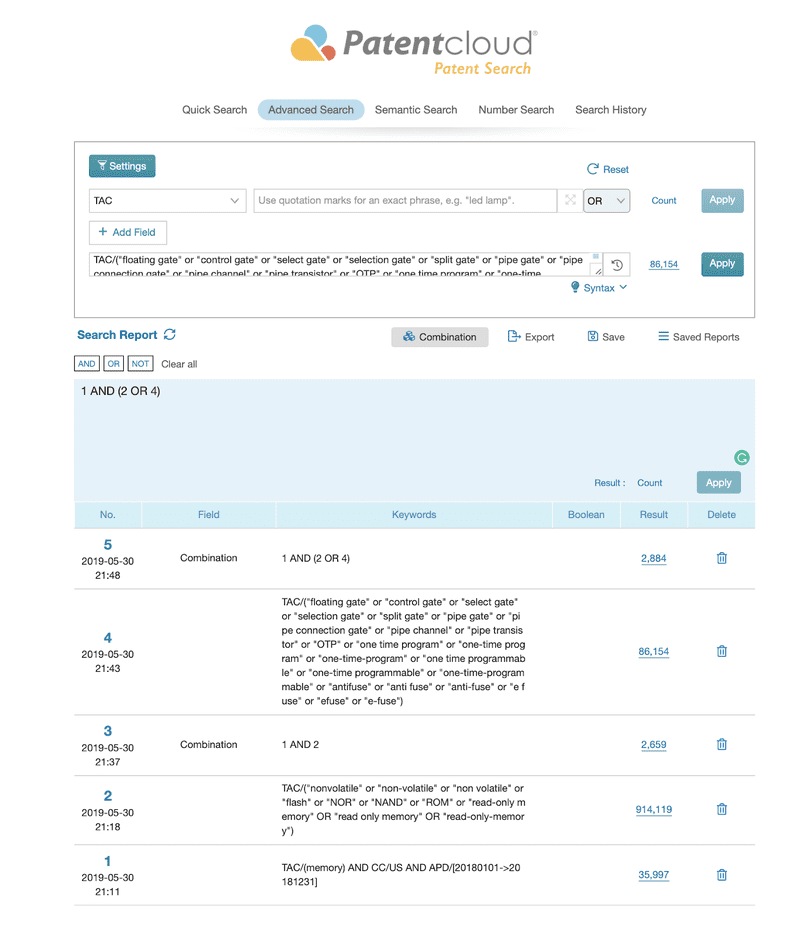 At the same time, keeping the search keywords on the same page can make it easier for searchers to come up with logical combinations for additional searches.
Finally, by making it possible to export the whole search history, this made communication between search experts and clients and/or team members easier and more convenient. By exporting all of the search records, clearer communication becomes possible.
Advanced Search in Action
To really get an idea of the advantages that Advanced Search can provide, it is best to take a look at an example of it in action.
In this case, we are searching for non-volatile memory related patents in the USA that have been filed between January 1, 2018 and December 31, 2018.
1. We start by clicking on the Advanced Search button in Patentcloud, which take us to this screen: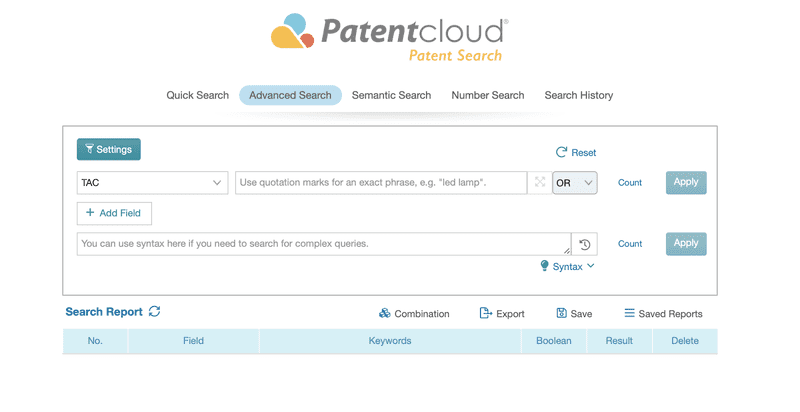 2. Next, we input our first complex query, in this case TAC/(memory) AND CC/US AND APD/[20180101->20181231]: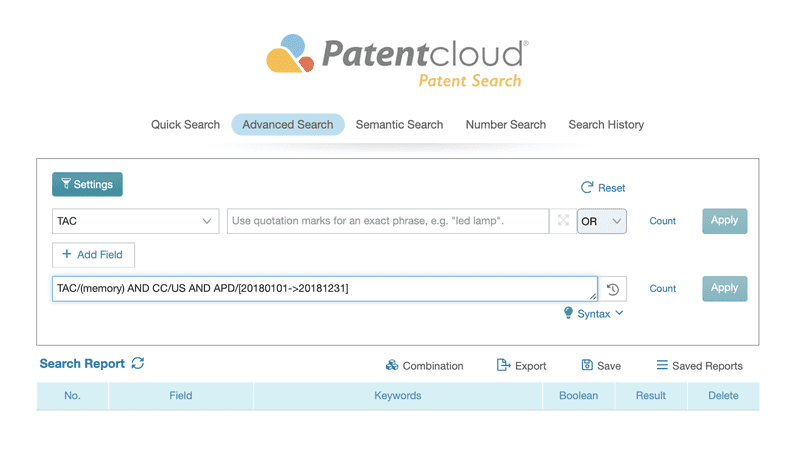 After the query has been entered, the next step is to press Count. This gives you the number of patents the query has been produced, letting you decide right away if you wish to proceed or modify your query: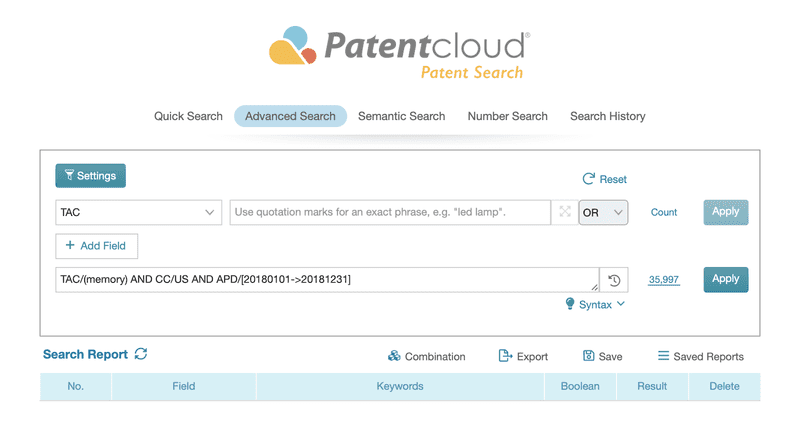 In our example, the count is 35,997. Clicking on this number will open another tab or window with a full list of all of these results: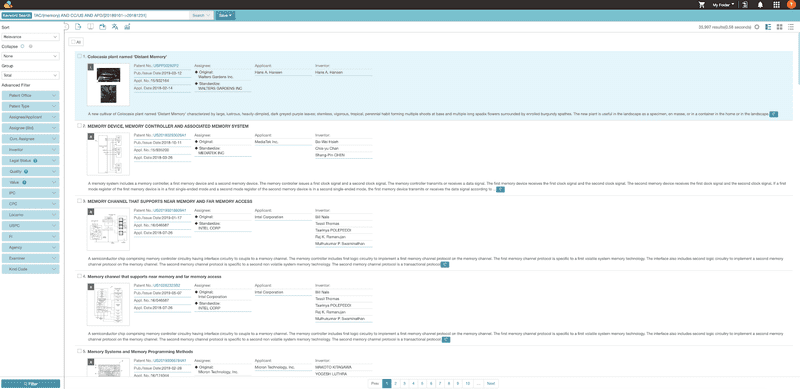 Next, press the Apply button, and the query and results will be listed in the Search Report below as No. 1: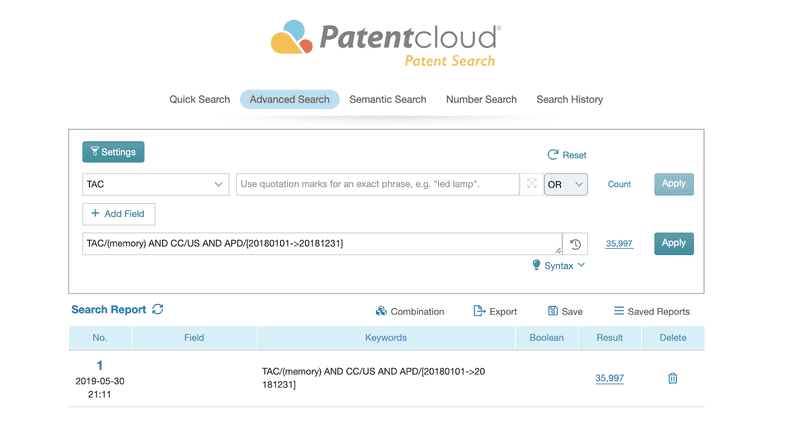 3. Now, you can revise your search with the modified query TAC/("nonvolatile" or "non-volatile" or "non volatile" or "flash" or "NOR" or "NAND" or "ROM" or "read-only memory" OR "read only memory" OR "read-only-memory"):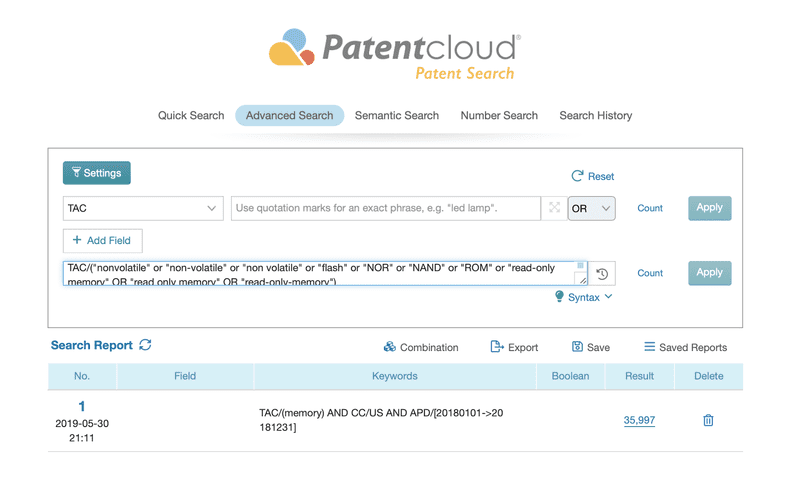 Remember to press the Count button after entering the query. Doing so shows that 914,119 results have been found: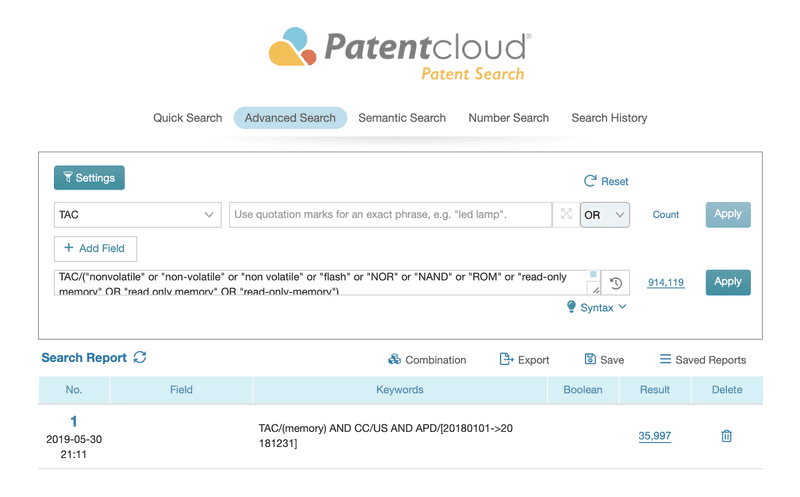 Again, clicking on this number will take you to another tab or window with a listing of all these results: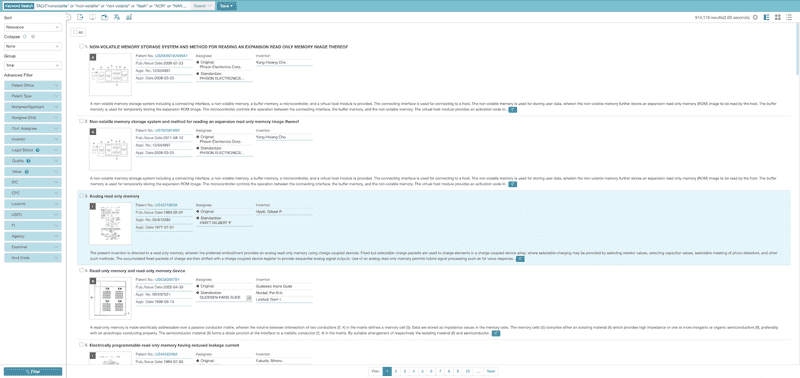 Next, to add this query to the Search Report, press the Apply button, and this query and the results will appear as No. 2 in the Search Report list below: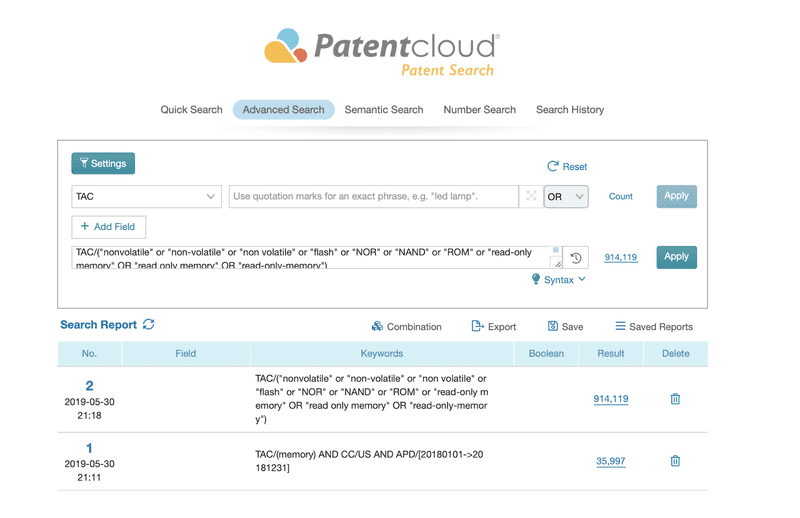 4. Now we come to one of the most exciting — and useful — features of Advanced Search: the Combination feature.
To search for a combination of queries, first press the Combination button: a blue drop-down box will appear: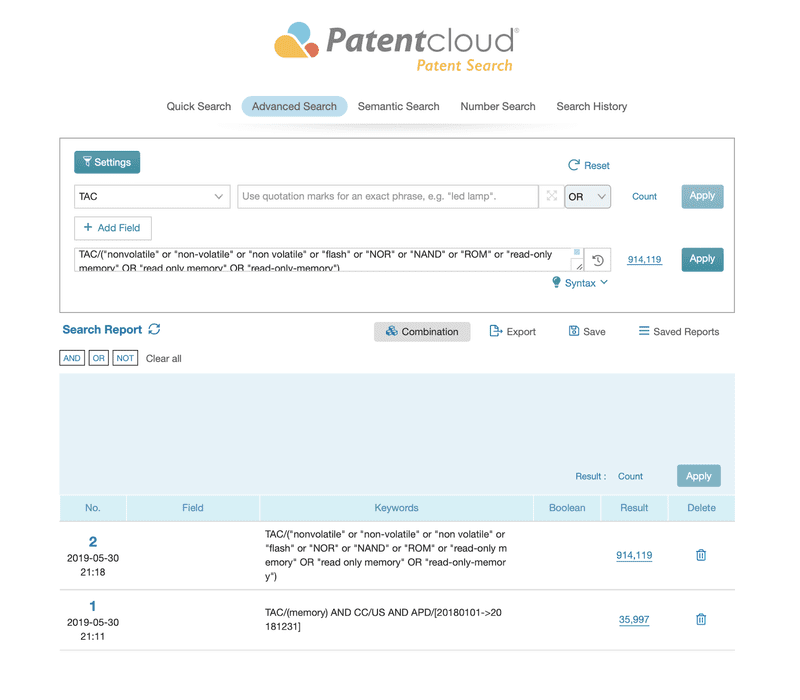 Let's combine Query 1 and Query 2: simply click on the No. 1 (in blue) in the Search Report. The number 1 will appear in the blue box: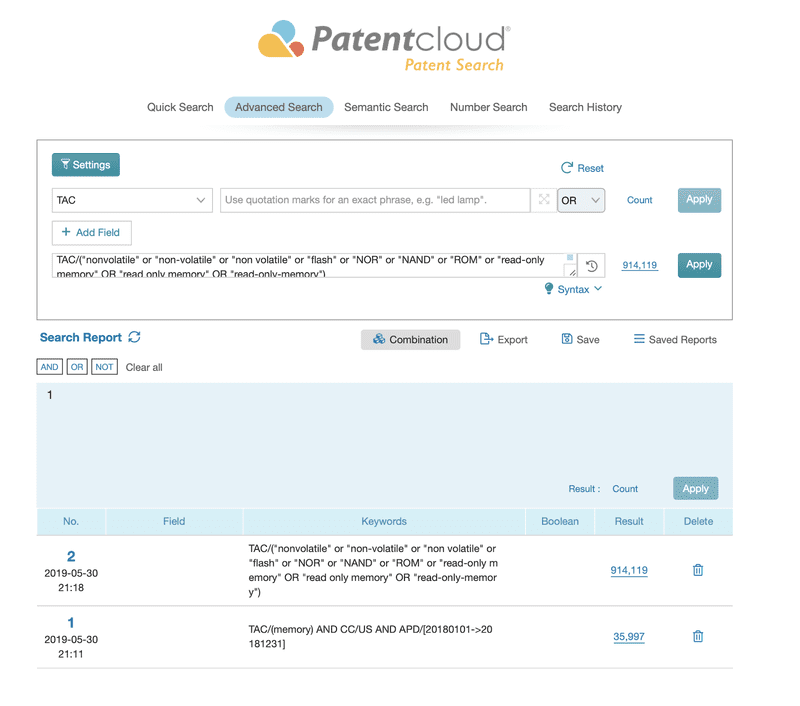 Next, select the Boolean operator that you would like to use from the list above the box and click on it. In this case, we will use AND: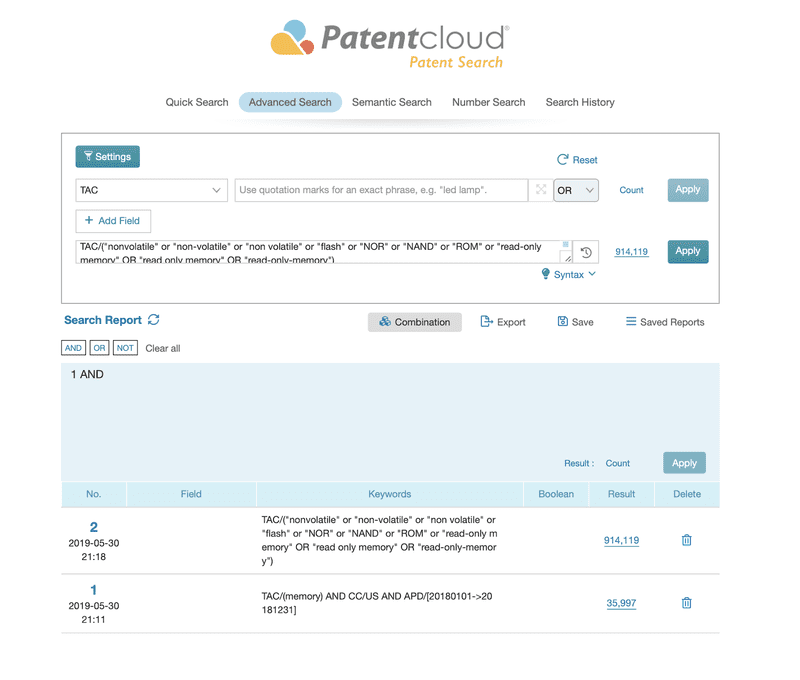 Then click on the No. 2: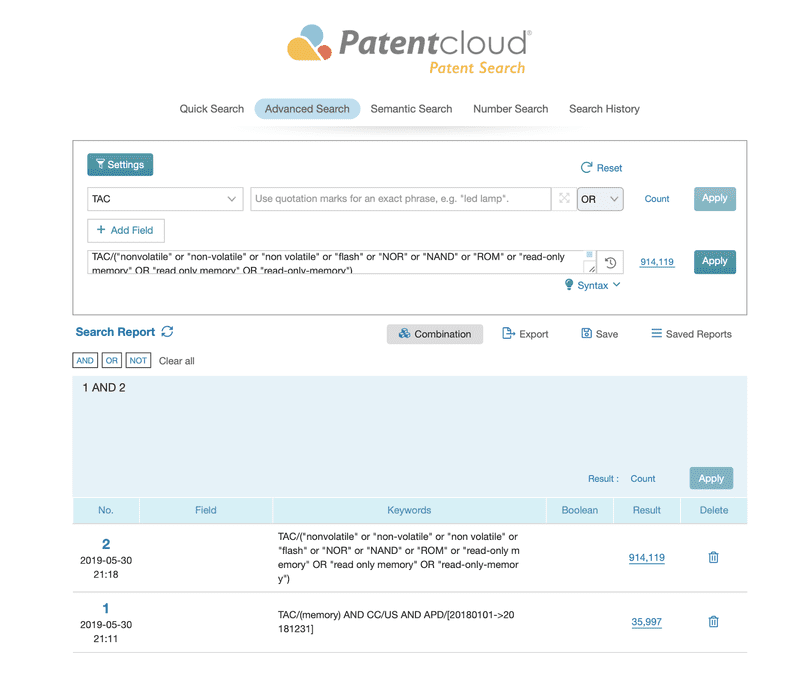 Remember to press on Count next. A number will appear. Here, we have a result of 2,659.
Click on this number and the result will appear in another tab or window in list form: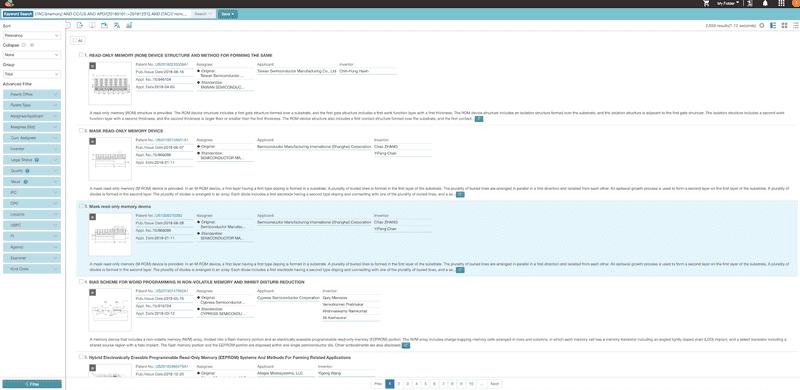 Click on Apply and the combination of Query 1 and Query 2 will appear in the Search Report below: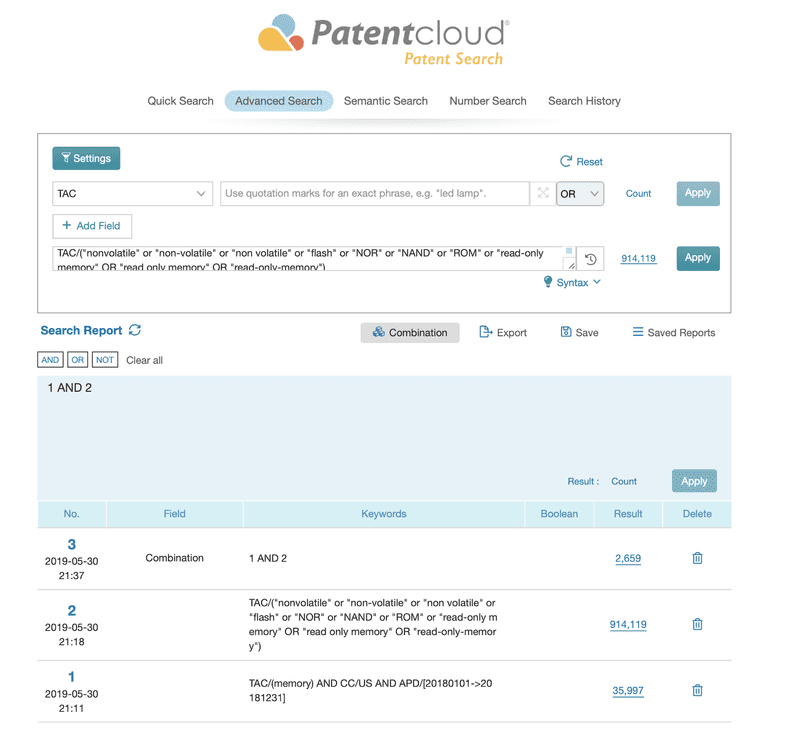 Of course, these are just the first few steps in an exhaustive patent search.
However, it is already possible to see just how useful — and convenient — this type of search can be.
To begin with, the entire Search Report can be found on one page. This can be easily saved or exported simply by clicking on the Save or Export buttons.
Here is an example of the Search Report after it has been exported to Microsoft Excel.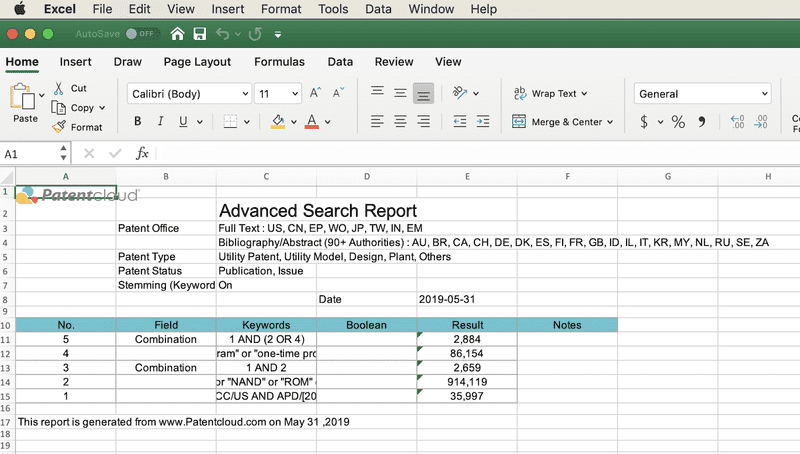 As well, the Combination feature in particular makes combining different queries fast and easy, especially for those who may not be as experienced in search.
An Advanced Tool for the Savvy Searcher
Without a doubt, patent search experts are usually detail-oriented, determined, and dogged.
They are also often extremely thorough and precise. And the best are open to new ideas and advancements that will allow them to work more efficiently and effectively.
It is clear that a feature like Advanced Search could never replace the years of experience and the many different skills that a patent search expert possesses.
However, for the search expert who wants another powerful tool for his toolbox, so to speak, the right advanced search can be a very powerful addition to any workflow.
To learn more about Patentcloud's Patent Search and how it is assisting patent search experts, click the start button below.