In our series on Patent Lifecycle Management (PLCM), we discussed the importance of a streamlined and proactive patent management system. In particular, what is most needed is a feedback mechanism to tweak the efficiency of each step, support long-term product development goals, and stay on track with market changes. Patent Vault—our latest product—turns this concept into reality: how does it do that?
Table of contents
The Core Strengths of Patent Vault
Before diving into the various stages of PLCM to discover how Patent Vault can assist your work, let's have an overview of its core strengths.
Communication and Collaboration
Folders, reports, and analyses are shareable with teammates or other stakeholders: invite them to a project to start gaining insights together or ask for help.
And when it's time to involve external experts, you won't need to waste time exporting your data anymore: simply invite them exactly as you did with your closest team members.
Other features that are critical when it comes to improving communication and collaboration are Memos and Tags.
With Memos, you can leave your thoughts and observations on patent documents—or even on single claims and/or figures—and begin conversing with collaborators.
Tags offer an intuitive way to categorize and filter patents, adding customized grouping options to your databases.
Management and Monitoring
For the highest level of personalization, you can choose how to structure your patent databases: be it by technology or product, the multi-level hierarchy enables you to optimize future analysis.
Some projects may require a complex folder structure. In this scenario, the risk is losing track of new patents that, once granted, should be included in the library.
To fix this issue, Patent Vault allows you to set an automatic query monitoring system to alert you when any newly granted patent meets the requirements.
This collaborative workspace also provides a monitoring system for changes in the patents' legal status to alert you when, for example, potentially profitable technology goes into the public domain.
To discover why this piece of information can be important for your patent strategy, read our dedicated article.
Analysis and Insights
Line, bar, or pie charts: visualize your findings in a way that best suits your needs and include the automatically-generated dashboards in your reports right away, without the need for editing.
Complex folder hierarchies require complex visual representations. This is where the two-level, pivot table-like Patent Matrix enters the game, enabling you to visualize the precious knowledge that hides within the data.
It's time to see how these strengths can be leveraged during each stage of the Patent Lifecycle.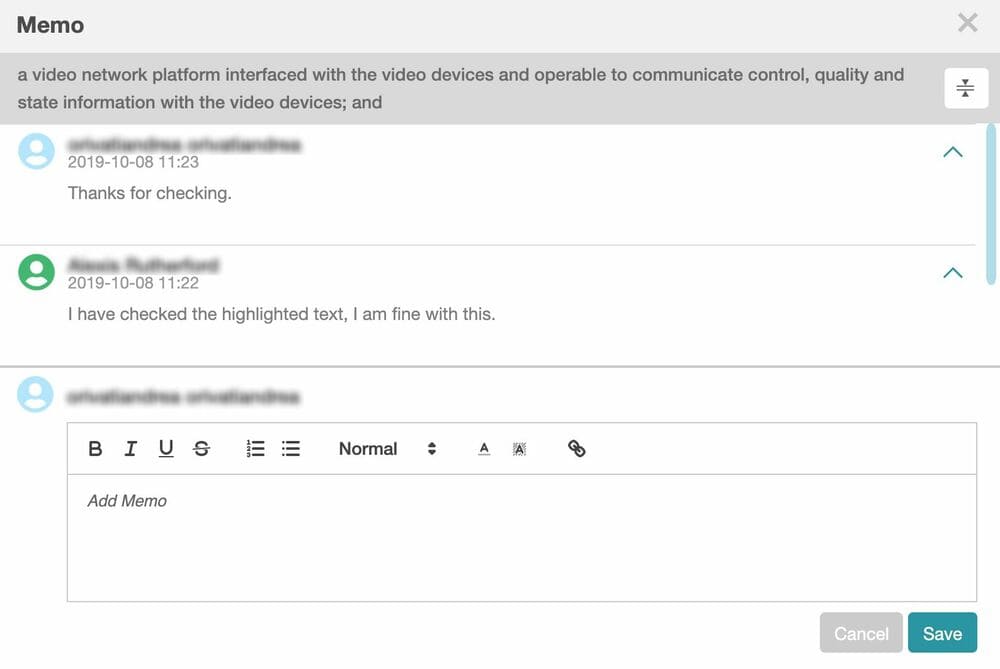 Patent Vault for R&D Departments: Get the Ideas Flowing
Managers and researchers can use Patent Vault to identify and organize patent documents during the first stage of the process, where the focus is on search and analysis.
In particular, once the organization's IP staff have carried out a Clearance Search according to the Business Unit's direction, the resulting findings can be shared with R&D.
With patent risk efficiently managed and a clear idea of what technology to focus on, the team can start the idea generation process and share its results with the Business Unit.
This exchange between departments puts into practice the feedback mechanism mentioned earlier, ensuring efficient allocation of investments.
Since avoiding patent disputes in the future is also a Business Unit's requirement, an agile communication system enables the R&D team to provide design around solutions more proactively.
But Patent Vault brings another perk. Traditionally, in patent risk management, communications between R&D and IP staff are carried out via unmanaged and uncontrolled emails. With Patent Vault's collaborative features, the conversations are always tracked and kept secure, avoiding potentially disastrous leaks of sensitive information.
Patent Vault for IP Departments: Race Through Prosecution
The powerful management features available in Patent Vault can also be leveraged by in-house and in-firm IP staff for carrying out Patentability Searches before filing.
During Prosecution, the databases available in the vault can serve as a quick-access library to provide timely responses to Office Actions.
For those companies without a dedicated IP department, the R&D members assigned to patent filing can share the projects with external experts and get assistance with providing feedback to the PO examiner.
Keeping all the reference material in one place greatly improves the efficiency of the process—not only in the case of external IP experts: being "on the same page" in these scenarios—is a must.
For complex projects, it's always a good idea to perform a portfolio check before filing. This is usually done to compare the status of the portfolio with that of competitors, to make sure that the ideas disclosed in the application to be filed are still novel.
Analysis of this type should be carried out periodically during the entire lifecycle of the portfolio (Continuous Evaluation) to check whether the latter is still worth being maintained.
This last aspect is at the core of the Maintenance step: relying on Patent Vault's regularly updated databases, populated organically, ensure that the analyses always reflect the actual situation, providing the best foundations for risk-free decision making.
Patent Vault for Monetizing IP: Invest Your Resources Wisely
Decisions involving buying, selling, licensing, and pledging patent assets all need a solid background to be taken. After all, it is at this stage that the patents' true potential gets realized.
Litigation, as well, must rely on accurate and up-to-date data. This allows plaintiffs to assert the strongest patents, increasing the chances of succeeding and cutting off the risk of having their patents invalidated.
In particular, portfolio managers from the Prosecution Stage can use Patent Vault's shared projects to provide material to the licensing team, as this team's job is to uncover monetization opportunities based on the analyses.
Again, key decisions rely on previously-gathered insights. Thanks to this collaborative tool, it is not necessary to collect data from scratch on every occasion: all the information needed is already available, in one place.
Once access has been granted, the members of the licensing team can analyze the clear "identikit" of the portfolio, drafted during the first and the second stages of the Patent Lifecycle.
As for litigation, patent attorneys (both in-house and external) can browse the organized prior art libraries and share their work with external counselors.
The Patentcloud Family: Streamline Your IP Work
Patent Vault is a great tool to keep the data you need to manage and analyze IP assets in one place: just as PLCM connects the steps involved in Patent Portfolio Management, Patent Vault integrates the tools you need to gather key information. Patentcloud by InQuartik is a cloud-based IP intelligence platform that covers all the needs of IP professionals from prosecution to monetization. Find out below how to make our solutions work together in Patent Vault: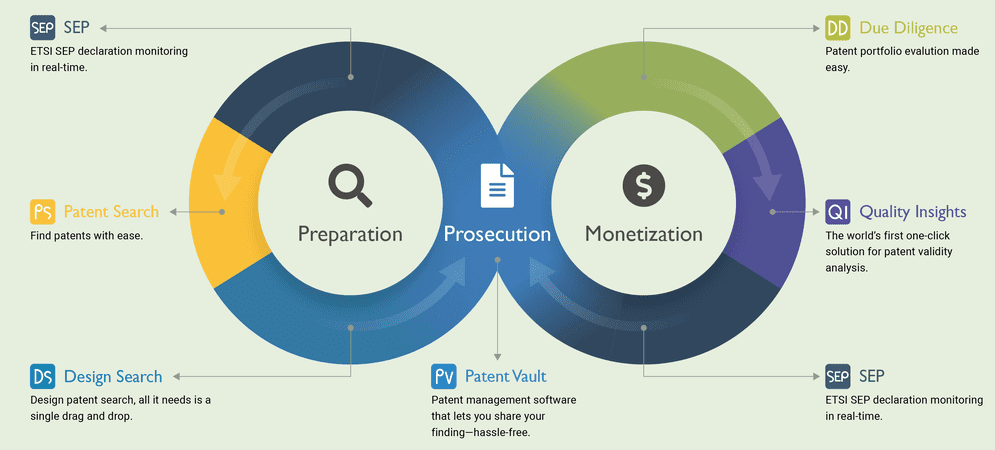 Patent Vault: A Simple Tool to Manage a Complex Process
It should be clear by now that managing the entire lifecycle of a patent or portfolio is not an easy task. With hundreds of thousands of patent applications filed every year, the first step towards creating a profitable portfolio is to file the right patents.
Identifying the areas worth patenting requires different experts working together. This process, traditionally made difficult by corporate silos, is now freely accessible by multiple professionals at the same time.
Enabling barrier-free communication also helps in those phases—mainly Prosecution—where timing is important: as we saw before, delays in responding to OA can negatively affect the patent lifespan.
Monetization and litigation both require knowing the history and background of the patents involved. Instead of racing through different sources of information—which might not always be available or up-to-date—Patent Vault keeps everything under one roof.
Be it at the beginning of or the end of the life of a patent, this tool can help you and your team achieve more in less time. For the first time, you'll be able to devote the extra time to strategic thinking, bringing your business to the next chapter.
Start improving your patent strategy and business today with a 7-day free trial!