Dear Patentcloud users,
We are excited to announce the all-new Claim Insights tab in Quality Insights (QI): get even more actionable information from a single dashboard!
The redesigned tab enables you to understand how each claim is anticipated by the prior art references listed in the prosecution history or post-grant proceedings documents. Additionally, it also allows you to compare each claim element with the paragraph from the official document that mentions it.
When you access the tab, you are welcomed by a summary of how each claim is disclosed by the prior art references listed in the file wrappers. The extent of the disclosure is quantified as a % of elements: for example, if Claim #1 has 5 elements and 4 of them are disclosed by the prior art references listed in the file wrapper, then the disclosure would be quantified as 80%.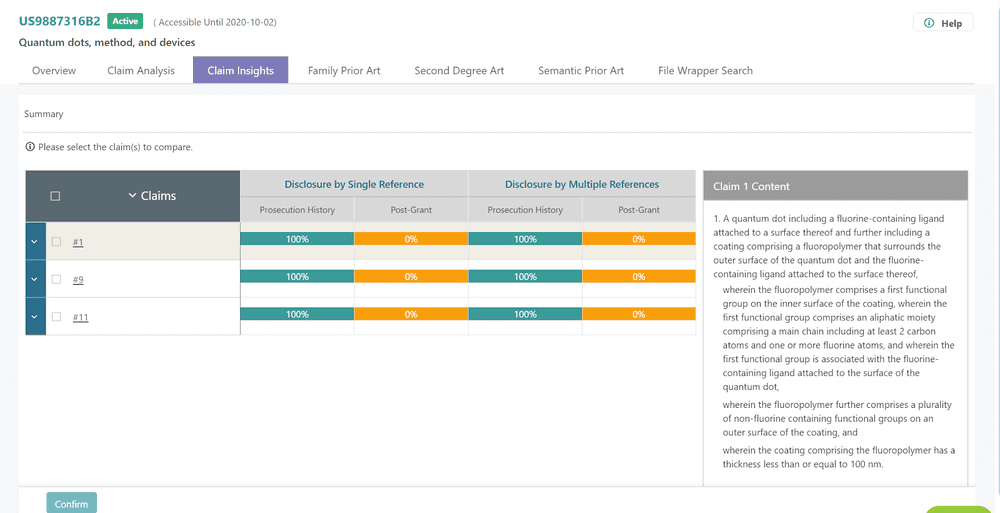 The disclosure is further categorized as:
Disclosure by Single Reference — the maximum percentage of a claim that a single reference in the file wrapper discloses;
Disclosure by Multiple References — the total percentage of a claim that all the references in the file wrapper disclose.
If both the Disclosure by Single Reference and Disclosure by Multiple References are 0% for a specific claim, it means that the file wrappers do not contain any prior art references relevant to that claim.
The Claims Pane
You can also select multiple claims and click the Confirm button to carry out a further review of how each element of the selected claims is disclosed by the prior art references listed in the file wrappers. The content of the selected claim will be rendered for your convenience.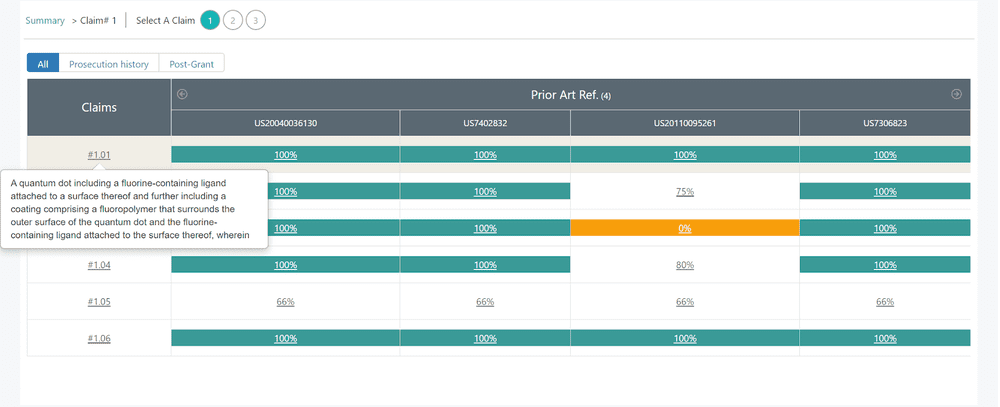 This new table provides an overview of the % of keywords in each claim element that have been disclosed by each reference in the file wrappers. For example, since the 4-keyword claim element 2 has 3 keywords disclosed by reference US20110095261, such disclosure would be quantified as 75%.
The Claim Element Pane
You can directly click the claim element number or the percentage of disclosure of each prior art reference to access:
Detailed mapping of the claim element;
The prior art reference(s);
The corresponding paragraphs in the file wrappers (such as the examiner's opinion).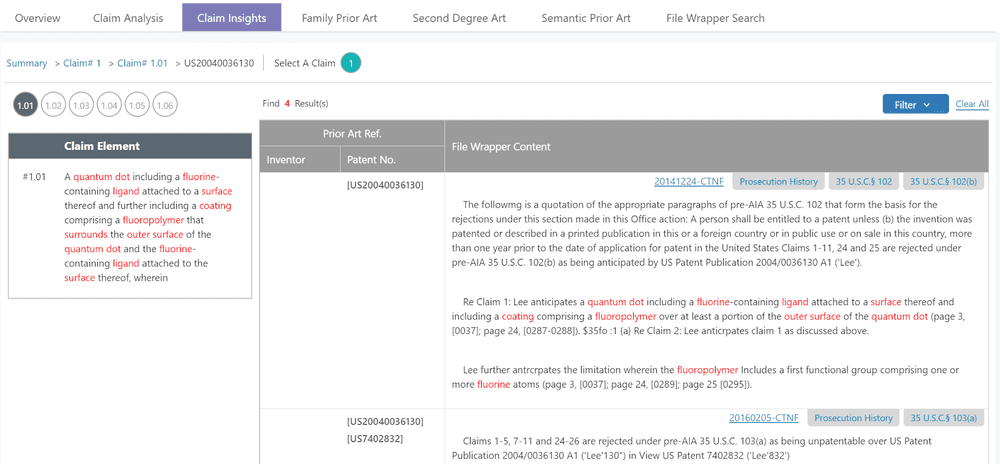 The left-hand side pane provides the claim element's content with the auto-generated keywords highlighted. Switch the claim element by clicking on the corresponding icons above.
On the right-hand side pane, the file wrapper content is paired with the corresponding prior art references, with the keywords highlighted as well. If you need a broader context, simply click the link at the top of each tab to examine the whole document.
Filters to identify the content related to a specific document or a specific legal basis are also provided to narrow down the number of results displayed.
Should you need any assistance, please visit our Help Center or send us a message at support@inquartik.com. We are more than happy to help.