Image Credits: Gogoro
Gogoro to go public via SPAC deal
On September 16, electric mobility provider Gogoro Inc. announced that the company reached a definitive merger agreement with Poema Global Holdings Corp., a public traded special purpose acquisition company (SPAC), setting Gogoro's valuation at US$ 2.35 billion. Once the merger closes, the combined company will become Gogoro Inc. and be listed on Nasdaq under the stock symbol "GGR."
The deal is expected to bring approximately $550 million in proceeds to Gogoro, assuming no redemptions. The proceeds include $345 million held in trust by Poema Global and a private investment in public equity (PIPE) of over $250 million. The PIPE investors include Taiwan's Foxconn Technology Group and Indonesia's GoTo, the largest technology group in Indonesia.
The capital will be used to grow Gogoro's markets in China, India, and Southeast Asia and to scale its ecosystem and mobility solutions. The transaction is expected to be completed in the first quarter of 2022 and is subject to the approval of Gogoro and Peoma Global shareholders and regulatory and customary conditions.
Founded in 2011, the Taiwan-based startup is known for its electric smart-scooters and battery swapping infrastructure. Gogoro scooters feature cloud connectivity that allows riders to perform a variety of tasks with a smartphone application, including locking/unlocking the scooter, monitoring battery level, and finding nearby battery stations, just to name a few.
Through its Gogoro Network program, Gogoro partnered with other scooter makers to develop electric scooters powered by Gogoro's batteries and swapping stations, making its battery platform available to more users.
As Gogoro seeks to gain more international capital, partnership, and customers, its patent deployment needs to go global. With an array of innovative technologies, Gogoro needs a well-conceived patent portfolio, not only to freely operate but also to protect its products and solutions in its target markets — laying the foundation for growth and success.
In this article, we will analyze Gogoro's patent portfolio to better understand its patent deployment status and its capability to innovate and protect its inventions.
Using InQuartik's proprietary patent intelligence software, Due Diligence, we found that a large proportion of Gogoro patents have a decent chance of standing against legal challenges. The company also owns a good deal of highly valuable patents, according to our patent ranking algorithm.
Note: The Due Diligence report used in this article was generated on October 12, 2021.
Visualizing Gogoro's Patent Deployment Status
Our analysis of Gogoro's 907 patent assets shows that the company is actively filing for patent protection in the U.S., China, India, and Indonesia. If we do not include applications still under review, most of Gogoro's patents were filed in Taiwan, the U.S., China, Japan, and several European countries.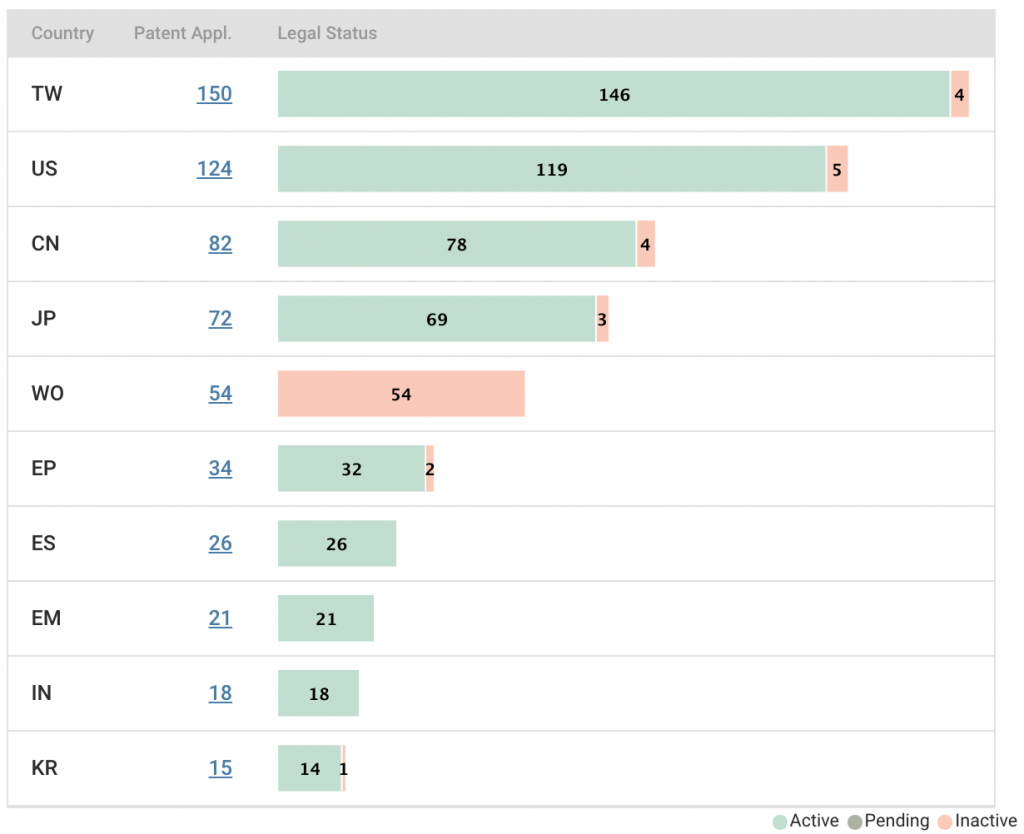 However, if we take Gogoro's pending applications into account, India makes it to the top 5 countries with the most patent filings and Indonesia takes 8th place on the list. Taken together, both countries account for 36.5% of the patent applications pending, indicating that Gogoro is actively patenting its technologies in both countries.
The company has also filed for more than 30 applications with patent offices in the U.S., China (CN), and Europe (EP).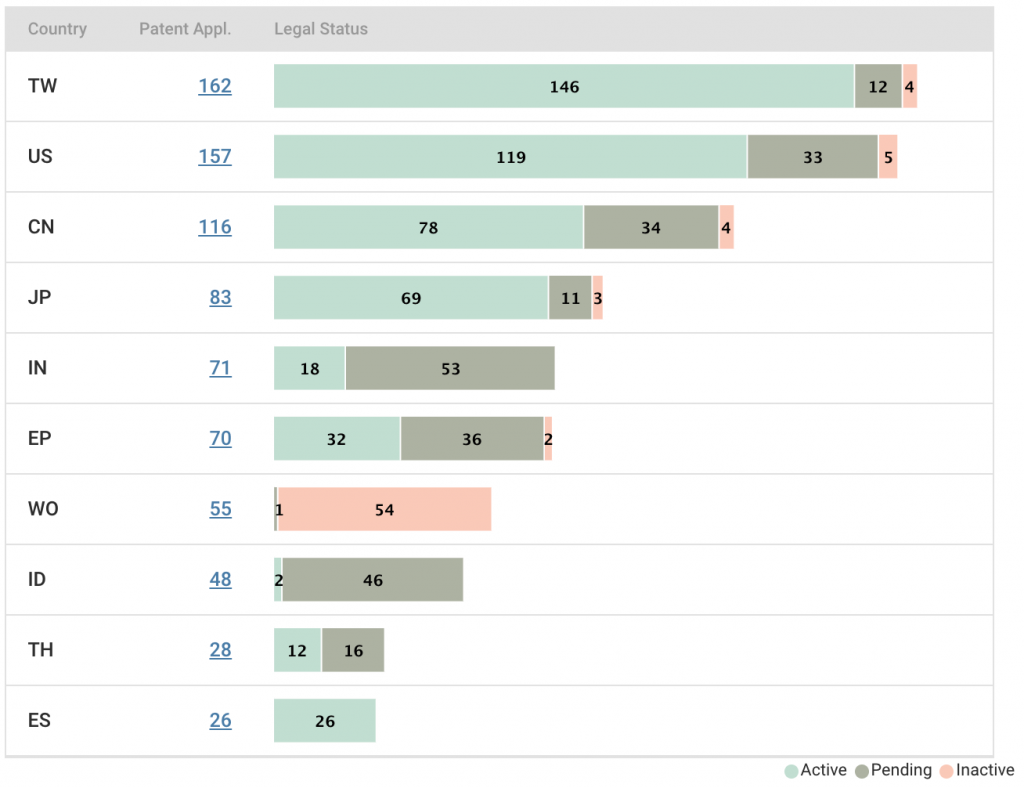 The graph below shows that most of the pending applications were filed in 2018, 2019, and 2020. Among the 271 pending applications, only one was filed with the WIPO. Almost all pending applications were filed at the local patent offices. These results suggest that Gogoro might have deployed a new round of patent applications in 2018.

By examining the legal life of active patents, we can see that the number of Gogoro's patents will start to decrease at a significant rate by 2029 and 2032. The decline in 2029 is driven by the patent expiration in Taiwan and the dive in 2032 is due to the expiration of patents in both the U.S. and Taiwan.

We also analyzed the technical areas of Gogoro's inventions according to the patent families under the International Patent Classification. The graph below clearly shows that the technical fields of Gogoro's inventions are highly diverse. The technical field with the largest amount of patent families is IPC H02J — Circuit arrangements or systems for supplying or distributing electric power. However, this only accounts for 5% of Gogoro's patent portfolio.


The concentration of Patent Ownership and Inventorship
Let's move on to evaluate Gogoro's innovation capacity. The graphs below show that almost all of Gogoro's patents or applications are solely owned or filed by the company. Few are co-owned patents or co-applications, suggesting Gogoro's tendency and capacity to invent and file patents itself.
You can access Gogoro's co-owned patents and co-applications with the Due Diligence free trial.

The fact that a large number of patents are invented by Gogoro's CEO, Horace (Hok-Sum) Luke also proves that the company has an independent approach toward its research and development. The inventorship chart below shows that Luke was the top inventor at Gogoro with more than 250 patent applications. This number is far greater than that of the inventor in second-place, Taylor Mathew Whiting.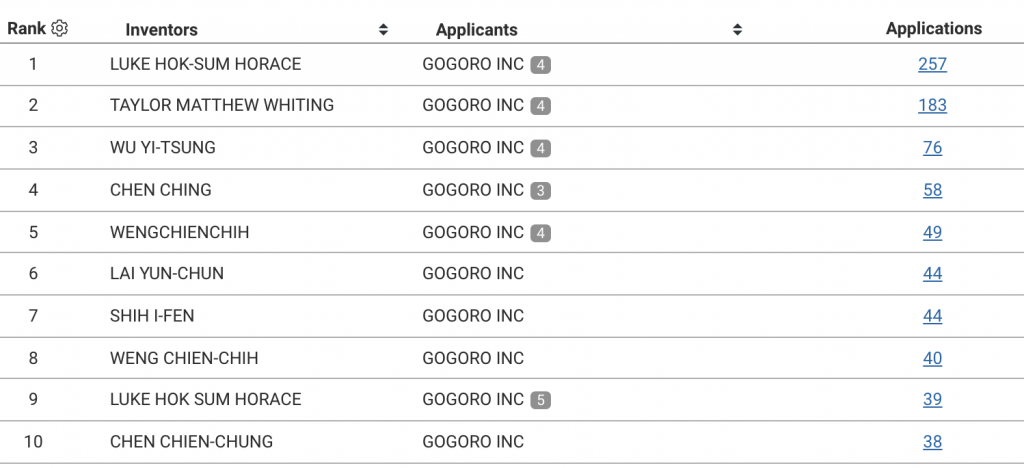 A Wealth of High-value and High-quality Patents
Our Patent Quality and Value Rankings show that 20.6% of Gogoro's patent applications are high in both quality and value, which is higher than many companies. Compared to patents in the same fields, high-quality patents are less likely to be invalidated and high-value patents are more likely to generate commercial value. These results suggest that Gogoro has a strong patent portfolio.

Even so, Gogoro needs to be aware of any potential quality issues that may threaten the patents' validity. According to our analysis, 56.6% of Gogoro's U.S. patents are found to have eligibility, novelty, non-obviousness, or indefiniteness issues as shown below. More than half of Gogoro's US patents have potential quality issues.

Conclusion
In summary, our patent intelligence analysis suggests that Gogoro has a well-executed patent strategy. The company has actively applied for patents between 2018 and 2020, and a large number of the applications were filed with patent offices in China, India, and Indonesia, which is consistent with its latest partnerships in multiple Asian countries.
Secondly, we found that Gogoro is self-sufficient in terms of patenting its inventions. Only a few of its patents are jointly owned or applied with others and CEO Horace Luke is listed as the inventor of more than one-fourth of the patents. Lastly, Gogoro has a decent patent portfolio, as evidenced by a large proportion of "golden patents" — patents that can be harder to invalidate and are likely to bring revenue to the company.
Find out more on Gogoro's patents with the Due Diligence demo report!