This article was written by Y.P. Jou, founder of InQuartik, and supplemented by Teresa J., InQuartik's Content Writer.
Table of contents
Over the past year, Taiwan Semiconductor Manufacturing Company Ltd. (TSMC) has been hailed as Taiwan's "Guardian Mountain — Protector of the Nation" due to its key industrial and geopolitical role in the US-China trade and technology war, leadership in 5nm technology, and excellent chip manufacturing capacity.
The global chip shortage has called attention to the global reliance on the world's largest chip foundry for chips. Earlier this year (2021), Germany's Economy Minister appealed to TSMC for auto chips. Japan, the U.S., and the European Union have followed suit in asking the Taiwanese semiconductor manufacturer to increase chip supply. A few months later, the U.S. Senate passed the US Innovation and Competition Act of 2021 for a US$ 250 billion investment in the nation's manufacturing and technology sectors to compete with China. This includes the decision to subsidize TSMC's US$ 12 billion chip fabrication plant currently being built in the Phoenix area of Arizona.
How did TSMC come to reach such prominence? Is there a secret recipe for success that other businesses can employ? Let us take a deeper look.
Factors for success
Excluding the founders and its management, we can pinpoint three important factors that contribute to TSMC's success:
Investment in high-quality talent
Investing in more and diverse high-quality talent allows for the realization of a company's technology, vision, and mission.
Continuous development of its processing technology
TSMC continues to invest heavily in research and development each year. In 2020, it invested nearly US$ 3 billion in R&D, which accounted for approximately 8.5% of its revenue.
Devotion to patent application, maintenance, portfolio management, and acquisition
TSMC actively invests in managing patent assets, acquiring quality patents, and establishing stringent protection measures for IP assets and trade secrets.
These factors have shaped TSMC into Taiwan's "Guardian Mountain" with its strong stance and substantial influence in the global industry, supply chains, and value chains.
TSMC's patent portfolio
In April 2021, we used Patentcloud's Due Diligence to analyze TSMC's patent portfolio to better understand its patent portfolio management and investment in process technology. As of this date, TSMC has 64,937 patents in its portfolio.
First, looking at how TSMC's patents are deployed globally,  approximately 50% are in the United States, followed by Taiwan and China with 19% and 16%, respectively.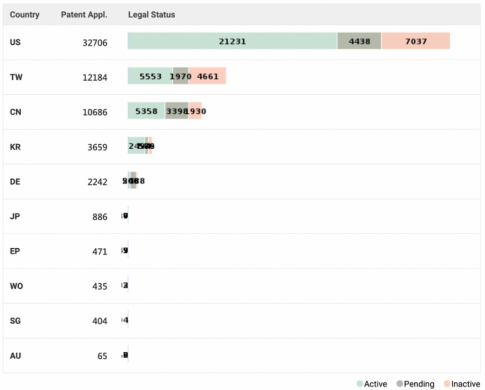 From the Technical Field dashboard, we can see that since TSMC's founding in 1987, its patent applications have been concentrated in the same field: H01L — Semiconductor devices. This indicates that TSMC's investment is quite concentrated in a certain technology field.

We can also observe the proportion of TSMC's self-generated patents to get a glimpse of its R&D strength. According to the "Transacted Patents" chart, we can see TSMC filed over 90% of the patents in the portfolio with very few acquired from others. TSMC's R&D strength is also demonstrated with less than 3% of its patents jointly applied or co-owned with others.


Using Patentcloud's proprietary Patent Quality and Value Rankings, we can assess the quality and value of a patent portfolio. Looking at the"semiconductor devices" category, which has the largest number of patents, we see that compared to TSMC's competitors, its patent portfolio has a higher percentage of high quality and high value (ranked ≧ A) patents (Figure 1 and Figure2). Its portfolio also exceeds Samsung's patent portfolio (Figure 3 and Figure 4) in quality and value, displaying TSMC's dedication to patent management.




The fact that only 0.1% of TSMC's U.S patents have litigation records may indicate a relatively higher level of uniqueness of its patents, making it a world leader in chip process technology. In addition, the percentage of patents involved in PTAB invalidation lawsuits is also very low, which implies that competitors may find it difficult to bring evidence and initiate procedures to invalidate TSMC's patents, providing more evidence to support the quality of its patents.

Lastly, let us take a look at TSMC's potential targets for monetization using the "Potential Targets of the Portfolio" chart. The top three monetizable targets for TSMC are IBM, Samsung Electronics, and GlobalFoundries, of which the latter quickly settled a dispute and came to a global patent cross-licensing agreement with TSMC after TSMC filed an infringement lawsuit in 2019. These companies are either world-leading foundries or advanced process developers, and from this chart, we can see the similarities in technology between them and TSMC, making it worthwhile for TSMC to observe whether there is any possibility of infringement.

Implementing the recipe for success
As we mentioned before, high-quality talent, advanced technology, and smart patent management are the keys to building a world-class enterprise. However, implementing these three factors is easier said than done, especially for more traditional manufacturing industries. I believe that there is no reason to be pessimistic. As long as any industry player (including startups) is willing to invest time, resources, and effort in implementing these strategies, there is a possibility of moving ahead in the game.
Attract and retain high-quality talent
This includes talent in R&D, international sales, international operation, business model design, digitalization, and many more that are capable of transforming business today and can assist in hurdling the obstacles that arise in the future and cross-country operations. However, companies need to be able to attract, and more importantly, retain high-quality talents. To do this, companies will need a clear vision, quality work environment, and excellent compensation packages to nurture and retain them.
Invest in research and development
Except for companies involved in applied research, the business operations of a majority of businesses are limited to product development, engineering, and re-designs of available products, making them followers in technology investment. Businesses should consider investing in basic and applied research.Also, investing in innovative technologies does not necessarily indicate conducting all research in-house, but rather expanding R&D investment methods, such as merging or acquiring overseas companies with new technologies and products, using an open innovation model to commission overseas third-party research and development entities, or to obtain technology transfer or intellectual property licenses from third parties.
Manage patent assets and protect trade secrets
Many companies have patents, and many own a substantial number of patents. However, it would be a waste of investment if companies can not possess high-quality and high-value patents that cover critical and groundbreaking technology or such patents that can "bite."Companies should also establish strict measures to protect trade secrets. Valuable trade secrets are often lost with employee turnover or during business with customers and suppliers.

Furthermore, companies should place more emphasis on the entire patent lifecycle management process, and not just on the initial application, maintenance, or design around. Companies striving to move forward should enter review theirs strategies for managing patent lifecycles, patent portfolios, patent risk, and patent quality and value, as well as utilizing AI data analytics.
TSMC's prominence can be seen through our analysis of its patent portfolio. According to recent statistics disclosed by Taiwan's Ministry of Economic Affairs (MOEA), TSMC applied for 1,263 patents in the first half of this year (2021), setting a record for the first time to apply for over 1,000 patents in a six-month period. This growth in patent applications amounts to a 237% in growth in comparison with the same period of last year.
TSMC has also become the most valuable company in Asia, surpassing Tencent with US$552 billion at market close on August 3, 2021, further proving TSMC's global strength and stance.
Get the full Due Diligence report for TSMC's patent portfolio for free!
Analyze patent portfolios for other companies with Due Diligence today!