In brief:
On September 30, 2019, Taiwan Semiconductor Manufacturing Company (TSMC) filed multiple lawsuits against GlobalFoundries in the US, Germany, and Singapore.
The lawsuits were seen as retaliation for the lawsuits GlobalFoundries filed against TSMC on August 26, 2019.
TSMC's lawsuits involve 25 patents in key technologies and node processes.
In the US, 4 cases involving 16 US patents were filed in the US District Court for the District of Delaware.
TSMC appears to have taken patent quality as well as strategic and technological considerations into account when selecting these patents.
Some analysts predict a broad cross-licensing agreement as the most likely outcome.
Yet, other legal experts have pointed out that with such a large patent portfolio and extensive financial resources, TSMC is in a very strong position indeed for a protracted legal battle.
TSMC Strikes Back
On September 30, 2019, TSMC, the world's largest semiconductor manufacturer announced that it had filed multiple lawsuits against GlobalFoundries in the US, Germany, and Singapore. The lawsuits allege that GlobalFoundries has continued to infringe 25 of TSMC's patents.
TSMC's lawsuits are seen by many as a retaliatory counterpunch to the patent infringement lawsuits that GlobalFoundries filed against TSMC on August 26, 2019.
This case was examined in the article on the InQuartik blog entitled "Looking at the GlobalFoundries v. TSMC Case from a Patentcloud Perspective".
In specific, the lawsuits have called for injunctions that would stop GlobalFoundries from making and selling any semiconductor products that TSMC alleges infringe upon its patents. Perhaps in response to GlobalFoundries' lawsuits, TSMC has said it will also seek "substantial monetary damages," but an exact amount has not been specified.
The Patents in Question
According to the press release from TSMC, the 25 patents in question are involved in a number of technologies, including FinFET designs, shallow trench isolation techniques, double patterning methods, advanced seal rings, and gate structures, and innovative contact etch stop layer designs.
TSMC filed these lawsuits
against GlobalFoundries in the United States, Germany, and Singapore for its ongoing infringement of 25 TSMC patents by at least its 40nm, 28nm, 22nm, 14nm, and 12nm node processes,
and as TSMC was sure to make clear, the patents at issue are "just a small portion" of the more than 37,000 granted patents in its worldwide patent portfolio.
Learning More with Litigation Daily
To discover more about TSMC's countersuits, let's start by taking a look at Litigation Daily—InQuartik's free online resource that collects the latest information on US District Court, PTAB, and ITC cases.
For the purposes of this article, we will focus only on the 16 patents involved in the US court cases.
Just moments after the announcement of the lawsuits, the filing information—along with the summarized rejection records, PTAB records, and potential prior art references—had already been gathered and organized in a clear table in Litigation Daily: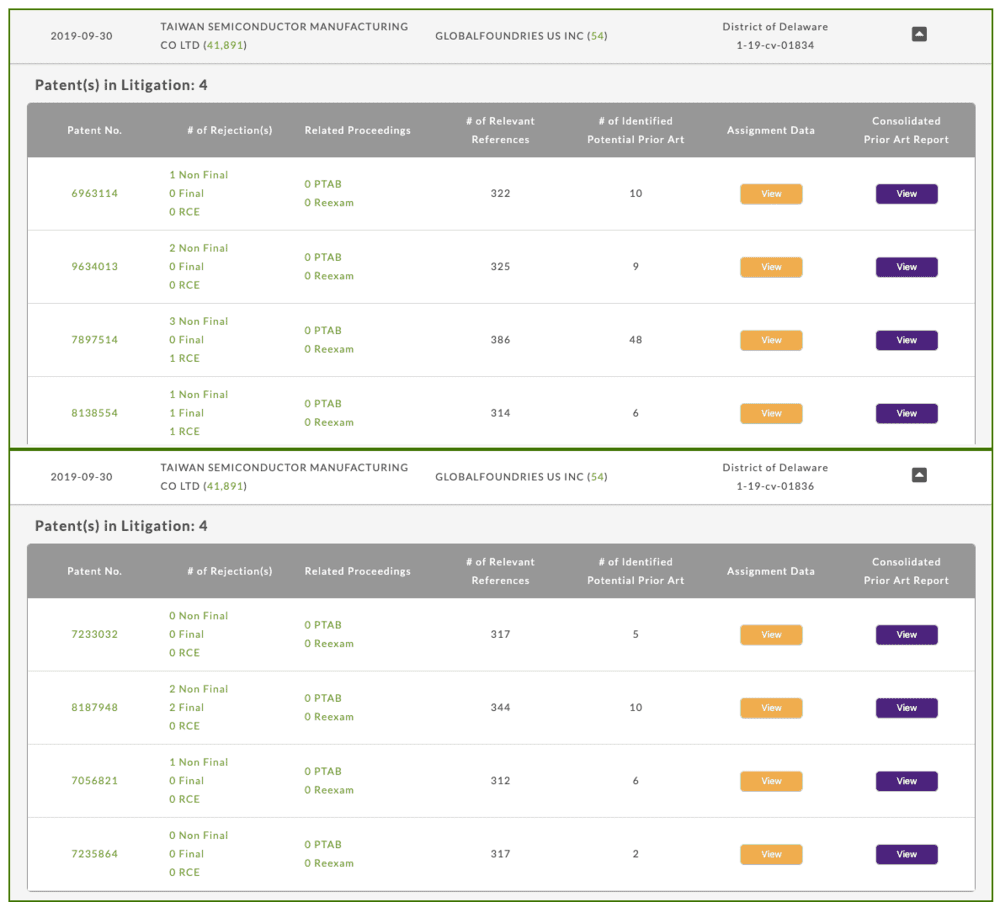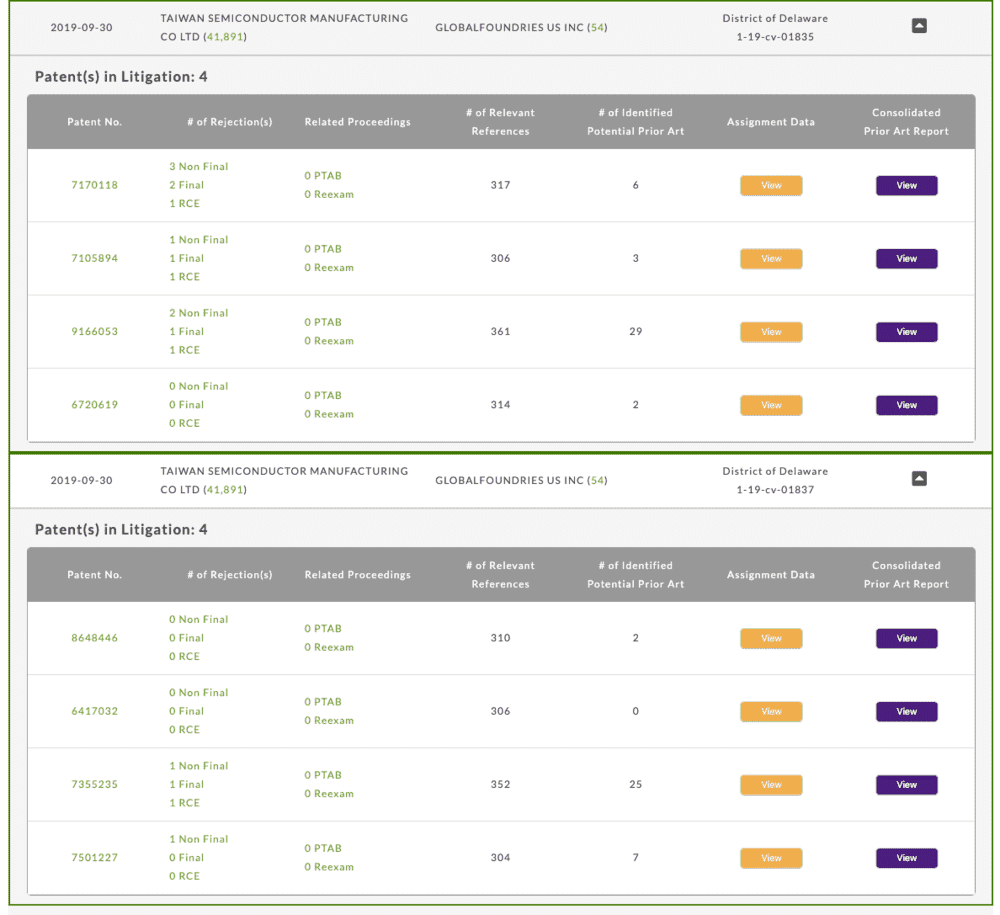 A quick look at the results confirms that these complaints have been filed in the US District Court for the District of Delaware.
Assignment Data at Your Fingertips
A click on "View" brings us to the tab in Patent Search—InQuartik's AI-powered and quality-oriented patent search tool—dedicated to the assignment history. Let's take, for example, patent '227:

The only record available refers to the internal assignment between the inventor and the company, which is a standard practice in big corporations where patents are first applied for by the former and transferred "internally" to the latter.
Checking the other patents at issue brings no surprises: all of the documents cited in the complaints have TSMC as the original assignee. This is in sharp contrast to some of the patents that we analyzed in the first GlobalFoundries v. TSMC lawsuit, with the former having acquired these patents from IBM.
Of course, there are likely several other reasons why TSMC picked these specific patents for these lawsuits (more on this later), but going into litigation with patents developed and prosecuted in-house certainly does have its benefits.
For one, doing so can enable TSMC to be more proactive during litigation, since it has direct access to the same inventors who worked on the technologies covered by the patents at issue (or at least these resources), which could make it easier for the company to retrieve vital information when needed.
Another thing we noticed by analyzing this data is that several patents have been granted in the early 2000s. This leads directly to the question: what might the reason be for picking patents that are so close to their expiration?
One expert suggested two possible answers:
TSMC is trying to avoid giving GlobalFoundries any chance to assert a "prior user rights defense" (more details on that here);
The earlier the application or priority date, then the fewer the prior art references that can potentially invalidate the patents.
Patent Quality at a Glance
To gain a better understanding of the quality of the US patents involved in this case, we utilized the exclusive Patent Quality Rankings in Patent Search.
Here's what we found:

It should come as no surprise that 2 AAA, 1 AA, and 3 A patents, are being used for these cases.
What may be a bit more surprising, however, is what appears to be the number of "average" patents—B (3), C (5), and D (2)—patents out of the 16.
Yet, this could be explained by the fact that TSMC likely also had a number of other strategic considerations in choosing the patents for these lawsuits, including the areas of technology in which the infringement had taken place.
In other words, TSMC may have selected these patents because they can cover the products made by (or processes owned by) GlobalFoundries.
What's more, perhaps because of the reasons mentioned earlier in the article, TSMC must have felt confident going into litigation with these patents.
Though it doesn't give us the whole picture, gaining insights into the quality of the patents in these cases with just a few clicks can help us start to gain a better understanding of the case itself and perhaps even TSMC's litigation strategy.
Digging Deeper with Quality Insights
Since most patents have encountered rejections during prosecution, we can run them through Quality Insights to discover any quality issues they might have as well as the possible prior art references that might be used to challenge them.
Doing so, we discovered that three patents have abandoned applications among their family members. In particular, these patents are '227, '032, and '114. Below are the Family Status dashboards for each of these patents:



Let's take a closer look at patent '227. By clicking on the chart bar, we can find out that the abandoned family member is a Japanese application: JP2007-067376A. Then, by checking its history, we can uncover the reason for its abandonment: it was rejected by the examiner.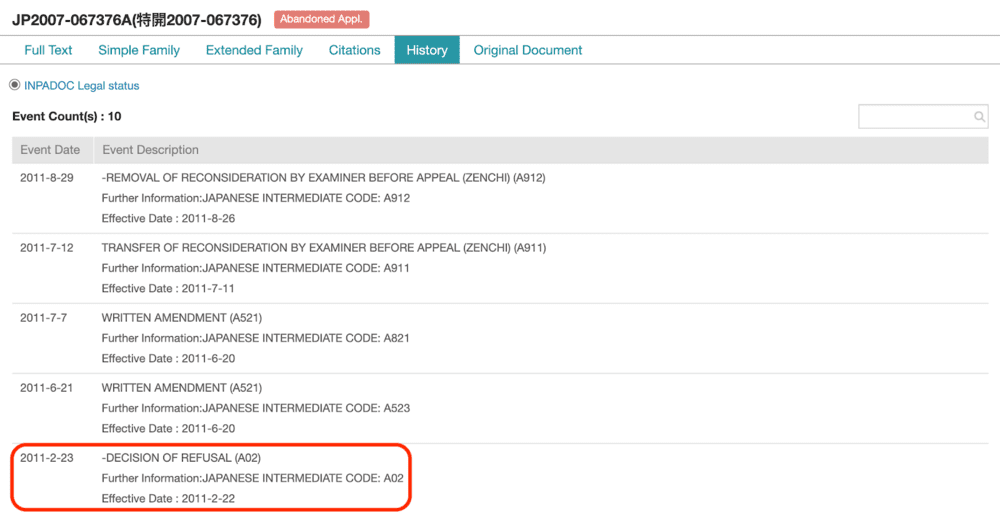 As we saw in our previous article, analyzing the prior art references used by the examiner to reject the application might suggest a direction for the following stages of the litigation. In this case, the Family Prior Art tab in Quality Insights lists these references: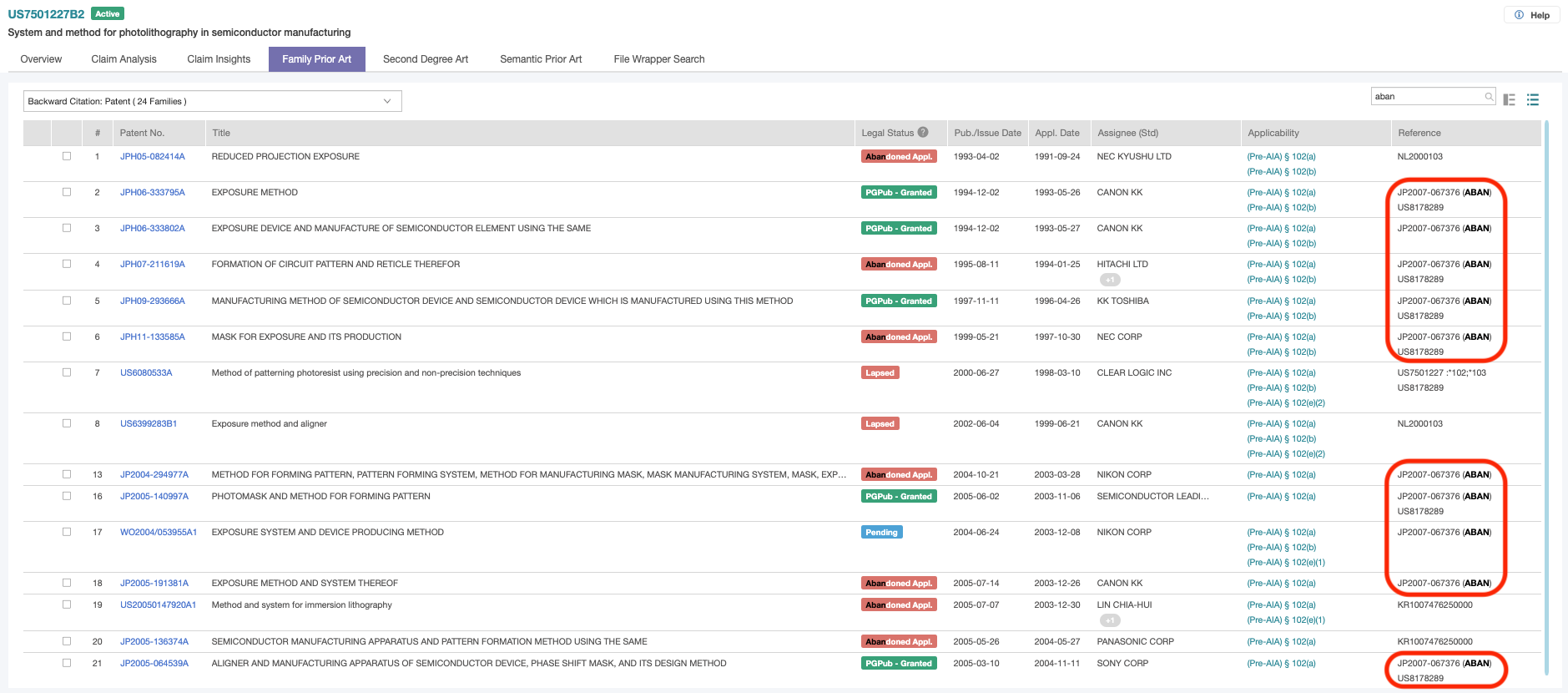 We might now want to check the details for the rejection using the Claim Insights tab, which allows us to discover in detail how each claim is anticipated by the prior art.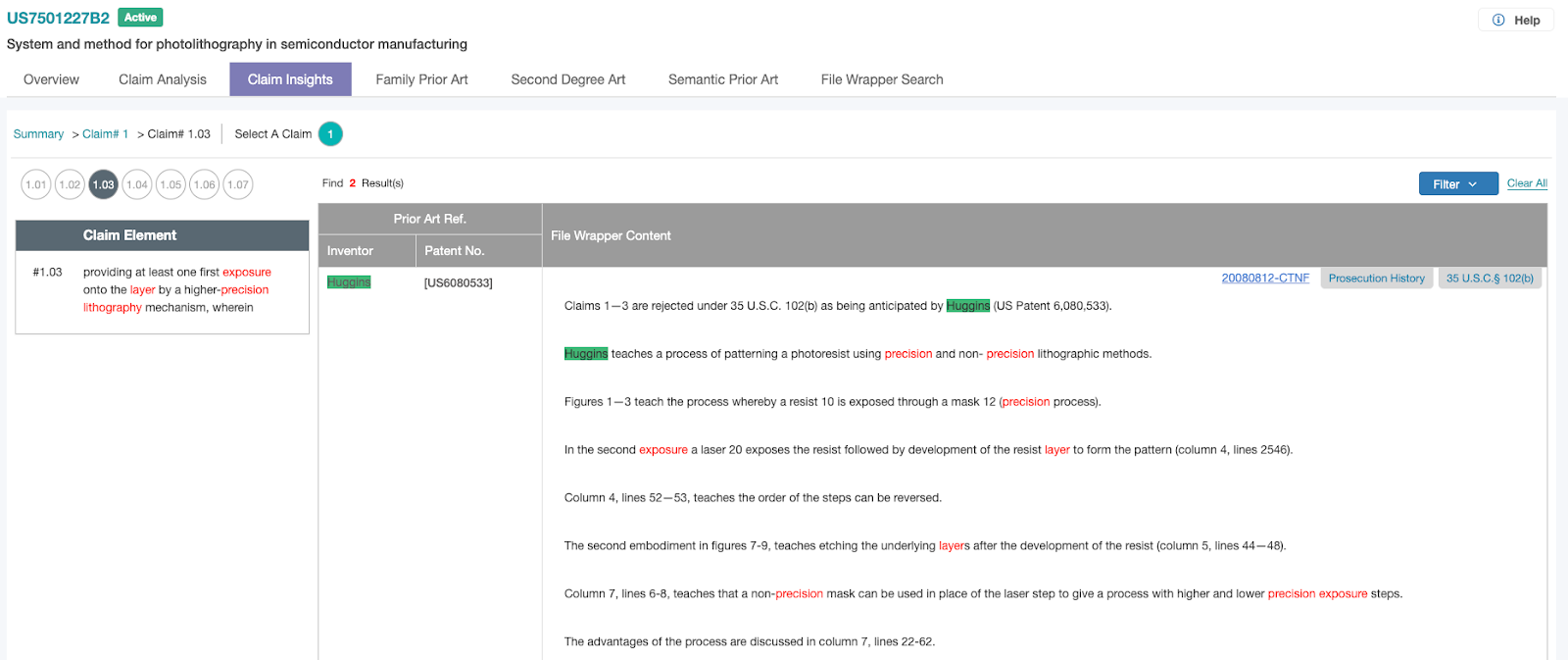 Even in this case, in a matter of minutes, we were able to gather actionable information on the history and quality of the patents at issue.
The data gathered in Quality Insights seems to confirm that TSMC picked its patents very carefully, focusing on those that haven't undergone any post-grant proceedings and that—at a first analysis—seem to have a limited number of prior art references that might be used to challenge their validity.
A Few Words from the Experts and Some Closing Thoughts
As the company promised to do when GlobalFoundries first filed infringement lawsuits against it at the end of August, TSMC is now taking steps to "fight vigorously, using any and all options," by carefully selecting [1] 25 of its more than 37,000 granted patents in key technology areas to countersue GlobalFoundries.
As for what the likely outcome of all these lawsuits may be, some analysts have suggested that it would be in the best interest of both parties to avoid a lengthy and costly protracted legal battle.
As Jim McGregor, the principal analyst at Tirias Research, stated in one news article: "[T]he most likely outcome is a broad cross-licensing agreement that prevents future patent infringement lawsuits between the two companies. Otherwise, the suit will be tied up in the courts for years and any monetary settlement is offset by legal fees."
And one anonymous industry insider has even suggested that GlobalFoundries' true target all along has been a patent cross-license agreement with TSMC, since this would give the company access to TSMC's leading-edge node technology at a fraction of the cost.
Yet, as at least one legal expert has pointed out, TSMC is definitely coming to this fight from a position of strength. For example, TSMC could sue all of GlobalFoundries' customers (excluding, of course, the ones that are also TSMC customers), in much the same way that GlobalFoundries sued TSMC's customers.
What's more, TSMC has a very large patent portfolio and extensive financial resources, which means it could likely better afford a protracted legal battle. In fact, this litigation could be an opportunity for TSMC to take away some of GlobalFoundries' customer base, should TSMC be willing to expand this fight even further.
One thing is for certain: it is not only those in the IP and semiconductor industries who will be watching the battle between TSMC and GlobalFoundries with great interest, since this legal battle will have ramifications for a number of big-name consumer brands, including Apple and Google.
You can be sure that we, too, here at InQuartik will also be keeping a close eye on this case, and we look forward to continuing to cover this important legal battle in future articles.
— Contributors: Ted Pigott, Andrea Orivati, Warren Chan, Will Huang, Yuching Lee, Bace Tseng
[1] As another of our experts suggested, the patents at issue might be part of a "for litigation use" list that TSMC specifically prepared for this scenario even before the August's complaints by GlobalFoundries: another element that could make the company more efficient and proactive in the lawsuit.