Key points
Microsoft's decision to purchase Nuance comes as no surprise, as indicated by patent portfolio analysis.
As an industry leader in speech recognition, Nuance has a larger proportion of high-value patents than Google, Amazon, and Apple, suggesting great potential for patent monetization.
Patent quality might be an issue of concern for Nuance and its acquirer. More than 80% of Nuance's patent applications in the U.S. have encountered quality issues.
Table of contents
Microsoft is Acquiring Nuance
On April 12th, Microsoft announced a definitive agreement with Nuance, under which Microsoft will acquire the speech recognition firm for $56 per share, about 23% higher than its closing price on April 9th. The purchase, valued at $19.7 billion in an all-cash transaction inclusive of net debt, is Microsoft's largest acquisition since it brought LinkedIn for over $26 billion in 2016.
The deal is expected to close by this calendar year and is subject to approval by Nuance's shareholders and other regulatory and customary conditions. Nuance's expertise in speech technology could provide an edge to Microsoft's cloud strategy across healthcare and other industries.
Opening up the Healthcare Market for Microsoft's Cloud Business
Microsoft's acquisition of Nuance is a strategic move for its cloud business. By acquiring a leading firm in medical transcription services, Microsoft can enhance its speech recognition capacity and market access to advance its cloud strategy.
Having cloud as an industry offering is crucial to strengthening its position in the cloud computing market. According to IDC, the industry cloud market is considered one of the greatest opportunities for vertical growth for technology suppliers. Microsoft CEO Satya Nedella made it clear that cloud and AI are critical to the future after a huge reorganization in 2018.
Given that healthcare represents great opportunities for industry AI, Microsoft has been expanding its presence in healthcare.
According to PitchBook, Microsoft made a strategic investment of undisclosed amount in enterprise software developer Informatica in August 2015. The company later launched Healthcare NExT and other initiatives in 2017 to provide cloud and AI research to partners, including University of Pittsburgh Medical Center, to transform healthcare delivery.
The company formalized its efforts by forming Microsoft Healthcare team in 2018, with an aim to provide products and services to take health data to the cloud. Microsoft introduced Cloud for Healthcare as its first industry-specific cloud in October 2020, as more and more healthcare organizations want to have their own technology solutions to provide better care and services during the pandemic.
Nuance is one of the partners of Microsoft's Cloud for Healthcare. That being said, the acquisition is based on the existing partnership between the two companies.
Microsoft first partnered with Nuance back in 2019, where the two companies formed a strategic partnership to help improve healthcare delivery. Nuance developed a transcription solution that can transcribe clinical conversations into text and generate medical records, and it is hosted on Microsoft Azure.
In 2020, Microsoft integrated Nuance's ambient clinical intelligence (ACI) solution into Microsoft Teams, helping physicians to focus on patients during virtual visits by automatically capturing the conversations and creating medical documentation. Given the growing demand for virtual visits and other medical transcription applications, Nuance experienced a 37% year-over-year growth of its Healthcare Cloud revenue in the fiscal year ending September 2020.
Nuance also provides necessary market access. According to Microsoft, more than 55% of physicians and 75% of radiologists in the U.S., and 77% of U.S. hospitals currently use Nuance solutions. The acquisition is expected to double Microsoft's total addressable market (TAM) in the healthcare provider space, raising its TAM in healthcare to almost $500 billion.
Voice Technology is Critical to Microsoft's Cloud Strategy
The purchase of Nuance could drive the application of voice technology. Microsoft launched its virtual assistant Cortana in 2015 and has stopped supporting the Cortana app for mobile from March 2021, as the company is repositioning Cortana toward a productivity-focused scenario.
As voice recognition becomes more prevalent and will be applied in many types of industries, Nuance's expertise in medical transcription would be a competitive advantage for Microsoft to compete with Google Assistant, Apple's Siri, and Amazon's Alexa. While these voice assistants may understand consumers' daily needs, Nuance's capacity in recognizing medical language is not easy to replicate, which could sharpen Microsoft's edge in enterprise cloud and AI in healthcare.
Starting as a general speech recognition firm, Nuance deepens its speciality in medical transcription by acquisition. According to PitchBook, since it bought MedRemote in May 2005, Nuance has acquired more than 20 medical IT companies. The latest purchase of  Saykara, a provider of voice-enabled AI assistant for physicians, was in February 2021, just two months ahead of Microsoft's deal.
An analysis of Nuance's patent portfolio shows that Microsoft has been on the radar of Nuance's potential targets. With long-standing expertise in speech technology, Nuance has a good amount of high-value patents, suggesting great potential for patent monetization. In the field of speech recognition, Nuance outperforms tech giants, including Apple Inc., in terms of the proportion of high-value patents. Yet, the quality of its patents is worthy of attention.
A Closer Look at the Deal From a Patent Perspective
Microsoft Is One of the Top 3 Followers of Nuance's Inventions
The patent data shows that IBM, Google, and Microsoft have the largest number of inventions citing Nuance's patents. Notice that Microsoft Technology Licensing, the subsidiary of Microsoft managing its patents and technology transfers, follows right after Microsoft Corporation.
The results suggest that Microsoft has long been a big potential target for Nuance to license or sell its patents. The decision to acquire Nuance is based on numerous references, as evidenced by the patent data. For more details about these patents, use the patent analytics dashboard to find out.
A Leader Highly Devoted to Speech and Digital Data Processing
The big players in voice technology—Apple and Amazon—are ranked 6th and 8th among the companies whose inventions cite Nuance's patents. Nuance's capabilities in the industry are certainly supported by the patent citation data.
Long-term devotion to the field is one of the reasons Nuance stands out. A time-series analysis of its invention categories, as defined by the International Patent Classification (IPC), shows that Nuance has been heavily focused on speech recognition technology (IPC code: G10L) and electronic digital data processing (IPC code: G06F.)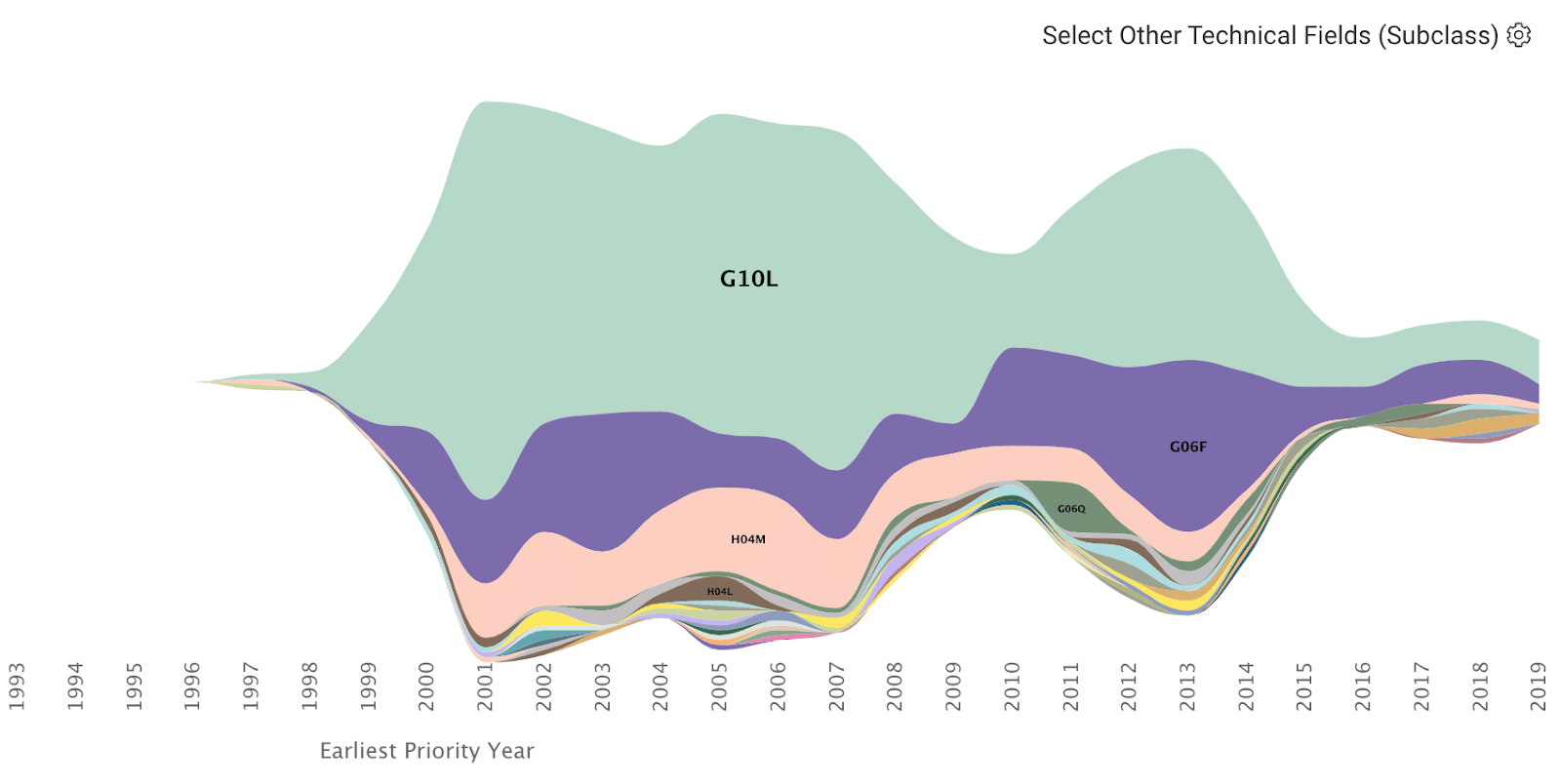 A Strong Profile for Patent Monetization
A closer look at Nuance's core technology shows that its proportion of high-value patents outnumbers big firms such as Google, Amazon, and Apple. The term "value," as defined by Patentcloud's exclusive Patent Value Ranking, represents a patent's relative tendency to be transacted or practiced.
For patents under IPC G10L, the proportion of value patents rated "A" or above is 57.9% for Nuance (the light green bars on the left,) 34.2% for Google, 20.7% for Amazon, and 55.7% for Apple. Clearly,  Nuance has a larger proportion of high-value patents than Apple.



Patent Quality Might Be an Issue
Nuance's strength in patent value under G10L is a given; however, the quality of its patents needs to be attended. According to the data, around 83% of its patents in the U.S. have encountered quality issues regarding patent eligibility, novelty, non-obviousness, or indefiniteness. And it has a lower share of patents rated A or above when compared to Apple (29.3% to 36.3%).


Conclusion
As speech recognition is crucial for developing cloud services, Microsoft's acquisition of Nuance is to accelerate its industry cloud strategy in order to better compete with Google, Amazon, and Apple. Nuance has a large proportion of patents that stand a decent chance of being transacted or practiced, which could bring both financial and commercial rewards for Microsoft. Yet, the quality issues should be addressed to ensure those patents of value can be identified.
Want to discover more? Fill out the form to get a complete analysis of Nuance's patent portfolio.