Where should I invest my R&D budget?
Is this industry still worth exploring?
Will these patents be burdensome in the future?
These are the questions that patent portfolio managers struggle with every day—why is that so?
As we saw in our series on Patent Lifecycle Management (PLCM), identifying the technology areas that are worth investing in is the first—and most important—step into designing a winning patent strategy.
A mistake at this stage and the effects will carry out for at least the entire life span of the patent—in most cases, even beyond its expiration. How can we avoid making the wrong decisions?
A patent strategy is a series of steps that companies take in order to secure their inventions and their position within the technological sector in which they operate. Similar to business strategies, patent strategies often require a preventive analysis of the status quo to identify risks and opportunities. The patent strategy concept is strictly correlated with the PLCM strategy.
Table of contents
How to Create an Effective Patent Strategy?
To answer this question, we can rely on the Patent Matrix, one of the most advanced features available in Patent Vault.
In the dedicated series, we highlighted its most notable benefits and the ways it can help R&D departments and portfolio managers with forming their patent strategies:
Patent Portfolio Comparison (Quality and Value of Patents);
Overview of a Company's Technology and Patent Activity;
Overview of a Market Sector.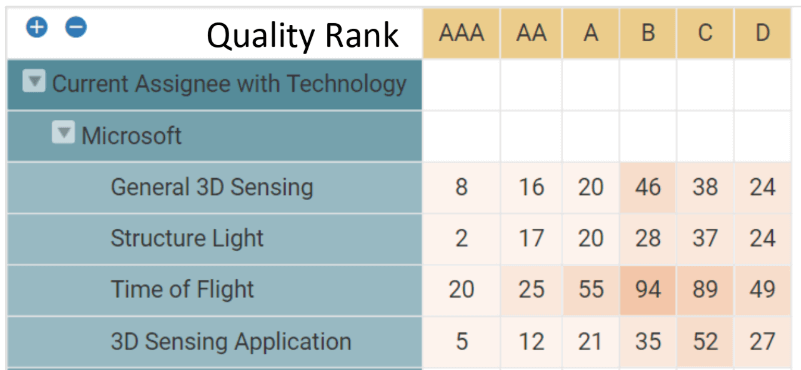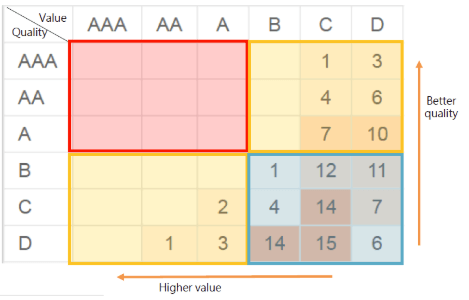 A few examples of PatentMatrix
In this article, we'll be looking at an in-depth analysis of the smart refrigerator industry to identify the areas where patenting is potentially:
More easily achievable during prosecution;
More profitable for future monetization.
But first, let's have a brief overview of the smart refrigerator market.
Smart Refrigerators: Convenience in the Kitchen
Smart refrigerators are home appliances that take full advantage of the IoT to make the preservation of food more efficient and simple.
Equipped with cameras and sensors, they connect to the home WiFi and provide insights into the condition of the food stored, anytime and anywhere.
Some of the advanced functions that they can perform are:
Food expiration alerts;
Shopping list creation;
Automatic ordering of supplies;
Real-time reporting;
Smart suggestions for recipes;
Integration with other smart devices.

Samsung's take on smart refrigerators: the Family Hub
The smart refrigerator industry has been growing steadily over the past few years, mainly as a result of the increased interest in smart homes and home automation in general.
According to a recent report by Grand View Research, its market size was valued at USD 253.9 million last year and is expected to expand at a CAGR of 13.7% by 2025.
The main markets for this relatively new industry are North America and Europe, followed by the Asia-Pacific region—in particular Japan—which is expected to become the driving force over the next few years.
The reasons for the recent uptrend in growth are:
Technological developments in electronics and telecommunication sectors;
The growing need for more energy-efficient devices;
Improving life conditions and the resulting strengthening of purchasing power;
Greater availability of wireless capabilities on a growing number of devices;
Price decrease in the home automation sector.
What Are the Opportunities in the Smart Refrigerators Sector?
With such projections for the future, it comes as no surprise that more and more companies are trying to secure their space in the field through patenting.
This was certainly the case with a Chinese-based company that approached our partner Wispro to answer the questions:
Where should I file my patents? Am I risking patent infringement?
What needs to be done in order to develop a winning patent strategy is to identify the areas that have the highest potential from a patent perspective to ensure that the investment won't be wasted in low performing sectors.
Furthermore, it is also important to avoid infringing on other companies' rights, a scenario that might hinder the company's growth altogether.
The first step in doing so is to analyze the sector's current landscape that the key players have contributed to shaping.
For smart refrigerators, the companies to look at are LG, Samsung, Toshiba (internationally), Haier, Changhong, and Midea (in China).
What's Inside Smart Refrigerators?
Wispro's experts started by comparing the hardware and software solutions adopted in competing devices.
This allowed them to have a detailed overview of the components involved, which they converted into a hierarchical folder structure in Patent Vault:

Using Patent Search, they then searched and analyzed the patents related to each component, identifying the related technology fields.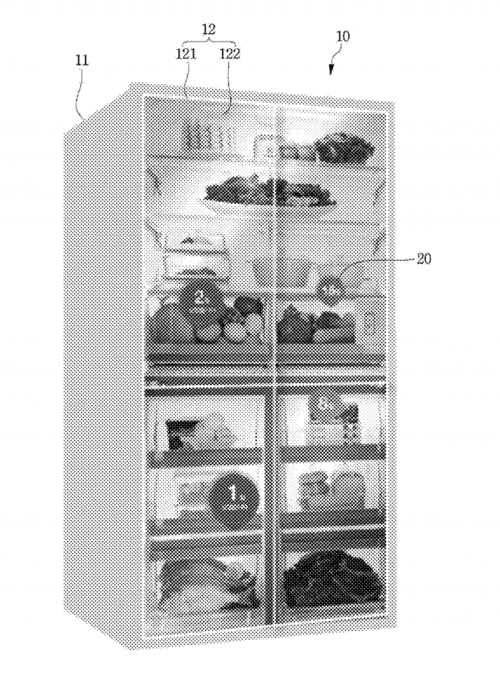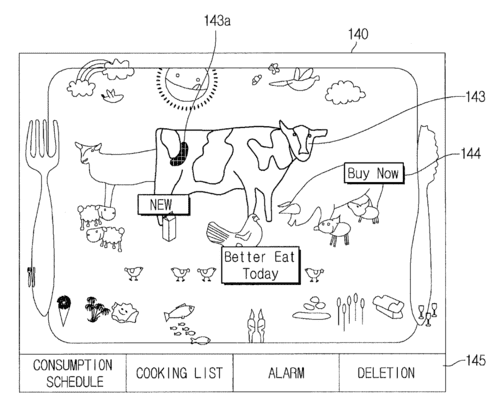 A few images from LG, Samsung, and Toshiba patents
This technology classification was also organized hierarchically in Patent Vault, which now contains two sets of nested folders:
The components (or products) found in smart refrigerators;
The technology fields related to those components.
To discover the patent management features available in Patent Vault, read our dedicated article here.
How to Create a Patent Matrix?
Since the client's requirement was to have a patent landscape of the Chinese market, the two sets were populated with patents from the Chinese competitors: Haier, Changhong, and Midea.
The database is then turned into a Patent Matrix through the Advanced Analysis features in Patent Vault.
In a few clicks we obtain the following chart: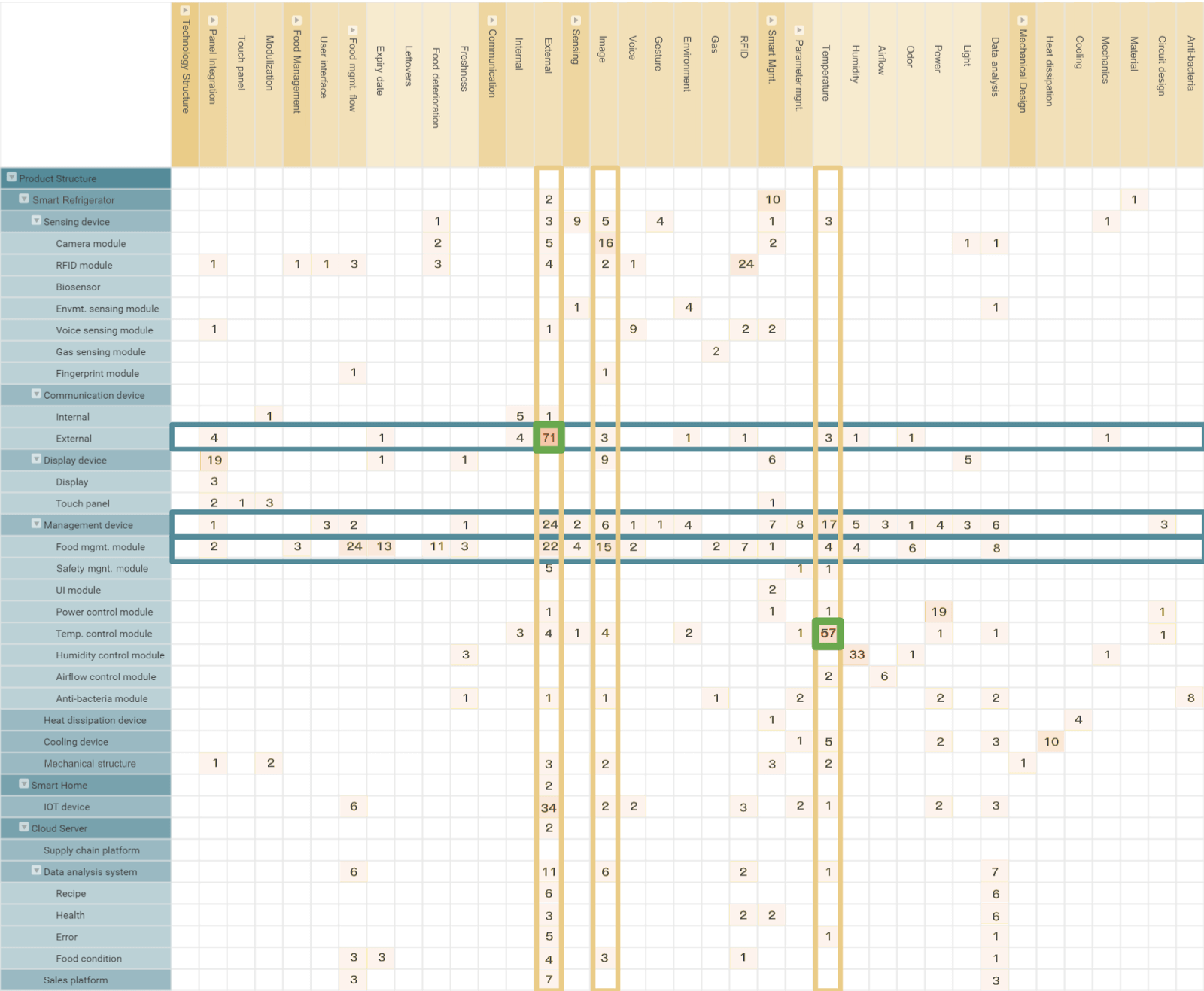 The main benefit of this type of data visualization is that it enables us to discover, at a glance:
Which technologies were applied to each component of the device;
Which areas are the most patented, thus those that pose a major threat of patent infringement;
Which areas are the least patented, therefore having a lesser amount of prior art to overcome.
Let's take a closer look: What does the Patent Matrix tell us about the Chinese smart refrigerator market?
Technologies
By looking at the Y-axis first, we notice that the technology areas with the highest concentration of patents (yellow lines) are:
External communication, to connect the refrigerator to the Internet;
Image sensing, which involves cameras and barcode scanners;
Temperature management, as part of food management techniques.
Products
By looking at the X-axis, we know right away that the most patented components (blue lines) are:
External communication devices, to allow the refrigerator to connect and communicate with other devices;
Management devices, to keep the internal environment stable;
Food management module, to aid the food management solutions.
The alignment between technologies and products is clear. Chinese patents for smart refrigerators mainly focus on:
The external communication design for external communication devices;
The temperature management design for the temperature control module.
As a side note, there is no significant patenting activity related to the mechanical design of these devices: Therefore, the risk of patent infringement in this area is extremely low.
The Patent Matrix: Patent Strategy at a Glance
The many empty cells in the Patent Matrix confirm that patenting in this industry is an attractive opportunity.
Moreover, further analysis of the patents involved shows that Chinese companies are currently at the initial stage of filing, and that many of the patents involve known art, thus highlighting a lack of novelty and inventiveness.
What's more, most of them are "utility models", a form of IP protection that doesn't require strict patentability examination.
By taking all of these elements into consideration, and pairing them up with company-specific priorities and business direction, Wispro identified several areas where patenting is suggested: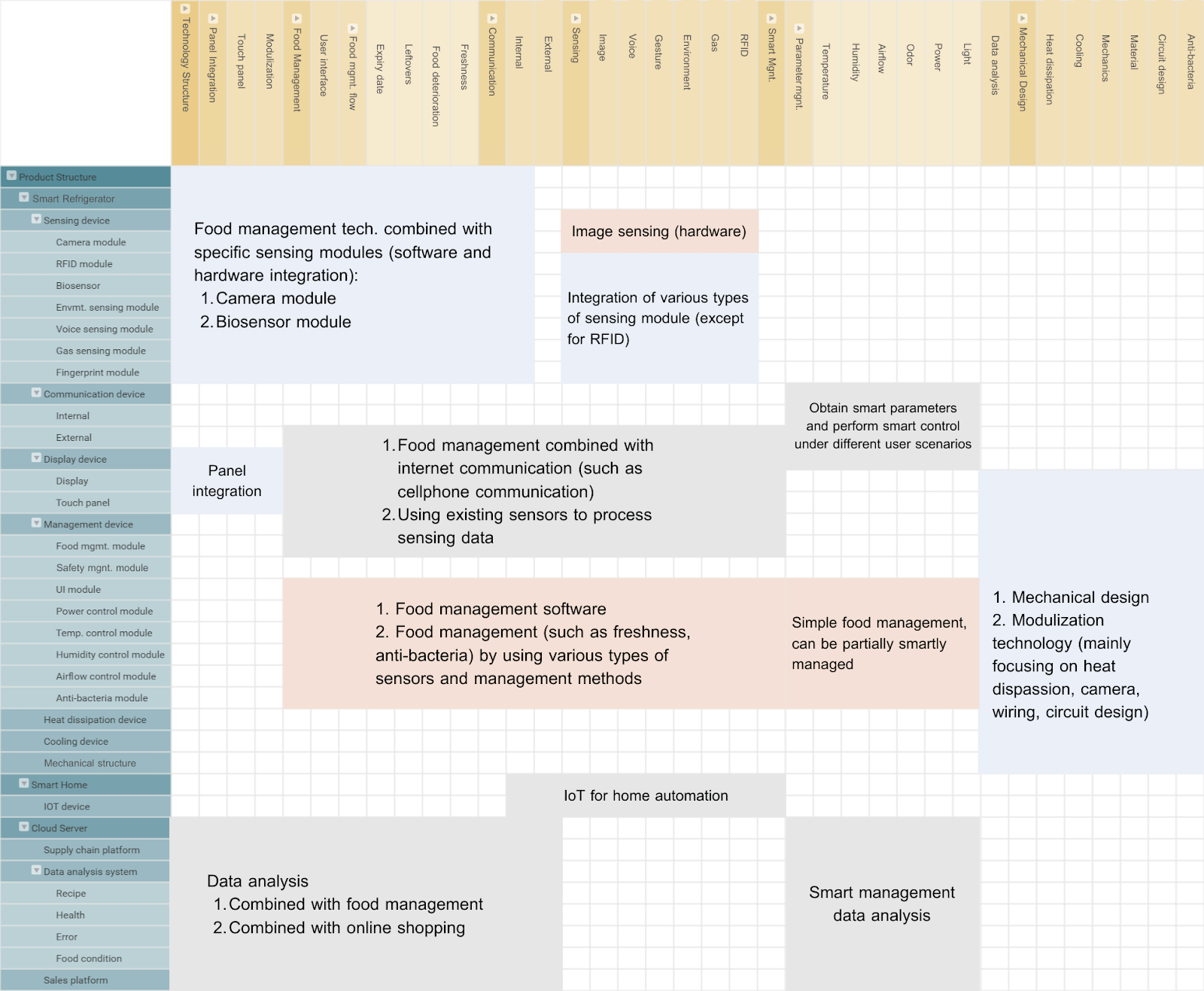 To further assist the company in the formation of its patent strategy, the suggested areas were grouped according to priority:
Primary patenting areas—areas that haven't been patented extensively yet, therefore having the least amount of prior art to overcome;
Secondary patenting area—areas that have been largely patented already but should still be considered because they're crucial to the industry;
Tertiary patenting area—areas that should be taken care of only after the previous two.
Closing Thoughts
Relying on a clear visual representation of the market makes it easier to make decisions when considering a company's patent strategy.
The main benefit is that this kind of chart can be created with data that, in any case, should be gathered before stepping into a new industry, meaning that it requires practically no additional work for the IP staff.
Moreover, defining the technologies and products involved in a granular and hierarchical manner gives clarity to the whole process and—above all—could potentially allow R&D and portfolio managers to uncover new and profitable opportunities.
Try it yourself—Activate a 7-day free trial and
check if you're on the right track with your patent strategy.