Table of contents
---
A Quick Overview of the Dispute
On March 2, 2021, Intel Corporation was ordered to pay US$2.18 billion for patent infringement to VLSI Technology LLC, a well-known court opponent, by the Western District Court of Texas. This amount is one of the largest patent damages in U.S. history and has caused Intel's stocks to fall 2.6% to US$61.24 in New York trading.
The court determined US$1.5 billion in damages for Intel's literal infringement of U.S. Pat. No.: 7,523,373 and US$675 million for infringement under the Doctrine of Equivalents for U.S. Pat. No.: 7,725,759. Although Intel denied infringement and tried to argue one patent was invalid, the petition was unfortunately rejected.
Some may label VLSI as a Patent Troll, while others regard it as an NPE. Whichever the case, this lawsuit may not be merely a battle between an NPE and an operating company but intense competition within the computer semiconductor industry.
'VLSI took two patents off the shelf that hadn't been used for 10 years. The "outrageous" demand by VLSI would tax the true innovators.' Intel's lawyer, William Lee declared. (Bloomberg)
What Do We Know about VLSI?
VLSI Technology was originally an integrated circuit (IC) manufacturer which defined the leading edge of the application-specific integrated circuit (ASIC) business, accelerating the push of powerful embedded systems into affordable products. VLSI was later acquired in 1999 by Philips Electronics and today is a part of the Philips spin-off — NXP Semiconductors.
Today, VLSI Technology LLC is attached to Fortress Investment Group, and as most NPEs are, relies on patent litigation for revenue. NXP thus indirectly benefits from this case as well.
A Preliminary Look of the Patents with Patent Search
Using Patentcloud's Patent Search to take a glance at the two patents involved (US'373 and US'759), both were granted before 2006 and transferred to VLSI Technology LLC in 2019. VLSI filed complaints in April 2019 immediately after acquiring the patents. The two patents are likely to be more profitable in litigation than in R&D.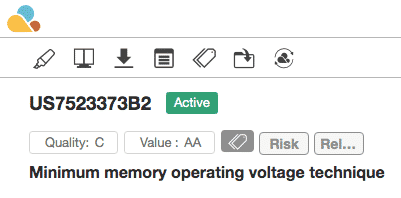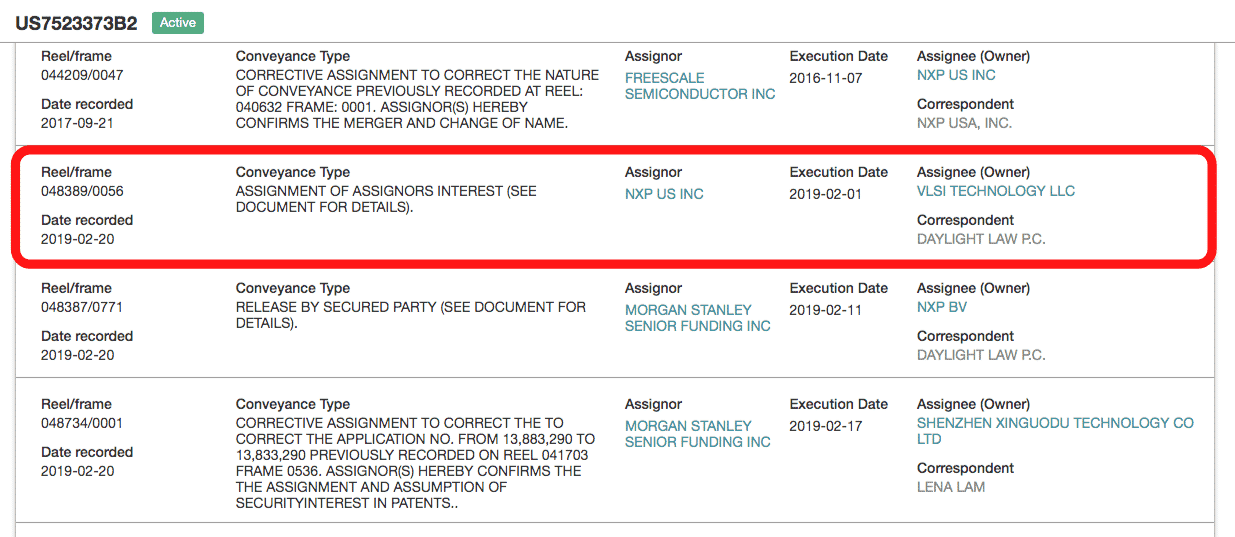 (Data collected from Patent Search and Patentcloud's Patent Quality and Value Rankings)
Dig Deeper With Quality Insights
The two patents involved are U.S. Pat. No.: 7,523,373 and U.S. Pat. No.: 7,725,759. Both of them cover inventions that increase the power and speed of processors, a key issue for competition.
Let's gain an instant overview of this case by digging deeper into the patents' quality through Quality Insights, the one-click solution for patent quality analysis.
Prosecution History and Post-Grant Proceedings Overview
Check the Overview tab for our preliminary investigation, which gives us a bird's eye view of all notable events including history of prosecution and post-grant proceedings.
Using US'373 as an example, here you can instantly check the prior art found by examiners in the non-final rejection records of the prosecution stage. As shown below, prior art US6772379, US5086501, US6975551, US20070174642 were found and several corresponding claims were rejected under 35 U.S.C. §112, §102, and §103.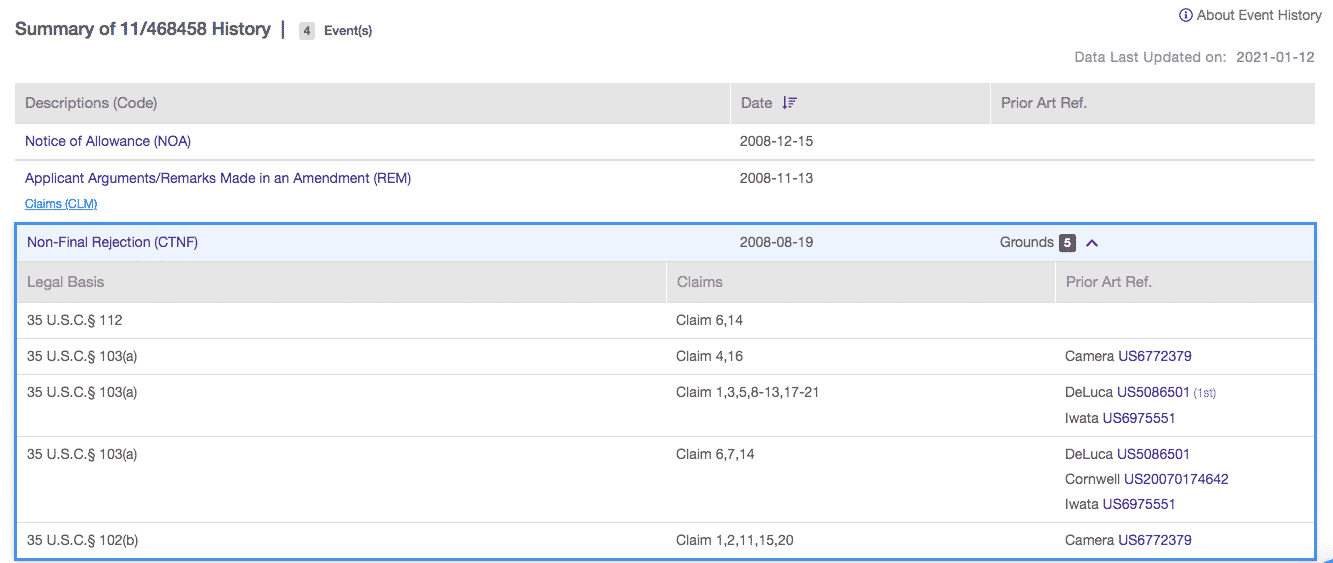 Looking deeper, you can browse the original file wrappers and their OCR version by clicking the event you want to explore. Let's find out what IPR challenges the patent faced by clicking first the IPR case button, then Institution Decision to view the document and its OCR version side-by-side.

Using the keywords search, we can quickly discover that the board declined to review the petition, relying on a rule that authorizes PTAB judges to reject a petition based on the advanced state of a parallel infringement case.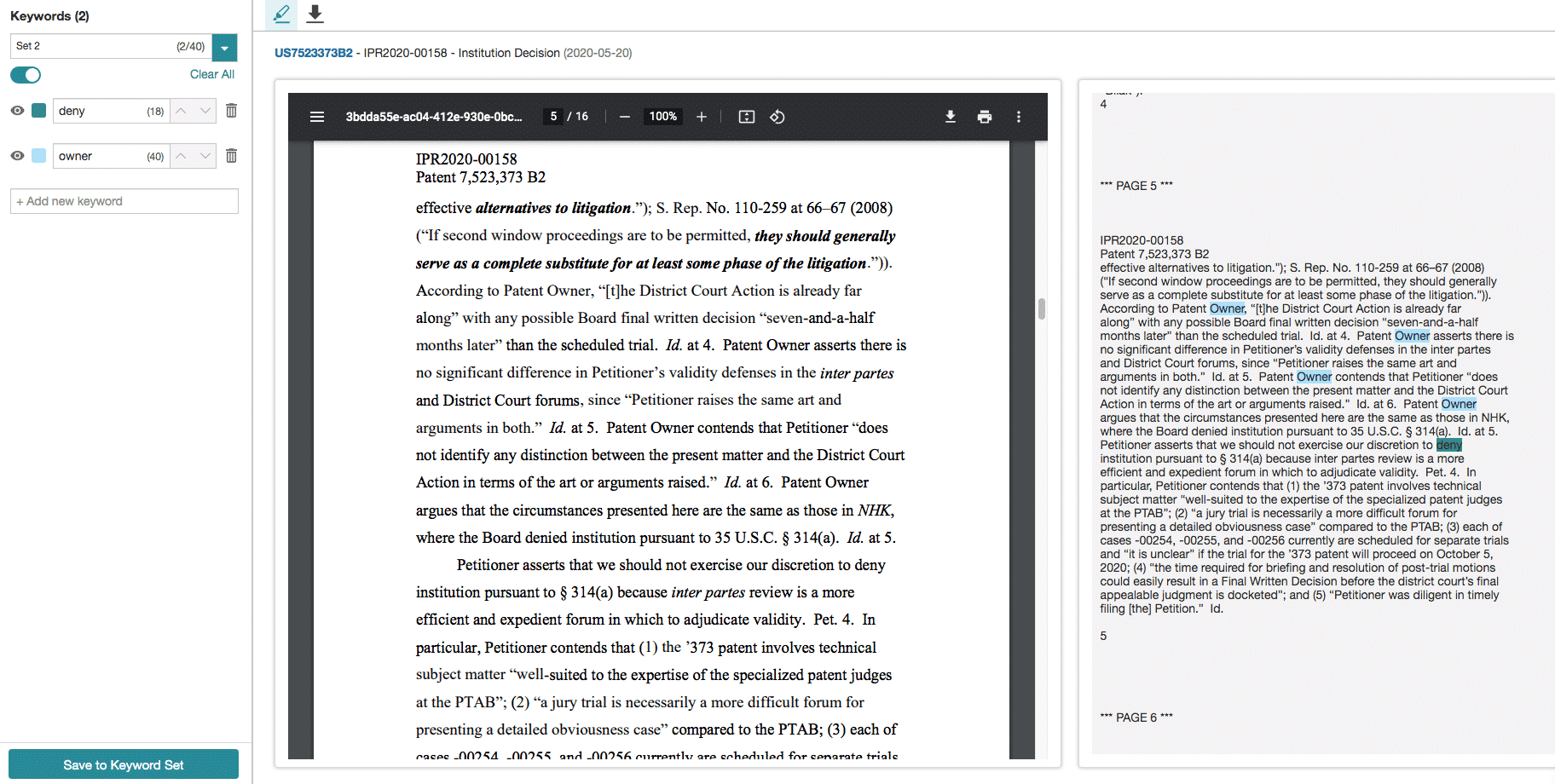 Mapping Claim Terms to the Specification
The court determined Intel had literally infringed claims 1,5,6,9 and 11 of US'373 and infringed claims 14, 17, 18, and 24 of  US'759 under the Doctrine of Equivalents. With the claim scope interpretation from Claim Analysis, you can review the selected claim element, such as "minimum operating voltage" here, and see how it is defined in the patent specification and related figure, comparing it with elements in accused products.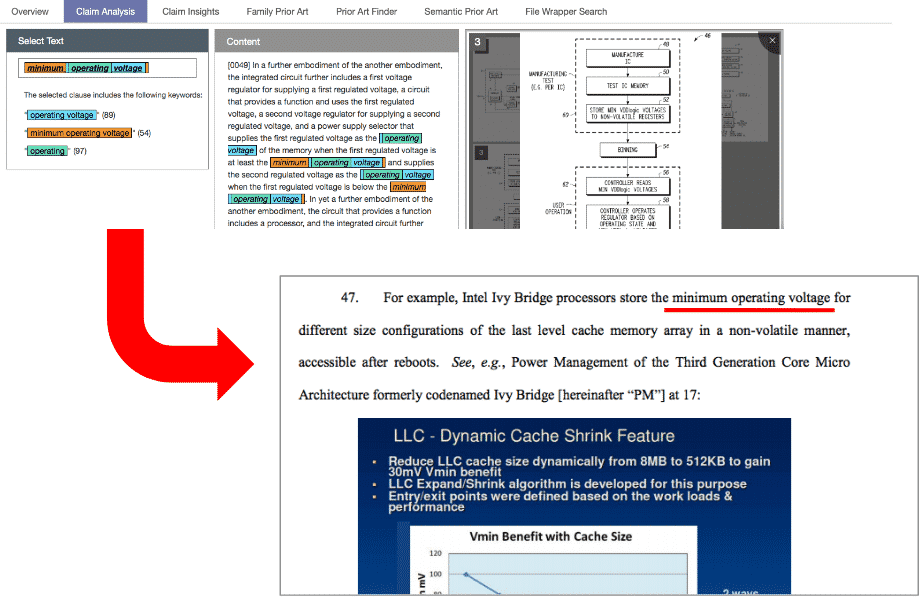 Cited Patents of All Family Counterparts
The Simple Family tab in Family Prior Art tells us there were no abandoned members which may succumb to validity challenges in US'373 and US'759 families.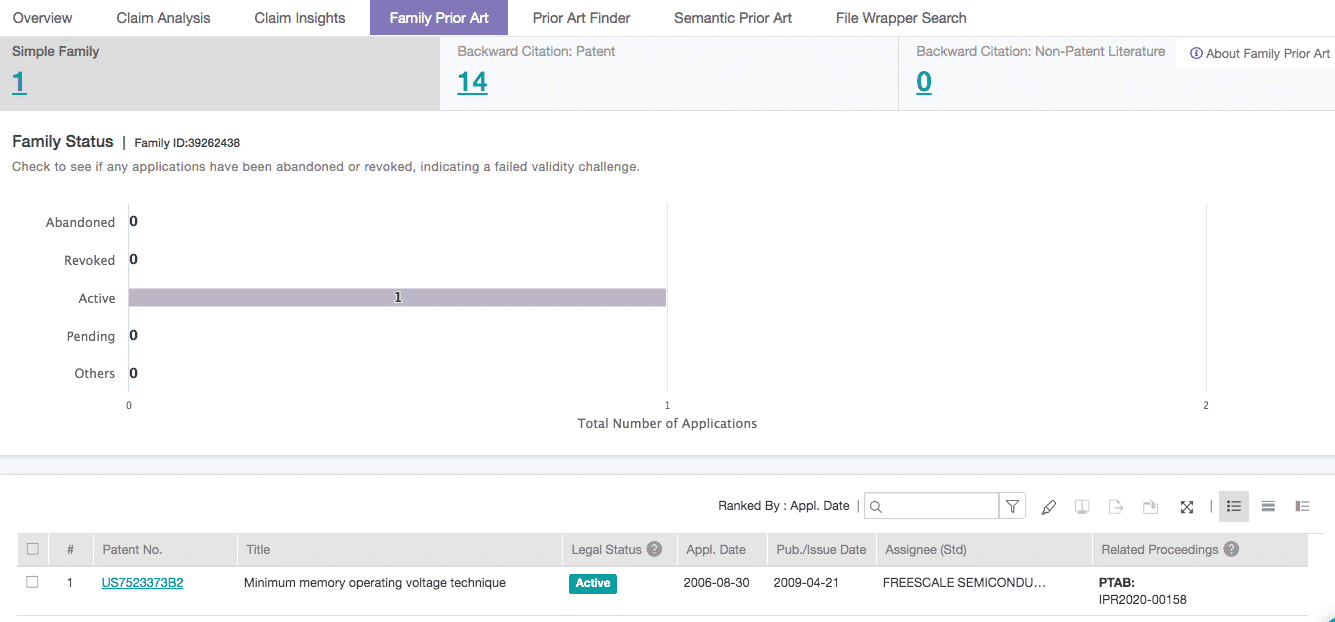 For a free 7 day trial, sign up here!
 no credit card required
Is It Possible to Invalidate the Patent(s)?
Although Intel lost the trial this time, there have been some discussions on how Intel may have had a chance to prevail if they had the patents involved invalidated.
Intel had filed IPRs to challenge both patents. However, the board denied reviewing either one, applying the NHK-Fintiv Rule which set out a number of factors to consider when evaluating whether the state of a parallel proceeding warrants discretionary denial.
There is one reason for denial based that we should pay some attention to:
"the Western District of Texas involving the '759 patent currently is scheduled to start on November 26, 2020. If a proceeding were instituted, a final written decision in this matter likely would not issue until August 2021, approximately nine months after the scheduled trial date. Accordingly, on the record before us, this factor weighs in favor of exercising our discretion to deny institution pursuant to § 314(a)."
What if Intel had filed the IPR for US'759 at the earliest time possible, making the board's projected deadline for a final written decision much earlier than the court's trial date?
Although US'373 and US'759 look fairly clear regarding their family members, we can try to uncover more key information by referring to the prior art. Using the Prior Art Finder, we can discover more prior art references by looking at the backward or forward citations of considered prior art, which may be a good strategy for the next stage.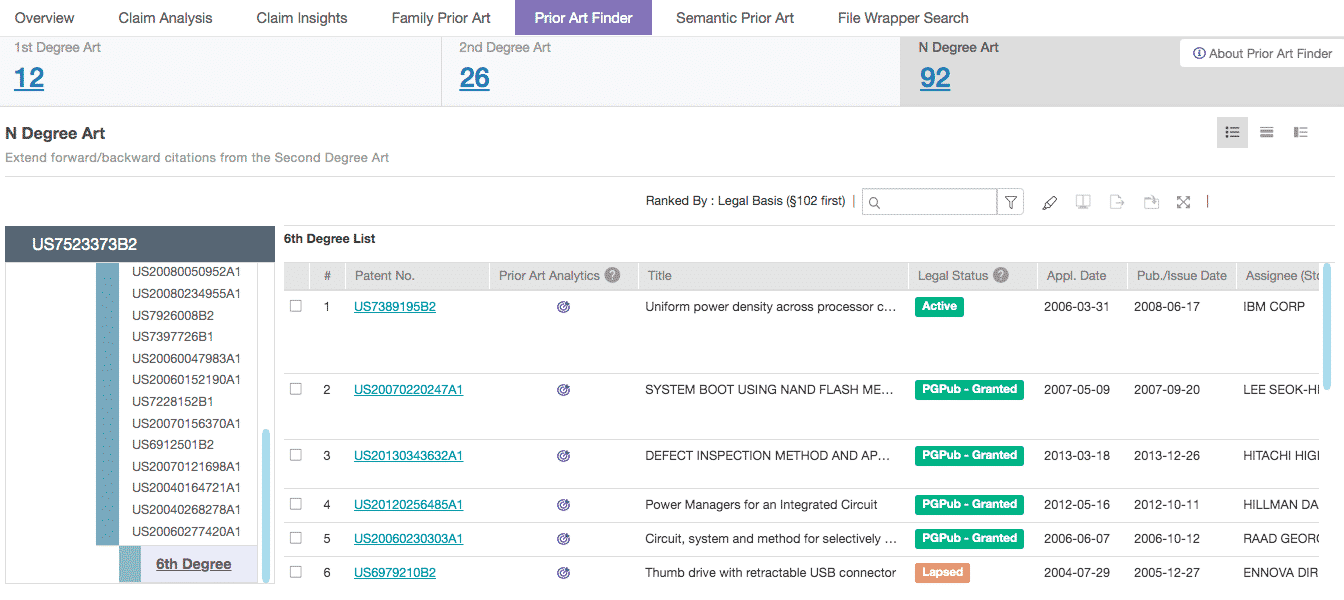 By using Semantic Prior Art, the defendant can consider more evidence for filing a new IPR. This function extracts 300 prior art references which have semantic similarity with the title, abstract, and claims of the patent-at-issue from IP5+WIPO.
In the original IPR petitions, Intel had listed six prior art references to challenge US'759, which are US5,838,995, US2004/0098631, US2003/0065960, US2003/0159080, US6,298,448, and US7,360,103. Using Quality Insights, you can instantly find all related prior art via Prior Art Finder and Semantic Prior Art with just a few clicks.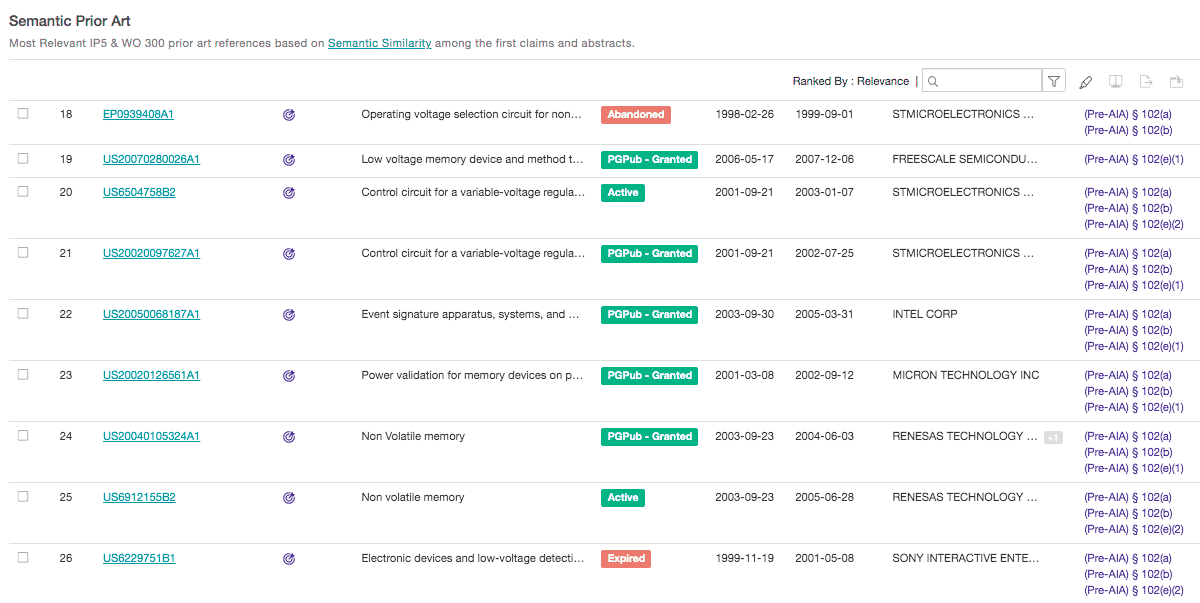 Do you agree with the verdict? The latest news reported that Intel strongly disagrees with the result and will confidently prevail on appeal.
Want to learn more and take a look at the full analysis? Simply fill out the form below to download the full Quality Insights reports, for free!