East Asian companies are playing increasingly important roles in important established technologies and industries as well as emerging technologies. As a result, the patent databases from the patent offices of these countries will become increasingly important sources of prior art. What is needed is a patent intelligence platform with expertise in East Asia—like Patentcloud—to help in finding this prior art.
The Rise of East Asia?
Some have predicted that the twenty-first century will be the "Asian century," following on the heels of Britain's Imperial Century in the nineteenth century and the American Century in the twentieth.
While this prediction is still open to debate and far from a certainty, one thing that is clear is the rise of certain East Asian countries as technology leaders in certain industries.
This is plainly borne out in the patent filing trends and market shares of companies from these countries.
East Asian Dominance in Established Technologies and Industries
A quick look at certain technologies and industries confirms that companies from East Asian countries have taken the lead.
DRAM
South Korean companies like Samsung and SK Hynix continue to dominate the DRAM industry, with 39.9% and 31.9% market share, respectively, in Q4 of 2018.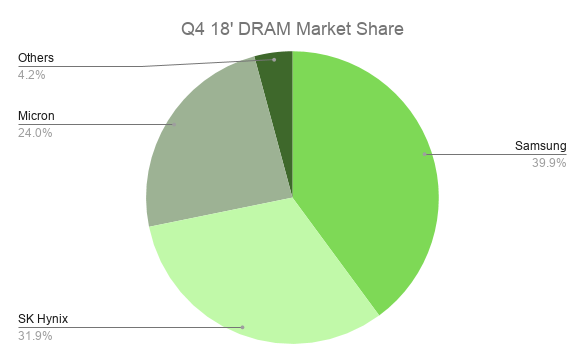 Displays
The top five players in this space all hail from East Asia, including big brands like Sharp, Samsung, and LG, along with panel manufacturers like AUO and Innolux.
Semiconductors
When it comes to semiconductor manufacturing and testing, Taiwan's TSMC is at the top of the global top 10 list, followed by South Korea's Samsung.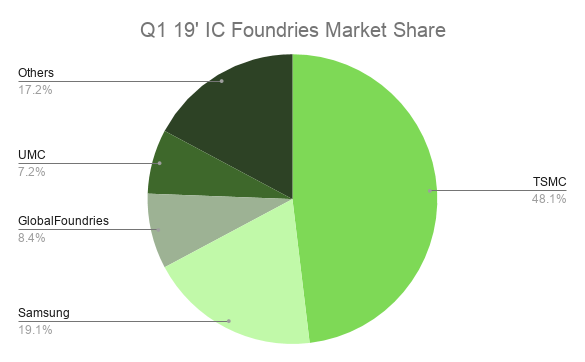 Chemicals
As highlighted in the recent Japan-South Korea trade war, Japanese companies Morita, TOK, and JSR are the clear leaders in three important chemicals, which are all critical in the production of semiconductors and other high-tech products.
Fluorinated Polyimides: According to a recent report, Japanese fluorinated polyimides accounted for 93.7% of the materials imported by Korean companies from January to May of this year.
Photoresists: Japanese companies command an impressive 92% market share.
Hydrogen fluoride: In the global high-purity hydrofluoric acid market, Japanese companies are in a dominant position, according to a recent news article.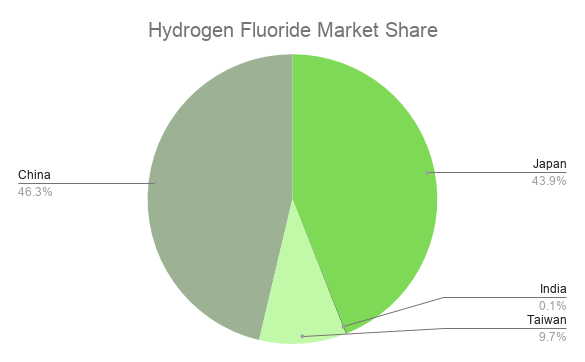 And a Leading Role in Emerging Technologies
In addition to their dominance in established technologies, East Asian companies are also increasingly playing important roles in a number of new, emerging technologies.
It should be noted, of course, that not all of these emerging technologies will become commercially viable, as is so aptly illustrated in Gartner's Hype Cycle.
Yet, with this caveat in mind, it still seems apparent that East Asian companies are pushing forward in a number of important areas, including the following:
8K Displays
According to a recent report from CES 2019, Sharp, Samsung, and LG are all leading the way when it comes to the technology behind 8K TVs.
Flexible/Foldable Displays
East Asian companies like Samsung and Xiaomi are pushing this technology forward, with Xiaomi debuting a foldable smartphone prototype in January of 2019.
5G Wireless Communications
As a recent report clearly showed, Huawei, Samsung, LG, ZTE, and Sharp are all at the forefront of this crucial technology.
Some have speculated that this 5G leadership by Asian companies may be fanning the flames of the current trade war between the US and China.
Artificial Intelligence
Although there has been some debate about the quality of AI research papers published in China over the years, a recent report by the Allen Institute stated that China is "poised to overtake the US in the most-cited 50 percent of papers this year, in the most-cited 10 percent of papers next year, and in the 1 percent of most-cited papers by 2025."
This can also be seen in the steady rise of China in the chart below, which shows the papers accepted in the Association for Computational Linguistics (ACL).
The Growing Importance of East Asia Patent Office Databases
Undoubtedly, East Asian companies are playing an increasingly important role in a range of technologies.
So, for anyone carrying on IP work involving these technologies, the importance of East Asian patent office databases cannot be overstated, especially when it comes to finding prior art references.
Patentcloud: A Patent Intelligence Platform with East Asian Expertise
With patent databases from all the major patent offices, including Japan, Korea, China, and Taiwan, Patentcloud delivers comprehensive coverage of East Asia.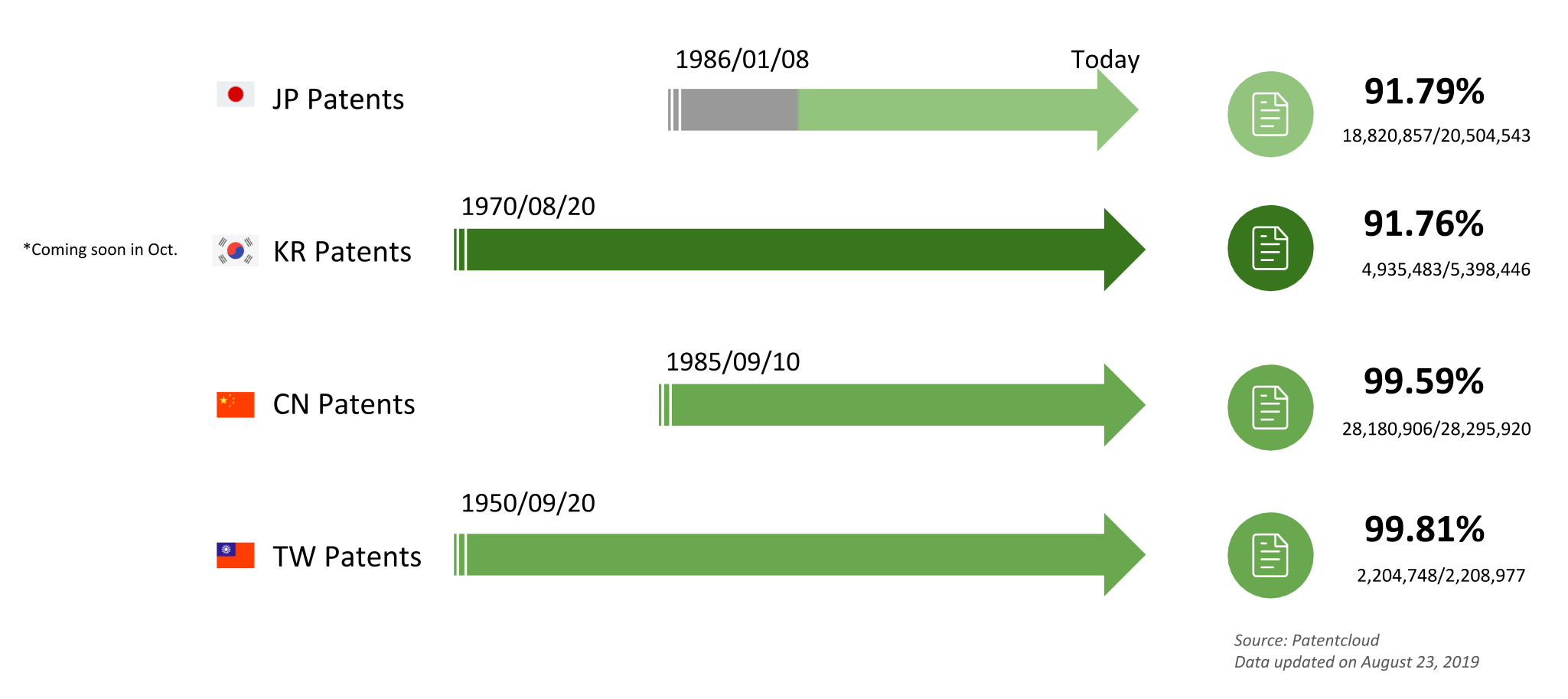 Couple this with language ability and regional cultural expertise, as well as proprietary natural-language-processing (NLP) technology, and Patentcloud stands out from the many other search and analytics products in the market, especially in regards to patents in East Asia.
And features like Semantic Prior Art in Quality Insights are utilizing AI-powered technology to provide relevant and insightful results.
Go Where the Prior Art Is
When a reporter asked the infamous bank robber Willie Sutton why he robbed banks, Sutton is said to have replied "because that's where the money is."
In a similar way, if you are looking for prior art for certain established technologies or industries, such as DRAM, displays, and semiconductors, it seems clear that East Asia has become an increasingly important place to search.
In the future, this may also be true for emerging technologies, like 8K, 5G, and AI, since East Asian companies will likely play important roles in the development of these technologies and industries.
Therefore, what may be even more important is having the right platform to help you find this prior art.
This is where Patentcloud, with its comprehensive coverage of all of the major East Asian patent offices along with its language, cultural, and translation skills, gives you the advantage in navigating the increasingly important East Asian patent landscape.
After all, if we are truly living in what may end up being the Asian Century, then it only makes sense to make use of the patent intelligence platform with the greatest East Asian expertise—Patentcloud.
Level up your patent strategy today with a 7-day free trial of Patent Search
Read our previous article here.